Starting Point: Montijo
Ending Point: Santiago de Cacém
Today's Distance: 89 km
Total Distance: 89 km
Today is the day: My journey officially began after a lovely breakfast at a friend's house with some nice, cool morning weather. And what better way to start my journey than to have a police escort! Carlos, a good friend of mine and one of Portugal's finest police officers, accompanied me on the first part of my journey from Montijo down to Setúbal.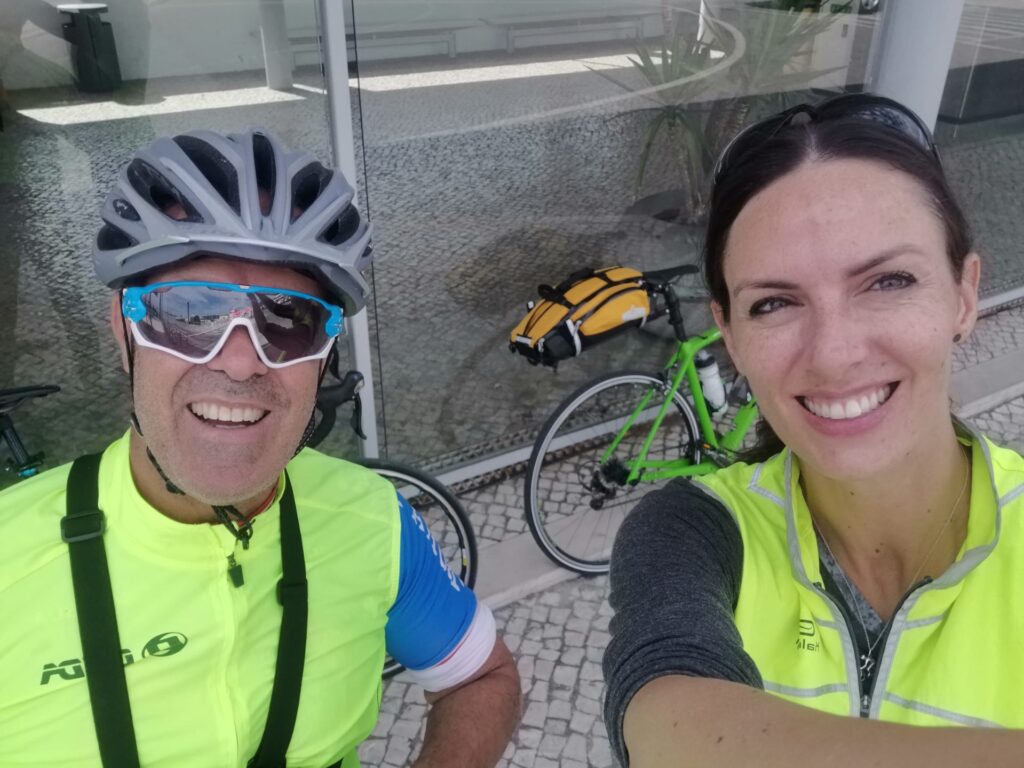 Our ride together took us on a lovely bike path that was converted from an old light rail line where quaint little former rail stations still dot the trip.
Stopping in Pinhal Novo, we had a coffee and pastéis de nata, the official dessert of Portugal. For those who have never had the joy of having a pastel de nata, drop what you're doing and go try one! Flaky puff pastry bowls filled with warm and sweet egg custard, pastéis de nata are absolutely to die for. This was the first of many that I will sample on my trip and I am now thinking that my journey will become an unofficial search for the best pastel de nata in Portugal.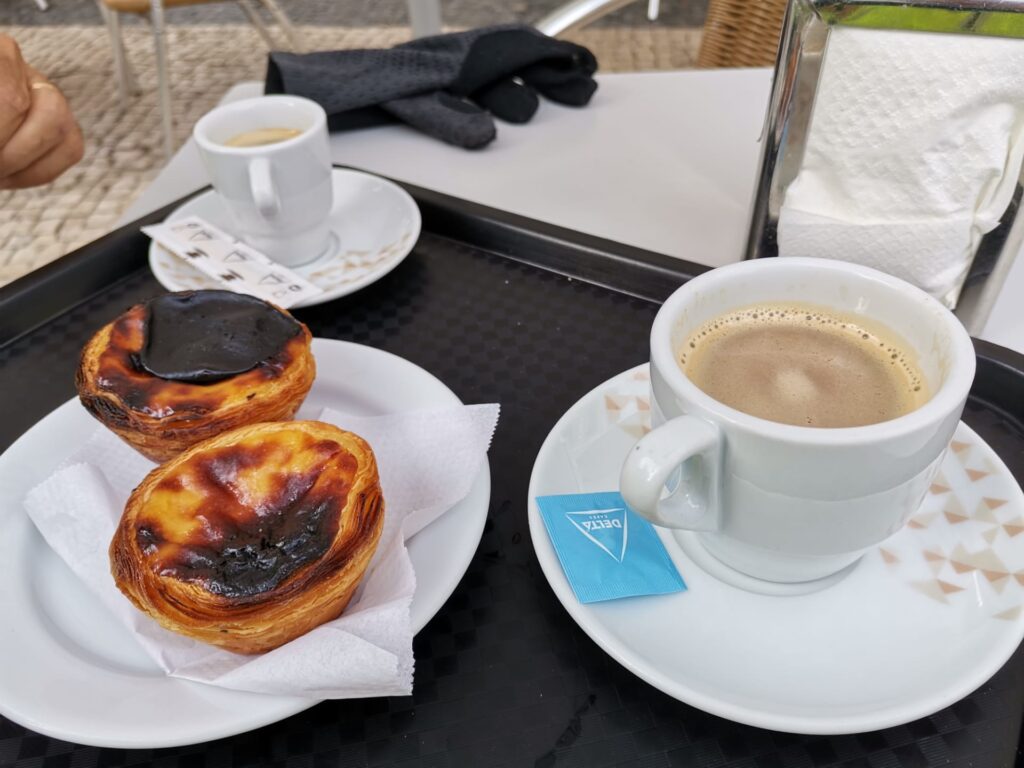 Entering into Setúbal there are some colorful murals lining the road and a glimpse of Arrábida Mountain in the distance. Inside the center of Old Setúbal, we took a quick tour around the Paços do Concelho (city hall), a former royal palace. Painted in a rich purple color, the city hall has a lavish interior including the "Noble Room" where the official meetings take place — I don't think I was supposed to be in there! Fun fact: The mayor of Setúbal is a member of the Portuguese Communist Party.
The ferry terminal in Setúbal is where I sadly had to leave my "police escort" behind and continue my journey solo. That is not to say that it has been without company, however. While on the ferry from Setúbal to Troia, I saw a couple of cyclists kitted out with long distance gear. They were a Spanish couple who were spending their holiday touring around this region of Portugal. Unfortunately my admittedly limited Spanish ran out fairly quickly in the conversation (Portuguese and Spanish are so close it's maddening) but it's always good to see other cyclists, especially ones who appreciate the adventure of long distance travel by bicycle.
Aside from brief conversation with the Spanish couple, the ferry ride to Troia was relaxing and smooth. Being a weekday, the ferry was missing the hectic bustle of the weekends and while I didn't see any dolphins, it was a pleasant voyage.
Troia, the long and skinny peninsula north of Comporta, offered a new vibe as the scenery changed to almost a high desert feel with long stretches of dry brush and pine trees along sandy roads.
Finally I reached the lovely city of Comporta. Known for its rice production, Comporta also marks my entrance into Alentejo, the south central region of Portugal. I couldn't come to Comporta without a stop at Be Comporta, a favorite cafe of mine which serves healthy food and super fruit smoothies. The staff remembered me and welcomed me back – always a lovely feeling when living abroad.
One super cute feature of Comporta is neighboring village of Torre. There on almost every telephone pole and unused chimneys rests stork nests (and most in most of Comporta as well), providing needed habitat for the birds in the area. The sides of the road also had many cork trees, a specialty that the Alentejo region is known for. What we colloquially know as "cork" is actually harvested from the bark of the cork tree. The numbers on the trunks are to identify when they were last harvested and will be ready for harvest again after a nine-year wait.
Usually I am a veggie and seafood eater in my day to day life, as I feel this is a great way we can individually help our planet, but this trip I am challenging myself to always ask, "Qual é a especialidade aqui?" / "What is the specialty here?" Here can be the region, town, or that particular restaurant but there's no adventure without culinary adventure. Tonight the specialty was rabbit.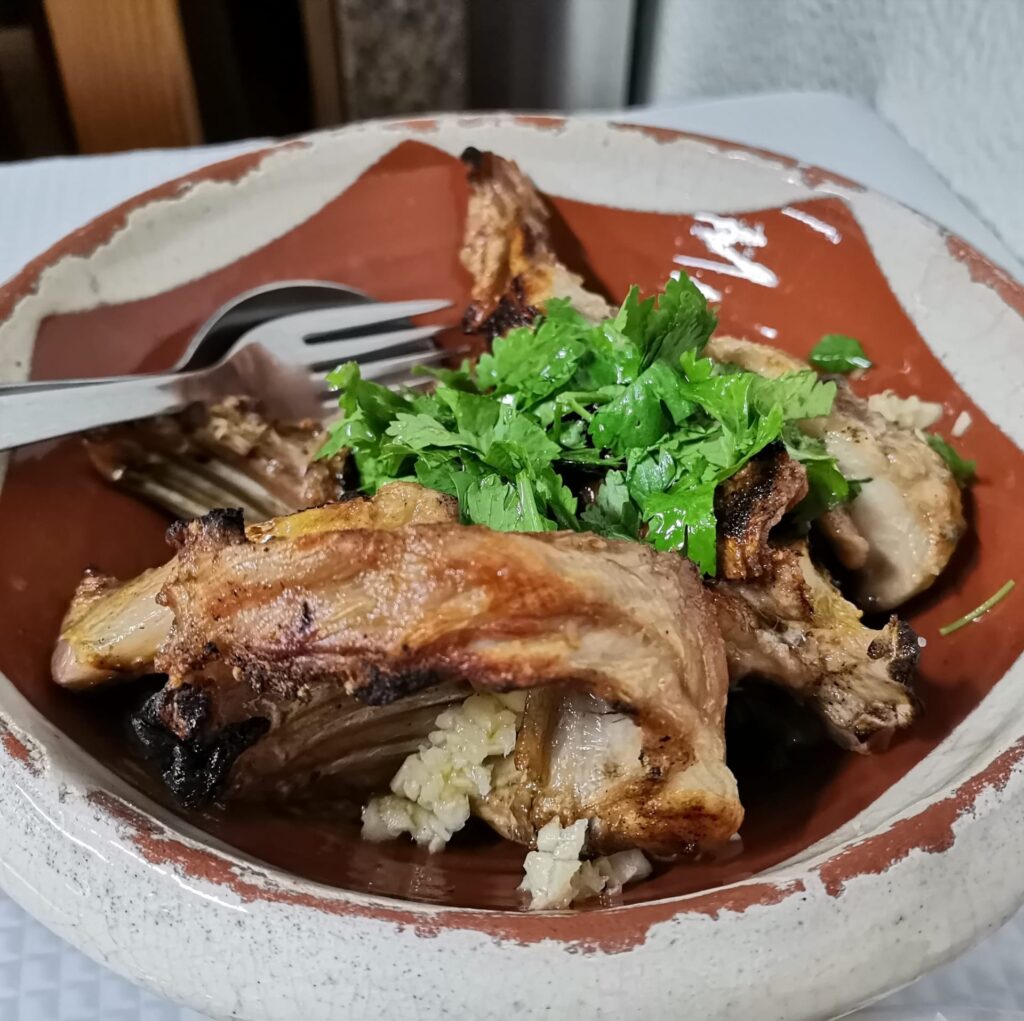 Overall I am really impressed with how my first day went. Throughout the entire trip I was feeling very energized and can't wait to journey farther around this amazing country. It was both great having a friend with me to begin and also being alone on the road with the scenery to keep me company. I didn't even bother getting my music playing since there was such a nice tempo already. Now that my first day is complete, I'm looking forward to the next 29 days even more!