Starting Point: Ericeira
Ending Point: Lisboa
Today's Distance: 98 km
Total Distance: 2,036 km
I was almost too excited to sleep, but when I stirred awake at 4 am I willed myself back into slumber. I needed the rest; Day 30, the final day of my adventure cycling around Portugal, had arrived and promised to be a challenging yet unforgettable day.
Cycling away from Ericeira, my mood was joyous, and I was "bom dia-ing" every person that crossed my path. Today I would be cycling toward home! I was positively giddy.
I cut away from the coastline, following highway N247 towards Sintra, my magical first stop of the day.
The climb was steady but swift, and soon I was approaching Sintra. I pulled off on the side of a roundabout to check the map (something I do hundreds of times a day) when I heard a voice say, "Alexa?". I looked up with surprise to find a smiling and vaguely familiar face. Rui was an online supporter of my trip who worked at Flow Bike, a bike shop in Sintra. He was following my trip and was pleasantly surprised to see me in person this morning. We took an obligatory selfie, I thanked Rui for saying hello and for his encouragement, and with a wave I was off again.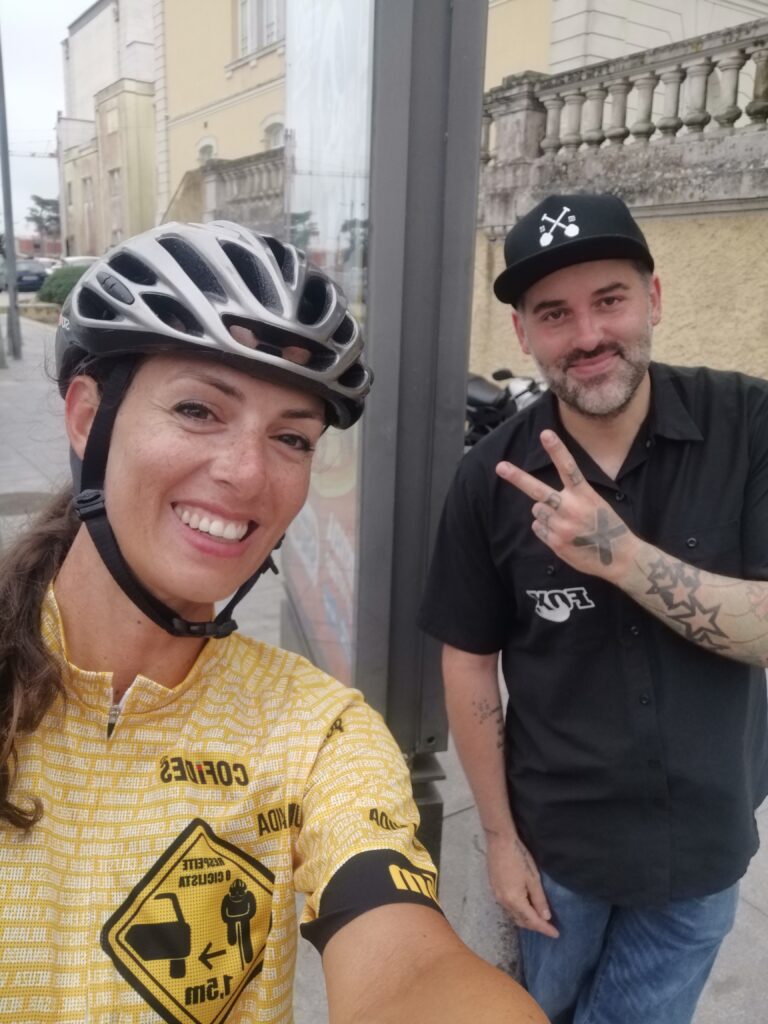 I cycled to Café Saudade, a must-see in Sintra, its labyrinth of rooms are part history part art. Saudade in Portuguese translates to an intense longing for something, which felt appropriate given how much I longed to be back home in Lisbon. Here was where I would be meeting my guest cyclist of the day. I was overjoyed to welcome José, an accomplished bikepacking cyclist, to cycle with me for much of the day. Looking back, I considered him a secret weapon of sorts, someone who had consistently provided suggestions and recommendations throughout my trip. It felt very appropriate that we would cycle together on the final leg of this journey.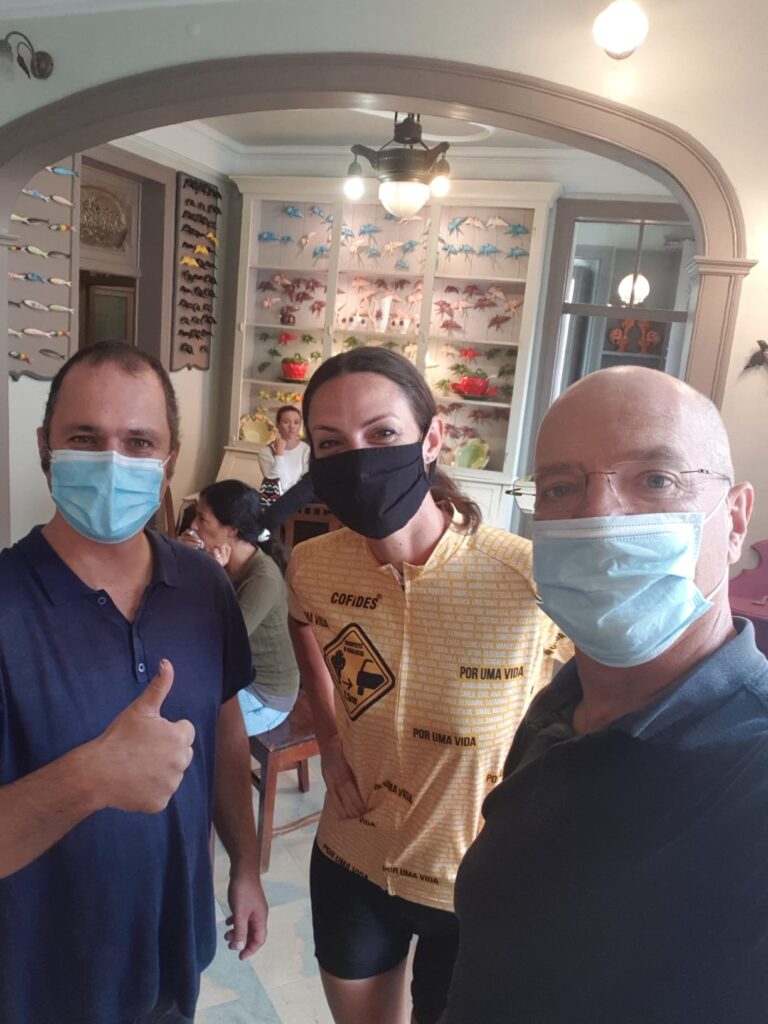 Sintra is a magical place full of palaces where the wealthy used to escape from Lisbon back in the day. Together José and I hatched a plan to visit three of the main palaces; an ambitious effort for a long day of cycling, but the least I could do while in Sintra. First stop, the iconic Palacio Nacional with it's two towering chimneys.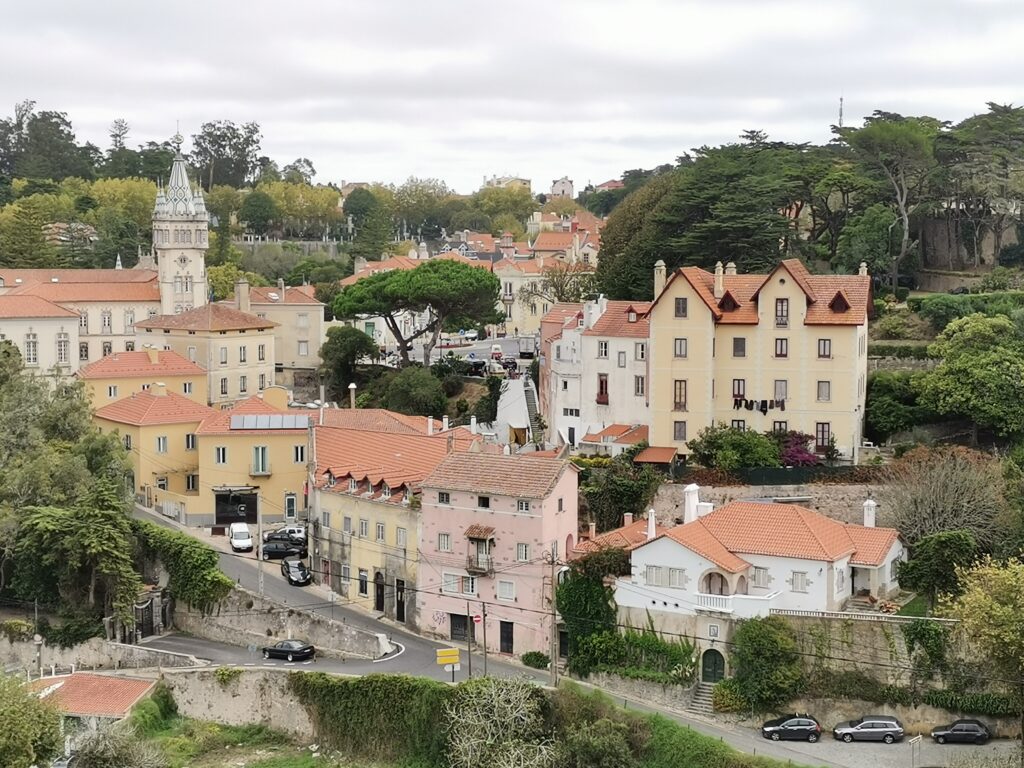 José and I then began the climb up to Quinta de Regaleira. We were approaching the gates of the palace when a road cyclist cycled up and greeted us warmly. Enter Amilcar. An accomplished competitive and touring cyclist, Amilcar had been following my trip online and was hoping to find me today in Sintra to accompany me for part of the day. I was overjoyed, so much energy and support on my last day! We strategized a bit and decided that we would meet with Amilcar for lunch and cycle after to Cabo de Roca. After an obligatory photo, Amilcar was off and José and I were queuing up for admission into Quinta de Regleira.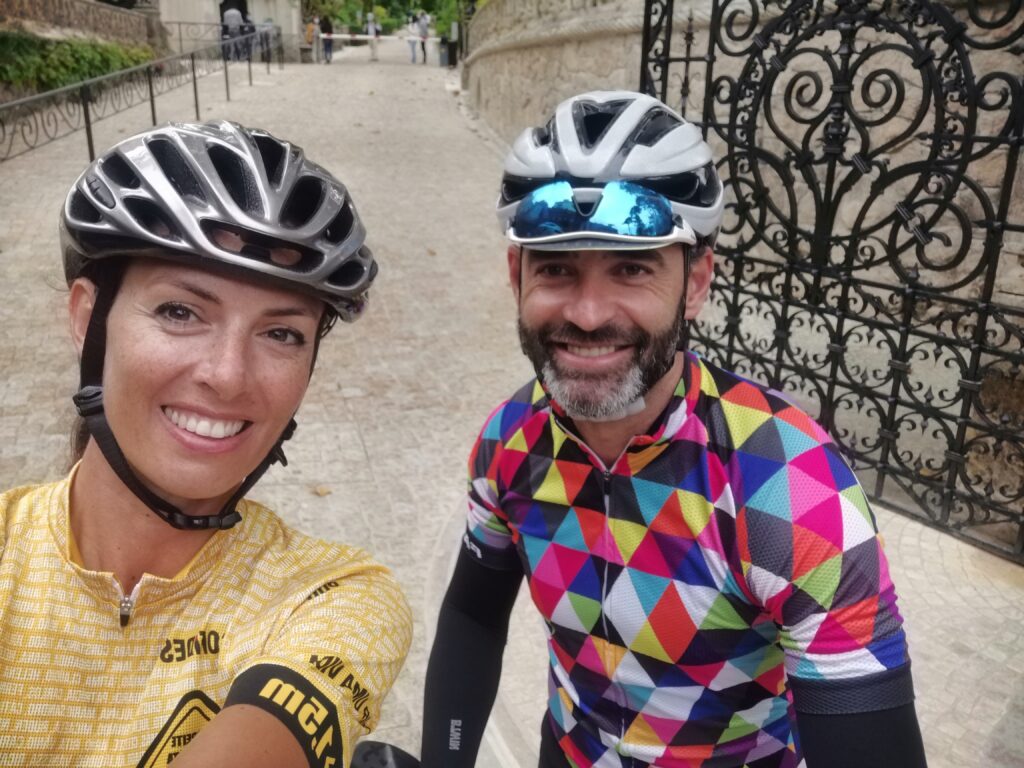 Sintra is filled with many elegant villas, but none are quite as intriguing as Quinta da Regaleira. The owner was a wealthy Brazilian mining mogul, who was linked to the secretive religious orders of the Knights Templar and Freemasons; imagery of which can be spotted throughout the grounds. The vast gardens include hidden cave passageways, spiral staircases, and towers.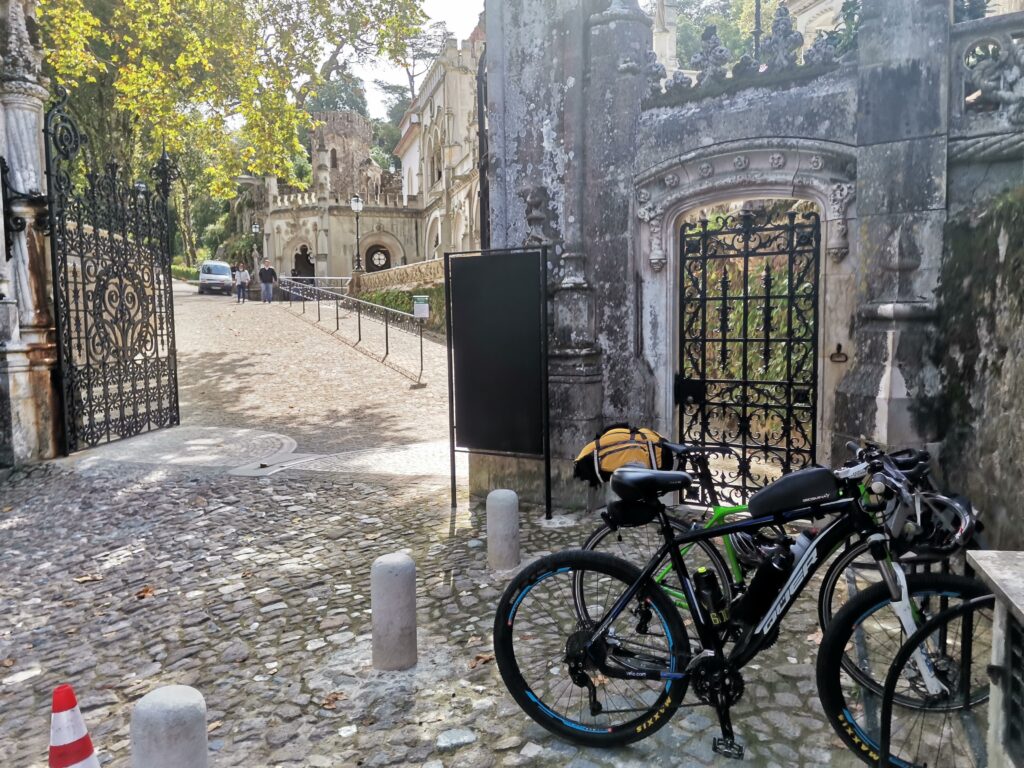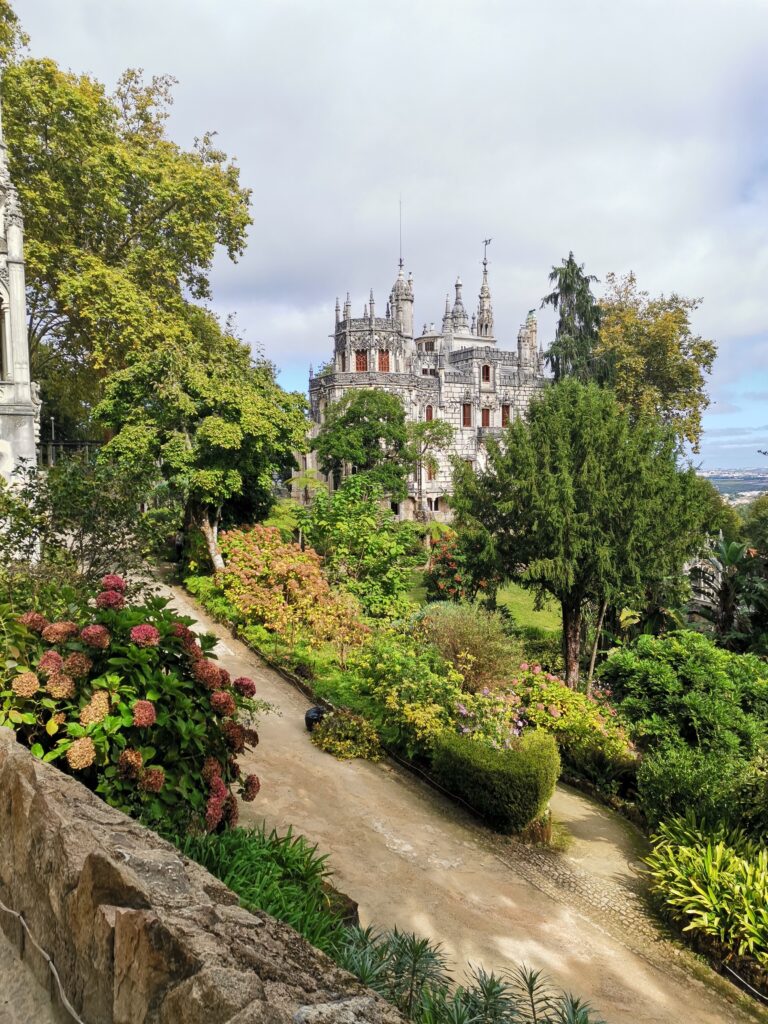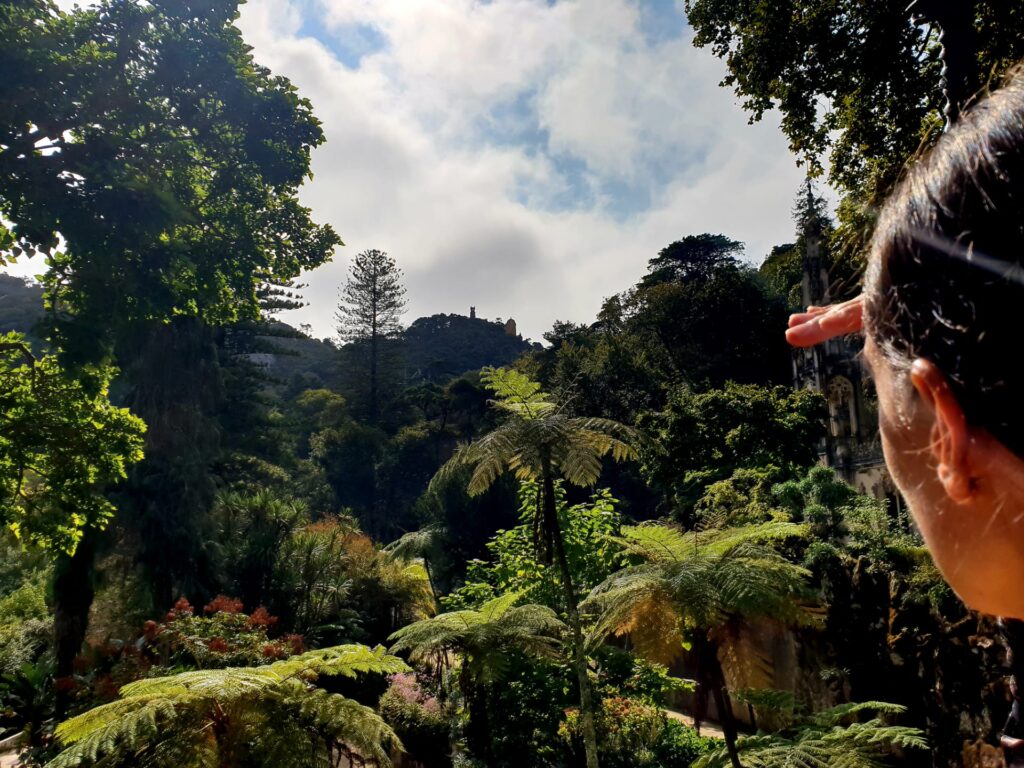 Wandering the grounds of Quinta de Regaleira, a visit to the Poço Initiático (Initiation Well) is a must. The spiral staircase was built in accordance with masonic principles and leads to a series of tunnels and pools.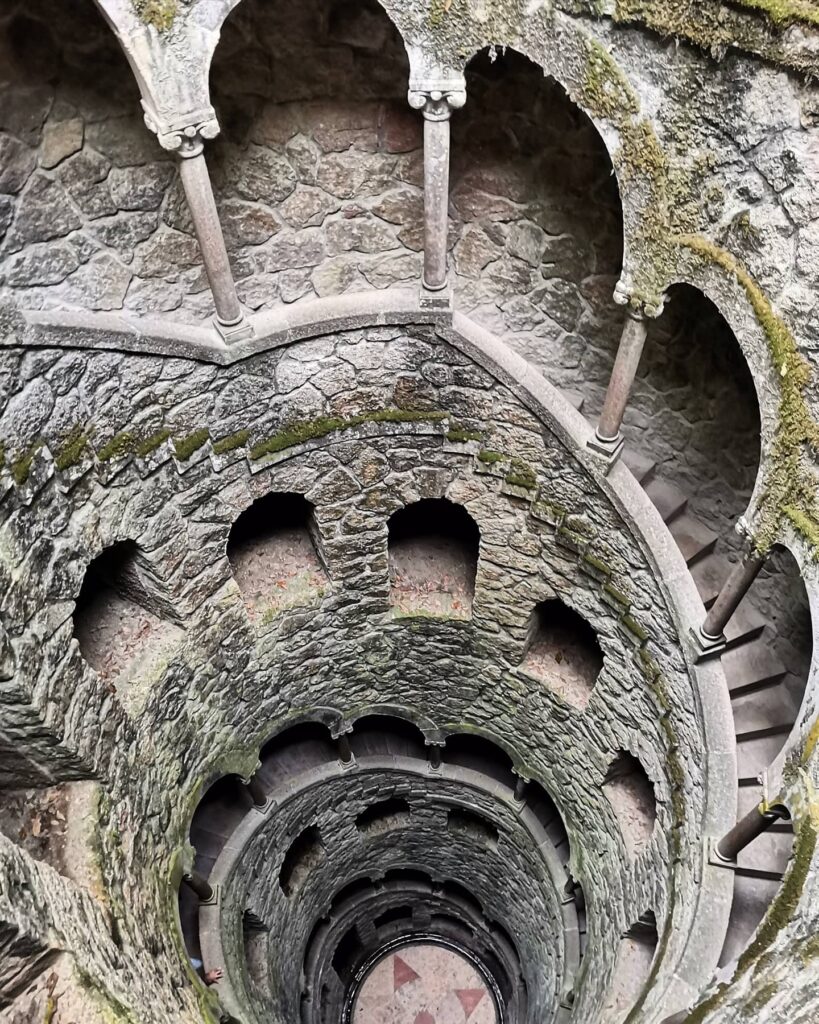 Quinta da Regaleira is a place I could spend the entire day wandering, but today with so much to see I was prizing efficiency in order to reach Lisbon (hopefully) before nightfall. José and I were back on our bikes and headed to Palace number three for the day: Palácio de Monserrate (Monserrate Palace).
Monserrate is not the most popular palace in Sintra, that award likely goes to the towering Palácio da Pena, but Monserrate remains my personal favorite. The Islamic influence on its architecture is dazzling, and the biodiversity of its vast gardens a sight to behold.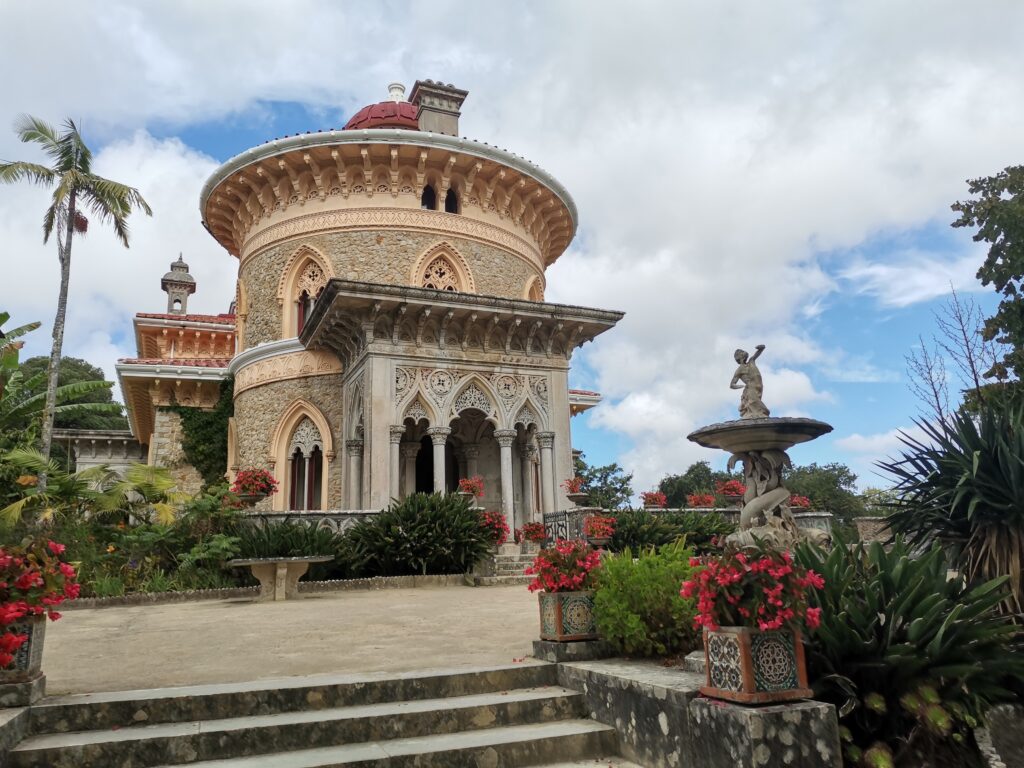 Without enough time to sufficiently appreciate the vast gardens we were off again. Our next stop was to a very special restaurant in the mountains.
Refúgio do Ciclista is a rustic restaurant on a hill with a cycling theme. What a fitting place to break bread on my last day of cycling!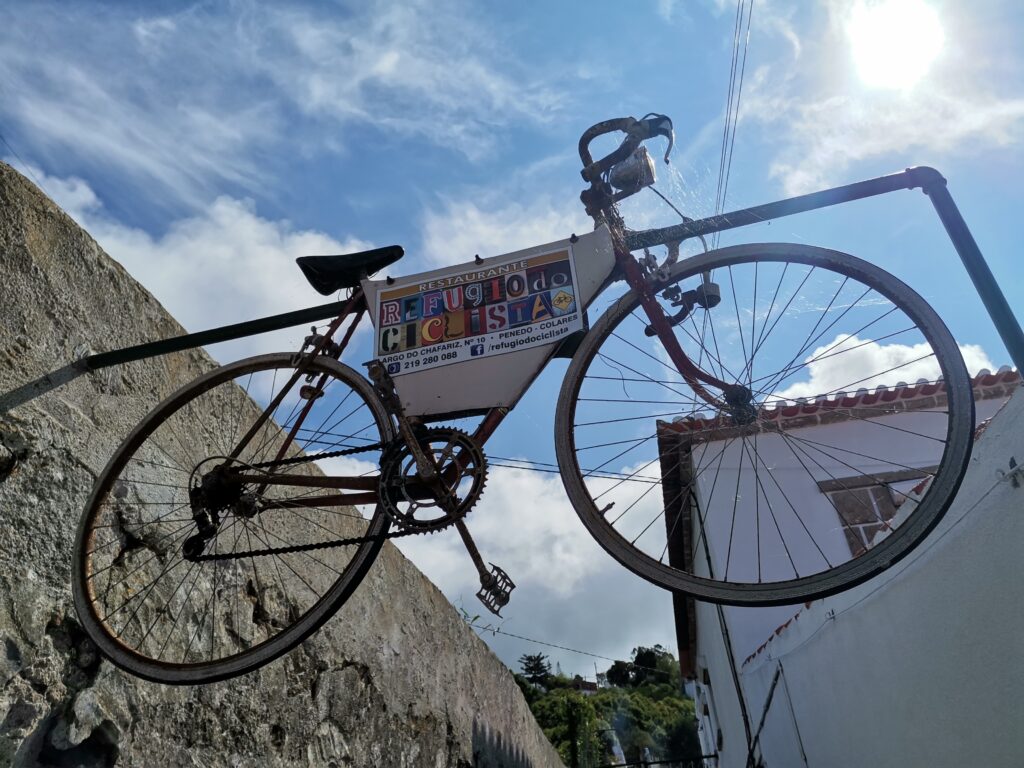 After an aggressive climb up to the restaurant, José and I joined Alimcar. I was very pleased that a friend, Chico, who lived not far away, would be joining us for lunch as well. After many lunches alone on this trip, dining as a party of four was a joyous occasion.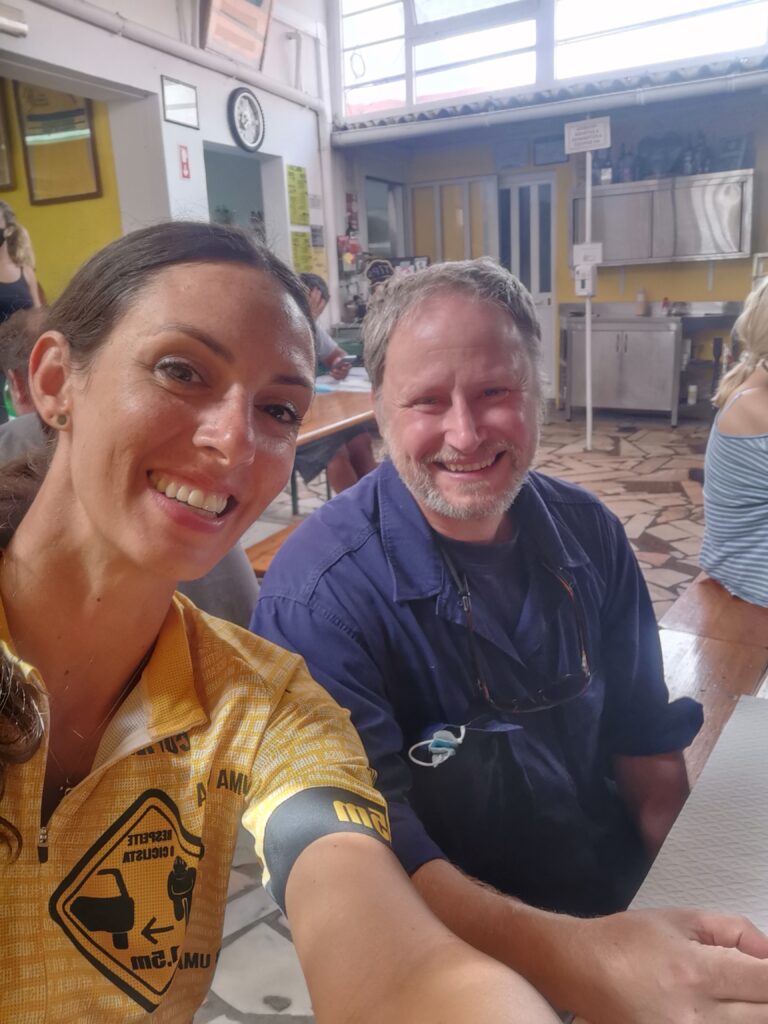 After a delicious lunch and rich conversation, plus coffee, we couldn't linger much longer. It was time to get back on the road, I still had a long way home.
Our first task was climbing the rest of the way out of the mountains. We were very lucky to have Amilcar with us, who knew these roads like the back of his hand. We climbed steadily higher and higher, the restaurant far behind us now. Once we had reached the crest, a long gentle downhill awaited us. But before we had descended very far, Amilcar asked if I would like to see a beautiful miradouro (viewpoint). "Why not?!" Was my automatic reply. We veered left and were met with steep cobblestones, which I scrambled up for a view that was well worth it. From the Peninha Miradouro we were rewarded with a spectacular view, and I was ecstatic to see all the way to Lisbon. Home within sight!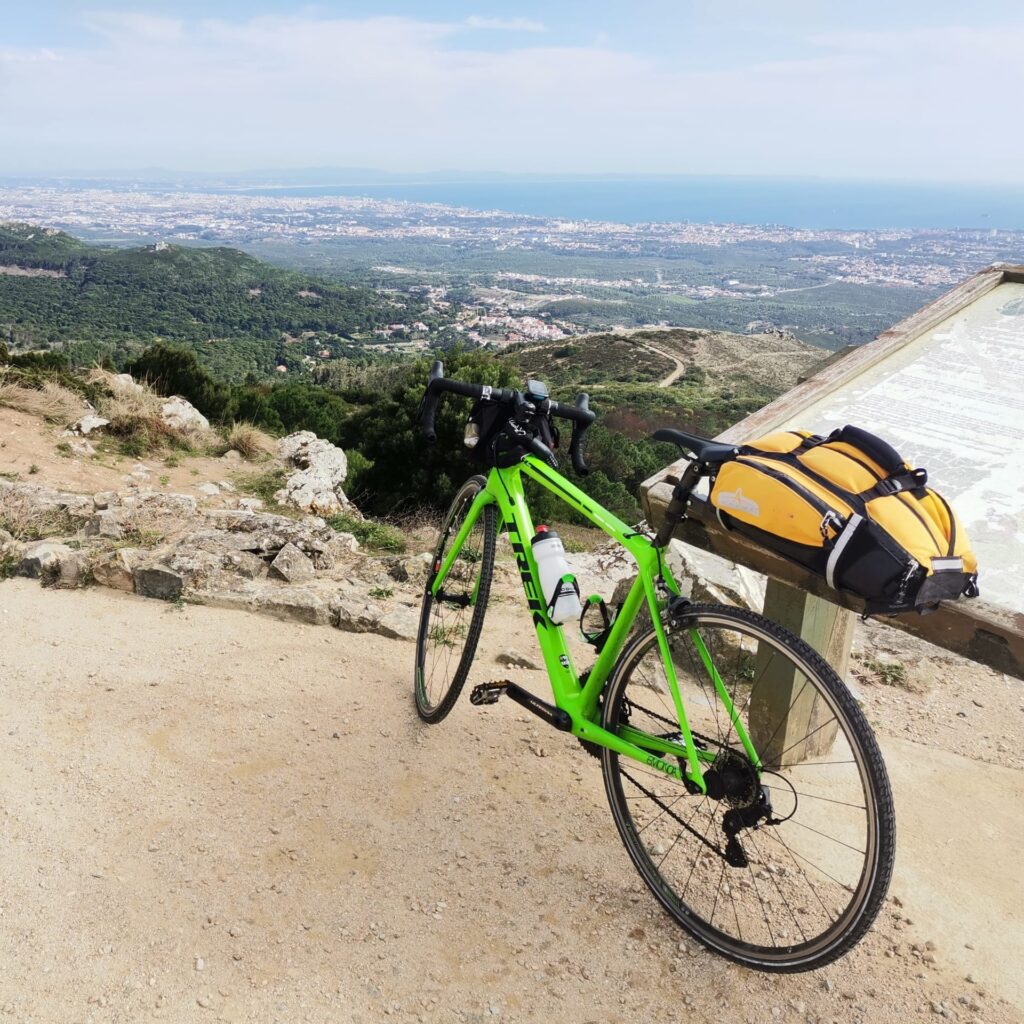 The next stop was an important geographic point for the continent: Cabo da Roca, the westernmost point in continental Europe. Having been here before, I braced for the epic winds that generally accompany this place. We cycled against the wind to arrive at the Cabo do Roca monument. Amilcar snapped a photo of me while I lifted Shaka triumphantly over my head.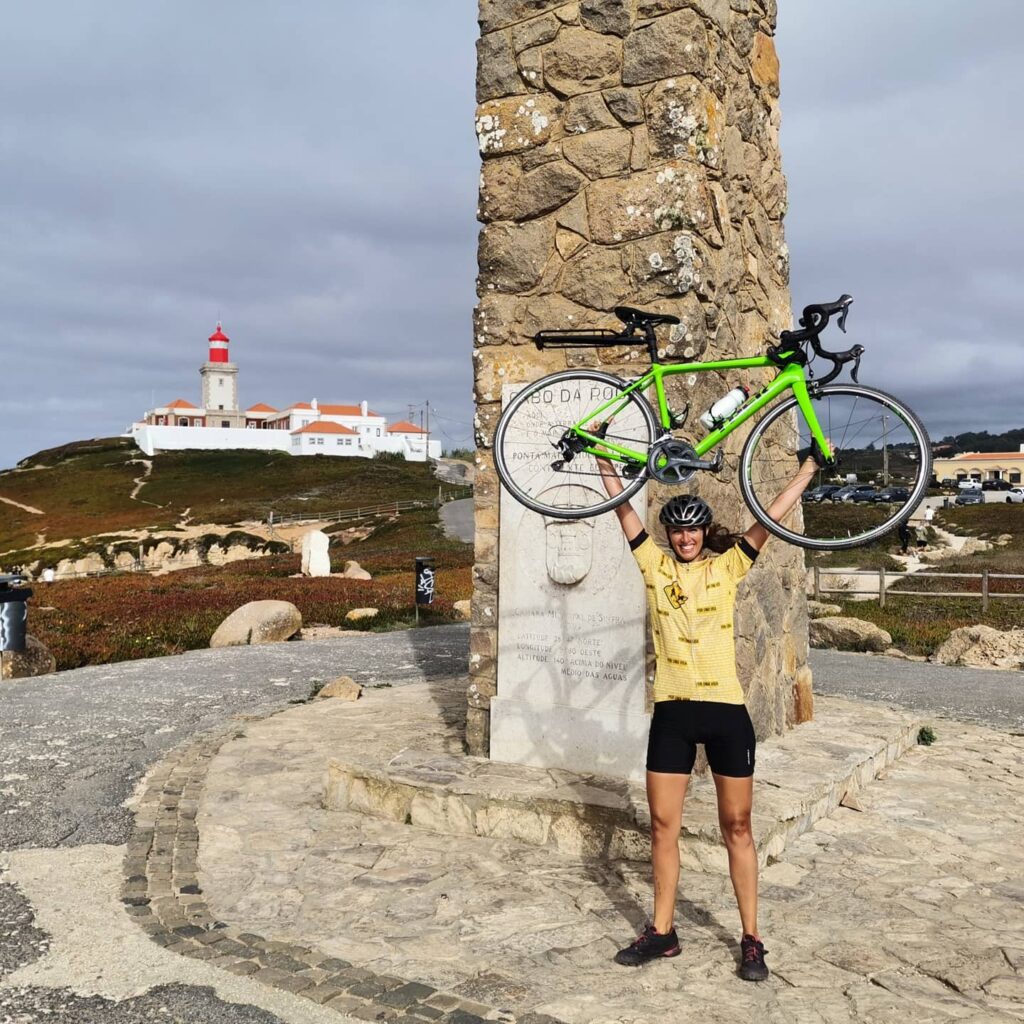 We didn't stay long in Cabo da Roca, there was a lot of ground left to cover, so we cycled back to the main coastal road I would follow towards Lisbon. This was the point where our team of three would again become two. Amilcar had to return to Sintra. I was so thankful for his energy, expert navigation, and support of my journey. And I even learned later that he had taken the day off of work just to come cycle with me! My gratitude level was off the charts. We snapped one last photo before parting ways.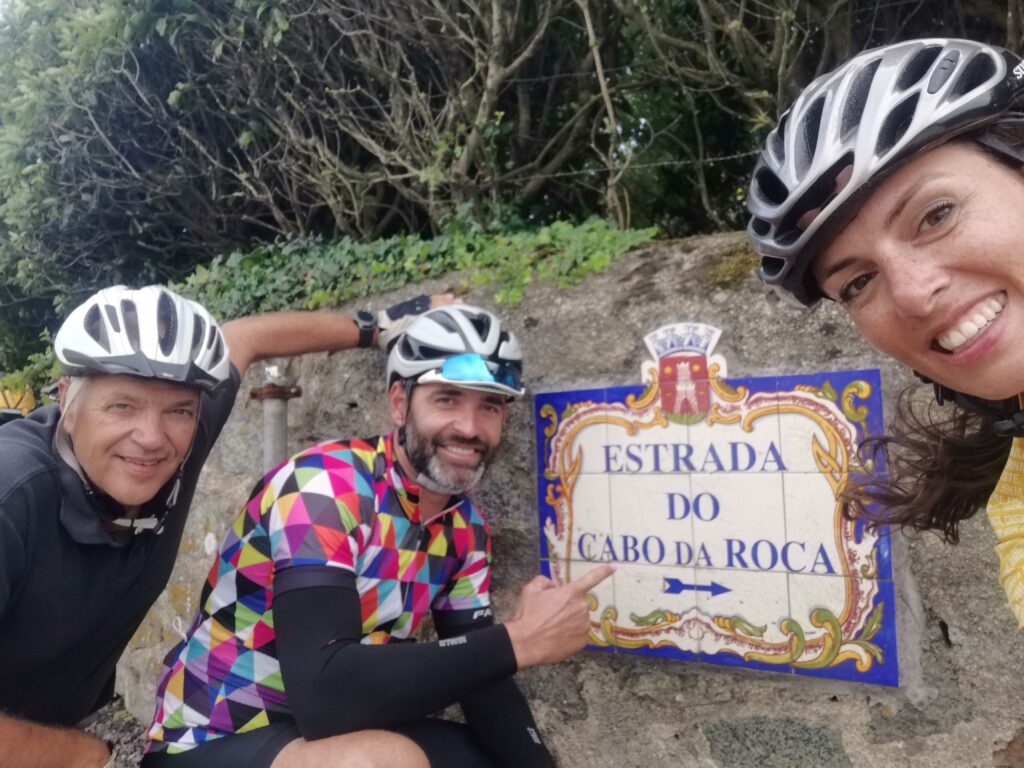 José and I headed to our next windy destination of Praia do Guincho (Guincho Beach) which is a favorite location for kiteboarding given the reliability of the strong winds. As we approached the beach, I could feel the wind pick up dramatically and I leaned into it to stay upright. The wind was so strong I could feel it picking up the sand and whipping it against my legs. The beauty of this place isn't achieved without a fight!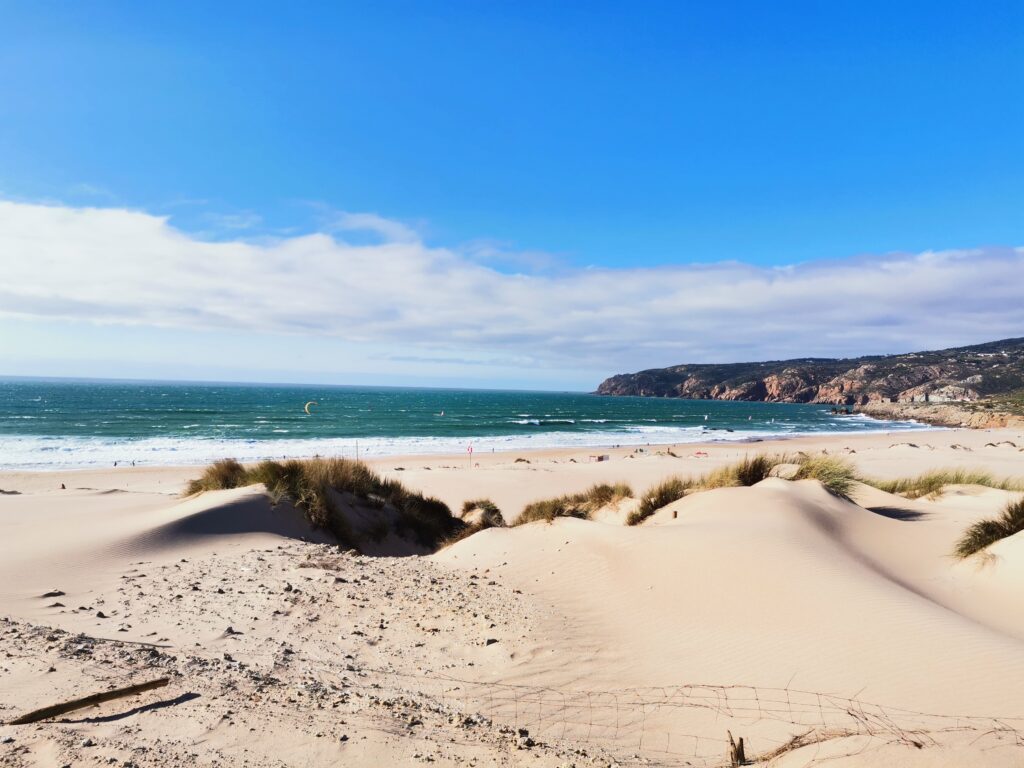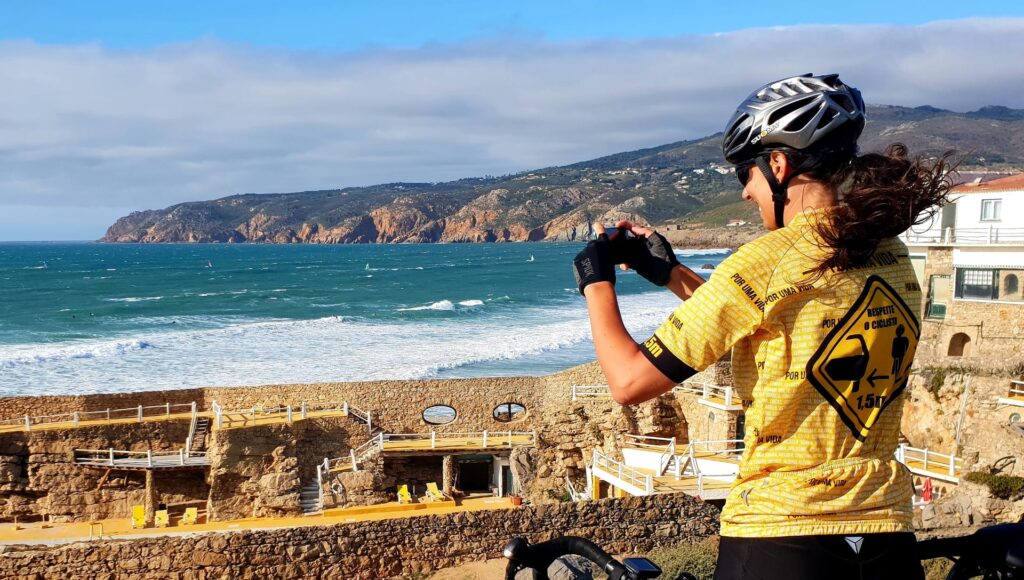 We didn't linger much longer than the time it took to snap a few photos, but once back on the road we enjoyed this strong tailwind pushing us along. However, I heard an unfamiliar crunch and soon realized that the winds had blown sand onto my bike chain. Once we had cycled away from the fiercest winds I pulled over to add a bit of oil to my chain. Whatever it took to get home.
We cycled on, enjoying the gorgeous coastal scenes and our intermittent conversation about cycling, Portugal, and everything in between. José was going to cycle with me for a ways past Cascais, before our team of two would become one and I would be on the last leg of my final day of cycling.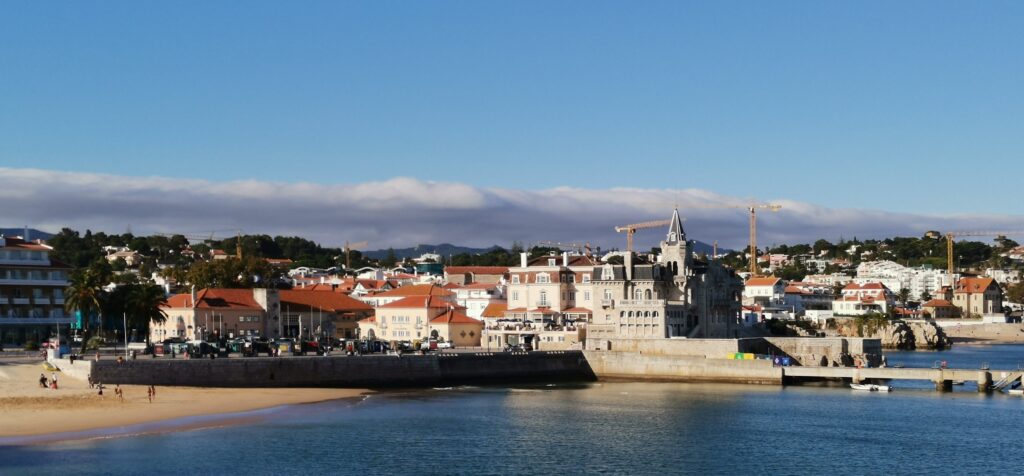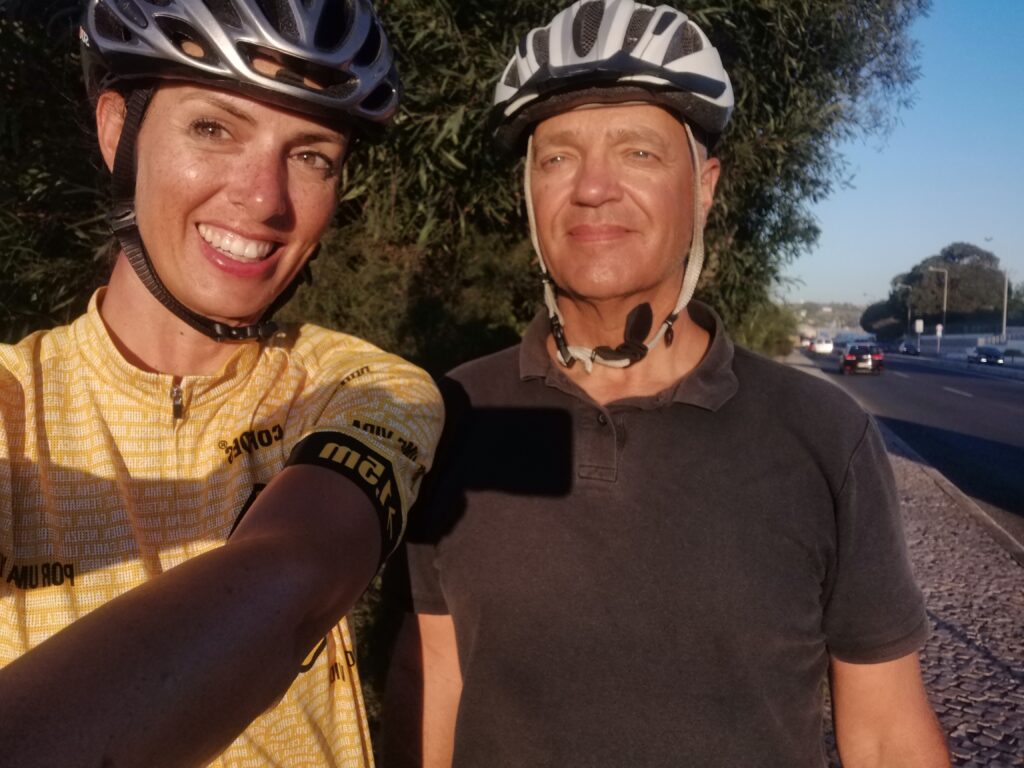 I cycled on, watching the sun get lower in the sky, and with home sweet Lisbon so close I could almost taste it.
The Torre (Tower) de Belém was bathed in sunset colors as I arrived. Built on the Tejo (Tagus) river at the height of the Portuguese Renaissance, this structure was used as the ceremonial gateway for Portuguese Explorers to Lisbon for centuries. It felt fitting to be cycling by it on this evening.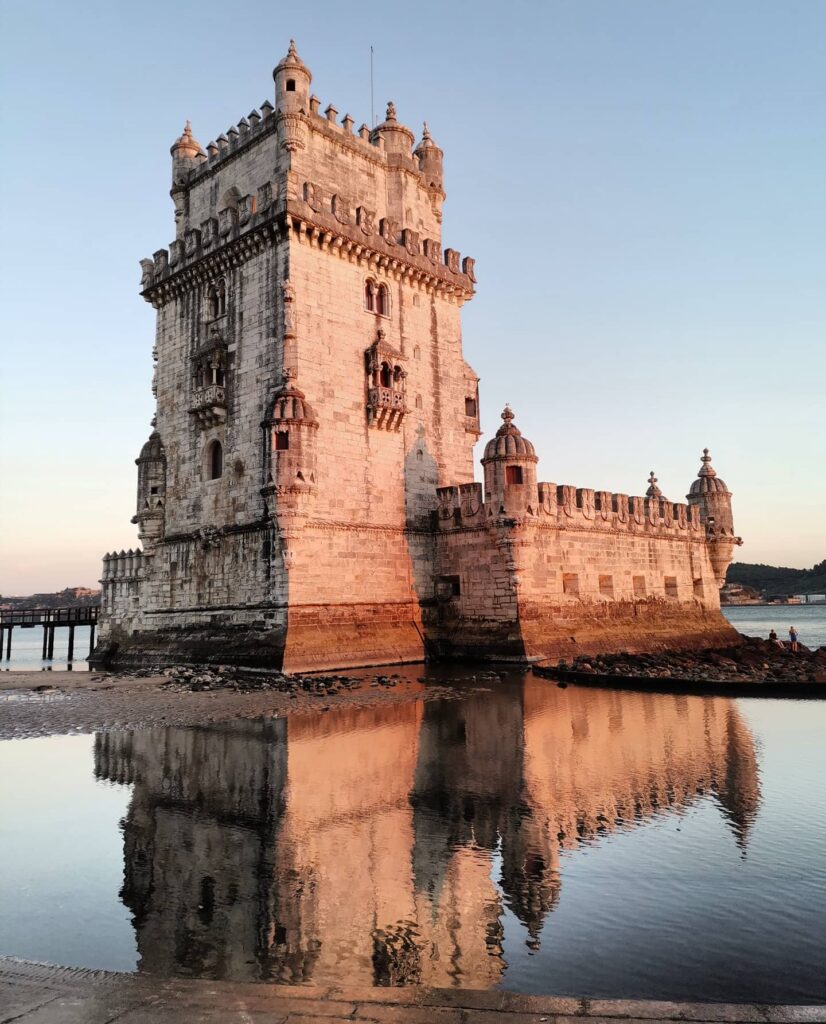 Even as I raced the sun, I could not pass up the opportunity to capture three iconic Lisbon sights in one photo (below).
One the left: Padrão dos Descobrimentos (Monument of the Discoveries) which commerates the Portuguese Age of Discovery during the 15th and 16th centuries.
Along the horizon: The 25 de Abril bridge which is often compared to California's Golden Gate Bridge. After Salazar's dictatorship was overthrown, the bridge was renamed April 25th Bridge commemorating the date of the Carnation Revolution.
In the distance to the right: The statue of Jesus gazing across the river to Lisbon. This statue was inspired by the Christ the Redeemer statue in Rio de Janeiro.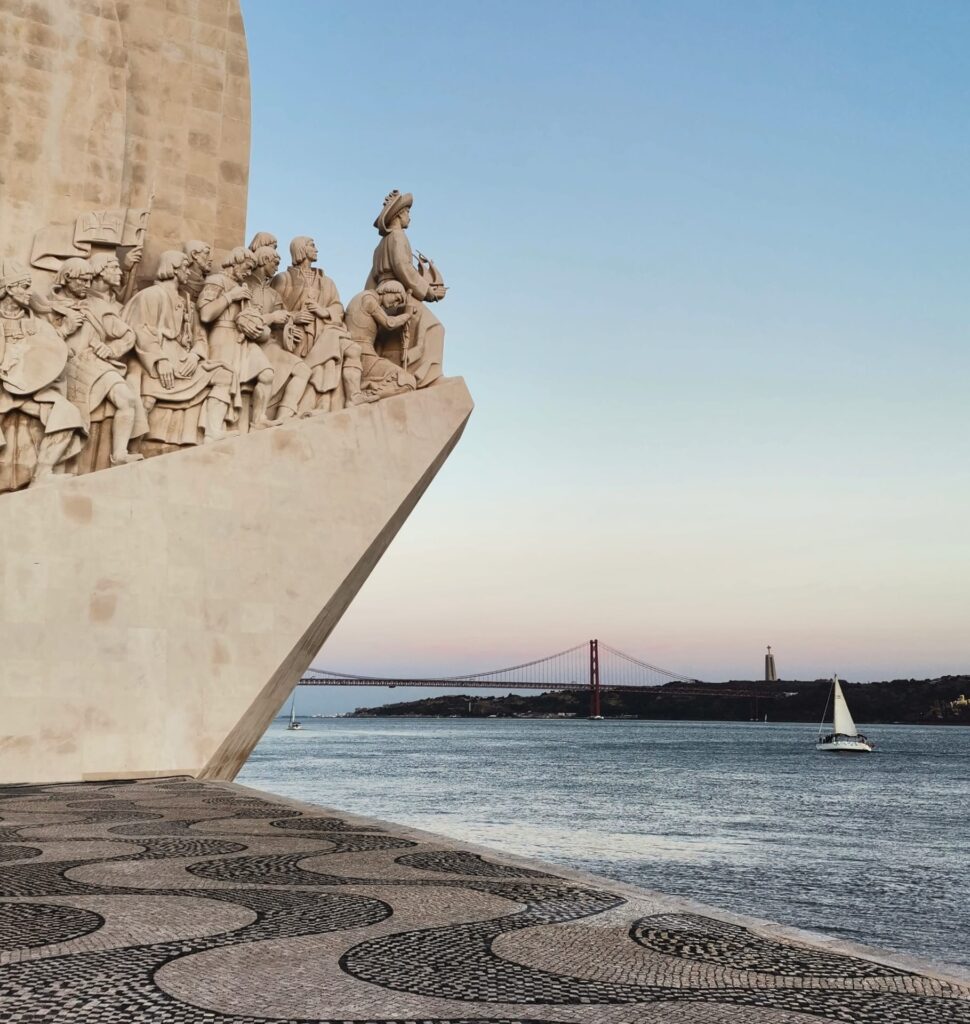 The sun dipped below the horizon as I was still making my way towards central Lisbon and Praça do Comércio, my symbolic finish line. I felt like I was racing towards the vibrant moon, which I would learn later was a full moon on this night. As I cycled past the Lisbon ferry terminal, I suddenly felt the weight of saudade and longing for my apartment and my partner. Why was I cycling to Praça do Comércio when no one would be there? Why didn't I just veer left and cycle to my door? I argued internally for a few moments. But no, I had set this as my finish line and I needed to go there, get a photo, and then return home victorious.
I arrived in Praça do Comércio feeling strong, feeling accomplished, and feeling ready to snap a quick photo and jet home.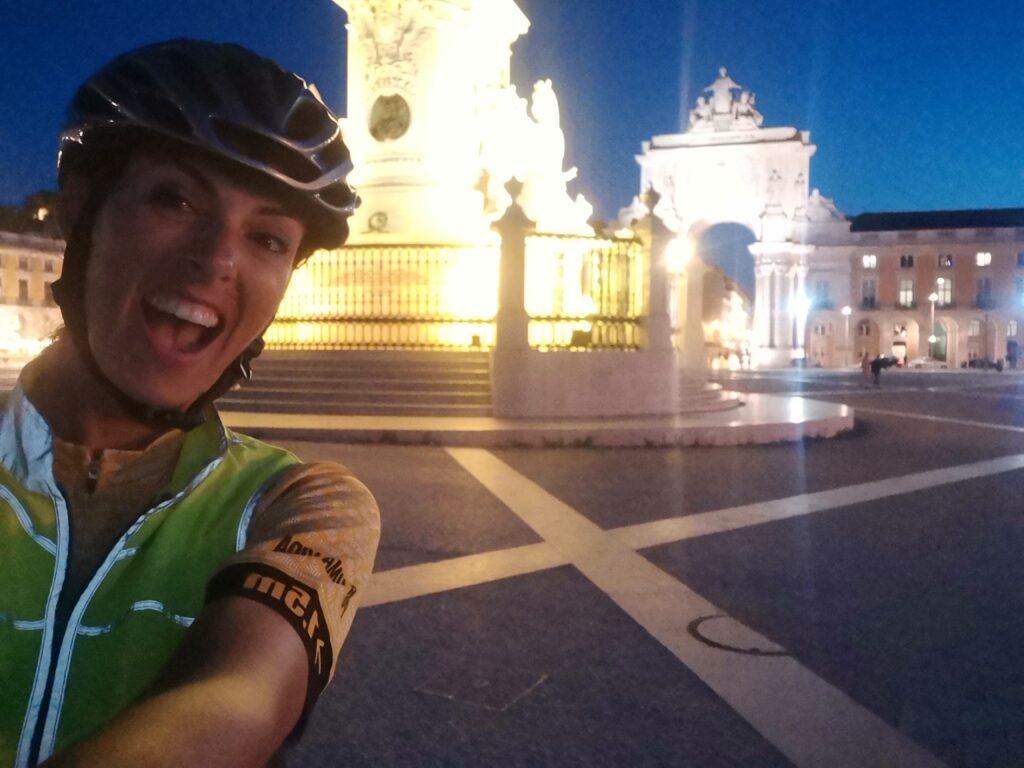 I had just snapped the selfie when my phone rang. My dear friend Marta was on the phone "Alexa, where are you?" She and her husband Carlos, who I call my Portuguese family, were waving at me from across the praça. I dashed towards them and lost myself in their hugs while hot happy tears stained my cheeks. The tears of joy kept flowing as they elated in my achievement and surprised me with a custom medal engraved with "1a volta de Portugal em bicicleta Alexa Humphreys 30-09-2020". After taking photos they asked if they could drive me and my bike home, where we would dine together and continue celebrating. I had absolutely no objections to this.