Starting Point: Aveiro
Ending Point: Figueira da Foz
Today's Distance: 113 km
Total Distance: 1,734 km
I had a long day ahead of me, so I was primed to get an early start. Before leaving though, I had to make a quick stop to admire the canals which give Aveiro the nickname, "The Venice of Portugal" and have a few Ovos Moles. Ovos Moles de Aveiro literally translate to "soft eggs from Aveiro" and are a delicious sweet made from sweetened egg yolks wrapped in shell-shaped rice paper. No trip to Aveiro would be complete without them.
I had mapped out my day with a lunch stop in Coimbra. This meant abandoning the coastline for a bit, but Coimbra is a historic university town that I have heard great things about, so it made it onto the itinerary. The countryside sped by as I made my way south, quickly passing through villages and towns. One small village, Palhaça, stood out as being particularly adorable, and for the thousandth time on this trip, I lamented how I didn't have time to give all of these places the attention they deserved. Every trip reminds me that there is always more to see.
More farms and vineyards came and went as now I was in the Bairrada wine region. Wine is grown almost all over Portugal and each of its many regions has their own specialties and characters. By now most of the forests had left, and trees only lined the fields and roads. Farmers tended to their crops and life felt overwhelmingly balanced as I witnessed the tableau.
At one point Google Maps got up to its old tricks by trying to send me down a dirt road. While it looked to be a stunningly beautiful walk for a pilgrim, it was not ideal for a road bike and I found another way.
Not far outside Coimbra, I stopped to check my map, as I do a hundred times a day, when a road cyclist came up and asked me in Portuguese what I was looking for. Now, road cyclists are great but they typically aren't the talkative types, being very focused on their speed and pace. Renato, however, was quite the opposite. When I told him the name of the restaurant I was looking for, he immediately replied, "Bora!" / slang for "Let's go!" And we were off! Coimbra is an old city with a labyrinth of medieval streets, and Renato's support as navigator made entering the city a breeze. As we rode along, Renato pointed out sites along the way, such as the Santa Cruz Monastery, which hosts the tombs of the first two kings of Portugal.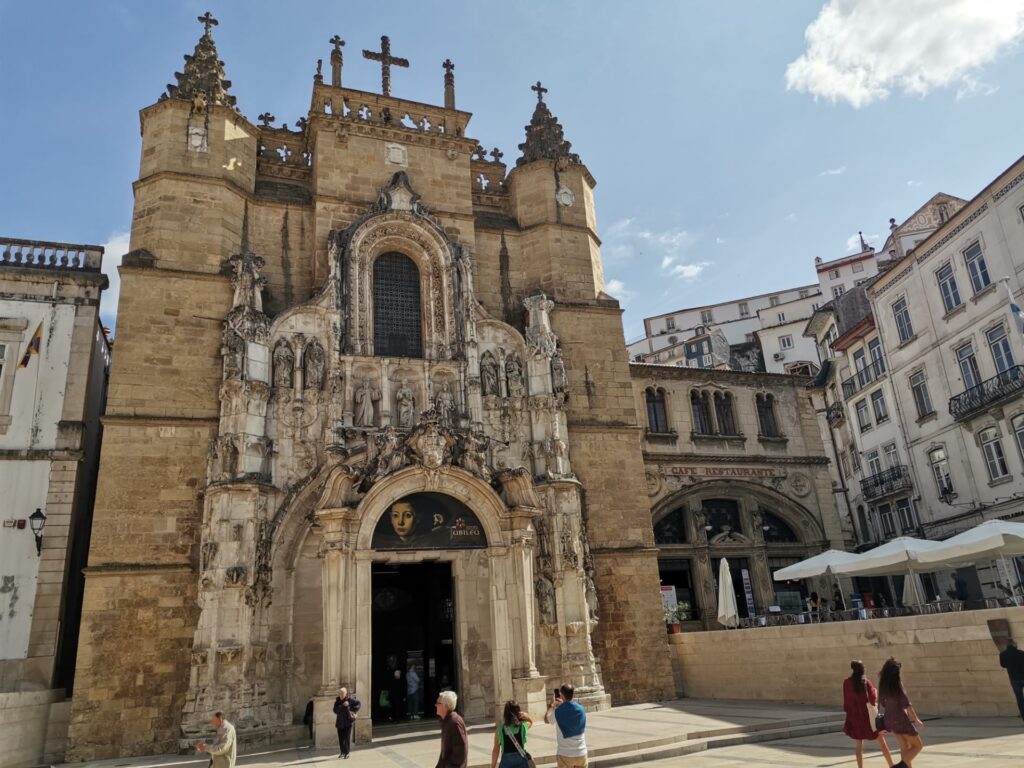 Safely delivered to my restaurant, I thanked Renato in both English and Portuguese, and we talked a bit about my trip. He was extremely enthusiastic about my endeavor and wished me the best before speeding away to do some more cycling. Those road cyclists rarely slow down for long, even ones as kind-hearted as Renato.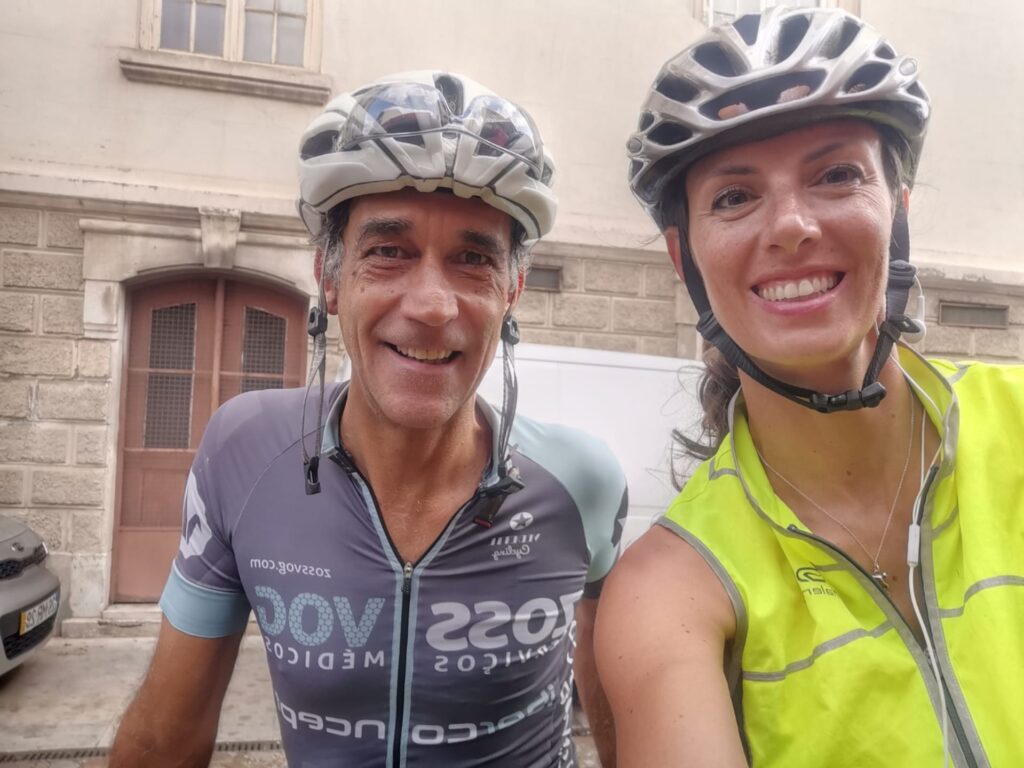 While on cycling trips, I never make reservations for lunch since my arrival times vary dramatically. Usually, it is not an issue. Today I was not so lucky, as the restaurant I was hoping to go to, Zé Manel dos Ossas, had a long line out the door and the staff warned me it would be at least an hour wait. Zé Manel dos Ossas is an extremely authentic and well-known Portuguese restaurant and whenever I return to Coimbra, it will be on the top of my list. Instead, I hopped into a restaurant next door, an Italian eatery. What can I say – I tried to eat authentic Portuguese on this trip but sometimes fate had other plans!
While stopping in Coimbra, I also had the pleasure of meeting António Girão, a friend of a friend and famous cycling activist. In addition, to be an avid cyclist and long-distance rider, António is a champion of a variety of causes for both Portugal and internationally as well. He founded "Por Uma Vida", an organization dedicated to improving the safety of cyclists out on the roads. In addition to getting to meet this wonderful man, I also received a "Por Uma Vida" cycling jersey from him as a gift. I was both honored and pleased to wear the jersey for the remainder of this trip (and into the future!) to increase awareness and help encourage road safety.
The jersey itself has both the logo of the organization and a large street-sign logo on the back showing the space drivers are supposed to leave for their human-powered companions. In small white lettering printed on the entire shirt are the names of cyclists who have been killed on roads; it's an impactful message.
António offered to take me and my bike in his van out of Coimbra to a quieter road, but I immediately declined. I am the kind of proud touring cyclist who wants to earn every kilometre herself. This trip was a cycling trip, and, come hell or high water, I was going to cycle the entire way. Some day in the future when I look at the map of my trip, I want to know that I did every single squiggly bit of that line. António was very understanding and instead offered to lead me out of the city with his van. I gladly accepted, and so not only did I have a local escort into Coimbra, I also had a local escort out as well – no issues with navigation today!
After an extended goodbye and many more thank you's to António, I headed off down a country road that followed the Mondego River, the same river I crossed over on Day 19 (although the weather today was decidedly nicer on this day). The Mondego would take me all the way into Figueira da Foz, the town where the Mondego meets the Atlantic and also my stopping point for the night.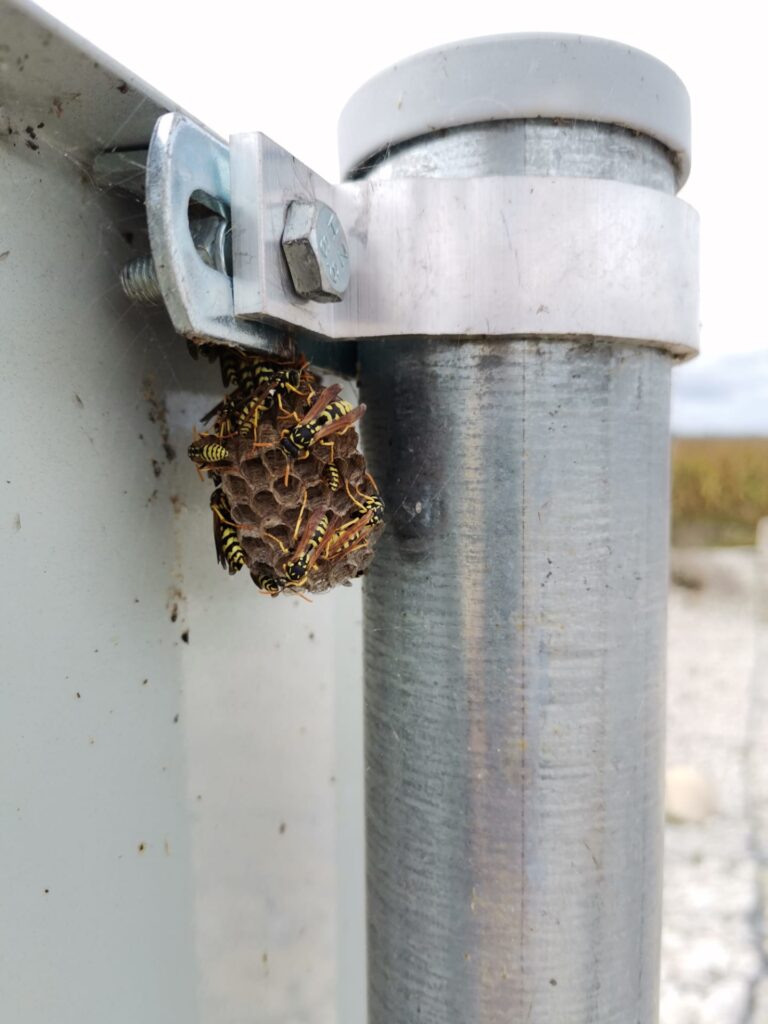 Although the road wasn't in the best of condition the entire way, with sections here and there turning to gravel and potholes throughout, it was a quiet stretch without many cars. I enjoyed just taking in the scenery of peaceful farmlands along the water.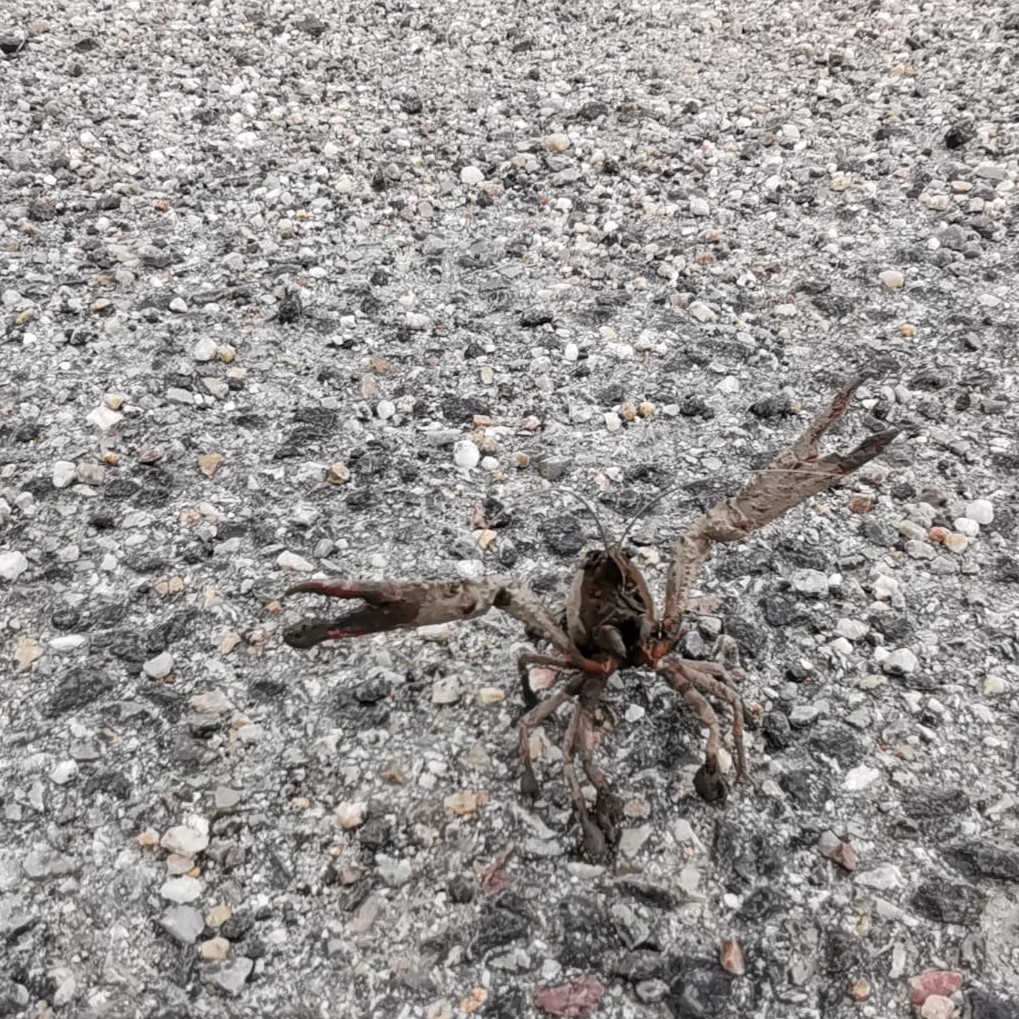 My last five kilometres going into Figueira da Foz ended up being a bit wet and rainy but being so late in the day, it didn't bother me much. Making my way into the town, I arrived at the pin drop in Google Maps where I thought my hotel would be, only to find an empty parking lot.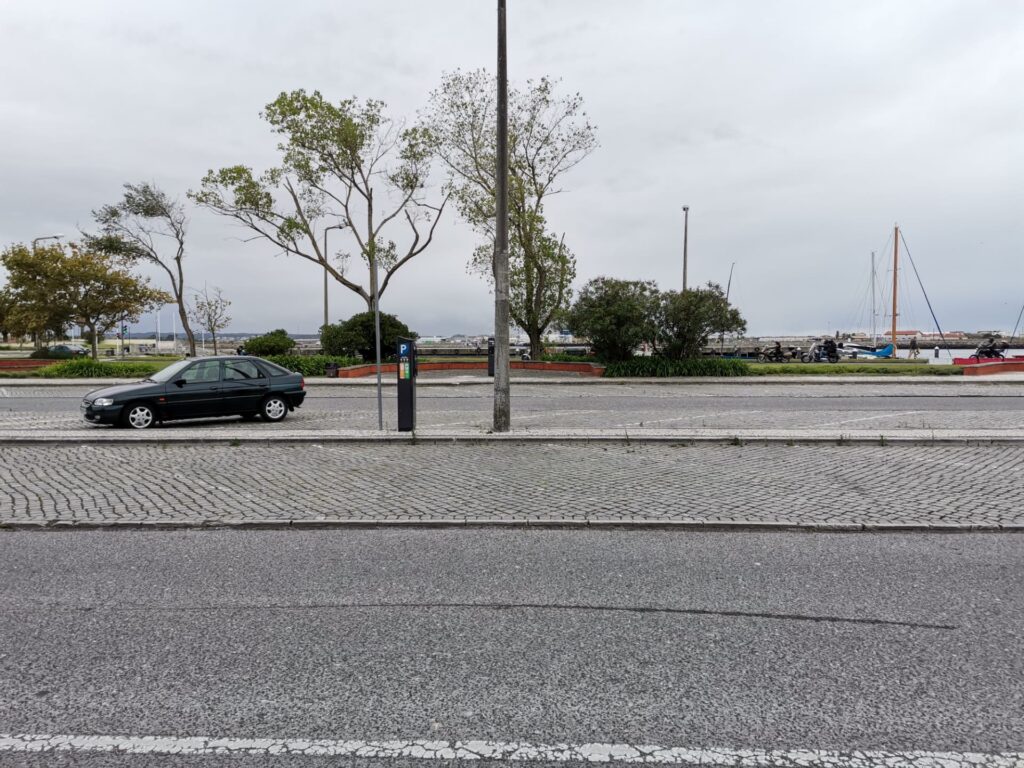 I double checked the information from my reservation, and luckily I had just put in the address wrong. No scam, my hotel was real and luckily right around the corner. Checking in, I was greeted by a warm, older Portuguese woman who immediately feigned disbelief of me being all alone on a bicycle. She continually doted on me throughout the check-in process and commented on how fit I was and that I, "certainly don't have one of these!" as she rubbed her own belly. Yet another colorful and kind Portuguese character to round out a day full of kindness and laughter.