Starting Point: Atouguia da Baleia (Peniche)
Ending Point: Ericeira
Today's Distance: 53 km
Total Distance: 1,938 km
I woke up in pain. The joyous occasion the night before had translated into far too much wine, and I was paying for it now. I quickly realized there was no way I could be on my bike by 8 am as planned. 9 am came and passed. By 10 am I had forced myself into my cycling clothes and downstairs to attempt to eat something. I slumped into a chair and couldn't imagine eating anything other than a banana that seemed neutral enough to stay down. Halfway through the banana I realized that I was still in no condition to be on the bike (imagining myself vomiting on the side of the road) and I crept back up to bed.
Some time later I repeated the effort to get on the road. The sight of food still making me ill, I remembered there was one last energy gel in my bag for emergencies, and this felt like an emergency! I slurped down the strawberry banana goop and made my way to Shaka. I looked at my bright green bike, he looked back at me, I looked back at him. For the first time on the trip, I had no desire to spend the day cycling. Slowly, I swung my leg over the bike and shoved off. If I didn't get on the road now I never would. Ultimately, I did not make it on the road until 12:30, my latest start of the trip!
Onward I pedaled, slow and steady, upset at myself for over-doing it the night before. Feeling like garbage also meant that I was missing out on exploring Peniche! I had planned to cycle a 20 km loop around Peniche before cycling south to Ericeira. Now I was looking for every possible option to make my day of cycling shorter, including seeking a place to rest my head before Ericeira. Sorry Peniche, I will have to plan another visit to see you in the future.
The cycling was slow going and at one point I was cycling on back roads through farmland. It was hard to be enthusiastic about photo documentation in my current state, but a few things caught my eye throughout the day.
Cycling into Porto Novo, I admired the Passadiço das Escarpas da Maceira, long wooden walkway connecting the town of Maceira to the Porto Novo beach.
I cycled past Porto Novo and noticed the change in vegetation, now vast areas boasting red-tinged succulents. I was pleased to find a welcoming cycling path as well.
I carried on, still in pain and trying not to focus on the pounding headache still plaguing me. At one point I looked back over my shoulder, and what did I see, but another solo touring cyclist! I stopped and waited for him to get closer so I could offer a greeting and quiz him about his trip.
This is how I met Ferran. A first-time solo touring cyclist who had started his journey near Barcelona, and was headed to Lisbon as his finish line. It turned out we had been following a similar route along the coast of Portugal and had crossed paths outside of Porto, where Ferran had stopped to take a photo of a tethered Shaka because he admired my light packing strategy. At the time I was inside the restaurant for lunch and had only caught a glimpse of Ferran as he was cycling away.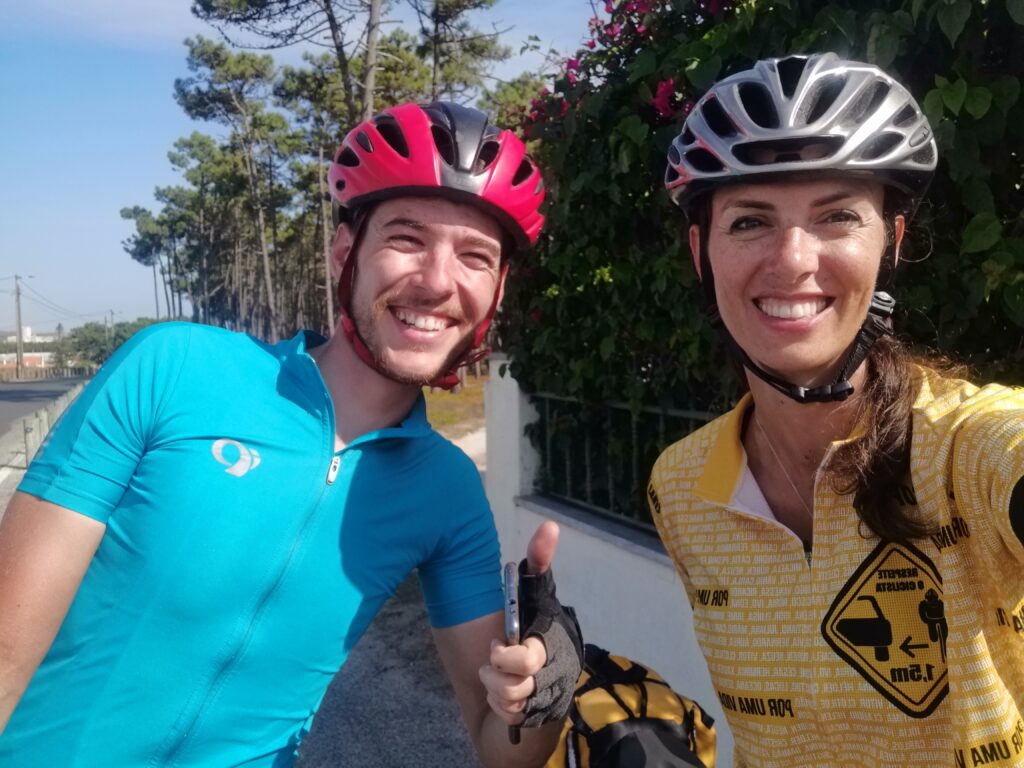 As we were cycling in the same direction, we decided to cycle together to Ericeira. I admitted to my sorry state, which Ferran laughed at but didn't seem to mind, and we chatted while we cycled. Thanks to his encouragement and energy, I'm happy to report that I made it to Ericeira!