Day 12 – Four Castles and Two Large Snails
Starting Point: Reguengos de Monsaraz
Ending Point: Elvas
Today's Distance: 74 km
Total Distance: 778 km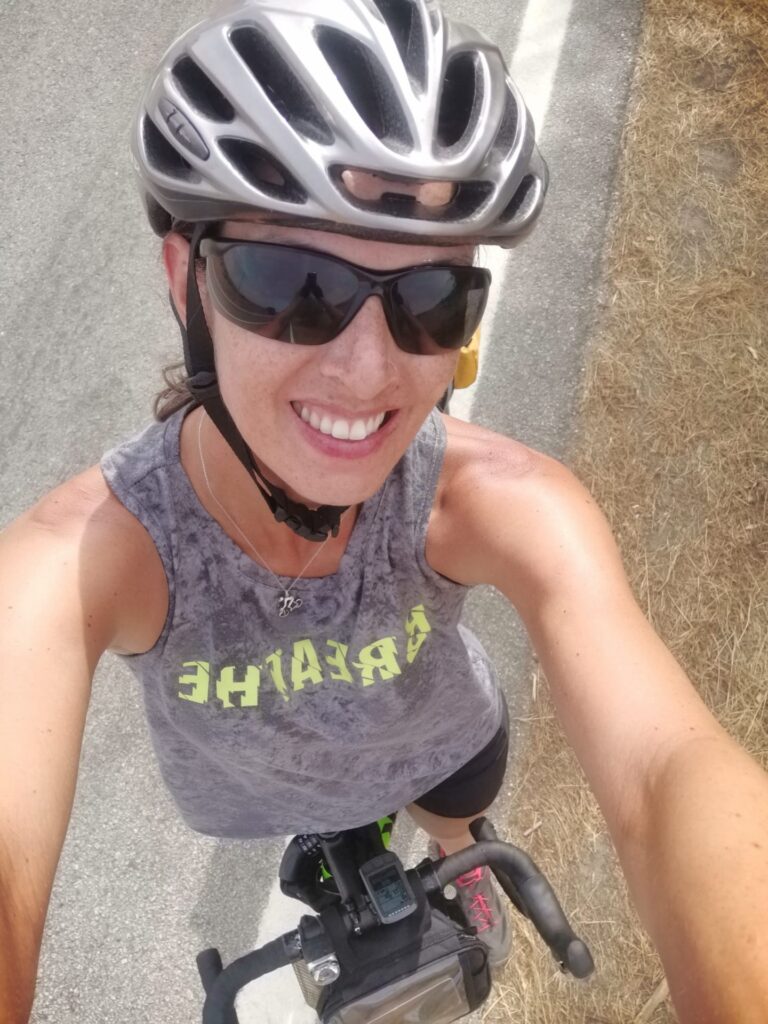 Refreshed after a full day off, I was excited to hit the road again. Fate, however, had slightly other plans for my speedy departure. Not long after leaving Reguengos de Monsaraz, I cycled over a shiny, black section of road. There weren't any hazard signs or markings but the pavement almost looked new. A sticky sound started immediately afterwards and persisted long after I had passed the section of road. Generally speaking, if a bicycle starts making a weird noise, it isn't going to get better on its own and typically it only gets worse. I stopped and checked to see if maybe one of my bags was rubbing on the wheel but everything seemed in order. Both wheels spun freely and nothing seemed to be amiss. When I started up again, the sound was still there so I stopped and checked everything a second time. It was then I realized that a layer of tar from the road was coating my tires and aside from just making noise, was also slowing me down. With nothing to do other than press on, I kept going with the tar slowly wearing itself off. All in all it was about seven kilometres until I could resume my normal speed again and settle into the comforting rhythm of the rolling hills.
Passing by a gas station, I decided to grab a cold drink to cool off on the warm morning. A group of older Portuguese gentlemen emphatically debated one thing or another, or possibly nothing of substance at all, over their morning coffee. While I enjoyed my break with an iced tea, an adorable little dog came up to me in search of treats and attention.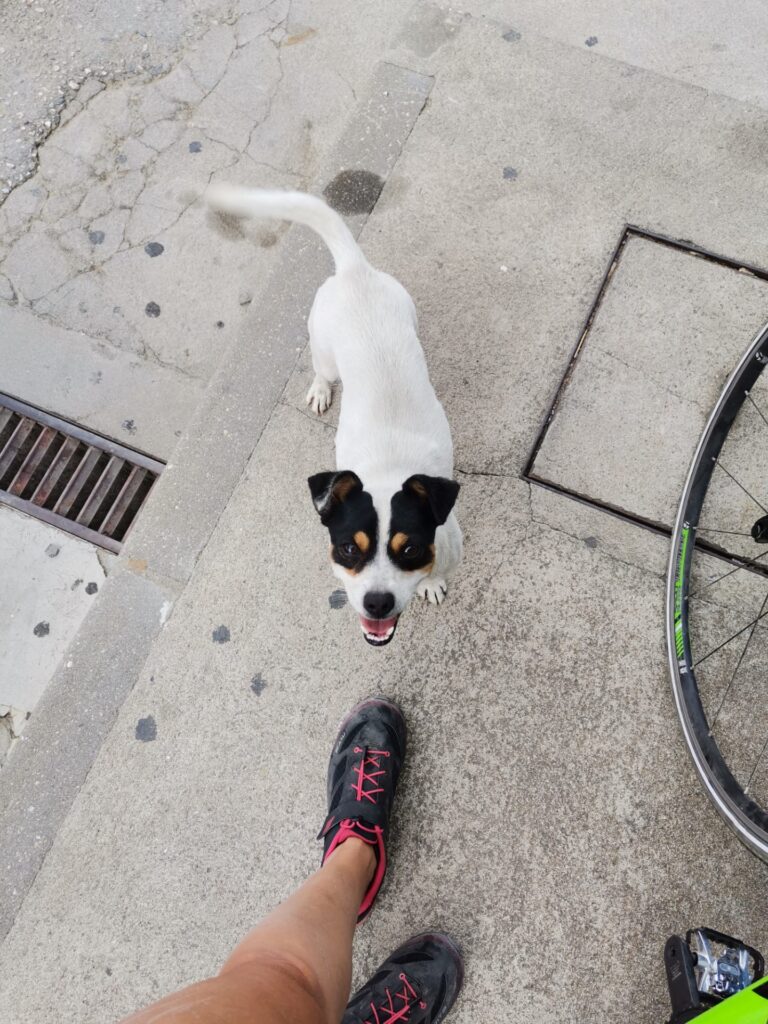 Back on the road I went, enjoying the easy climbs up the rolling hills and smooth coasting down the other side. A large truck passed by leaving the pungent scent of grapes in its wake. Alentejo is certainly wine country. For my second time this trip, I passed fellow female cyclists, this time a group of three, all on mountain bikes and traveling in the opposite direction.
Based on recommendations from Portuguese people who know the area, I knew that today was going to be a day of castles. First on the list was Terena Castle. After a small climb to reach the town, I found the streets to be incredibly quiet; I only saw one person stirring in the entire little village. This fortress-style castle was very impressive and made me look forward to the next three that I would be either passing by or visiting later today.
I also saw a lot of livestock today. Cattle standing in fields, horses and donkeys lazing about, Black Iberian pigs rooting in the ground, a rural menagerie kept me company. One thing of note was the vast difference between the livestock I saw today and the massive industrial feedlots that sustain factory farming. There are certainly parts of Portugal that practice such industry, but, at least out here, farms appeared much more traditional in both their methods and their ethics.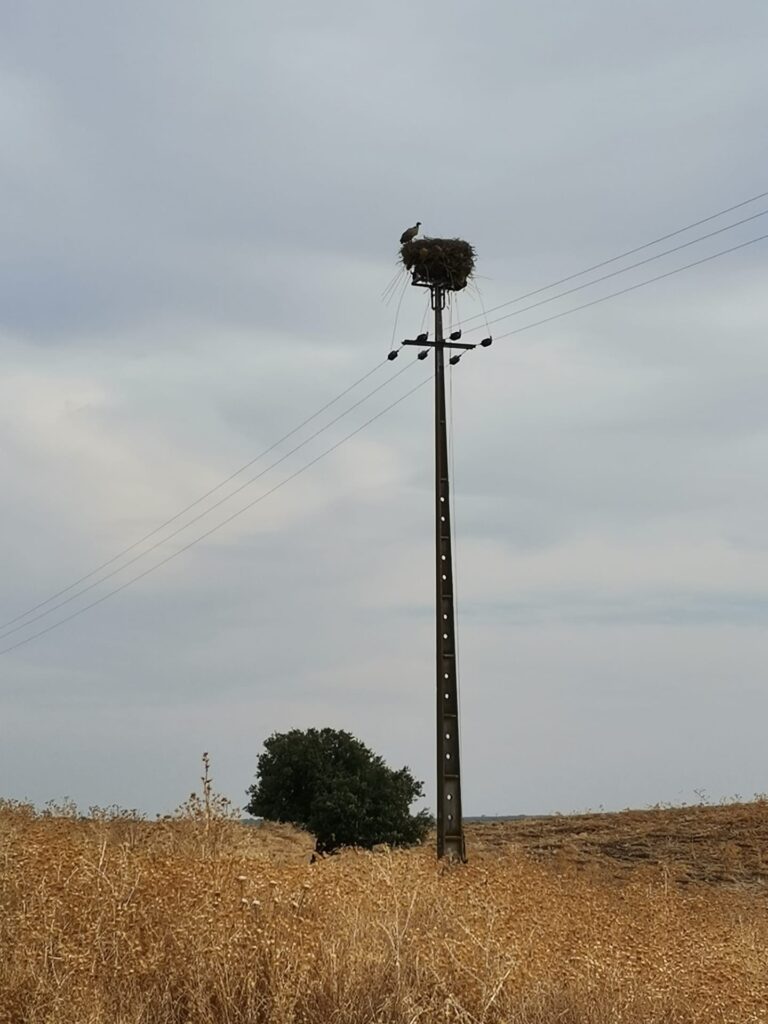 Lolled into blissful meditation by the rural countryside and easy hills, I was surprised to come across two huge, multicolored snails. Instantly I recognized them as work of my favorite Portuguese street artist, Bordalo II. While taking photos of the sculptures, a woman walking up the road nonchalantly said that I could come in if I wanted to see more. Curious, I asked if she meant that there were more Bordalo II's inside. She opened the gate and a garden of artwork and murals, all from a variety of Portuguese artists, called to me. After appreciating the artwork for a bit, I was getting ready to leave when the woman's husband comes to offer me some cold water. We started talking about Bordalo II and art in general and eventually the couple's daughter and daughter's boyfriend join us as well. Finally getting ready to say goodbye again, I asked if they could recommend a restaurant for lunch. Before I knew it, their recommendations changed into an offer to stay and have lunch with them as they had just killed a goat that morning to eat. Not wanting to impose but too excited to say no, I accepted.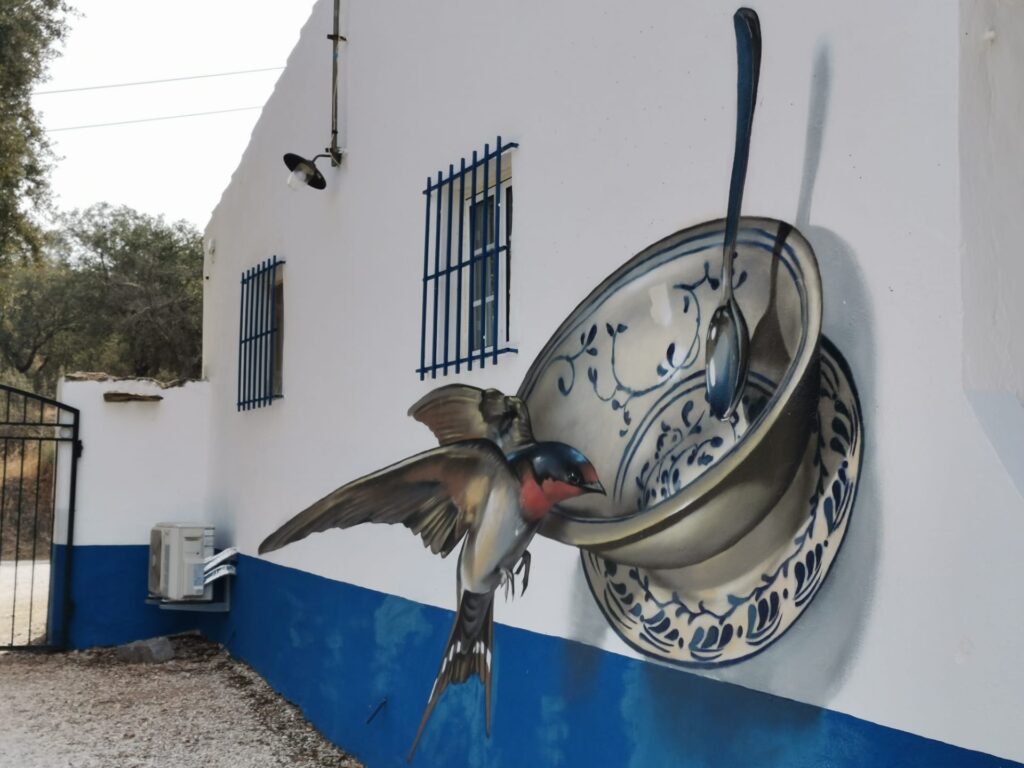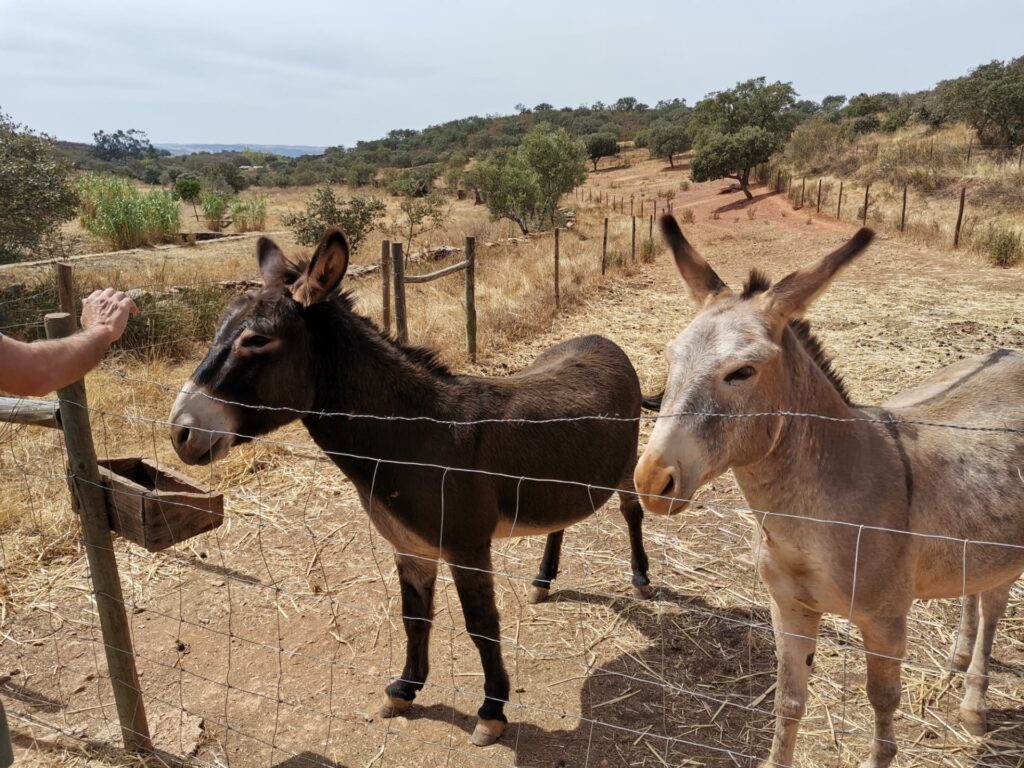 This gracious family gave me a tour of their home, a traditional farm house that has been expanded many times over the years. They typically rent it out but during the pandemic they have just been enjoying it. More friends were invited over and all of the tables were brought out of the house into a long row on the veranda. Soon a beautiful spread of food and wine covered the eclectic mishmash of a banquet table.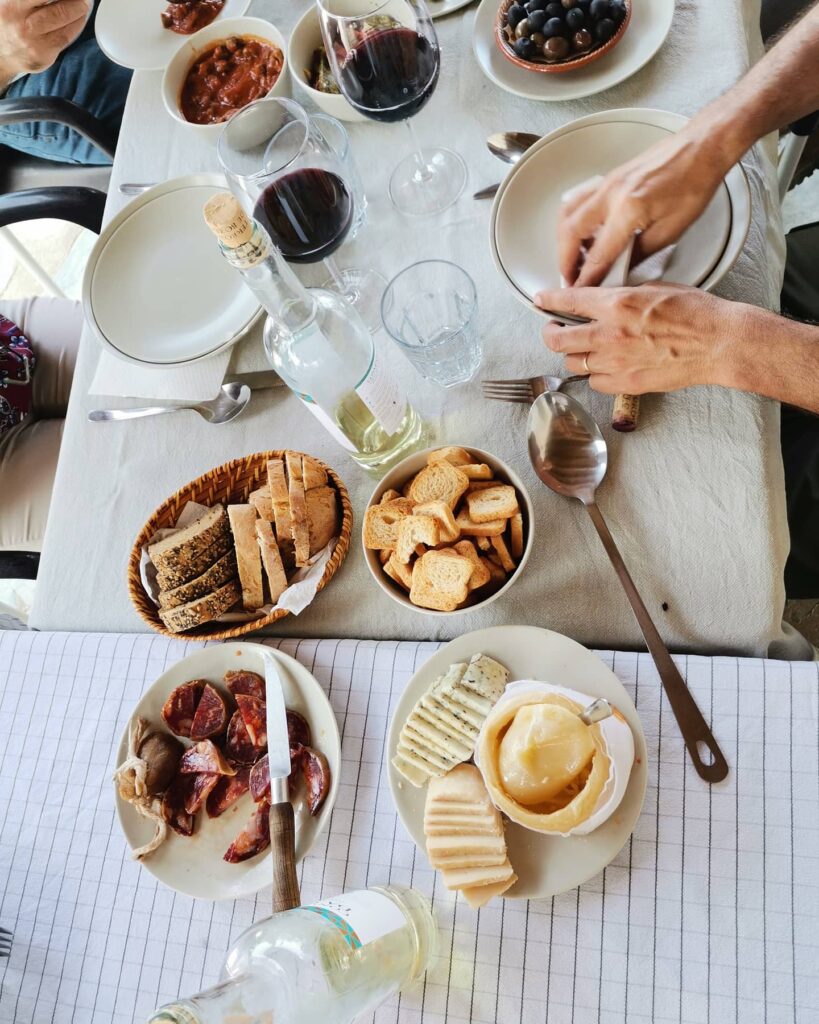 Lunch was as delightful as everything else had been in this serendipitous encounter, but Portuguese lunches are events that can last for hours, especially on holidays. Despite the pleasantness, I kept trying to pull away as gracefully as possible while still trying to be polite to their amazing hospitality. Just as I was trying to leave again, more offerings of fruits and coffee and desserts were insisted upon. Finally, the parents walked me back to Shaka, all the way with me thanking them profusely for their overwhelming kindness.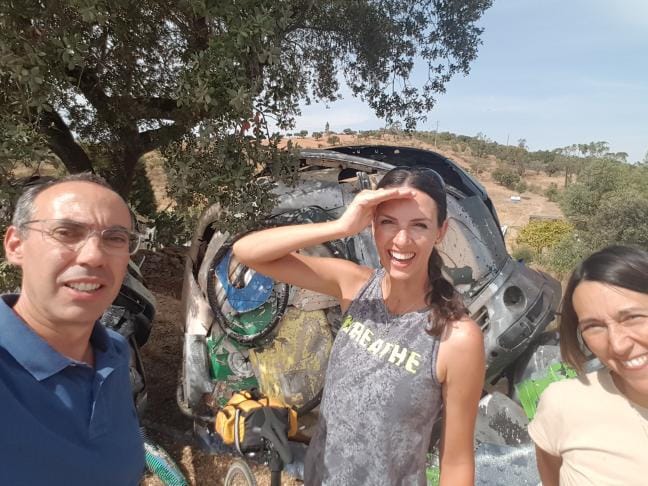 It was so hard to leave that wonderful lunch. I could have spent all day there but my ever-present timetable persisted and I had to get to the next town, Alandroal. Arriving there, I caught a glimpse of the castle and then treated myself to a specialty of the region, pastel de nata de bolota. Similar to the typical pastel de nata except for the addition of acorns, it has an earthy sweetness to it that enriches the flavor.
Castle number three for the day was Juromenha. Although very large and impressive, it was clearly in disrepair, but out of all the castles today, Juromenha certainly had the best views; I could see all the way past the Guadiana river and into Spain.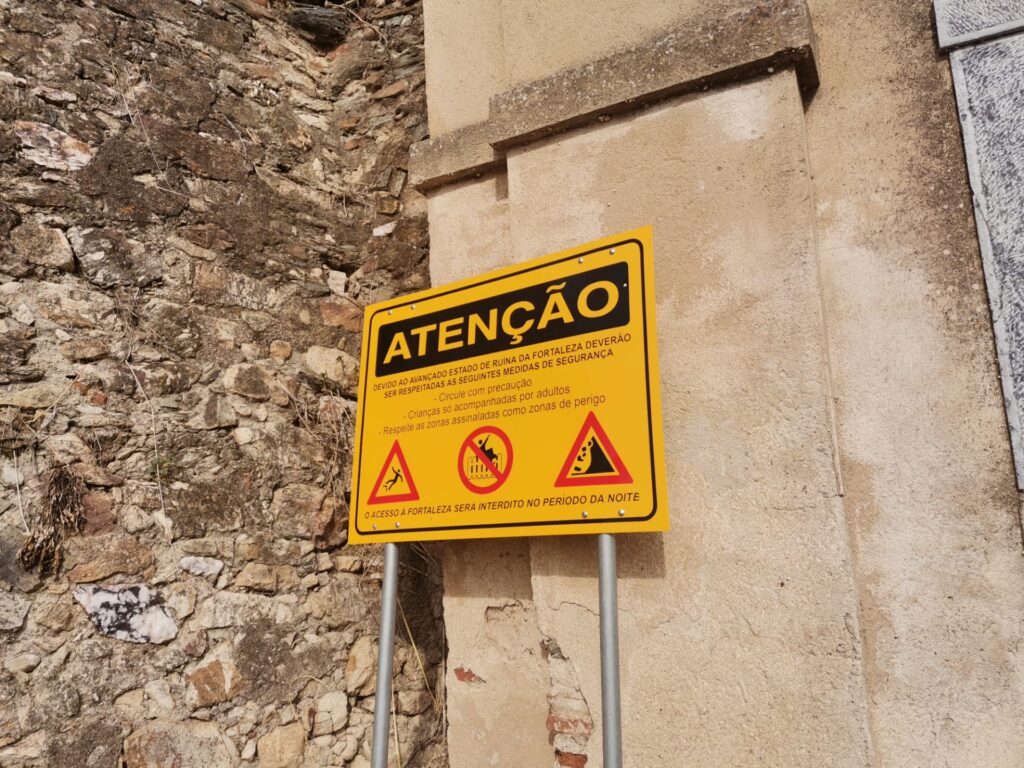 Always moving onward, it was time for the fourth castle of the day in Elvas, my final destination for the day. Elvas is considered to be one of the finest examples of the star-shaped Italian design for fortresses.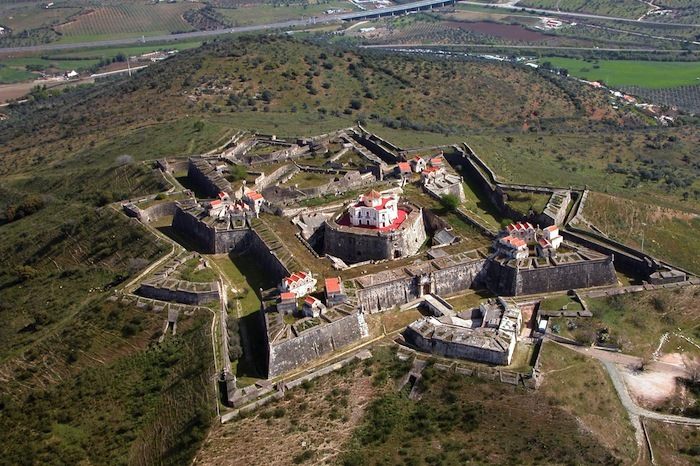 My cycling for the day finally came to an end and I checked into my hotel, right in the middle of Elvas. The woman at front desk was incredibly helpful, and this was the first place to allow me to bring my bike into my room to stay with me for the night. That evening I explored the Elvas a bit and was once again charmed by the feel of Portugal.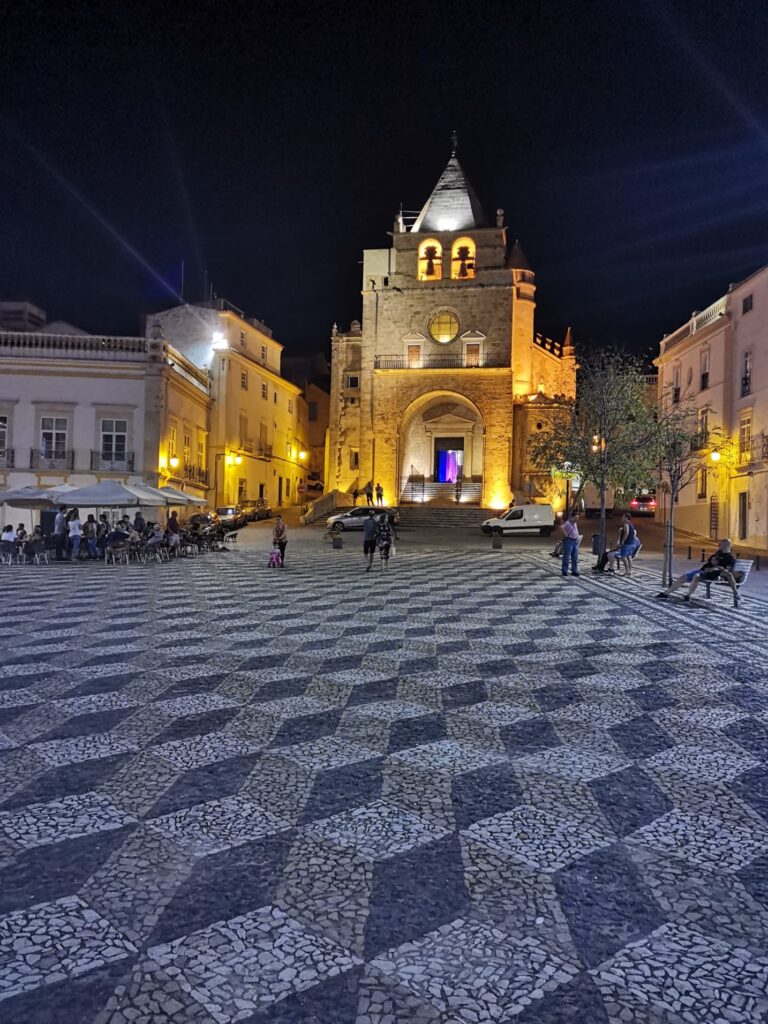 On a side note: Because of the nature of this trip, I have been booking relatively cheap accommodations since I really only need a place to sleep each night, but everywhere I have stayed has been clean, tidy, and clearly well loved. The rooms may be small, but the attention and care put into every place I've stayed has been memorable and comforting. Now I'm wondering what more expensive rooms are like!