5 Reasons Why You Won't Be Kidnapped and Murdered in Colombia
Colombia today is known by travelers as one of the most naturally beautiful and culturally hospitable countries in South America. Yet the old image of Colombia as a haven of guerilla warfare and drug lords stays fast in the minds of many. It's difficult to mention the name Colombia in America without eliciting a look of horror as your audience imagines a drug lord shooting you up like a scene from Scarface. But there are valid reasons why crime has plummeted in this beautiful country. 
#1 Investment in Civil Society
Medellín, Colombia is a perfect example of how urban decline can be reversed when governments invest back into communities. Once the violent domain of drug lord Pablo Escobar this city has undergone a major renaissance over the past decade thanks to enlightened policies and public engagement. Traffic has been reduced by the efficient tramway, former rebels and paramilitary fighters reintegrated into civil society and a new sewage system has literally 'cleaned up the streets'. Coupled with a comprehensive medical system (I noticed citizens of all ages wearing braces and many pearly white smiles) Medellín is a shining example of the importance of people in progress. 
#2 The President Got Tough
With startlingly high crime rates well into the 1990s Colombia's future looked grim. In 2002 Medellín was known infamously as the world's deadliest city. Then President Álvaro Uribe ordered the military to carry out "Operation Orion" with the objective of taking out several notorious urban militias. The next four years of targeting drug gangs and top kingpins was wildly successful and lead to the death and disarming of thousands of paramilitary members. Unfortunately for surrounding countries the surviving cartel members pushed their way into Venezuela and Central America.
#3 America's Spike in Meth and Pill Popularity
Once the world's leading producer and exporter of cocaine Colombia's incentives have abated as America's lust for drugs has switched gears. In the 80's and 90's cocaine and crack cocaine were hot commodities in US innercities. Today, however, meth has taken the place of crack in urban areas and permeated rural populations as well; leaving far more casualties in it's wake. Spurred by the perfecting of home-grown meth labs meth is now extensively available and incredibly cheap. Coupled with the overprescribing of pharmaceutical opiates in the US, Colombia's market for cocaine has continued to dwindle. Today it is third on the list of cocaine producers behind Peru and Bolivia. 
#3 Increase in Toursim
Tourism in Colombia is on the rise thanks to the massive reduction in crime and preservation of natural beauty. Even with global tourism at a low from the global economic recession Colombia is enjoying a notable boost in tourism. According to Colombia's Tourism Ministry nationwide tourism rose 300% since 2006. When I was researching for my visit I was astounded by the number of hostels available. Hostels are, after all, an indicator of a city's exploratory traveling infrastructure in contrast to hotels which are also used for business travelers. The countries with the greatest surge of tourists headed to Colombia are Canada, Chile, Argentina, Bolivia and Japan according to Colombia's Minister of Commerce, Industry and Tourism. Apparently Americans are too fear driven to venture to this country en masse just yet.
#5 Kidnapping Is Just Not As Profitable As It Used To Be
Colombia was once renowned as the kidnapping capital of the world (Think Man on Fire) but if Denzel were in Colombia today he'd probably be out of a job. Up until 2002 guerrilla groups commonly set up roadblocks to conduct la pesca milagros "miracle fishing" or randomly stopping vehicles hoping to find persons valuable enough to kidnap. But with the dismantling of paramilitary groups and an increased police presence along major roadways the practice has all but disappeared. Sorry sweetie, they're just not all that into you.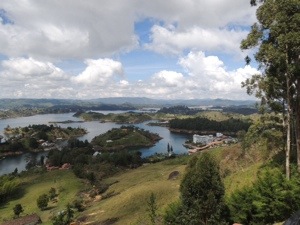 A spectacular view near Guatapé, Colombia
During my recent visit to Colombia I fell in love with the country and was especially impressed by Medellín. Somehow they've managed to keep genuine kindness and culture woven throughout a sprawling metropolis. The streets are clean, the food largely unadulterated and athleticism and family values reign supreme. I could hardly find a Colombian flag and the face of their president wasn't plastered around the city. What I did find were the kindest cab drivers I have experienced in my travelers, perfect strangers who taught me Spanish, and men and women who liked to express themselves in art, music and attire. I saw evidence of a burgeoning middle class and well developed medical services. I saw in Medellín many things worth emulating.
That being said, no country is perfect. There are cities, areas and neighborhoods of Colombia you are best to avoid. As with any new place be smart, listen to the advice of locals and don't walk around with expensive jewelry. Petty theft still exists as with any major city. This warning aside I encourage you to consider Colombia for your next international excursion. You'll be astounded by the beauty and kindness that abounds.