New Years as Celebrated Across the Globe
Happy New Year! Finally something we can all agree upon right? That one celebration that transcends race, religion, time and place. It's that epic day across the globe where everyone shares in one collective sigh of relief, tallies their blessings and hardships from the past year and looks forward with new ambitions. But did you know that not everyone celebrates the New Year on January 1st?
Most of the world follows the Gregorian Calendar aka the Western or Christian Calendar. It is the most widely accepted calendar and is endorsed by such mega institutions as the United Nations and the Universal Postal Union. The Gregorian Calendar is actually the updated version of the Julian Calendar originally implemented by Julius Ceasar. It was, however, overturned and renamed by Pope Gregory XIII in 1582. The alteration only adjusted for .0025 of a day but hey, the Pope got an entire chronological system named after him out of the deal!
In most of Southeast Asia, however, the Buddhist Calendar is the standard. This calendar evolved from its predesessor the Hindu Calendar and has the Thai New Year or "Songkran" falling on April 17th. It is also worth noting that according to the Buddhist Calendar it is currently the year 2557 in Southeast Asia. So if you visit Cambodia anytime soon you are technically traveling into the future minus the flying saucers.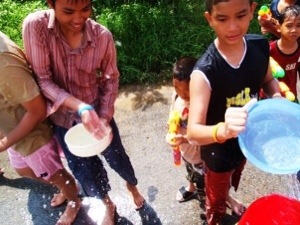 Getting Soaked for Songkran
If you arrive in Thailand between April 17th and April 19th prepare to be dowsed in water in celebration of cleansing for the New Year. It's an amazing celebration that no one who steps out of their house misses out on. Trust me, I was there.
Many Jewish people across the globe celebrate Rosh Hashanah as their New Year. Based on the Hebrew or Jewish Calendar this is a fluctuating holiday falling on the first day of seventh month. This means their New Year may be anywhere from September 5th to October 5th. Back to school for the New Year.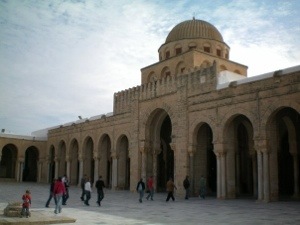 Traveling Back in Time
The Islamic or Hijri Calendar is a lunar calendar consisting of 354 or 355 days. Try doing the math on that one! I hope they cut out a monotonous Monday or two in there. If you desire to travel back in time to balance out your time travel in Asia consider visiting a Muslim country. According to the Hijri Calendar they are currently living in 1435! Their New Year typically falls on October 24th.
These are just a few notable New Years celebrations and coexisting calendars. There are dozens more. For example Iran, Nepal, the Zoroastrians and numerous other religious and indigenous populations maintain their own systems of chronology. Just when you thought there was a set standard for something across the globe. Nope, our world and our perception of it is dynamic, complex, subtly shifting and changing through time. What an amazing planet we inhabit.