Breaking My First Class Fast
I've always had a strong aversion to flying First Class. Inwardly I cursed the caste of stoic businessmen and women staring at us weary economy classers shuffling our way to the back rows. I had written off first class as a heirarchel mode of travel that I would not support. "Airlines should have the same class for everyone. Everyone gets a bigger seat and everyone gets a glass of champagne!" I extolled to anyone that would listen. Intent on standing by my egalitarian flying morals I never purchased a first class ticket; even when the last minute upcharge was incredibly economical (think $20).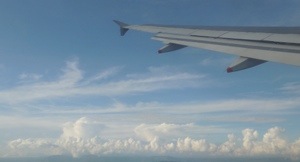 But I finally broke my first class boycott on a flight to Sydney, Australia; and it was entirely without my doing. 
I arrived at the check-in counter for LAN Airlines at Auckland's international airport. Having stayed up through the night savoring last moments with great friends I was in a sleep deprived haze when the counter opened sharply at 4:00am. The exuberant LAN associate, a middle aged man who seemed to love mornings, cheerfully checked me in and cracked jokes during the process. It was all I could do to smile, nod, and reflect back a glimmer of the kindness he was showing me. 
Once checked in and past security I found the nearest flat surface and added another famous Alexa power nap to my repertoire. Although it was not the recharging rest I was hoping for. This was one of those fitful naps that leaves you groggier than before the attempted semblance of a REM cycle. 
Finally my plane was boarding. I lumbered into formation to have my ticket ripped. I handed my ticket to my cheerful LAN associate from before. He began to scan my ticket then paused and said "wait one moment". He slid over to a computer and had a female associate helping him peck away at the computer. I began to worry. Was something wrong with my ticket? Did they overbook my flight and I was going to be the unlucky passenger stranded until the next available flight?
After 30 seconds that seemed like an eternity (I could feel the line of passengers behind me getting restless) my cheerful friend floated back over, newly printed ticket in hand. "This is more appropriate. When you board the plane turn left, not right. Enjoy your flight." "Thank you" I responded automatically, not sure what had happened but happy not to be delaying the line any further. Upon closer inspection of my ticket I knew something was wrong. Where was the word 'Economy' I had grown accustomed to on every boarding pass in my life?
Then it dawned on me. That dirty bastard. I was no longer flying Economy I was now flying Business Premium. 
I had no time to argue or state my case or demand that my champagne be shared. I was in the plane being ushered to the airline version of a lazy boy and handed a glass (yes real shatters when it breaks glass) of orange juice and an authentic (better than a piece of felt) body covering blanket.
Truth be told I didn't get to fully experience my brief encounter with this mythical class beyond Economy. As soon as the plane's landing gear broke contact with the runway I cranked my seat (which had more functions than a Japanese toilet) back to horizontal and passed out. I didn't wake up until the flight attendant was leaning over me to open windows and asking me to return my seat to its upright position. I don't know if there was champagne and caviar. I couldn't tell you about the vastness of the film selection or how refreshing the rose water hydration spritzes were. My one chance at a glamorous flying experience and I had slept through the whole dang thing.
So maybe I didn't break my First Class fast after all. Maybe I can still consider myself a first class virgin and tout the importance of economic purity. After all, I have many more flights in my nomadic future and what are the odds of having someone else freely upgrade me to Business Premium again?