"The only question you need to ask yourself is: Can you keep up?"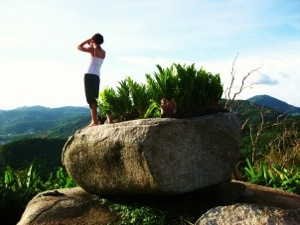 The popular recent article Don't Date a Girl Who Travels by Adi Zarsadias has made a whirlwind tour across the internet and was passed on to me by many friends. Although her satirical warning of the perils of dating female travelers holds heartfelt sentiment and many compliments I still stepped away from the article with the impression of female travelers as flaky and disconnected. In response, I decided to write my own empowering article on why one should date a female traveler.
Date a girl who travels. She'll be the sun-kissed beauty who has meaningful conversations and feels inexplicably comfortable in her own skin. Her eyes convey wisdom beyond her years yet the vibrancy of contagious curiosity. She has a few scar stories from exotic misadventures which she will readily tell you the details of.
A girl who travels knows real wealth lies in experiences. You won't find her driving an expensive car or spending a small fortune on jewelry. She'd rather save the excess and surprise you with a backpacking trip in a new country. She knows the time spent exploring the globe will bring you closer than all the dinner dates in the world.
She is well-rounded and has a broad world perspective. She's pieced together history by actually going to the places where battles were fought and civilization was born. She isn't afraid of joining in on conversations about international politics and gives real-life examples to support her conclusions.
She's one of the most adaptable females you'll ever meet and thrives in new environments. She prides herself on being able to fit in with the locals and feels just as at home in the streets of Calcutta as at a black-tie affair.
She is a woman who knows how to make things happen. Her resourcefulness vies with MacGyver in moments when she fashions a tool out of dental floss or a patch out of palm frond. She can whip up a feast from strange ingredients owing to the countless times she's navigated market aisles in foreign countries.
She may be spiritual but she's far from religious. After exposure to many religious traditions and philosophies she sees the commonalities and embraces all people. She's not sold on gimmicks and whether or not she chants 'namaste' she respects the spirit in every person.
She can budget with the best of them and work toward long-term financial goals. Not to mention she haggles like a pro after years of experience with cab drivers and street vendors. She knows how to live in the moment while investing in the future.
She shies away from the tacky, commercialized distractions in life and takes the road less traveled. At times she gets lost on purpose just to know the magnificent feeling of finding her way again. She has an uncanny sense of direction because she has spent years developing her mental GPS.
She stopped believing in the propaganda of fear long ago. Chants of be safe from nontravelers are almost laughable and she conducts her research on security by talking to people who have actually been there. She knows which strangers to confide in and when to hitchhike because her intuition is fine-tuned. She jumps out of planes and dives beneath oceans to feel even more alive.
A girl who travels is far from indecisive. She's so accustomed to juggling flights, visas, and travel plans while weighing her options and selecting the most logical is second nature. She is either going to choose something she knows she loves or the most bizarre thing on the menu. Either way, she will share a bite with you.
She's interested in a partner in crime, not a prince to carry her away. She's already carried herself away to so many lands on her own. She buys her own flights and opens her own doors. If she chooses to be your partner in this crazy journey called life her dedication will be unmatched, but you'd better be willing to meet her halfway.
It's hard not to fall in love with a girl who travels. She's confident, worldly, and radiates life. The only question you need to ask yourself is: Can you keep up?