Starting Point: Moura
Ending Point: Reguengos de Monsaraz
Today's Distance: 49 km
Total Distance: 704 km
With a shorter ride ahead of me, I indulged in the luxury of a lazy start. Just 12 short kilometres down the road stood the Alqueva Dam, one of the largest dams in Western Europe and barrier to the massive Lake Alqueva. Constructed in 2002, the dam is a strikingly modern feature in the otherwise rural landscape. It provides not only water for agriculture but also hydroelectric power for the region as well.
Once I lost sight of the dam, it was back to the hot, barren landscapes of yesterday. Just being away from the water made the cycling psychologically hotter.
As I was approaching the town of Amieira, I was saddened to find a bullfighting ring with a bronze bullfighting statue out in front. Bullfighting is the only thing about Portugal that I dislike; just because cruelty is cultural, it does not mean it needs to persist. Drawing the distinction between cultural difference and moral transgression is a large part of traveling and when it comes to bullfighting, I firmly place it on the later. Find more information about the cruelty of bullfighting here.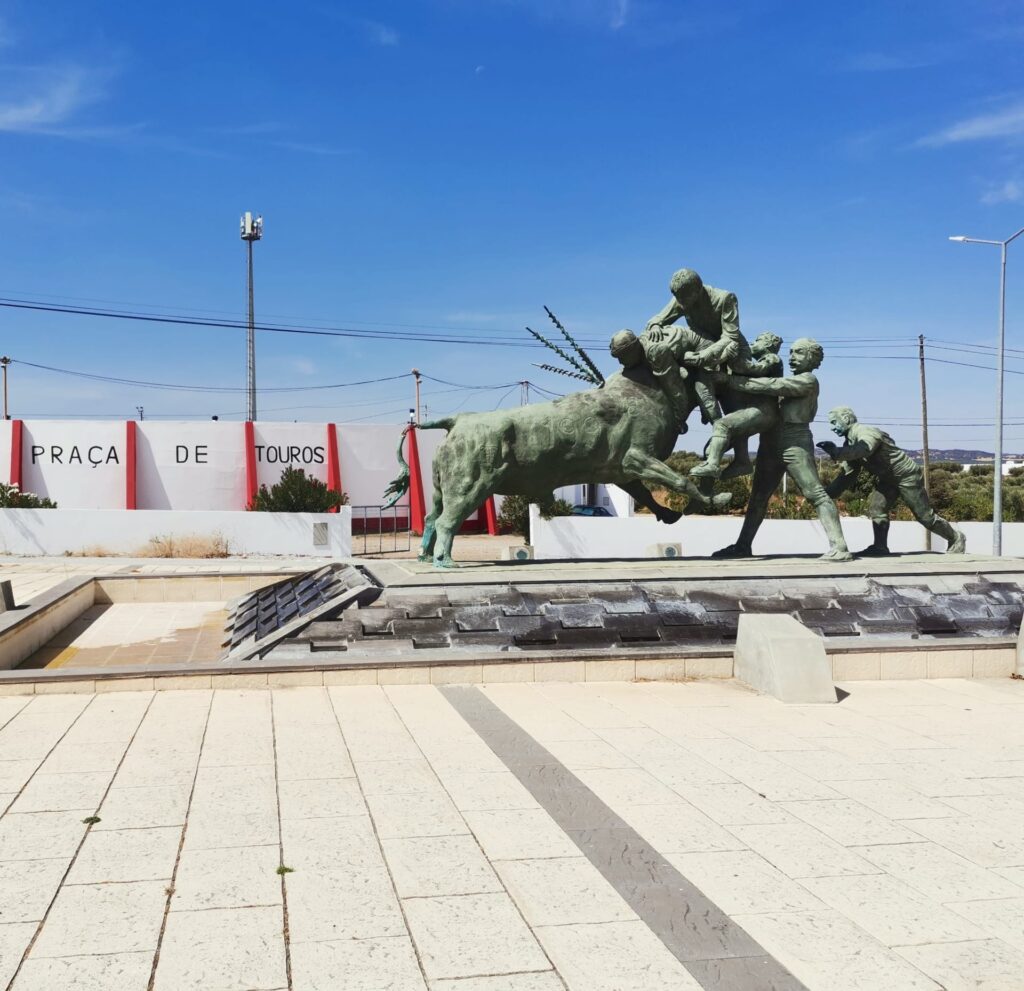 Just the other side of Amieira was another Praia Fluvial / manmade beach. These had become my saviors from the midday heat these past few days and today was no exception. The beach separated the lake from a grassy knoll set with toldos / small canvas triangle sunblocks. Asking around I discovered that they rented out for €2.50. This was arguably the best €2.50 I had spent so far this trip. Personally, I am the kind of person who loves a quality nap after lunch but the opportunities for socially acceptable catnaps while on a cycling trip are few and far between; just conk out on the side of the road and a passerby thinks you've fallen and died. Needless to say, I was quite pleased with my shady little toldo.
My decadent hour and a half nap completed, I crossed the Alqueva Lake for a final time before heading back into the arid countryside again. With such a short cycling day, it wasn't long until I arrived in Reguengos de Monsaraz, my destination for the evening. Arriving well before sundown was a welcome change from many of my previous days and I took my time finding a good restaurant. Migas, a Spanish and Portuguese traditional dish somewhat similar to American stuffing was on the menu for the evening and served as a filling end to a relaxing day.