Day 9 – Old Mines and New Friends
Starting Point: Mértola
Ending Point: Moura
Today's Distance: 95 km
Total Distance: 655 km
My day began like most good day's do: with coffee, juice, and pastel de nata. Afterwards I began my ride for the day by crossing over the river Guadiana and out of Mértola. From the bridge I could take in the full grandeur of the medieval city.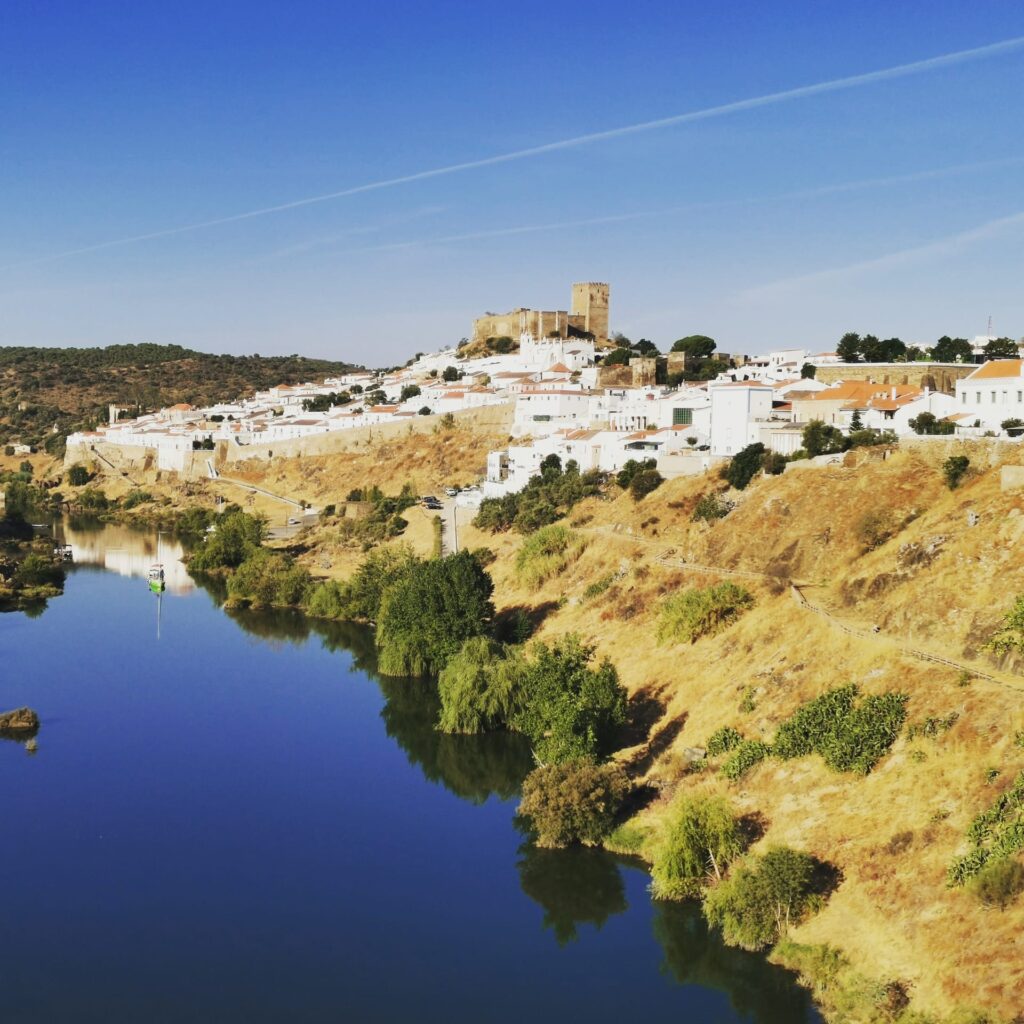 Once I was outside of Mértola, the quality of the road quickly degraded. While there was almost no traffic, and, by the strictest of definitions, the road was paved, the road's surface was cracked, broken, and absolutely riddled with potholes. Given the gentle terrain, I would typically be flying along but I was forced to slow way down in order to pick my way through the ruins of this long-neglected pavement, hoping the entire time for better road conditions.
After not too long (but admittedly longer than I would have liked), a lake came into view and I had made it to the Minas de São Domingos. The Minas de São Domingos are abandoned mines, first used by the Romans to extract gold and silver for over 400 years. Later on, in the mid-1800's, the mines were reopened, now in search of copper to fuel the industrial revolution. After a change from tunnel mining to open pit mining, operations finally ceased for good in 1966, leaving behind a post-apocalyptic feeling hodgepodge of abandoned ruins spanning thousands of years. If that weren't interesting enough, the lake formed from the open pit mine is a deep blood red color from the iron oxide. The deeper water still appears blue, but a closer look at the water along the shore shows the haunting true color of the lake.
Once I finished exploring the ruins, it was time for an iced tea and a swim in decidedly less "blood-like" water at the praia fluvial, a cute little beach on a nearby lake, Tapada Grande. I have to hand it to the Portuguese: they really know how to make a manmade beach.
Unfortunately when my fun was over, it was time to get back to the same beat up road that I was on before. After a few more hours of picking my way through the broken pavement, I finally accepted that this was how I was going to spend my day so I might as well appreciate my surroundings instead of constantly trying to edge out a slightly faster pace. These moments of self-reflection are important to me and by willfully changing my attitude, I began to enjoy my time traveling through this dry and isolated part of the country. Parched dry landscapes became seas of gold dotted with olive trees. Approaching the town of Serpa, agriculture became more common. Rows and rows of cultivated olive trees lined the road with cork trees making appearances as well.
Serpa is home to Ricardo, a local Portuguese cyclist and computer science teacher who graciously offered to show me around. Cante is a style of folk acapella music particular to the Alentejo region and our first stop was to a museum dedicated to it. Along with Fado, Cante is one of the two major Portuguese musical traditions.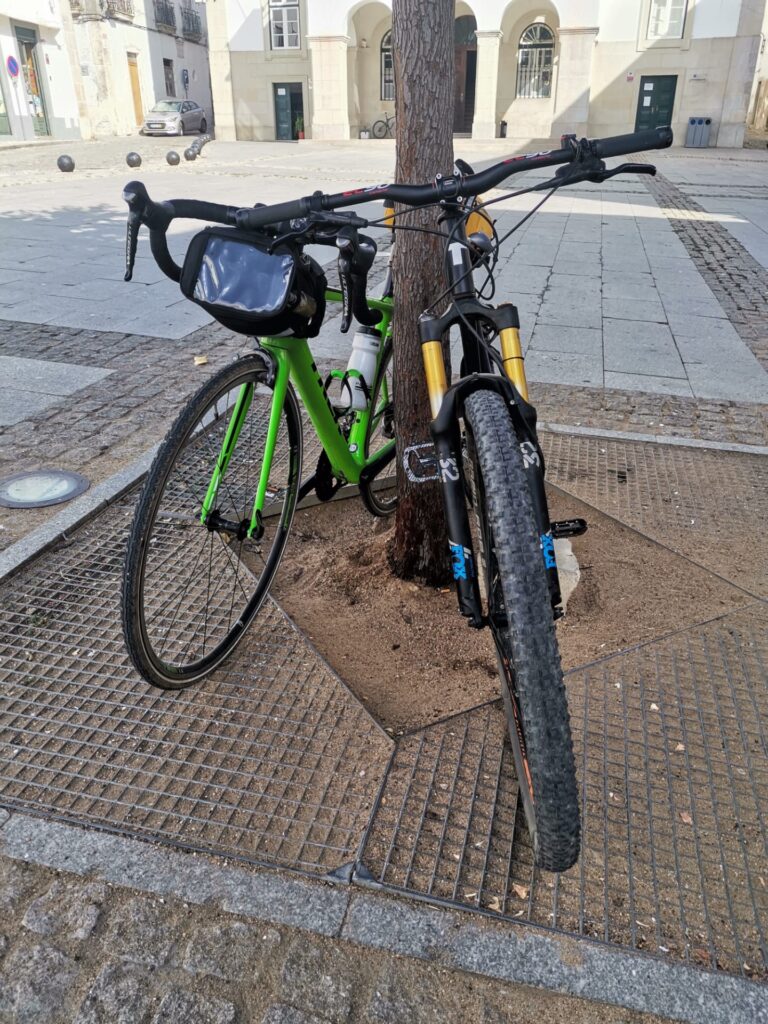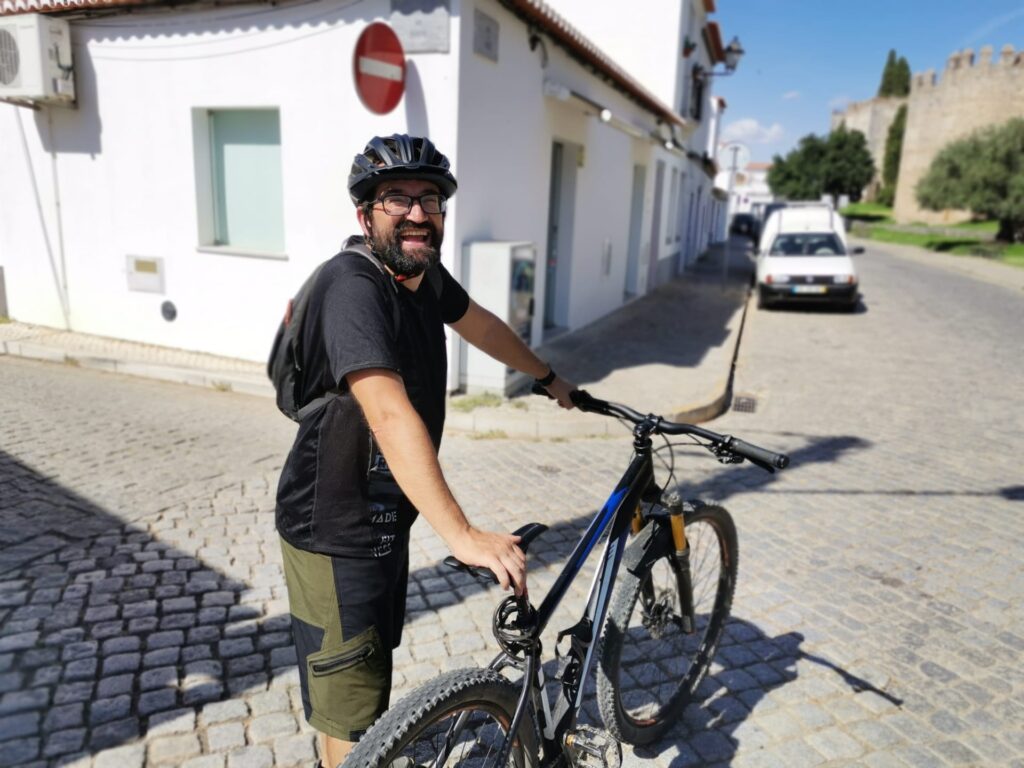 Our next stop was the castle presiding over this medieval town. Like many other sites in this region of Portugal, the castle has many layers of history from pre-Roman through the Middle Ages and up through the modern day. A tour through the connected museum explained the detailed history of Serpa and provided information about the Alqueva Dam, which I would be seeing the following day. When the dam and corresponding irrigation canals were built, the region's archeological sites grew from 15 to more than 800 from everything uncovered in the excavations.
With my head full of history and culture, it was time for a queijada break. Queijadas are Portuguese sweets made with requeijão cheese (similar to ricotta). Although different cities claim this sweet as their own, residents from Serpa claim theirs is the best.
To finish off my tour of Serpa, Ricardo took me up to an old hotel turned miradouro / viewpoint at the highest point in the town.
I still had to make it to Moura for the night so I had to sadly say my goodbyes to Ricardo. Before I left, Ricardo insisted that I make a quick stop in Pias where his friend Pedro and Pedro's mother Teresa were waiting for me with a cold drink and a snack. How could I resist after Ricardo had been so hospitable to me already? Portuguese hospitality continued to impress.
Upon arriving in Pias, I made my way to the Bética Hotel Rural where Pedro and Teresa were waiting for me. Fresh fruit and cold water were immediately provided, and I was given a quick tour of their charming hotel. With great little spots like this, my list of places to see keeps growing instead of shrinking as I cross items off.
Yet again I raced the sun to my destination, this time beating the sunset to Moura by mere minutes. Every day of this trip feels more and more full than the one before.