Starting Point: Vila Real de Santo António
Ending Point: Mértola
Today's Distance: 78 km
Total Distance: 560 km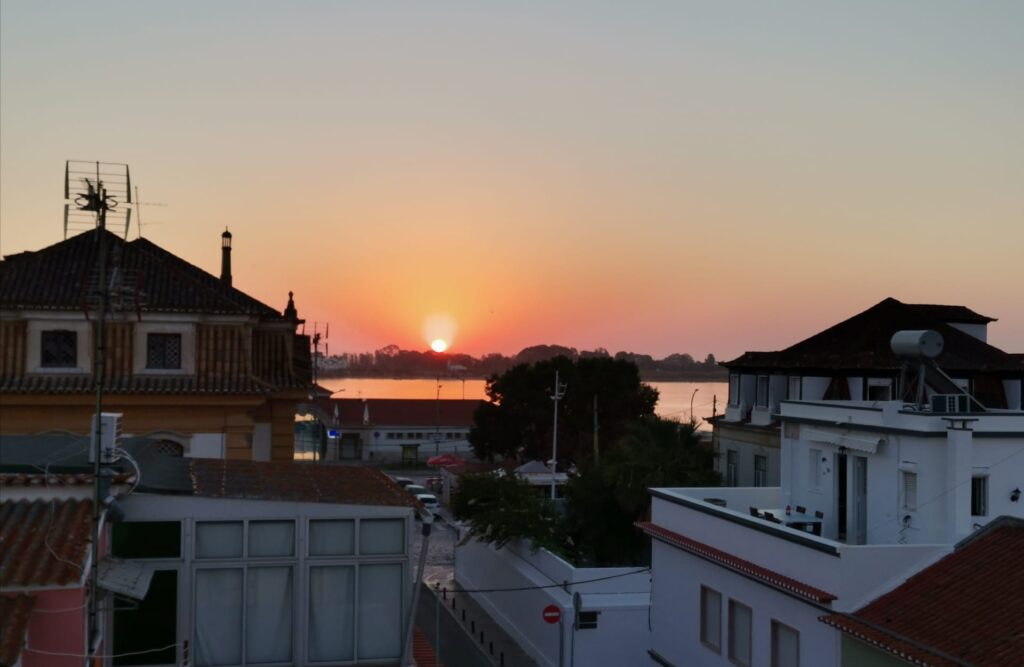 The city was still and I was all alone as I watched the sunrise from the roof of the inn, a magical moment of peace to commence the day. Anticipating the Portuguese summertime heat, I decided to leave as soon as possible after sunrise in order to maximize the cool, morning hours. I crept downstairs thinking I would be all alone, but the manager was up and seemingly waiting for me. He knew that I would be leaving early (we discussed it in broken Portuguese the day before) and when I asked to fill my water bottles, he instantly handed me two bottles ready to go. I tried to pay for the waters but he denied, saying that there is an expression in Portuguese to never deny someone water, "Água não se nega a ninguém." I was touched and in that moment I realized just how much I loved the Portuguese mindset and their humanitarian mentality. Based on my experiences in the country, it is rare to see business come before basic humanity and ethics.
When I first turned onto the humble highway that would take me north out of Vila Real de Santo António, I was happy to find a real cycle path, separated from the road and with a great surface. It had the look and feel of a bike lane that had actually been designed by cyclists. More of this please, Portugal! A flamingo preserve lined the way on one side with salt flats on the other. One could have worse scenery for a ride. In addition to my glorious newfound roadway, I passed another female cyclist, out on a road bike and putting down the kilometres. While I have seen other women out on bikes this trip, this was the first time I saw a woman cycling for passion and not just for a trip down to the grocery.
These roads were quiet with not much traffic and had beautiful views and a few rolling hills. In an effort to avoid some of the busier roads, I took more rural roads which also allowed me to follow the river Guadiana more closely. The Guadiana is the fourth largest river on the Iberian peninsula and one of the most prominent landmarks separating the border between Portugal and Spain. Riding along the river was cooler, both due to the cooler air coming off the river and the purely psychological aspect of feeling cooler being near water. I passed a lot of castles in my riding today too, fortifications built long ago to protect the border.
Midmorning I stopped for a coffee break in a particularly vibrant bar and café along the riverside. Gazing out across the water, it was intriguing to think all of that unassuming landon the far shore was actually Spain. Although I could have enjoyed the beauty and serenity for the rest of my morning, my goal was to reach Alcoutim for lunch.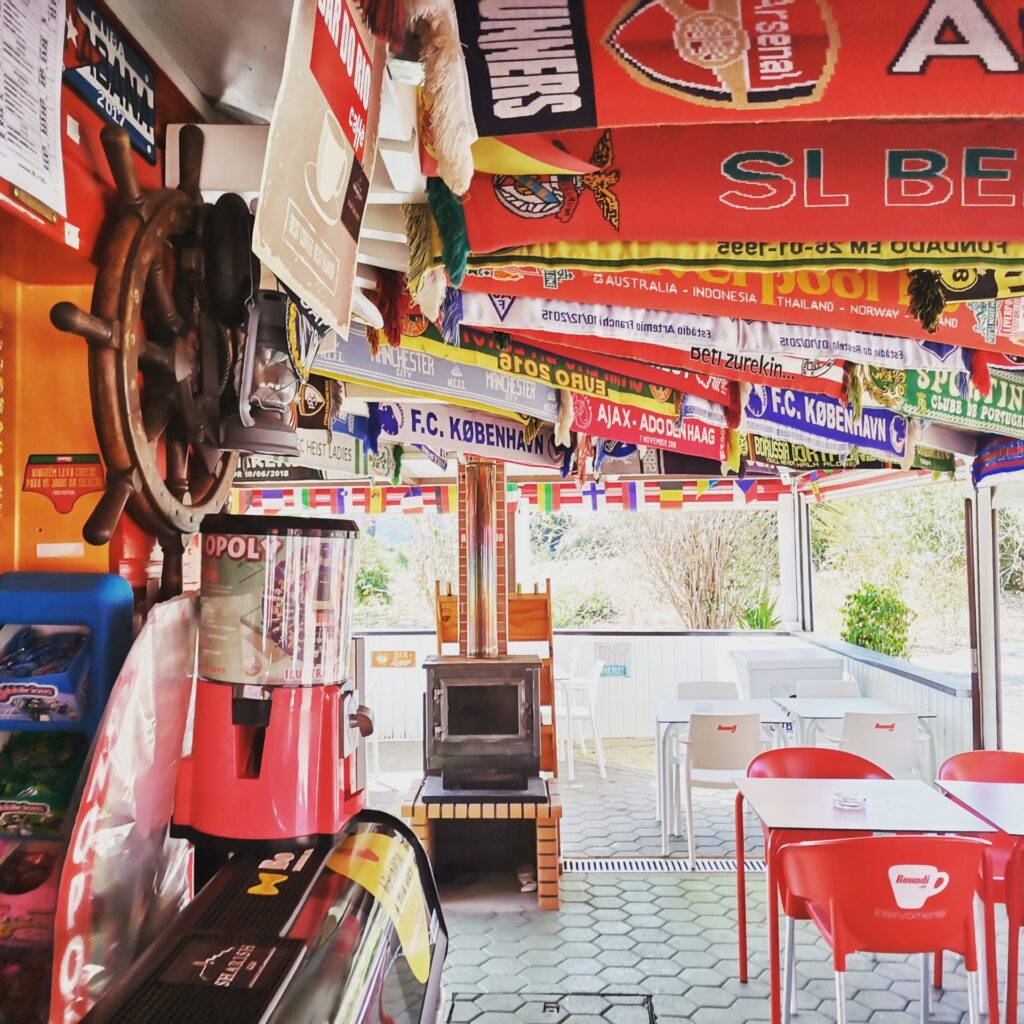 Wanting to make Alcoutim for lunch didn't dissuade me from still seeing a view sights along the way. Not far down the road, I stopped to see the Ruínas do Montinho das Laranjeiras, a set of historical ruins that were occupied by Romans, Visigoths, and Moors at varying points through history.
Entering into Alcoutim, I a wall along the road which hosted a tile mural depicting a pictorial history of the town caught my eye. Below is a sampling of some of these vignettes, showing how the day-to-day life in Alcoutim has both changed and remarkably stayed the same over their long history.
A local suggested that I should cycle down to the Praia Fluvial do Pego Fundo, a beach and restaurant along a small offshoot of the river, and I couldn't have been happier that they did. The water was clean, cool, and refreshing, and my lunch of grilled swordfish was divine. Without the local's recommendation, I never would have found this happy oasis marked only by a tiny, unassuming sign. Yet another spot to add to my list of "Places I could pleasantly spend an entire day", but after lunch the road was calling yet again.
It wasn't long after lunch that I started to see signs telling me I was crossing out of the Algarve and back into Alentejo. Other signs notified me that I was entering the habitat of the Iberian Lynx, the world's most endangered cat.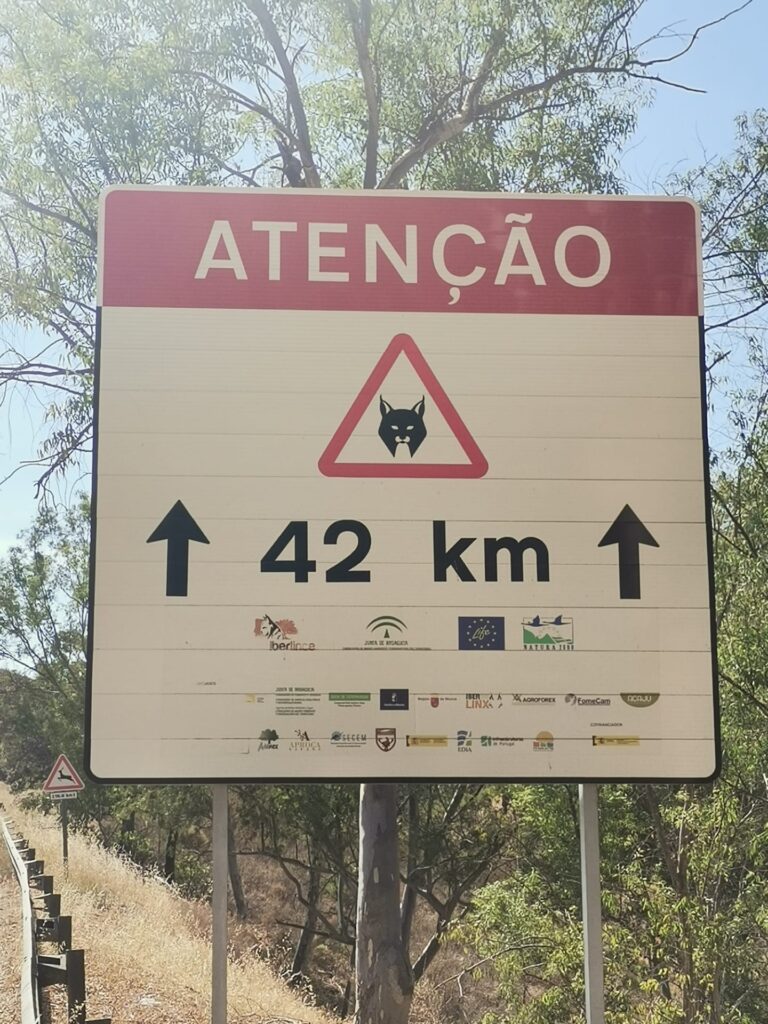 Most of the rest of my day was pretty long, hot, and hilly. Everywhere I looked, there were reminders that not only was I in rural Portugal, but also in one of the drier parts of the country; summer was certainly not over yet. At one point I passed through a tiny little town nestled into the countryside. Instinctually I felt bad for not stopping but I then quickly remembered that, even on a long bicycle trip like this, there are still always compromises to be made. No journey can include everything and there is always more to see in the world.
My destination for the night was Mértola and numerous locals had told me of the challenging climb into the town. All through the second half of the day, I prepared myself both physically and mentally for the climb ahead. Around every corner I expected to find an imposing mountain pass or steep grade, until suddenly I found myself riding through the town, without a single dragon to slay or mountain to climb. The ride into Mértola was not insignificant but I was certainly surprised when I reached my destination without the torturous route that I was expecting.