Day 15 – Cycling with Friends
Starting Point: Castelo Branco
Ending Point: Salvaterra do Extremo
Today's Distance: 71 km
Total Distance: 1,016 km
I woke to the same campfire smell that I fell asleep to the night before; the scent a large wildfire to the west was wafting through the city and the lingering scent in the air served as a potent reminder to both these wildfires, typical in northern Portugal, and the wildfires back in my home country, the United States, that were currently spreading across the west coast.
Putting those somber thoughts aside, excitement soon returned since this morning I was meeting up with three of my friends, two of which who would be cycling with me to my next destination in Salvaterra do Extremo. I had cycled with a friend for part of my first day, and I had cycled with a few other people I had met on my journey, but today would be my first full day riding with people I knew previously, one of which, my friend Marta, a fellow woman cyclist!
As soon as I got on my bike, I could feel that something was wrong. A very squishy front tire looked up at me from below — my first flat tire of my trip. Flat tires are inevitable on long cycling trips but for some reason, the first one always feels more frustrating. My friends were meeting me just around the corner in a café, so I wheeled Shaka over to them and told them all to have a coffee since I was going to need some time. No sooner had the words left my mouth, my friend João lept into action and started changing my tire with the speed and skill of a Formula 1 pit crew. I've always been one to change my own tires so watching someone else do it with only my assistance where I could squeeze myself in made me feel a bit guilty, but João was so deft and speedy, how could I argue? Sooner than later, Shaka was ready and, with many a thank-you to João, our group set off on our journey.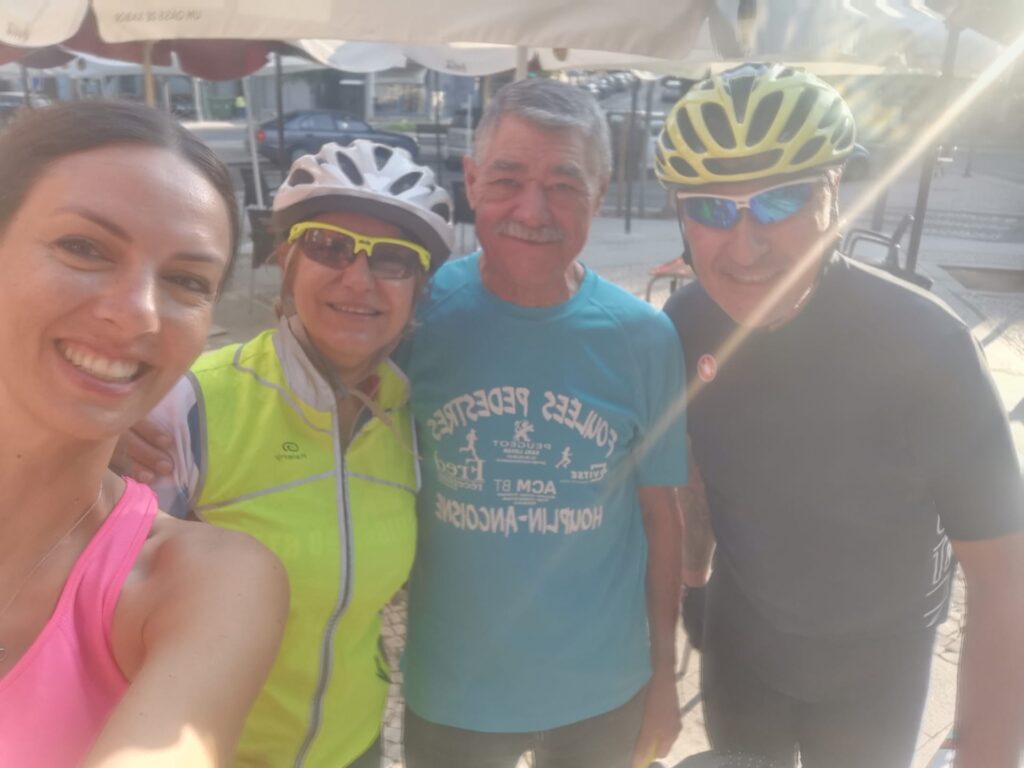 Aside from Marta and Rui being great company while out on the road, Rui is also extremely familiar with this area, allowing me to cycle stress-free from navigating and the resulting frequent stops to check my map. Today was also a day with more cycling and fewer sights to visit at along the route. I took this trip to see all the different things Portugal has to offer, but I also took this trip to cycle. Free to simply ride, I could focus on the beautiful rural landscapes gliding by, the companionship of being amongst good friends, or simply nothing at all as I pedaled along.
We made it to Salvaterra do Extremo in record time. Salvaterra do Extremo is a tiny community of only a couple hundred people that most Portuguese have never even heard of. Tucked in next to the Spanish border, it is part of a national park and home to a couple of endangered bird species. It also marks two big milestones for me: I was officially through the first half of this adventure and my total distance had surpassed 1,000 kilometres! Not only did I have both of those feats to celebrate, I got to do it with friends.