Starting Point: Marvão
Ending Point: Castelo Branco
Today's Distance: 82 km
Total Distance: 945 km
Getting ready within the walled city of Marvão for the day ahead, I experienced one of those precious little moments only found through travel. Out one window of my room stood the Marvão Castle, a quiet sentinel overlooking the city in the predawn twilight. Out my other window stretched the stunning landscape spread far beneath the town, shadowy and purple as it awaited the sun with wispy clouds above slowly brightening as the day approached. It is often the little details that become the most memorable.
As a reward for climbing up to Marvão the day before, I started my day by coasting out of the city, always a welcome start. I took what appeared to be a shortcut through the town of Escusa so please "excuse" any puns I make about the name. At first I was happy with my decision but then the road turned into steep cobblestones – clearly I had no "excuse" (last Escusa pun, I promise!) though for trying to cut a corner.
With my front derailleur still out of commission, my main goal of the day was to find a bike shop that could do the work. Someone on social media suggested a place in Castelo de Vide, about 10 kilometres up the road. A kind Portuguese friend of mine called ahead to explain my situation in case they didn't speak English which turned out to be quite prudent; there was no way my Portuguese could have held up in such a technical conversation. I passed the time waiting for the shop to open with a pastel de nata and a coffee, and when the mechanic arrived, he got to work right away getting Shaka back into optimal condition again.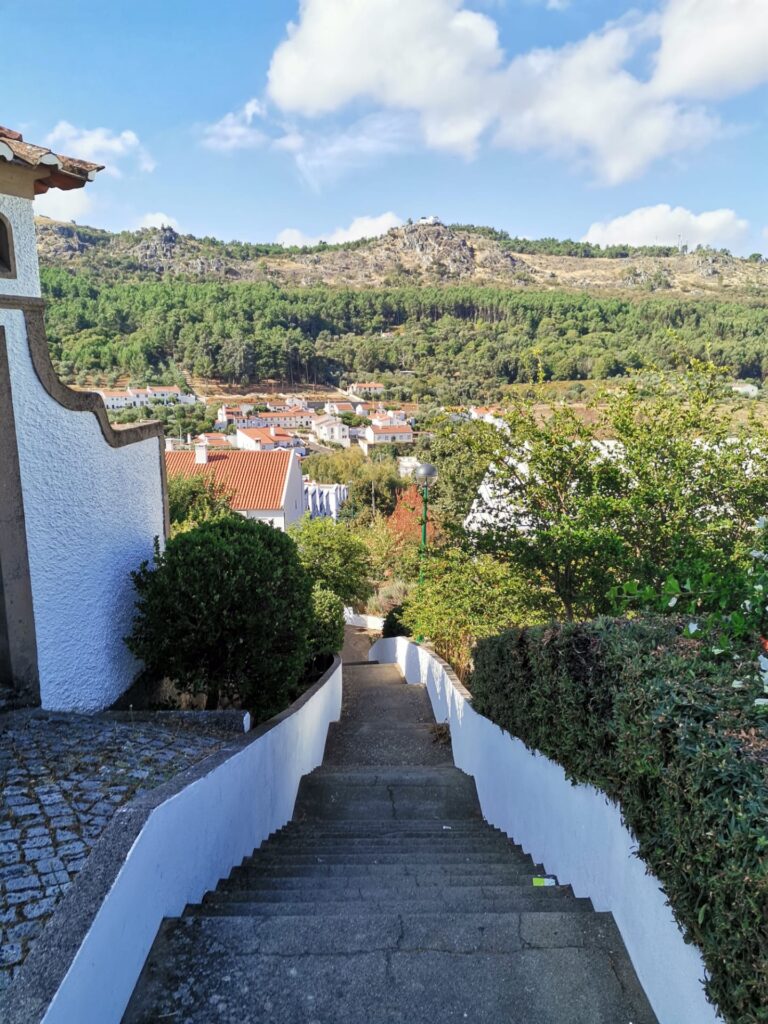 Admittedly, I got the impression that the shop wasn't supposed to open that day and Bruno, the mechanic, came down just for me! Big shout out to all the bicycle mechanics out there. When on a long solo trip, mechanical failures are bound to happen and not all of them are simple enough to be repaired alone out on the road. In come the bicycle mechanics of the world, true angels with oil stains. These dedicated workers are real life savers for those of us out on the road and I hope they know how appreciated they are.
Bruno had Shaka back to tiptop shape in no time, running better than ever. He even made some suggestions for my route before I left. I thanked him profusely and, to any of you who may find yourself in Castelo de Vide, definitely stop by BJ Bikes and tell Bruno I said hello.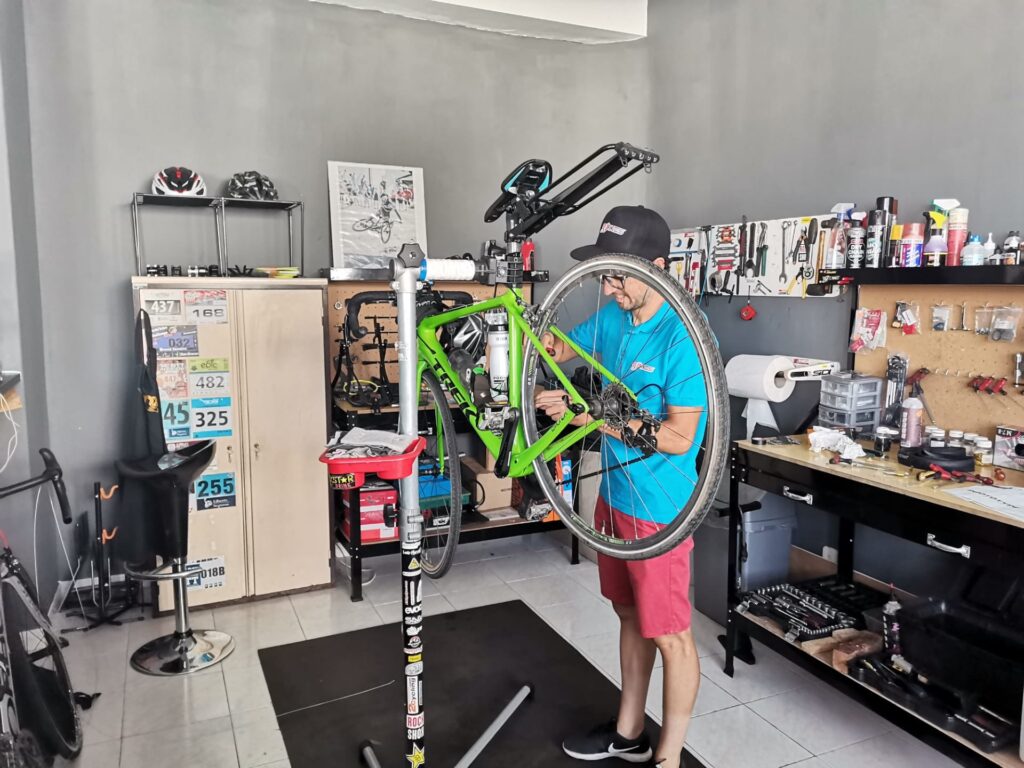 Cruising through the countryside on the recently tuned Shaka, I got to appreciate the idyllic scenery. Puffy white clouds accented a light blue sky and a gentle tailwind helped me along. I crossed over a small dam, the Barragem de Nisa, and happily continued on my journey on such a comfortable day. A little while later I came across a traditional stone farm house, used by herders long ago when they had to stay out with their flock and away from their families for long periods.
Lunch was at a small café in the city of Nisa. It consisted of chicken and French fries, the result of my typical, "Qual é a especialidade aqui?" / "What is the specialty here?" query. Now, are chicken and French fries particularly Portuguese? Arguably not, but lunch was tasty either way. As I ate, the clouds had darkened and a few sly raindrops started to fall onto the umbrella above me. I pulled out my waterproof jacket and started to mentally prepare myself for the afternoon. Surprisingly though, the rain never gathered in earnest and soon it was just as clear as it was earlier in the day.
The next stretch of cycling was hilly and hot with overall more hills going up than ones going down. Pine trees appeared more and more often and logging trucks started passing by. It all reminded me of cycling through parts of the US.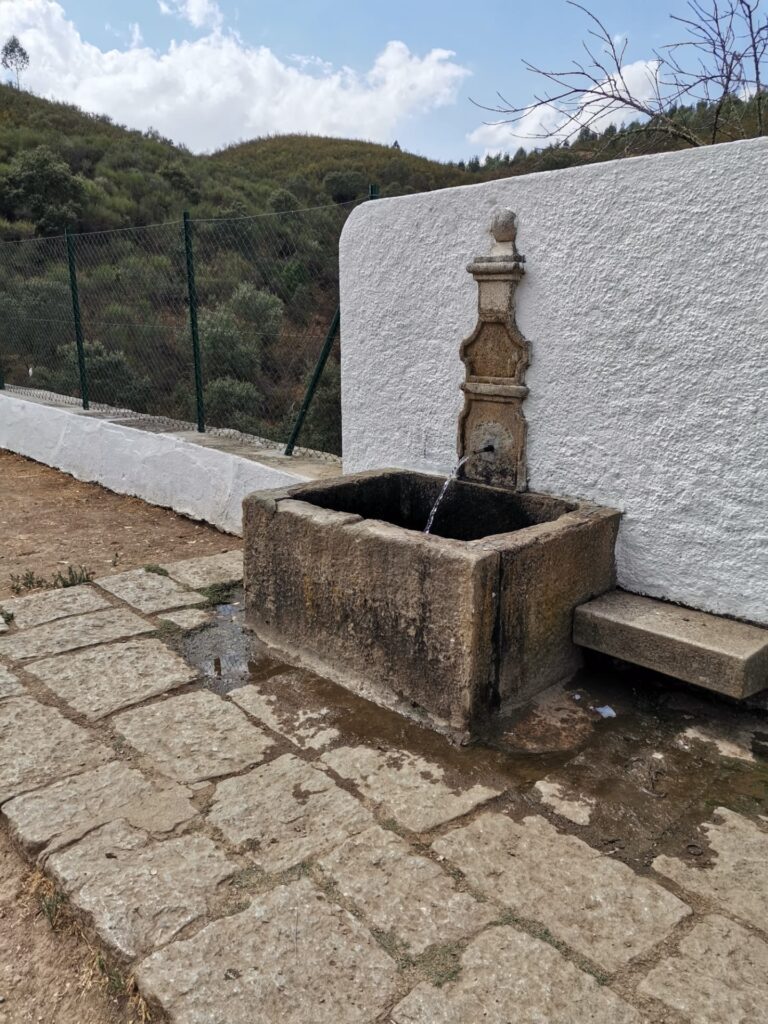 Today was my first day to see the Tejo River (English spelling: Tagus), the traditional divider between "North" Portugal and "South" Portugal. There are actually five regions of Portugal – Algarve, Alentejo, Centro, Norte, Lisboa – but the Tejo, running all the way through the country and into Lisbon, is an important cultural mark. In fact, the name "Alentejo" literally translates to "Beyond the Tejo" (além / beyond), showing how closely ingrained this river is to Portuguese identity.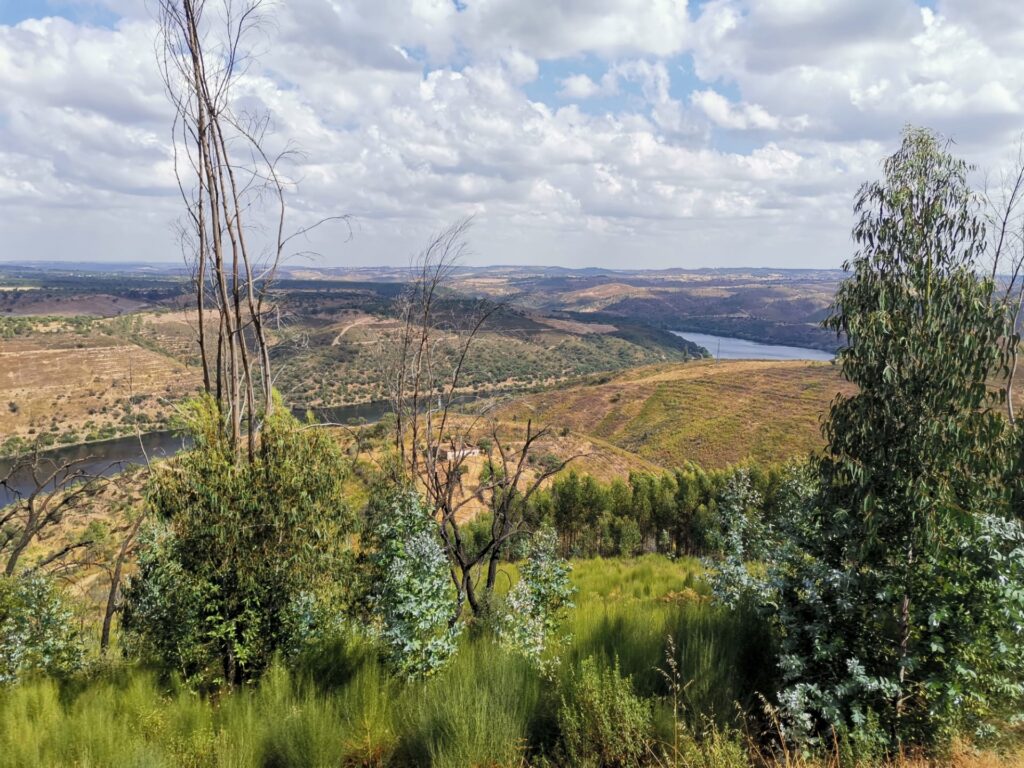 To reach the Tejo, I first had to make it down a very steep descent to the bridge. Being quite cautious and riding the brakes all the way down, I kept noticing how clenched my hands were while zipping along the steep road. Soon I was on the bridge and could appreciate the Tejo more closely. Looking west I could peer into the Portas de Ródão, steep quartz hills that the Tejo cuts 170m down through the middle of. I had officially entered the Centro region.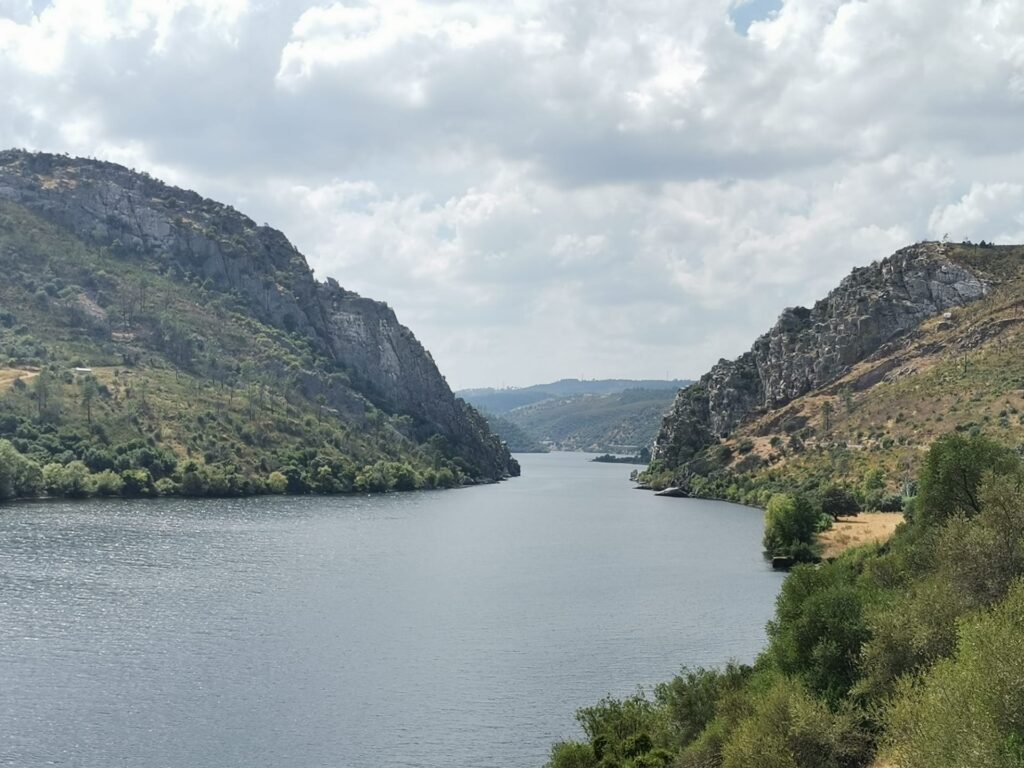 At this point I had a decision to make: either turn left to see more of the Portas de Rodão, or turn right and head towards my stop for the night in Castelo Branco. Usually my mantra on this trip has been, "I didn't come on this trip for it to be easy," however, on this particular day after climbing hills and having seen the Portas de Ródão already (albeit from a distance), I decided upon the prudent choice and turned right towards Castelo Branco. Maybe it was my memory of Day 4 that nudged me in that direction.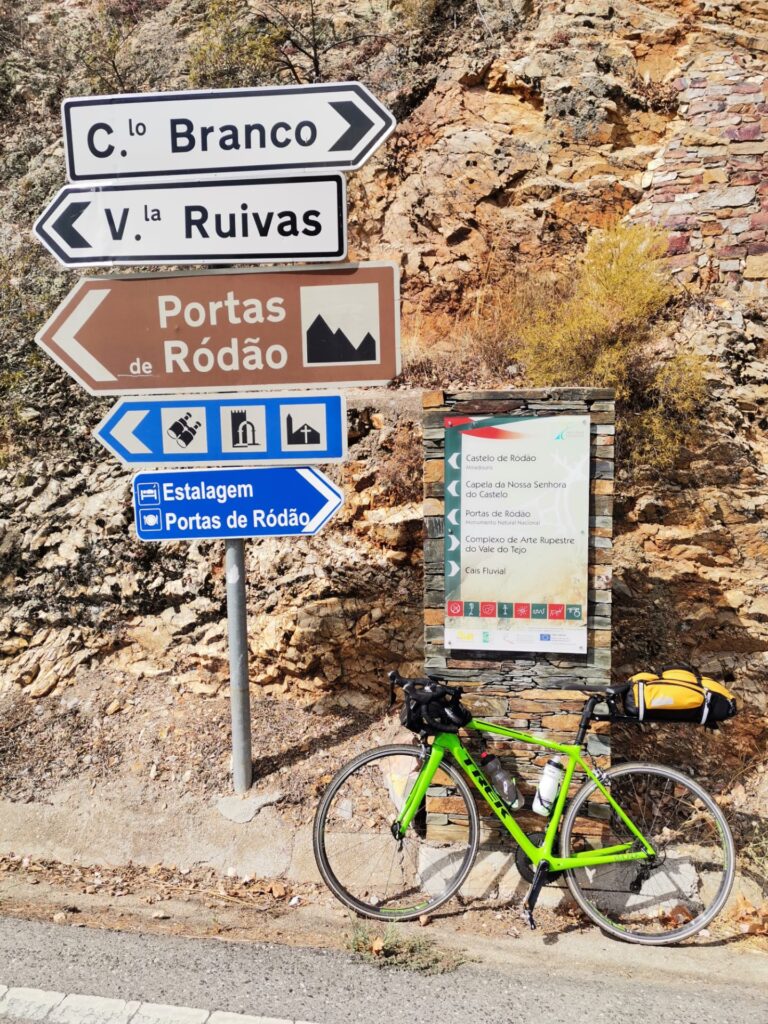 The scenery on the way towards Castelo Branco was decidedly greener with rolling fields and pastures. Castelo Branco itself was busier than I expected. After all this time spent in smaller country-side communities, getting back into a small town felt slightly chaotic relative to the tranquil countryside. How quickly one can adapt to their surroundings. I took a quick ride through the city, found my lodgings, and called it a day.