Day 4 – Going the Distance
Starting Point: Rogil (Aljezur)
Ending Point: Lagos
Today's Distance: 117 km
Total Distance: 323 km
I left Rogil in the coolness of the morning and cycled a few kilometres to Aljezur proper. First on the list was the old part of the town to see the Castelo de Aljezur / Castle of Aljezur. There wasn't a soul around when I walked up to the castle so I had the entire place to myself to take some photos. Afterwards I jaunted down the hill to the Museu Municipal de Aljezur to see some of their interesting sculptures.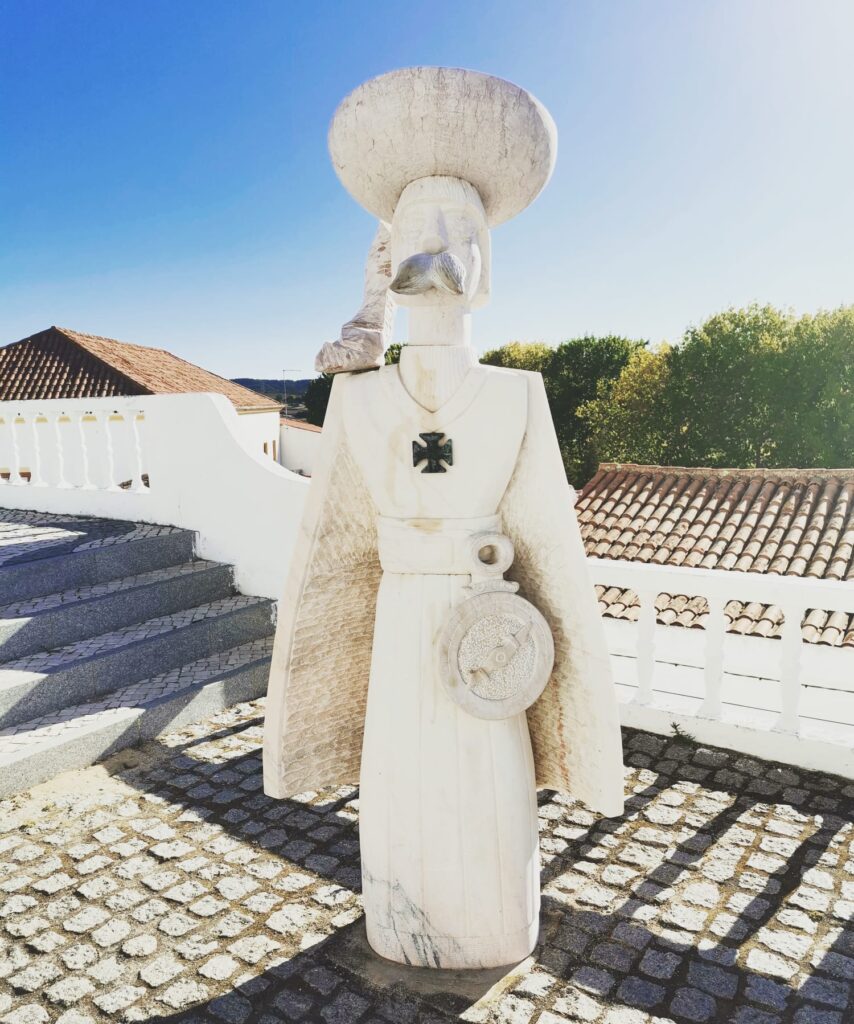 I made my way back to the river and had breakfast at a small café in town. Travelers and tourists shared the café with me as one would expect, but a few backpackers, through hikers (hikers travelling a long distance over multiple days), and long-distance cyclists were scattered in amongst the crowd as well. A group of three older women decked out in hiking gear and backpacks especially stood out with one lady in a bright hot pink top; it felt encouraging being around other travelers and adventurers.
Breakfast was a working meal as I had a couple of decisions to make regarding my route for the day. Originally I wanted to cycle from Aljezur to Sagres and then on to Lagos for the night, but there was a loop not far from Aljezur that I could tack on. It would add 20-some kilometres to my day but would take me through a couple of gorgeous beach areas, Praia de Monte Clérigo and Arrifana. Never one to turn down a trip to the beach, I decided to do the loop.
Not long after I started my detour to the beaches, I came across a little bird just sitting in the middle of the road, apparently the victim of a car strike. Shaka doesn't have a kickstand and there was nothing to lean him against so I carefully laid him down on the ground. Gently, I picked up the bird and carried him to a little shady place under a tree so hopefully he would recuperate.
Silently wishing the little bird well, I cycled on and tackled some rolling hills on my way towards the beach. Looking around me, I could see a lot of mountain bike trails in the interior of the loop. Beehives came and went to my right and overall the area was rugged and covered in low scrub.
Energized and moving swiftly, I soon arrived at the Praia de Monte Clérigo.
Tempting as it was to jump in, I was waiting for Arrifana since I heard it was especially gorgeous. I did notice at Praia de Monte Clérigo how many people were enjoying the beach, with groups of surfers, campers, and camper vans.
The southern region of Portugal is called Algarve and has its own architectural flourishes, many held over from the Moorish occupation. The chimney tops on most houses are unique and add a fun artistic flair to the houses here.
While tackling the hills this morning was fun, they were also using up a lot of energy. I was consoled knowing that they were fantastic conditioning for the climbs I have in the weeks to come. Torre-Serra da Estrela, the highest road in Portugal, loomed a couple of weeks ahead and I kept thinking that today was good conditioning for that ascent. By the time I arrived at Praia da Arrifana, I was hot, I was sweaty, and I was certainly ready for a swim. Stripped down to my knickers, the cold water took my breath away but felt super refreshing after my morning ride. My cycling shorts served as a cushion while being dried by the sun before I swung a leg over top of Shaka and continued on; there was a lot of cycling left to do.
As I was leaving, I saw the three lady hikers I had seen at breakfast, apparently arriving from a different direction. The woman in the bright pink shirt and I made eye contact, each of us with a knowing expression and smile. We waved to one another, and even though we had never spoken or even met one another, just recognizing each other was more than enough reason for a friendly wave. It is these kinds of small moments that I find so sweet and energizing when I travel.
I almost completed the loop to get back onto the main highway when a white van drove up next to me, normally a rather intimidating situation. A glowing woman leaned out the window, shaking her fist and shouted something like "as lindas forças!" / "beautiful strength!" Between the hikers waving hello and this woman shouting her support, I was feeling a lot of positive energy and female solidarity this morning.
After finishing my extra morning loop, I arrived at Gulli Bistrot, a restaurant recommended to me. The timing was perfect since I was famished. A charming Italian restaurant, I had their poké risotto which was to die for, and the staff were very kind and friendly.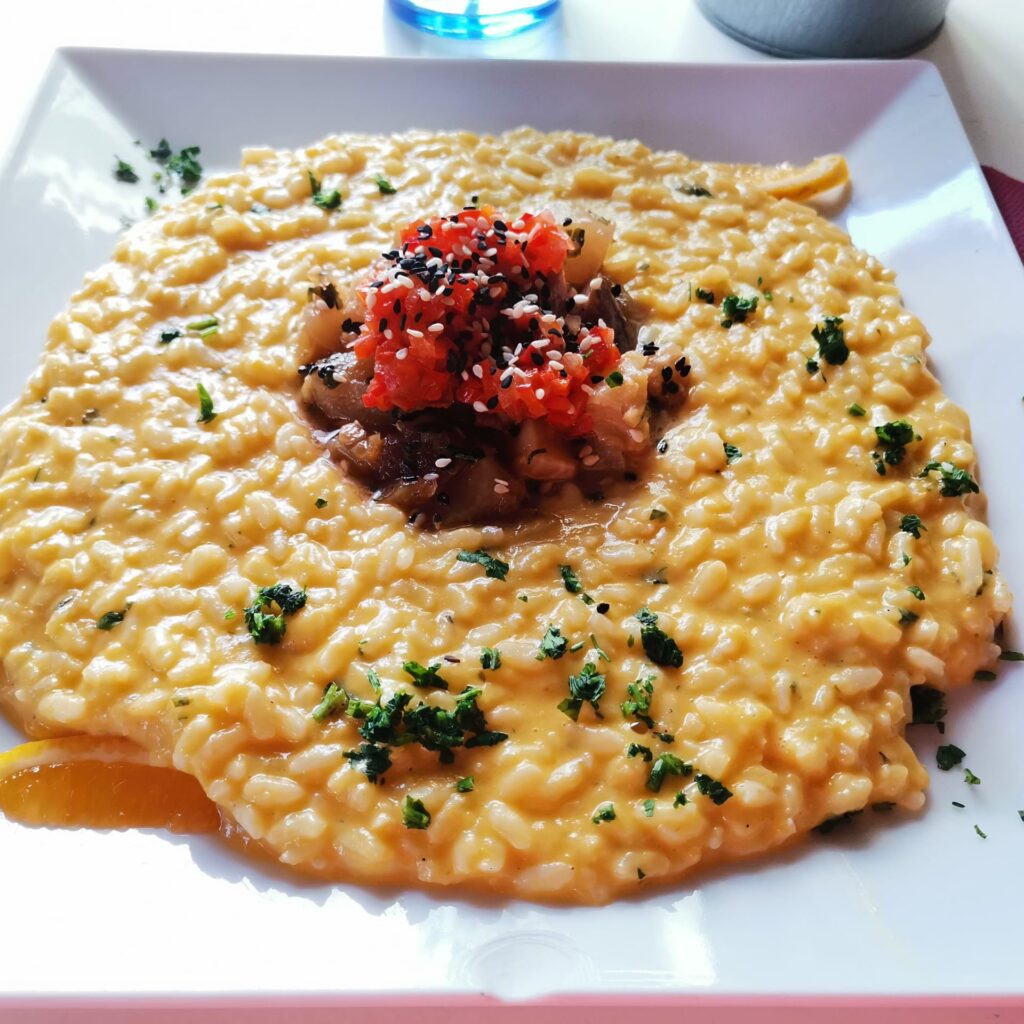 Over lunch I had another decision to make. Originally I was going to cycle down to Sagres and then double back to spend the night in Lagos where I had booked my hotel. However, everyone kept telling me I had to go to Cabo de São Vicente, the most southwest point of Portugal and home to breathtaking cliffs. I knew this was going to add some distance and time onto my already strained day, but I felt that everything was falling into place. " **** it -– I'm going."
After lunch I got back onto my bike feeling super energized. The world flew by me as I ate up the kilometres and things were going well.
Cycling into Vila do Bispo, I knew that I wouldn't have time to stop since I had so much else to do that day, but when I was cycling into the town I caught a whiff of fresh-cut wood and it instantly took me back to my grandfather's workshop. He was a carpenter and the smell of raw lumber will always stay with me. When traveling on a bike in the open air, you notice things like smells and sounds that silently pass by when traveling by car.
Along the way I found this great piece of public art depicting a fisherman harvesting percebes, or goose barnacles. Percebes are considered a delicacy in Portugal and Spain but are rarely eaten outside of the Iberian Peninsula.
Sagres came and went without more than a quick bottle of water at a gas station. I think I startled the cashier with how quickly I gulped down the water! Continuing on towards Cabo de São Vicente, I fought some significant headwinds but I reminded myself it would be just as strong of a tailwind on the way back.
I took a stroll around Cabo de São Vicente to take in the larger than life cliffs and expansive ocean. The sights were fantastic but I didn't get to stay long as the sun was getting low in the sky and I still had a long ways to go yet to make it to Lagos. I do recommend Cabo de São Vicente to anyone who has the opportunity to make it out here as the views are so incredible.
There is a national road, the N125, that extends across Algarve but I had been warned by numerous cyclists not to take it. N125 is considered the most deadly road in Portugal for cyclists from the number of accidents between bicycles and cars. However, to avoid it, the alternative is lots of winding, circuitous side roads. Weighing the pros and cons, I made the executive decision to cycle from Villa do Bispo to Lagos using the N125. Given my low levels of time and energy, the savings in efficiency were worth it. I already knew that I would be cycling into the night and I wanted to get to Lagos as quickly as possible. My goal on this trip was to avoid night cycling but in my effort to see everything today, I had already made the compromise. So, I got onto the N125, knowing full well that I would be cycling on the side of a dangerous highway in the dark.
Thankfully, even though the N125 has such a dangerous reputation, it also had the largest shoulders of all the roads that I have ridden thus far. I cycled as quickly as I could, knowing I was racing the sun; I wanted to make the most of the natural light before it was gone. Then, as darkness settled over me, I gave in and turned on Shaka's lights. About 15 km from my destination, I could feel the fatigue start to settle in and just had to will myself onward in the darkness. About 5 km from my destination, Shaka's headlight started to dim. Even though the heavy traffic on the highway was dangerous, I actually started to appreciate all the cars since their headlights were lighting up the road for me. Between the utter fatigue and dangerous conditions, those last 5 km were a real challenge. If any stranger had pulled up next to me and offered a ride, I wouldn't even have thought to turn them down, but I kept going and slowly made my way to Lagos.
I was so happy to arrive at my hotel. Luckily it wasn't hard to find and was actually more of a guesthouse than a hotel as it had no front desk. All of the keys to the rooms were accessed via lockbox with the code provided when you confirm your reservation. I locked up Shaka, drug myself up to the room, turned the key, and then nothing — the key was jammed, gah! I tried jiggling and twisting and turning it in every possible direction, knowing that there was a warm soft bed just beyond the door, but the key just wouldn't budge. Since the hotel had no front desk, there was no one to ask for help other than an emergency number and who knows how long that would have taken.
In my exhausted haze, I googled "how to get a jammed key out of a lock". Some websites suggested using a spray lubricant and luckily I just so happened to have lubricant for my bicycle chain with me on the trip. One shot of of lube later, I got the key unjammed and the door open. I was so relieved and so exhausted but also so proud for surviving such a long and memorable day. One hot shower and then it was straight to bed for me.