Starting Point: Lagos
Ending Point: Faro
Today's Distance: 99 km
Total Distance: 422 km
I had a slow start to day 5 after the exhausting day (and night) I had before. Day 4 had been so strenuous and taxing, I felt deserving of a gentler start to the day.
After breakfast and checking out of my hotel, I wanted to head into the old city and see the Castelo de Lagos / Lagos Castle. While admiring the Moorish arches of the castle's façade, I checked my phone and saw that I had a message from Gilberto, the cyclist I met on Day 3. We had mentioned possibly meeting up in Lagos but had never set a location. As I look up from my phone, there was Gilberto riding up and waving at me – what serendipity! We sat and talked for a bit next to the castle while Gilberto painted another watercolor.
Then, in keeping in our tradition, we went and got a coffee. Some may have noticed Gilberto's "In coffee we trust" t-shirt when we met, and who am I to argue with a t-shirt like that? It was lovely having one last coffee with my newfound friend, even more so due to Gilberto's excitement on completing his first bicycle trip. Proud of his accomplishment and exhausted from his efforts, Gilberto was happy to be boarding his train home that day with a head full of memories and a book full of new paintings. After saying my goodbyes to Gilberto, I rode along the waterfront before setting out for the day; I had a lot of distance to cover as lovely as lingering over coffee in Lagos was, I really had to hit the road.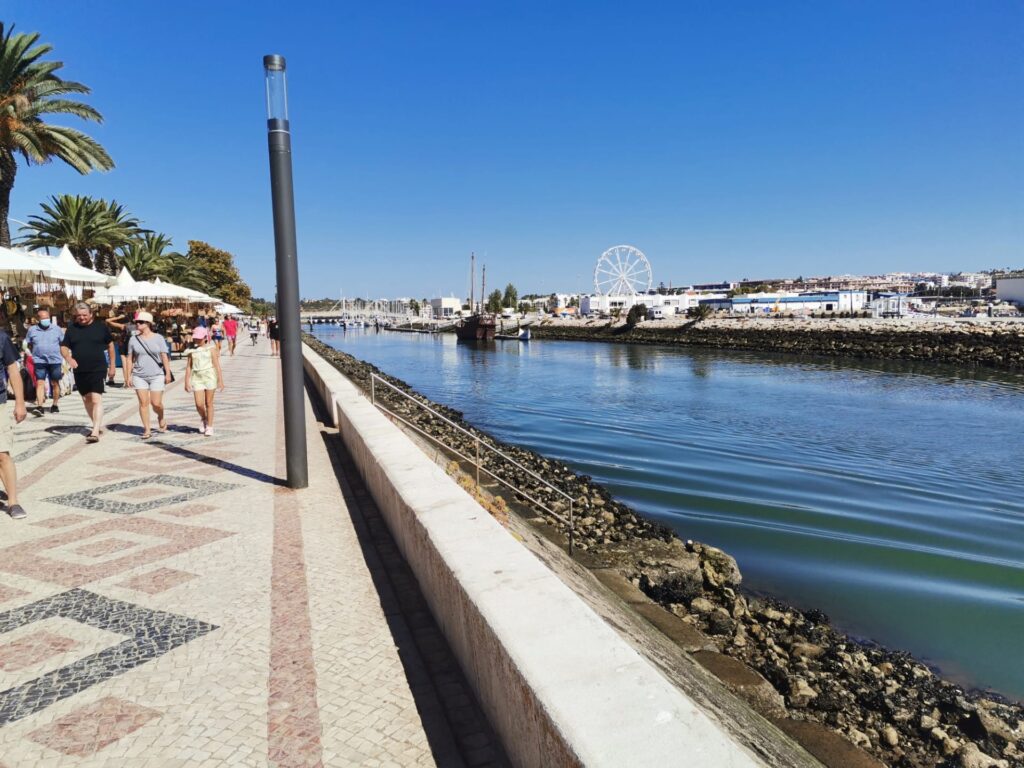 As I was cycling over the river, I was surprised to see people instead of boats beneath me, harvesting mussels in the low tide. I always envisioned mussels being harvested from the bottom of the sea somehow, not by hand in shallow tidal pools.
Avoiding the dangerous N125 of the day before, I took a lot of different back roads. At one point I found myself cycling next to a golf course which was beautiful scenery but also unfortunately the wrong direction, I (relatively) quickly discovered. A bit of backtracking and I was back on my way. Farther down the road I came across a large flock of sheep, each of which had a bell on their collar. The arrhythmic chaos of bells somehow came together into beautiful music and was an experience to behold.
When I did finally get onto the N125 for a short stretch just before Portimão, I was surprised by how welcoming it was and once again was gifted a large shoulder to ride on. At Portimão I hopped back off the N125 and cruised through town a bit, eventually stopping for a lunch of chocos fritos / fried cuttlefish in a restaurant on the Arade River.
Azulejo is the name of the beautiful blue and white painted tile work common in Portugal and Spain. Often consisting of repeating geometric patterns with Moorish origin, sometimes the tiles are expertly painted with scenes from Portuguese history, landscapes, or scenes from daily life. Azulejo has strong ties to Portuguese culture and are found all over the country in homes, businesses, churches, government buildings, and even public squares and train stations.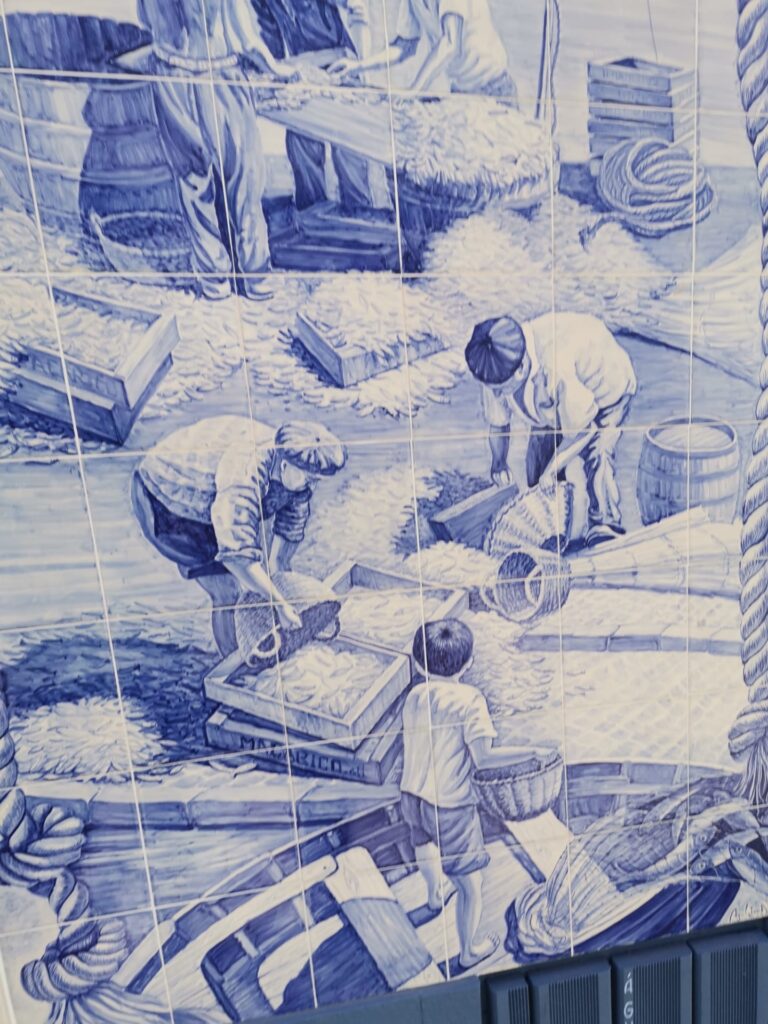 Still in an effort to stay off the N125, I took some other backroads and cycled through some other interesting cultural areas, specifically orange groves. The Algarve is known for the delicious oranges and I enjoyed seeing where some of them come from. Paradoxically, when there weren't citrus trees along the roads, there was a fair amount of cacti growing in the parched terrain.
I've written about unique aspects to the Algarve before but one thing that is truly Algarvian is the alfarroba / carob plant. Once I start to see and especially smell the alfarroba, I truly know I am in the Algarve. My mother was a health nut and frequently baked with carob for me growing up. It's a chocolate-like bean that can be ground into a powder and used in a variety of ways in cooking. Smelling it now took me right back.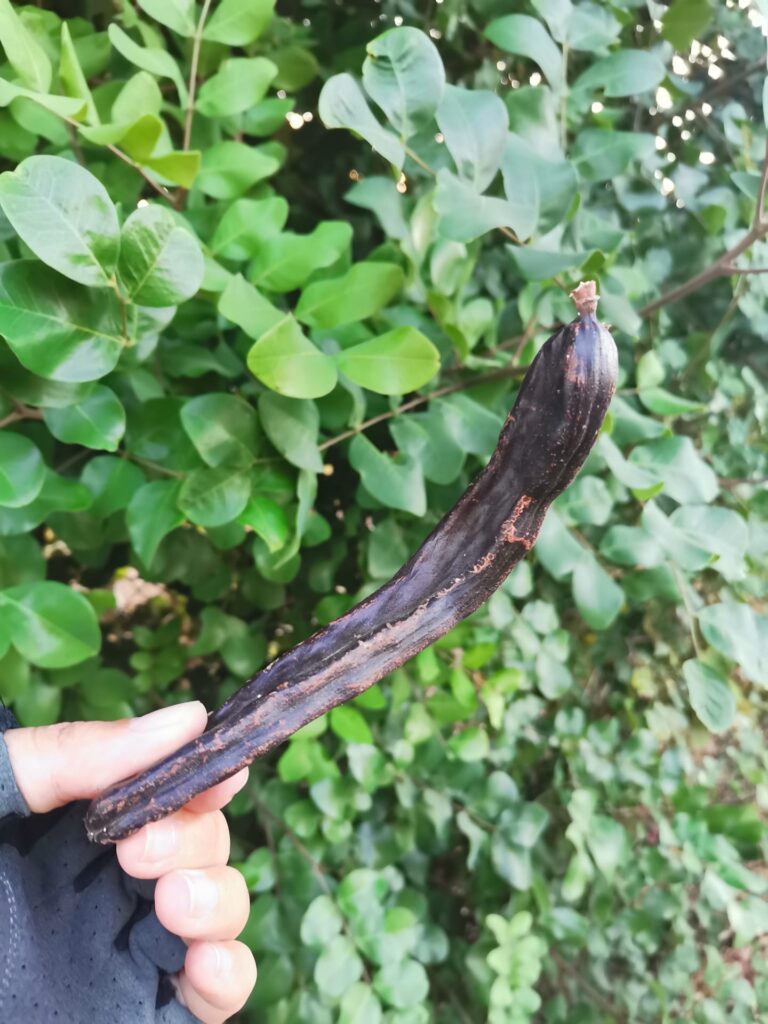 I had read on Atlas Obscura that there was a special sight in Portugal that was not to be missed in a little town called Alcantarilha. The Capela dos Ossos / Chapel of Bones is a small chapel entirely lined with human bones. The walls, the ceiling, everywhere was covered in skulls and bones. I am so glad that I chose to go see this. Human remains today are so "controlled", for lack of a better word. As I was gazing across all the bones in the chapel, I couldn't help but think to myself how a similar religious structure in Asia or Africa would be seen through Western eyes. The same chapel seen with wonder, intrigue, and possibly a bit of mystery in Europe would be seen as savage and primitive in a non-European context.
Loaded with food for thought for my ride, I got back on the road as I still had a lot of distance to cover. Tomorrow would be a rest day in Fado complete with dinner with friends but I had to get there first.
With the promise of a rest day in front of me, I did my best to keep my head down and just push through the kilometres to Fado. The fatigue from the day before never completely went away and at one point I was feeling particularly low on blood sugar and my pace gently started to slow. It was only shortly after that I luckily came across a fresh-squeezed orange juice stand. It may have been the heat, it may have been the beautiful Algarvian oranges, it may have been my fatigue, but that was the best glass of orange juice in my life.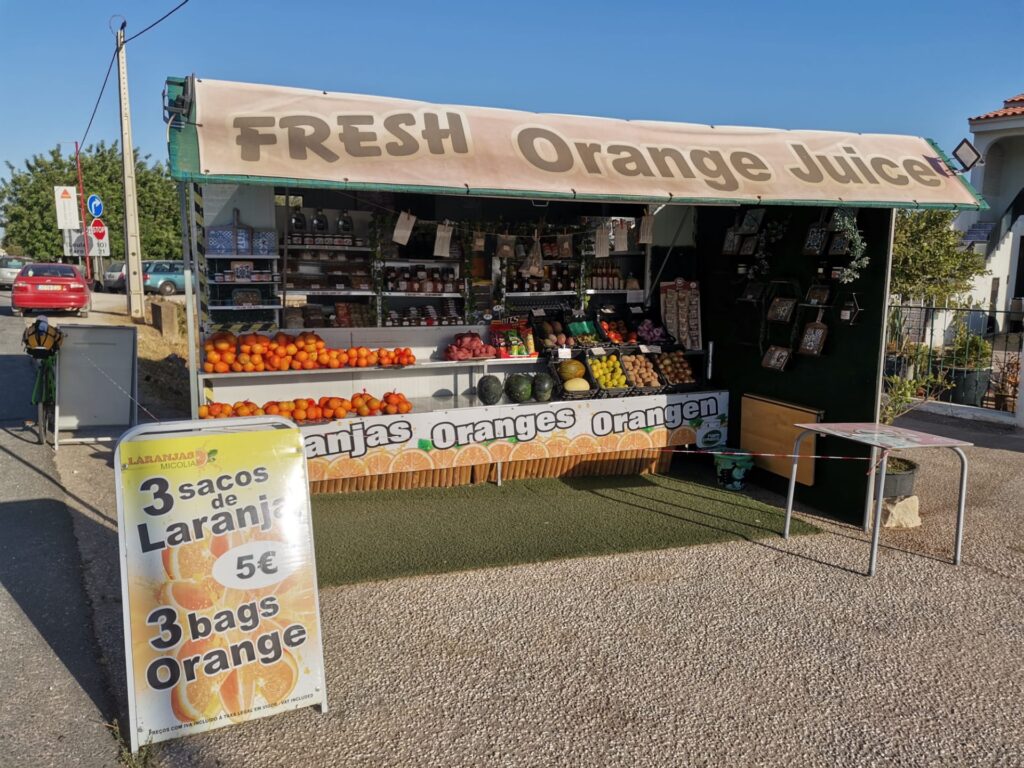 Re-energized from the orange juice, I sped onward, aware of my late start this morning and my growing fatigue. For the second day in a row, I found myself chasing the sun, hoping to cover as much distance as possible before darkness set in. I took the M125 until I was just outside Fado when the road merged into a larger road and I had to find another option. Back onto the backroads I went, at one point even taking a dirt trail (luckily not nearly as bad as I had back on Day 2). Despite wanting to get into the city as quickly as possible, I couldn't help but take a photo of the beautiful sunset while out in the fields. I finally arrived at my hotel just after the official time for sunset, relieved to make it before dark and excited for a day of rest and relaxion in Fado.