Starting Point: Vila Nova de Milfontes
Ending Point: Aljezur
Today's Distance: 61 km
Total Distance: 206 km
It was right after leaving Vila Nova de Milfontes while taking one last picture that I came across another solo distance cyclist. While on these trips, as a hard and fast rule, I consider anyone on two wheels without a motor to be my brethren. Hardcore road cyclists, mountain bikers with all their gear, bicycle tourists exploring about, teenagers popping wheelies – we are all on the same team and share a common connection. Gilberto, my newfound cycling friend, was no exception.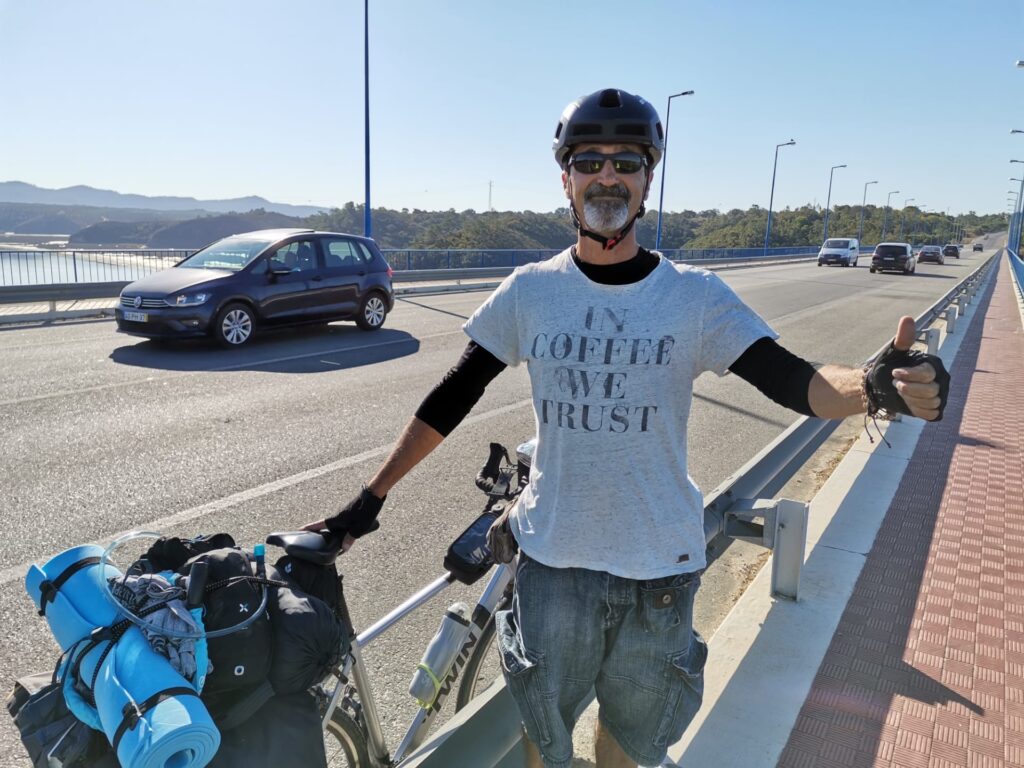 As always, when two long-distance cyclists meet, the first question is where they're from and the second where they're going. In Gilberto's case, he is a Portuguese man traveling from Lagoa de Albufeira (near Sisembra) to Sagres, a 6 day trip. This was his first time doing a long-distance trip and he was doing it solo which I thought was great; I had briefly met the Spanish couple on the ferry but it's much less common to find a solo rider. After a brief chat and comparing our itineraries for the day, we chose to continue on together for a bit. Good company and good conversation led to a pleasant morning of comparing our philosophies and what these trips mean to us.
We rode to an area called Almograve, a beautiful rugged coastline with beachy areas scattered in amongst the rocks. The wind was blowing so you could smell the ocean while listening to the waves crash against the shore. Gilberto is an artist and art teacher so instead of taking photos during his trip, he does quick sketches accented with watercolors of everything he saw. I loved seeing someone combine two of their passions together into one trip.
Amidst a coffee back in the town of Almograve, up came another solo long-distance cyclist, an older French man named Rémi. Heading the opposite way as Gilberto and I to a pilgrimage site called Santiago de Compostela, Rémi was a polyglot world traveler and a delight to chat with. He was worried about the schedule for his trip since his family owns a vineyard between Paris and Bordeaux and, vineyards being vineyards, he had to be back at a very specific time for the harvest.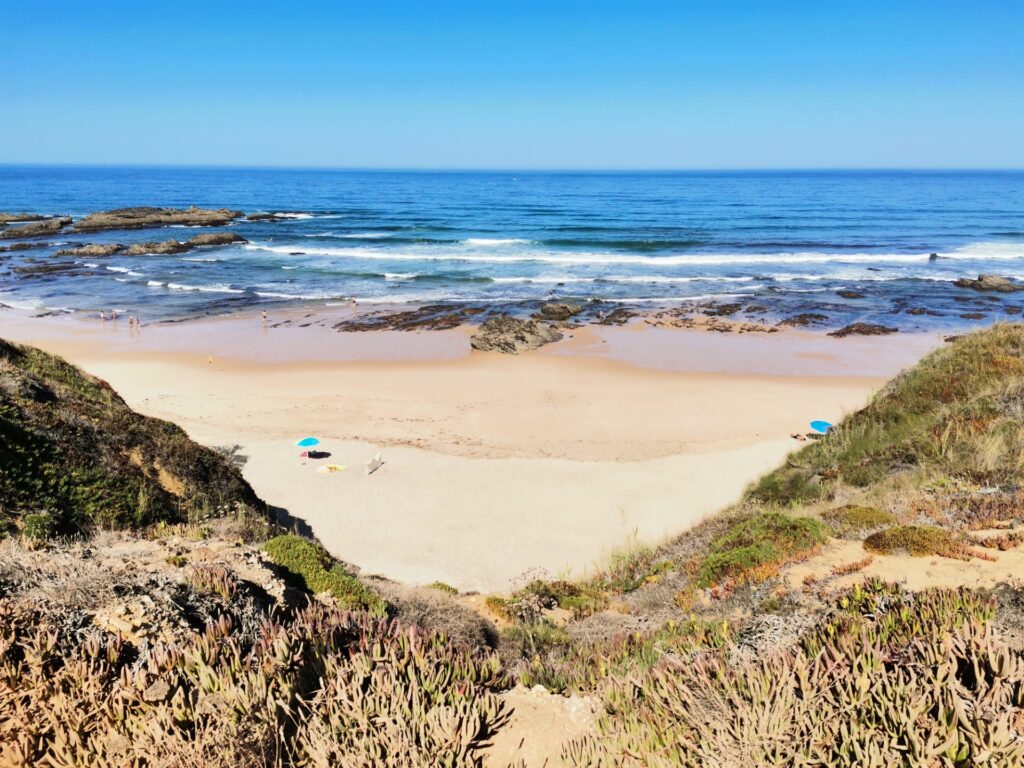 As the three of us were there chatting, communing, and sharing road stories in three overlapping languages, we caught the sight of two more long-distance cyclists zooming past. They didn't stop but it was very heartening seeing that many distance cyclists together in one place in Portugal.
For the next couple of hours, Gilberto's and my views would alternate between farmlands and coastline as the road wound its way south.
We passed through grove after grove of eucalyptus as well, with their wonderful scent. Pleasant as it was, it did worry me as I knew about Portugal's recent forest fires, many of which were fueled by eucalyptus trees such as these. Wildfires in June of 2017 swept through large swaths of eucalyptus, killing over 60 people. The oil that eucalyptus produces can shoot spurts of flame out of the tree or even cause the tree to explode, vastly increasing the danger of fighting the fires and the speed in which fires can spread.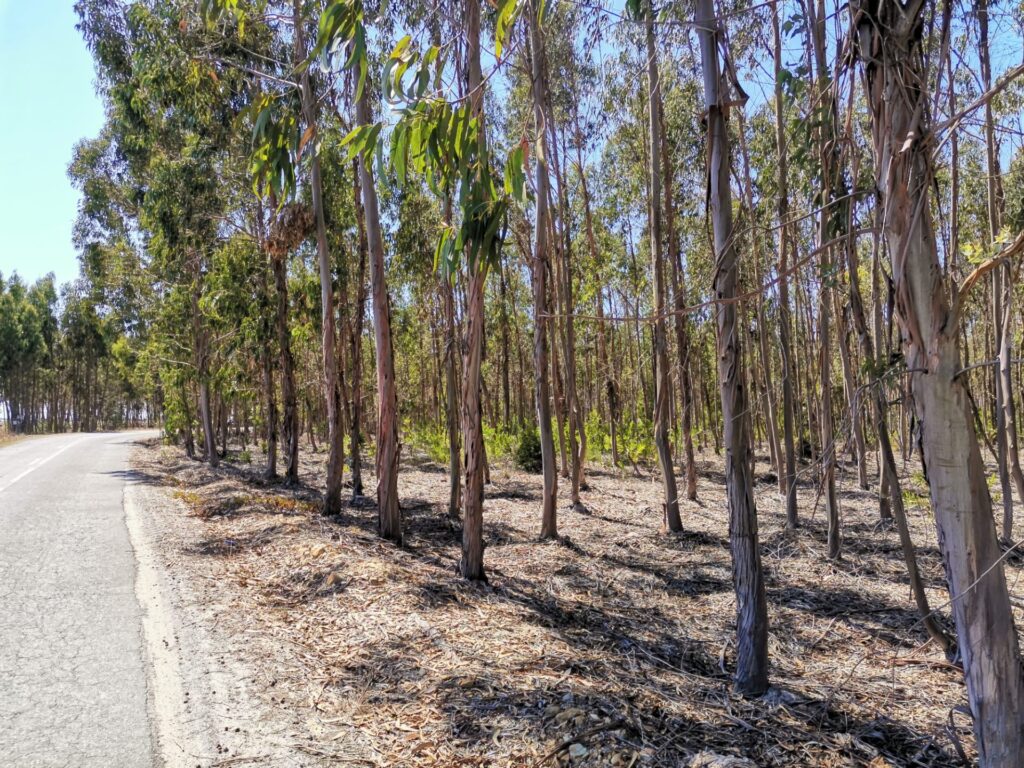 The views were excellent but the cycling proved a bit difficult at a few points. Roads through two of the beaches were made of a lattice-shaped brick, designed to hold the sand onto the hillside. Great for cars, terrible for bikes, but totally worth it for the sights.
Out of nowhere, right after cycling past Praia do Carvalhal, donkeys, zebras, ostriches, llamas, and all sorts of other animals filled the fields lining the road — not something you expect to see while cycling through Portugal!
Between the hot temperature and big elevation gains, the last hour of the day was challenging. But the most challenging climbs often lead to the most beautiful views. At the top of this long, steady climb, I stopped to take a photo of some cool graffiti when I heard a couple car horn beeps behind me. Two people in a car, one of them hanging out the side and throwing his fists in the air, were smiling wide and cheering me on. I don't know if they were fellow cyclists but they definitely were really supportive of me being on the bike. A round of applause to start Day 2 and a cheering section at the end of Day 3, Portugal is certainly setting the bar pretty high for the rest of my trip!
Amália Rodrigues, also known as "The Queen of Fado", is still immensely popular in Portugal. She took the traditional fado music of Portugal and spread it to the world, sharing her melancholic yet passionate voice and songs of fate, sorrow, and longing with millions.