Perhaps no history is more iconic, more convoluted, more brimming with myth and mystery than that of the martini. The modern day martini has come a long way since its humble beginnings as stirred gin garnished with a single olive. Today the term 'martini' is a catch all for any liquid concoction that finds its way into a martini glass. From James Bond demanding his perfect martini shaken not stirred to the modern martinis of every imaginable flavor; the martini has evolved with the whims and palates of its followers.
Interested in the history behind the modern marvel that is the martini? I highly recommend this coffee table book as a gift for your favorite martini enthusiast or a treat for your own perusing. Presents the birth of the beverage, follows the martini's impact on art and pop culture and manages to serve up a little laughter along the way.
Fast forward to modern day 
mixology and I'd like to introduce you to a cocktail that is the perfect marriage of highs and lows. A true Espressotini is the seductive pairing of addictions: one part vodka, one part fresh espresso and a dash of Kahlua to take off the edge. Espressophiles beware; these martini's like to be enjoyed in pairs and trios. I'm just saying it's a good thing Starbucks doesn't have a liquor license. These bad boys could spell the end of mankind.
A perfectly crafted Espressotini
While there are many variations of this martini and potential garnishes abound I am going to share my tried and true recipe for the coffee enthusiast. Frappachino lovers be advised: a bit more Kahlua may be in order.
 Espressotini
1 part  Vanilla Vodka which is about 2.5 oz for the most martini glasses. There are a variety of vanilla vodkas on the market. I am personally a huge fan of 360 Vodka's Madagascar Vanilla.
1 part fresh Espresso also about 2.5 oz. Chilling your espresso before shaking will reduce the amount of ice melting into your beautiful frothy beverage.
1 dash Kahlua or more to personal taste.
Shake with gusto and strain into a chilled martini glass making sure to take advantage of the foamy final layer you've created.
Carefully toast with a friend and enjoy!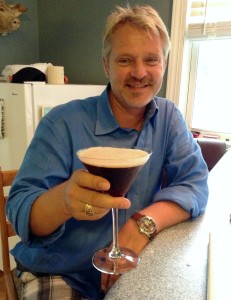 One Satisfied Customer
One last note on achieving perfection with this martini. That beautiful layer of foam on top is key. It protects the flavors and shapes the entire sipping experience. In order to achieve this you will need a real cocktail strainer. The tiny holes in the top of most consumer shakers just doesn't cut it. I'm constantly amazing at how many stores don't carry them. Thankfully, Amazon does!