I recently ventured to the Bahamas for the first time. Arriving in Freeport July 4th I was blown away by the independence celebration that ensued. The Bahamas gained independence from Britain on July 10th, 1973. Yet here Bahamians and tourists alike were turning out en masse to celebrate American independence. How's that for international relations! The drink that instantly comes to mind when I think Bahamas is the infamously sweet and girly "Bahama Mama" that tourists in Hawaiian shirts insist on consuming in bulk. I had mentally prepared myself to drink one while in The Bahamas (following the "when in Rome" mentality) but was thrilled to find a more unique and culturally relevant alternative. I'd been tipped off about a local event called the "Mini Crab Fest" at a locals' bar.  Some friends and I decided to give it a shot. How could we turn down fresh local seafood?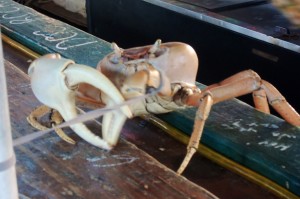 The seafood turned out to be so 'fresh' they had live examples on the bar. Poor things. They must have been devastated. Dancing on a bar for no tips while we tore their relatives limb from limb and consumed their entrails.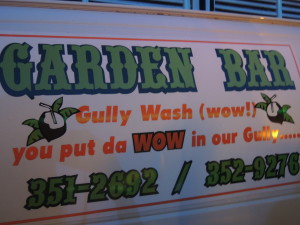 Churchill's Garden Bar is known for it's local island favorite the "Gully Wash." We couldn't turn down the opportunity to try a round of the concoction which promised to put da "wow" in our gullies!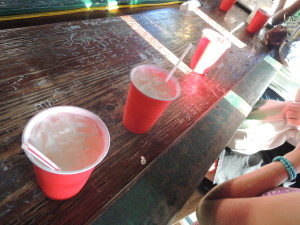 A round of Gully Washes
I stirred the beverage which looked like creamer over ice. Well, here we go. "Cheers" we announced in unison and took a big swig. The sensation which followed caused every atom in my being to cringe. Something the texture and consistency of a chilled blood clot shot through my straw and onto my tongue. In a frenzy I gulped it down. What the… Sorry it really wasn't that bad. I just wasn't expecting it. The mysterious chunk was none other than a piece of young coconut meat. The coconut water in these drinks was genuine and fresh. We watched experienced hands slice the tops from coconuts with machetes as Gully Wash orders increased. Now that's a dedicated employee; risking life and limb (and digit) for fresh coconut water.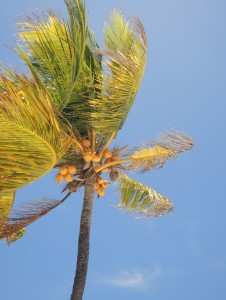 Now I can understand why a milky gin drink may not sound like a winner from the onset. But if you ever have the opportunity to try a Gully Wash or the gumption to whip up a batch you may find yourself infatuated with this beverage. Made from a local product (coconut water) a residual from British colonization (gin) and a splash of condensed milk to sweeten the result is a unique flavor texture combination and a wildly popular drink.
Gully Wash
1.5 oz gin if you aren't a gin fan I recommend supplementing vodka.
3 oz sweetened condensed milk a little more or less to your personal taste.
4 oz Coconut water if you don't have a coconut tree and machete at home you can use any of the main coconut water brands now widely available in stores.
Build the drink over ice. Shake or stir until ingredients are well mixed. For a tasty garnish I recommend a sprinkling of toasted coconut on top. Serve and enjoy!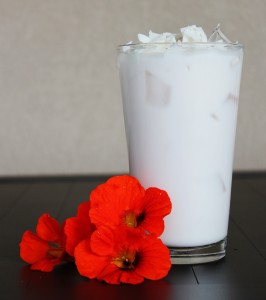 Gully Wash