Skydiving as a Way to See the World
Skydiving; it's one of those adrenaline rush, Evel Knievel, bucket list things right? I mean who would want to jump out of a perfectly good airplane and risk ruining a perfect good pair of underwear? The view of skydiving as a dangerous, risky behavior for someone with a death wish is firmly imprinted on the minds of many. But I would like to challenge this perception and offer you another way to think of this unique activity.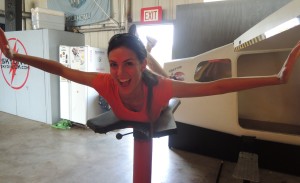 I remember it vividly. It was my birthday and I was bound and determined to make it a memorable one. I had reserved my spot a month in advance and was trying to calm the incessant butterflies in my stomach as my friends and I drove toward the airport hangar marked SKYDIVING. One friend was taking shots of vodka in the back seat (don't try this at home kids) one friend was pretending he wasn't scared out of his mind and one friend was trying to meditate herself into a zen place. We were all coping as best as we could. We were about to jump out of an airplane!
After paying, signing an extensive waiver that would make the boldest turn ashen, being trained on proper diving form and fitted with jump suits and harnesses we sardined ourselves into a tiny plane. We were really doing this and it was terrifying. The plane lifted off the runway and there was no turning back. As my skydiving instructor inched me towards the open doorway I perched on the edge and looked out over the world below me. Before I could even cry out in protest we'd left the plane and I spread my arms wide. It was surreal. I felt as if I were hovering above a massive industrial fan that had me levitating. What was this new medium I was suspended within? I couldn't even focus on the earth below I was so mesmerized by the gusts from free fall.
In an instant the chute was pulled and the sensation abruptly stopped. I was wafting gently toward earth and I could see everything around me for miles. It was one of the best views I've ever experienced and there were no crowds or clicking of cameras. It was deathly still, unbelievably peaceful and incredibly beautiful. The world looked perfect. In that moment I felt as if nothing bad had ever occurred upon it's crust. No one had ever felt heartache or despair, there was no suffering or strife, everything was perfect.
We gently descended to the ground and I felt invigorated. I felt like I could do anything. I couldn't imagine any drug could ever reach this high. I was in love.
Needless to say this was my first but not my last experience skydiving. I went several other times through that same skydiving company before branching out and experiencing other places from a bird's eye view. I will continue to enjoy experiencing different corners of the world in this unique manner.
So I pose that skydiving isn't a dangerous suicidal activity. Quite the opposite. It is an experience for those willing to step outside of their comfort zones to witness the world in a new way. As for dangerous; the most dangerous thing about skydiving is driving yourself to the airport. Seriously when is the last time you heard of someone dying from a skydiving accident? Whereas motor vehicle crashes claim the lives of more than 10,000 people per year in the United States. You will be diving with an instructor strapped to your back who jumps out of planes more often than you brush your teeth and not one but two parachutes packed by strict guidelines. Skydiving is so common and regulated now that what once was confined to military personnel has developed into a recreational activity enjoyed by all.
One of my friends in Iran asked me about skydiving saying it is one of his dreams to go. After a little research I retorted with "You can!" There is now a skydiving center in Iran just North of Tehran www.paaviation.com/skydiving-in-iran.htm which allows both men and women to take the leap. This is just one example of thousands of skydiving centers around the world.
If you've ever had even the slightest desire to skydive: do it. You'll forever carry with you the pride of knowing you've blown out the boundaries of your comfort zone. You'll have experienced an incredibly unique way to see our world. No one can ever take that from you.