If you've ever ventured to the Virgin Islands on vacation you've undoubtedly encountered the famous Painkiller. Two parts tropical one part 'let's get this party started' this drink has been known to ease the pain of many a singed traveler and sun kissed local. Resorts whip up batches on auto pilot, dive bars sling their poor man's version* and snorkel tours pour gallons of them for their guests. Wherever you find yourself in the US or British Virgin Islands a Painkiller is never far and somehow always hits the spot.
*It's worth noting then when I say 'poor man's version' here I don't mean a weak drink. Quite the contrary. In the Virgin Islands the local rum is so cheap it often costs less than the imported juices. The result is often a very stiff drink.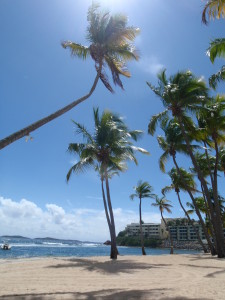 The Painkiller traces its origin back to the Soggy Dollar Bar of Josh Van Dyke in the British Virgin Islands. It's birth in the 70's has since developed into a Caribbean craze. Soggy Dollar Bar is aptly named for it's unique mode of access. Having no dock where the bar is perched on White Bay your entrance fee is a swim from your anchored vessel. Once ashore your reward is a frothy Painkiller topped with freshly grated nutmeg. Is your wallet drenched from the swim to shore? Not to worry Soggy Dollar Bar is prepared with a clothesline behind the register for airing out soaked bills. It's difficult to imagine a trip to the Virgin Islands without a stop at this iconic watering hole. For more information visit their website www.soggydollar.com.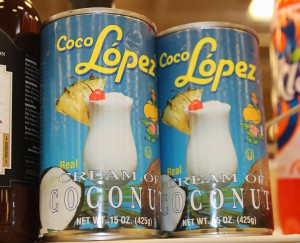 This drink is fairly easy to assemble and there are substitutions you can make without sacrificing flavor (see recipe below) but I wouldn't be giving due credit if I didn't mention the vital secret ingredient: Coco Lopez. This conspicuous can of coconut cream (loaded with sugar) is the element that binds it all together. Originally from Puerto Rico, Coco Lopez  has the perfect flavor and consistency to build the Painkiller into the favorite drink it is. I also highly recommend it for Piña Coladas.
Ready to wow your family and amaze your friends? Here's my Painkiller recipe to delight your taste buds and take you back to your last island vacation.
Painkiller
2 oz dark rum Pusser's British Navy Rum is the original but almost any dark rum will suffice
2 oz orange juice the fresher the better
2 oz pineapple juice
1 oz Coco Lopez coconut cream basically a 'dollop' of this delicious goup
Build the ingredients in a tall glass over ice. Shake all ingredients until frothy
Garnish with a dusting of powdered nutmeg and enjoy!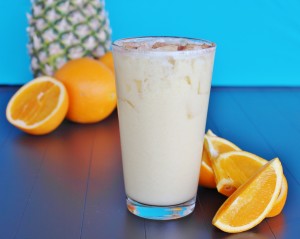 Painkiller