The first country I ever visited outside of my own was Jamaica. The experience came about through work where my sales prowess earned me the Caribbean vacation perk. Our sales division was put up in a luxurious resort but I snuck out of what felt like a compound at every opportunity. Unfortunately I don't have any fascinating local concoctions to regale you with (all of the locals I hung out with were either sipping on Red Stripe or Heineken). There was, however, one memorable blended drink we drank in quantity at the resort. It was called "The Hummingbird."
Local vendor showcasing Red Stripe and Heineken
No doubt this frosty dessert in a glass was popularized for tourism. But never the less famous it has become. One native employee touted it as being "The national drink of Jamaica." Although I'd still place my bet on Red Stripe. Say, that would be a great name for a race horse…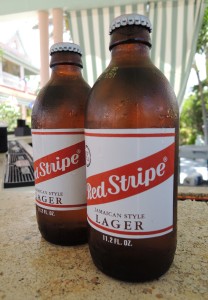 Red Red… Stripe
But back to The Hummingbird. To call it a milkshake doesn't do it justice. Imagine a chocolate milkshake and a strawberry milkshake had a baby. Now imagine that baby was very drunk. That's the gist of this drink. Below is the tried and true recipe although there are several other variations:
The Hummingbird
1 oz dark rum (Appleton would be an ideal Jamaican choice, although Captain's is a decent alternative)
1 oz rum cream liqueur (This is plentiful in Jamaica, albeit a bit difficult to find stateside)
1 oz coffee flavored liqueur (Tia Maria to stay Jamaican or Kahlua)
1.5 oz milk or cream
0.75 oz strawberry syrup
1/2 a banana
6 oz ice
Blend on high until you've reached the desired consistency
Garnish with a strawberry and enjoy!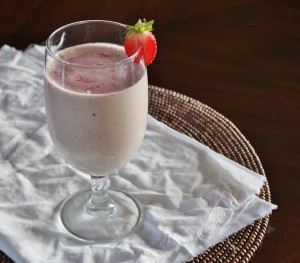 The Hummingbird