WWOOFing Around the World
"So what is this WWOOFing craze everyone is talking about? It sounds like the utterings of a canine-based cult or chants at a furry convention. Woof woof?"
WWOOFing has little to do with cuddly house pets. The acronym WWOOF stands for "World Wide Opportunities on Organic Farms", a British organization founded in 1971. Since then WWOOF has blossomed into a network including more than 60 countries across the globe ranging from Argentina to Sierra Leone.
The name sounds self explanatory, but the scope and possibilities of WWOOF are far more than the obvious. It is a chance to spend time in a foreign country, live with locals, and get a behind with local food production. While most opportunities are on farms and in some way connected to the organic movement positions are as diverse as imaginable. I have seen opportunities with dairy farms, yoga studios, animal rehabilitation centers, and island development. Your choice of volunteering environment can be as mundane or bizarre as you crave.
The beauty of WWOOFing lies in its simplicity: Your labor is traded for lodging and meals. There is no money exchanged. Factor in the added benefits of unique education, cultural connectedness, and shared experiences and WWOOFing becomes a priceless opportunity.
As of the writing of this article I have WWOOFed in two different countries and mingled with travelers who have WWOOFed around the globe. The experiences vary wildly but the outcomes always carry similarities; meeting incredible people, gaining invaluable perspective, and keeping food and lodging costs to a minimum.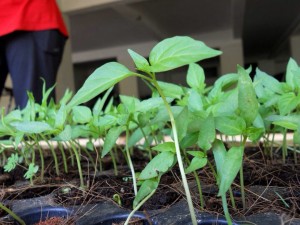 Bell Pepper Seedlings for a Roof Top Garden Project in India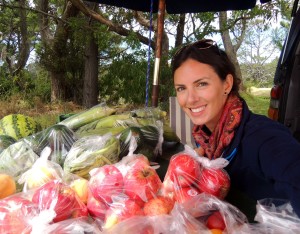 Wearing the Hat of Fruit and Vegetable Vendor in New Zealand
Baking Hamburger Buns for a Lunch at a Vegan Hostel
Ready to WWOOF? Here's how to make it happen Step by Step
Step #1 Visit http://wwoof.net/#wwoof and choose your country
Step # 2 Join the WWOOF group of your choice (the fee is usually around $20 USD)
Step #3 Browse hosts and email your top choices
Step #4 Contact your host, finalize your WWOOFing dates and pack your bags!
How to make your WWOOFing experience the best it can be
Be open minded Hosts range from simple farmer to wiccan nudist so be prepared to have a couple "we're not in Kansas anymore" moments. Not only are you dealing with culture shock and jet lag but your host may have a more alternative lifestyle than the average denizen. Give yourself a couple days to settle in.
Compare and contrast opportunities Most WWOOF host lists are extensive. Make note of those that catch your eye and weigh the pros and cons. Contact three or more of them and use correspondence to gauge their receptiveness.
Be clear about expectations Ask questions and clarify terms before accepting a WWOOFing post. I have talked to former WWOOFers whose experience felt like slave labor. If the host summary doesn't state how many hours a day you are expected to work, ask. If you have special needs, let them be known. Worst they can say is 'no' moving you one step closer to your ideal WWOOFing situation.
Have a backup plan If your gut tells you something is wrong GET OUT. I don't know the details of how WWOOF vets its hosts but I imagine it's not very in-depth. Your intuition is powerful. If the situation doesn't feel right go to a hostel or hotel for a couple nights until you can arrange for another host.
Be a good communicator WWOOFing gigs can last from a couple days to a few months. Hosts may have a lot on their plate juggling volunteers, second languages, and their businesses. Take the extra effort to send confirmation emails and update your hosts of any schedule changes.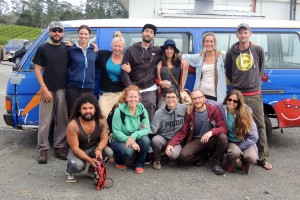 Feeling Like Part of a Team and Part of a Family
Prepare to make new memories and new friends. WWOOFing isn't about luxury travel or indentured servitude. It is an incredible opportunity to connect authentically with people and the earth. Cherish the opportunity!