Vision Boards for Creating Your Future
"It's time to get inspired. Climb Mount Everest, sun bathe in the Maldives, run a marathon, fall in love, read 100 books. These are just some examples for your personal vision board."
What is a vision board you may ask? A vision board is simply a visual representation of your future ideas, goals, dreams and even travel plans strategically placed so you can see them daily. My vision board usually manifests as a collage of pictures, words and phrases artfully blended to portray what I want for my future. Once completed I place my vision board somewhere I will see it either as soon as I wake up, or as I am preparing for my day. Imagine being inspired about your future goals as you're making breakfast or brushing your teeth. You mind is running through possibilities and methods for your achieving your dreams on autopilot. You are starting your day with brilliant hopes for your future. I'm getting excited just writing about it.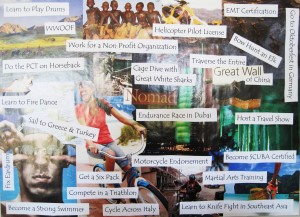 Example of a Vision Board
Many of us have heard of the power of visualization in creating our future. But so often our mind is a flurry of daily demands and stressors. We lose sight of our bigger goals and colorful dreams. The requirements of daily living consume our thoughts and our desire for a flat stomach or sailing the Mediterranean become a foggy memory.
Think of a vision board as a reassessment tool. The process of creating one is therapeutic, allowing you time to examine what is really important to you. Creating a vision board and keeping it within view centers and motivates. Its as if continually seeing images and written thoughts about the experiences we want keeps our subconscious constantly mulling them over. So on that fateful day, hour or moment when an opportunity arises to take a step towards fulfilling a vision board desire we won't hesitate. We'll be ready to jump at the opportunity and move towards the future we've envisioned.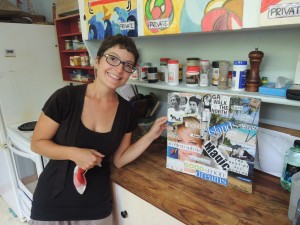 Proud Creator of a Vision Board
The parameters for a vision board aren't fixed. Your vision board can be whatever you want it to be and for whatever time frame you desire. You can create a vision board for your life which is somewhat like a visual bucket list. You can craft a vision board that encompasses your next five years. You can make a vision board for the upcoming year proclaiming the changes you want to make. This may sound a little New Years Resolutionesque, but seeing your resolutions painted in front of you daily will help you take the consistent steps necessary to accomplish them.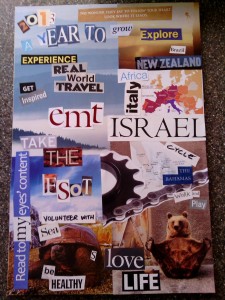 Example of a One Year Vision Board
I am now giving you permission to go crazy. Gather up all your old National Geographic and fitness magazines and break out the scissors and glue. It doesn't take much to get started.
Recipe for a Vision Board
Piece of cardboard or poster-board

Magazines it's ok to destroy

Paper for handwritten segments

Markers

Scissors

Glue
I hope you enjoy creating your vision boards as much as I have. Vision boards aren't a fad art project because of their mention in Rhonda Byrne's popular book The Secret. They are a technique for creating your future that works. I have found their results to be profound. It is because of an item on my very first vision board that I cycled across the United States with my good friend Jess Hoffman. For more on that journey visit: alexatravels.com/ride-to-choose