Day 20 – After the Rain Comes Sun
Starting Point: Mêda
Ending Point: Pinhão
Total Distance: 62 km
Total Distance: 1,324 km
When I was getting ready to leave Mêda, I was relieved to see the clouds parting and some sun shining through. Maybe today wouldn't be a soggy day like yesterday; optimism was creeping in.
Fate, however, had other plans. Less than a kilometre into my day, the rain began. Cranky from my apparent reversal of fortune, I pulled off the road and put on my rain jacket. The skies grew darker and darker, and the rain grew stronger and stronger, but there was no point in trying to wait for these enveloping showers to pass; I simply wanted to get to my destination.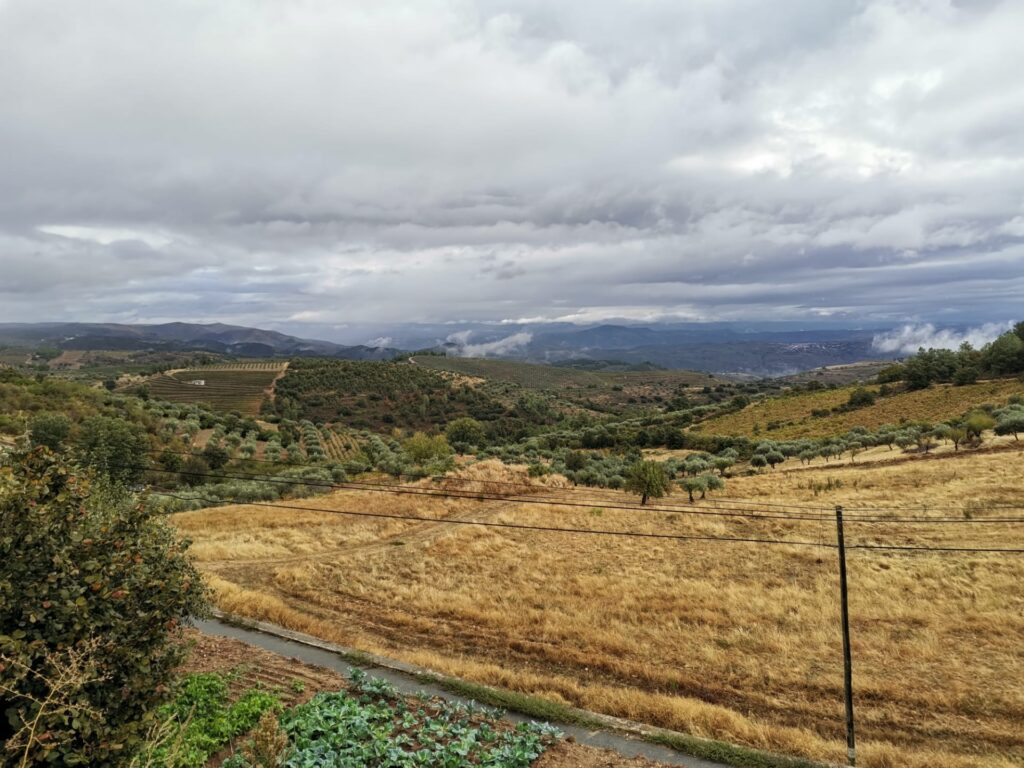 Cycling through the wet again, I grew more and more disappointed with the day. My optimism when I woke up had grown so strong, and now I felt like I wasn't going to get to see anything. Grumbling to myself, I tucked my head down and carried on, focused on getting to my next stop in the most direct way possible. For 15 km I rode this way, knowing that there was nothing I could do and yet still upset at… something. Everything?
And then, it stopped. I rounded a corner and the sun suddenly lit my body with its warming rays. All day I had been riding through the Douro wine country, but it had barely registered to me, the rain was so all encompassing. Now that I was basking in the sun again, the beauty of Portugal filled me from head to toe as I cycled through some of the most beautiful and dramatic landscapes of my trip.
I knew that the Douro wine region was important to Portugal, and had imbibed many lovely Douro wines myself while back in Lisbon, but the sheer beauty of the region I was unprepared for. Appreciative and awestruck of the improved weather and lush views respectively, I looked ahead down the road to find a familiar and welcoming sight: two cyclists, both with panniers (bags mounted next to their wheels) — clearly touring cyclists. I again broke into an uncontrollable smile; we touring cyclists are a bit of a rare breed. Road cyclists tend to be quite focused and driven – not much for chatting. Mountain bikers are always off doing their thing and when you do come across them on the streets, they typically just want to get to their trails or back home, depending on when you catch them. Touring cyclists, however, almost always love to stop and have a chat, swap road stories, and exchange information. Ton and Annette were no exceptions.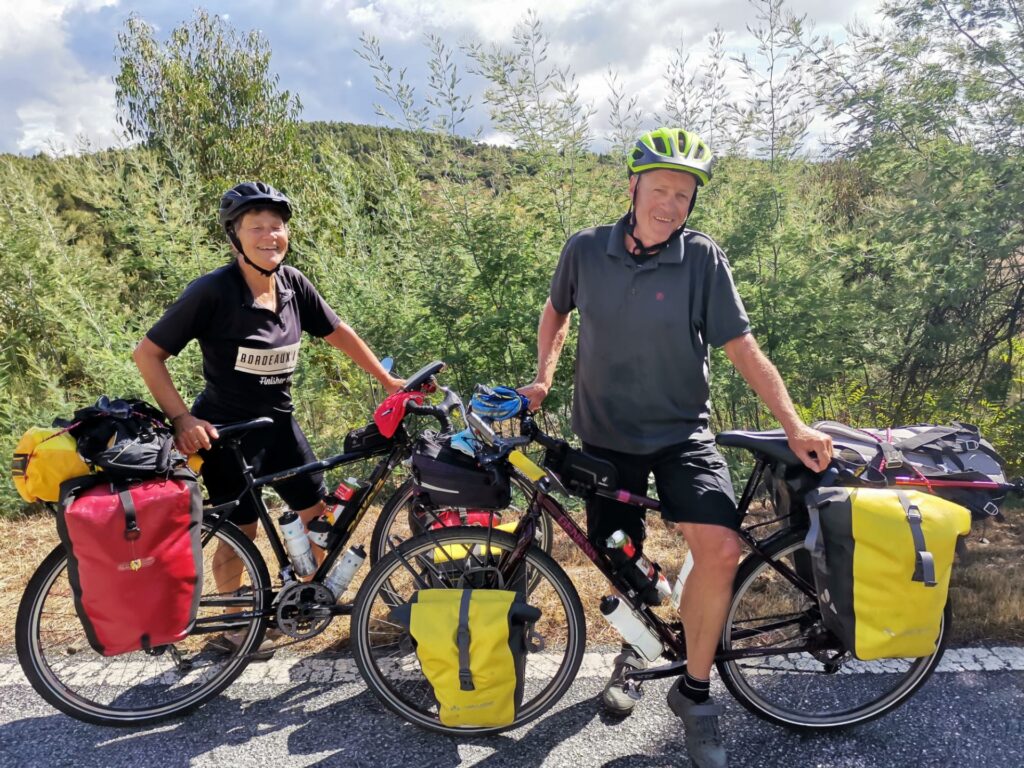 Hailing from The Netherlands, Ton and Annette are retirees who started their journey all the way back in Holland. They were headed to northern Portugal but ultimately had no fixed itinerary or destination. These guys just love to travel and love even more to do it by bicycle, so, now that they have freedom and time, the two are traveling wherever they please at whatever pace they decide. If we were traveling in the same direction, I would have immediately invited them for a coffee in the next town and heard all about this organic adventure of theirs, but sadly we were going in opposite directions. They do plan to make it to Lisbon at some point and I'm really hoping to meet up with them then.
We bid each other adieu and set off on our respective journeys. I was not even close to being finished with the Douro region and all of its fantastic landscapes just yet.
Hunger was starting to creep in after all my riding through the endless vineyards, so I stopped off in São João de Perqueisa to get a bite to eat. While on this trip, I had been eating as much traditional Portuguese food as I could find, but here I found a place that was known for its pizza and that sounded perfect. Not only did I treat myself to a pizza, but I also had a traditional Portuguese dessert as well, arroz doce, a type of creamy rice pudding.
On the way to the restaurant, I passed some signs for a wine museum which was simply something I could not pass up. The museum was clean, organized, informative, and felt quite new. Three floors of exhibits held my interest and it was all capped off in the end with a complimentary glass of port, local to the region.
Back on the road and heading towards Pinhão, I felt like I was cycling through a painting. Organized rows of grapevines wrapped their way around the hills of the terraced vineyards. The ethereal beauty felt almost unreal as occasionally trucks would speed by, leaving a sweet odor in their wake of the freshly harvested grapes they were carrying. It took all my willpower not to snack all day on all the perfectly ripened jewels hanging next to the roadside.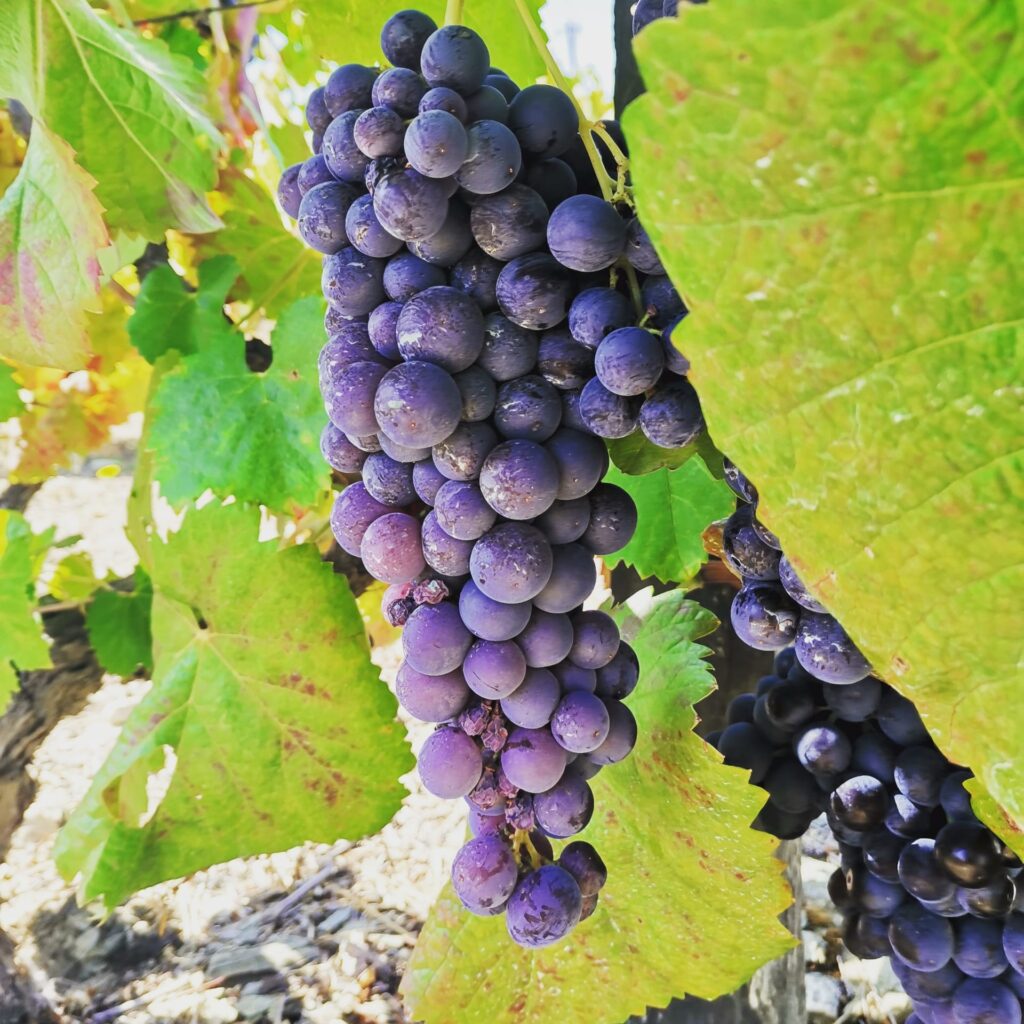 Due to the ongoing pandemic, I had avoided the dorm rooms of hostels on this trip as a general rule, but the Hostel Douro Backpackers, like many other hostels, has a few single rooms as well. The lobby had a large scratch off map to indicate where their visitors have hailed from, and when I saw that my home state of Oregon was still covered, I made quick work of revealing it. The hostel also had little nods to the local culture throughout. Their logo, for example, was a traditional grape harvester loaded up with a basket on his back: the original backpacker of the region, as the hostel owner called him.
Other than admiring the river and landscape, the other point of interest I wanted to see in Pinhão was the train station that I had heard so much about. A couple of times I have previously mentioned the Azulejo tiles that Portugal is known for, and the train station had some beautiful examples highlighting the region's history and culture. Finely detailed and with ornate and colorful painted borders, the blue and white vignettes had an antique feel to them, like how even new black and white photographs can have an air of the historic.
I finished my day admiring the large and peaceful Douro river. In just a few days, I would be tracing my way along it into Porto, just like the wines from this region had done throughout history.