Start point: Le Barcares, France
End point: Agde, France
Miles: 64
Key words: gravel, parting, salad, rain, steel drums, apricots
We gathered our things and headed downstairs for our first French breakfast. I did a little happy dance when I saw pan au chocolate accompanying our small feast. As we cycled away from Le Barcarès I knew today was going to be a great day, I could feel it.
I knew we would be skirting a national park much of the day, but I wasn't prepared for the astonishing beauty that morning. We climbed swiftly and were met with a spectaular panorama of the Mediterranean and adjacent waterways. Photos simply don't do it justice.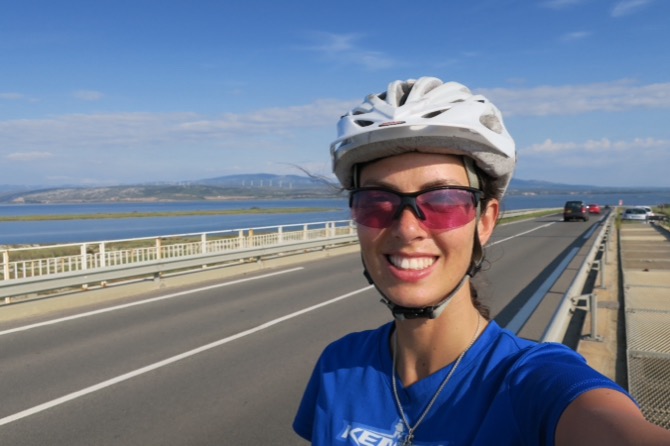 We started our day with beauty all around us
We made our way onto another famous Google Maps shortcut that turned out to be a mountain biking path through a network of vast saltwater ponds. It saved us a lot of distance, but it was slow going and we skidded around on our tiny tires. An entire family on mountain bikes passed us with ease.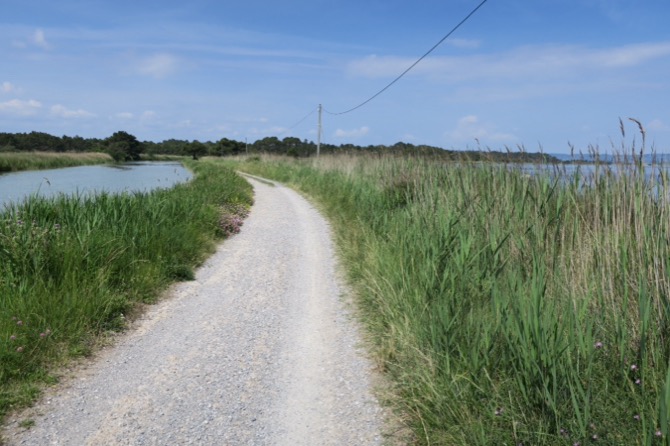 We don't love gravel
Today was bittersweet as we would be losing our cycling friend and pace setter Sunny. We cycled together for the morning and parted ways before Narbonne. See you in Boston Sunny!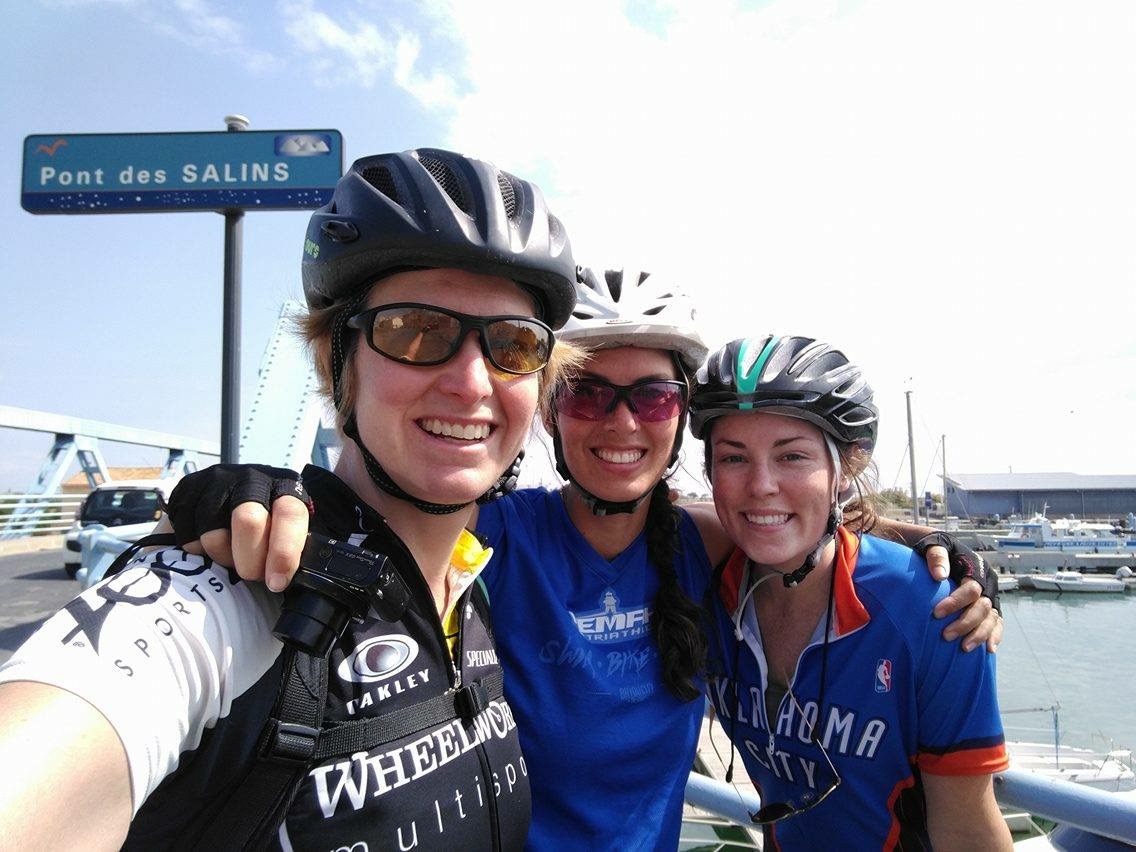 And then there were two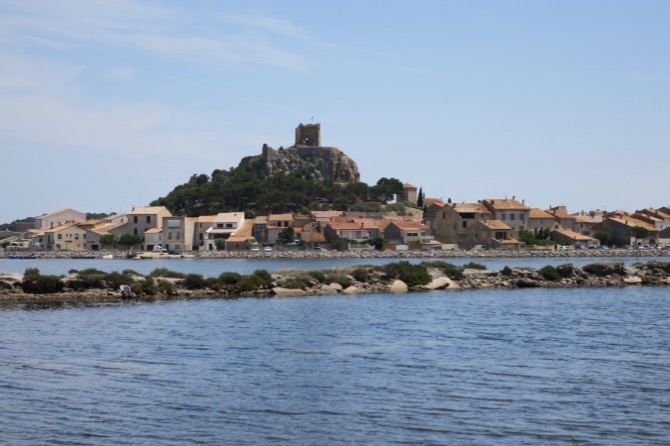 Nearing Gruisson
Finally off of the gravel bike path Bita and I headed to the fort city of Gruisson for our lunch stop. We found an adorable restaurant immediately and somehow ended up with the most beautiful salad I've ever seen.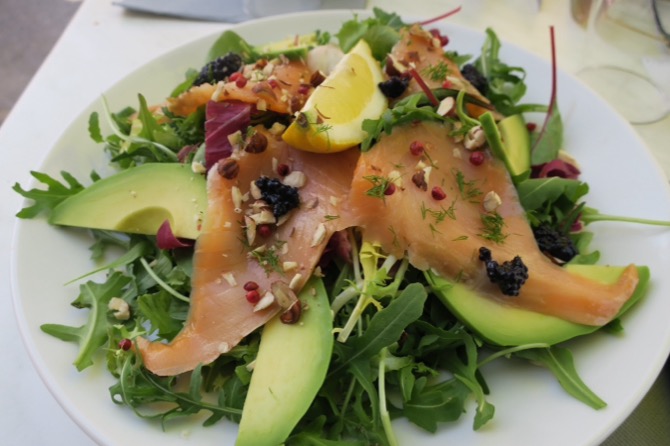 French food porn
Today was the first day we were without a functioning phone and we hoped that our combination of physical maps and screen shots of Google maps would carry us until the next major city to get out phone sorted. It didn't take long for us to get turned around on back roads. We cycled through gorgeous wine country and up to breathtaking heights for an hour or so before we found a marked intersection. We went well out of our way but the views more than made up for it.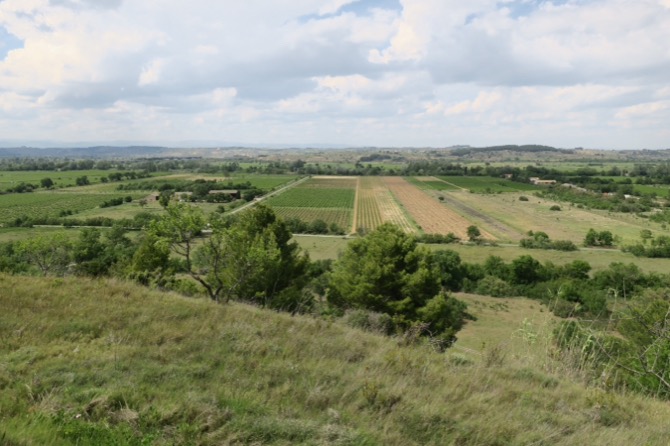 Taking it all in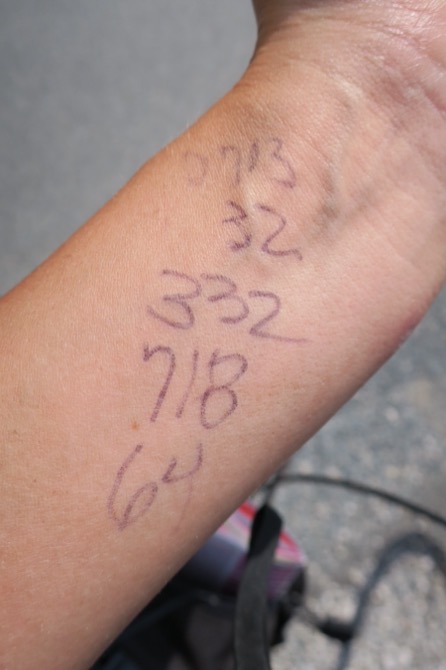 My hi-tech highway navigation system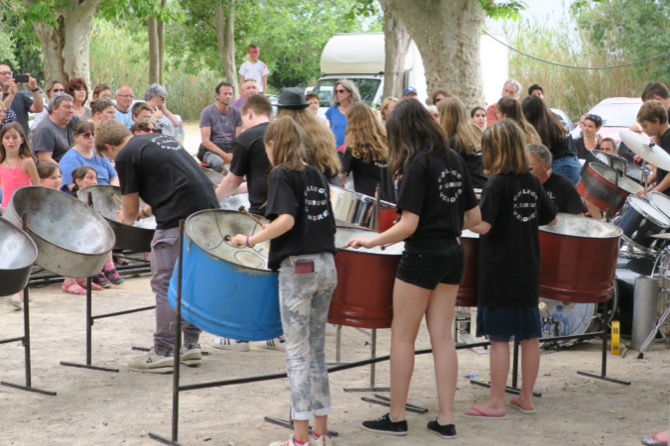 A steel drum rendition of Gangster's Paradise in the French countryside? Yes please!
We stopped in a little town called Vendres to find WiFi and reroute. While we recharged we were treated to a percussion concert.
We were back on the road and back on track for our destination of Agde when we heard the rumble and saw a flash of lightning. I am passionate about cycling, but lightning is one weather aberration I don't mess with. The drops came quickly and heavily. We cycled on with urgency, heads tucked low and looking for shelter in the vast but empty countryside. We saw signs for produce sales and darted under cover of our haven. It was closed and vacant except for a fluffy dog who hung out with us until the storm passed.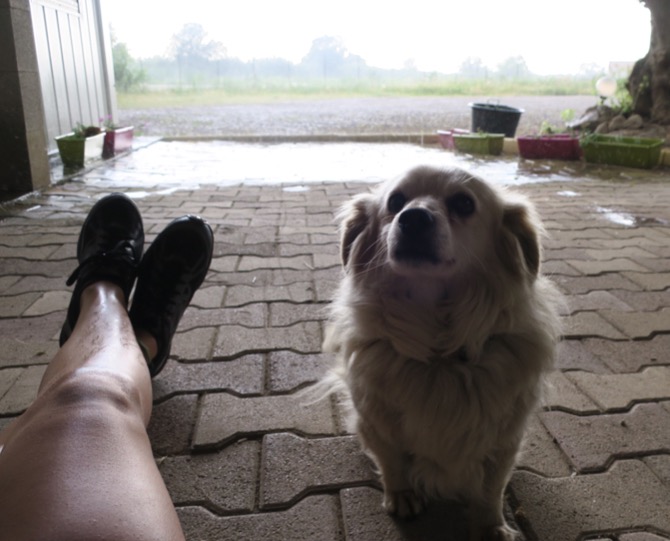 Our new friend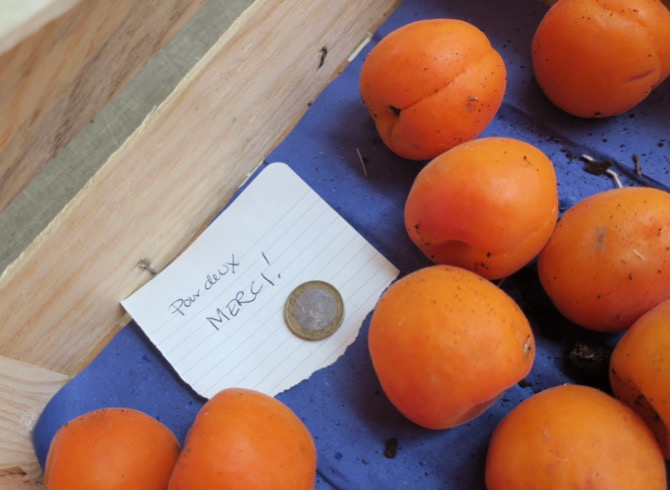 Leaving money for a few unattended apricots
The storm passed quickly and after a few goodbye pats we left our little white dog and the safe haven of the produce shop. A brilliant rainbow marked our path westward and we carred on with urgency. The day was escaping us and we still had a few mile adding missteps to make. We arrived at our cozy hotel feeling tired yet accomplished. Our Romanian host checked us in joyfully and locked our bikes safely away with her own bike. After a 64 mile day that turned out to be closer to 80 our hot showers and comfy bed felt especially earned!
Total miles so far: 219