Start point: Tirana, Albania
End Point: Lushjnë, Albania
Miles: 45
Key words: byrek, Olgert, grilled corn, wind, tumble, love hotel
I departed early with my couch surfing host who was headed to German class and went in search of the famous Albanian "byrek" for breakfast. My host directed me to a small eatery which was said to make the best byrek in Tirana. Byrek is a flaky philo dough stuffed with an array of different fillings. Mine this morning had a warm cream cheese like filling. Yummmm. A drink cooler was full of a drink which appeared to be milk. I got one to try and was happy to find it was a cultured yogurt drink. It was a lovely breakfast in Tirana.
I cycled out of the city and onto a dilapidated country highway that forced me to stop and smell the flowers. Patches of road were missing and other patches were globbed on in an attempt to repair. It was a challenge to get much speed on my skinny tires. So I just cruised.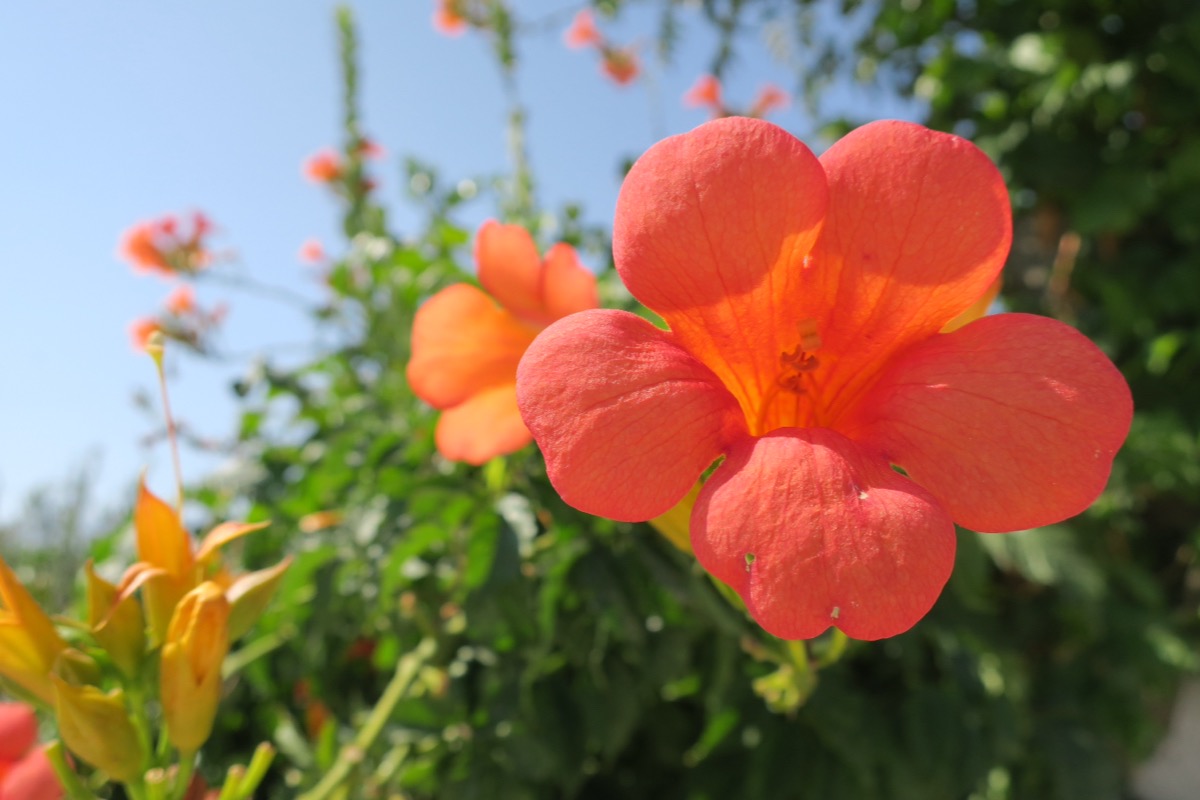 Orange flowers I saw throughout Albania
Midday I stopped at a gas station with a cafe in search of something cold. I don't think any gas stations in Albania are without a cafe with men sipping espresso in front. Realizing I was a foreigner the woman in charge quickly handed me over to her son who spoke some English. He concentrated carefully on every word and we had a great chat. He has a family member in New York. I showed him where I lived in the US while savoring the icy deliciousness of a very cold bottled water. He filled my water bottles to the brim with ice, and I topped them off with a second bottled water. When I left he wouldn't take any money for the bottled water. "They are a gift." He said. A priceless offering on a sweltering day. We are facebook buds now.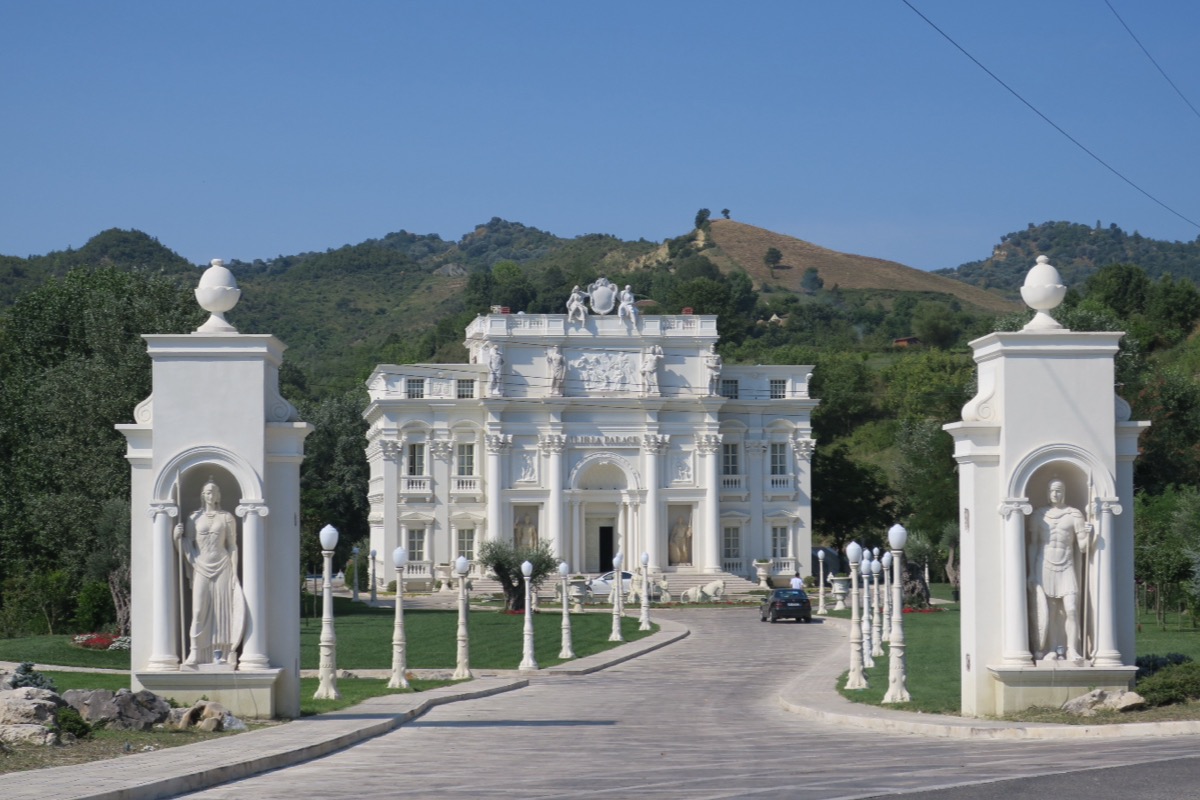 Cycling by an opulent mansion in the middle of nowhere
Once off this country highway I was met with a faster autoroute that didn't explicitly say "no bikes". So I hopped on it. It was of decent road quality but metal pegs forced me to decide between cycling in the road or precariously along small, gravel lined edge. Before long I passed two policeman who didn't seem bothered by my presence on the highway so I took it as a sign of consent and carried on with confidence.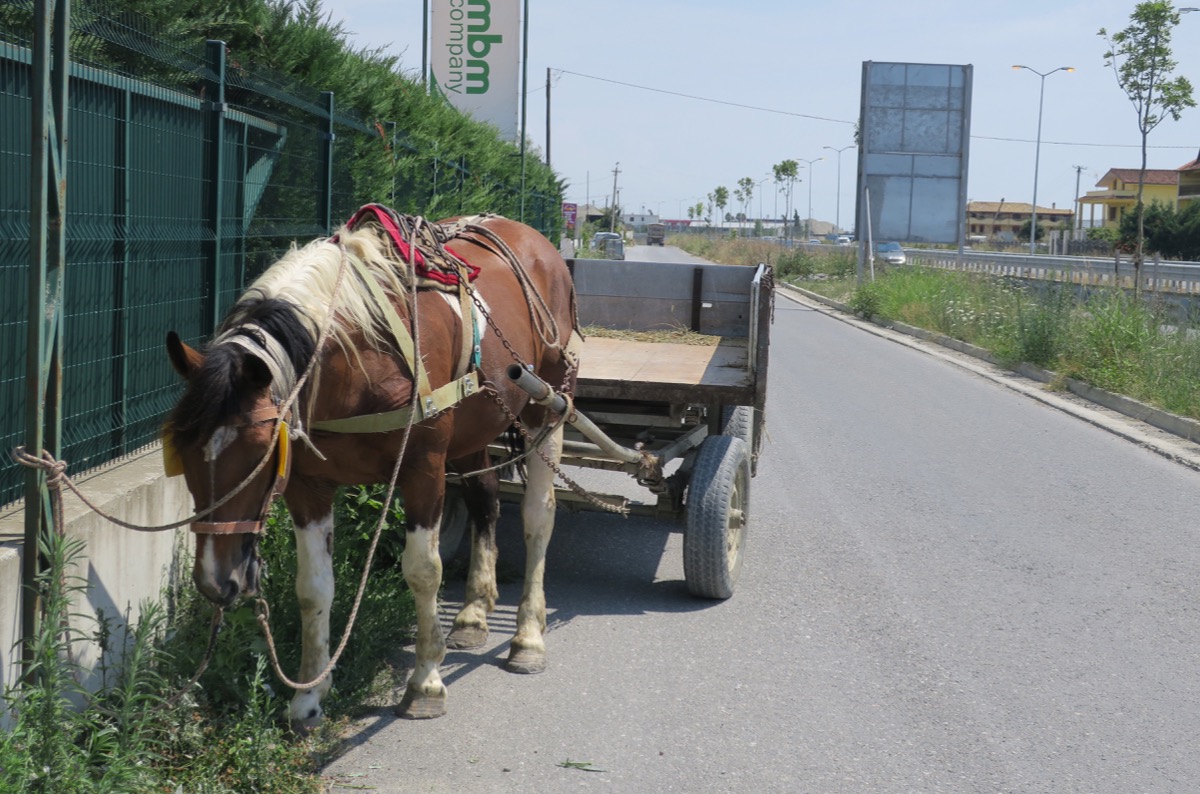 Horse drawn carts are common, even on the highways
At a big, hot roundabout a scattering of umbrellas lined the guardrail. Wrinkled Albanian men and women were grilling ears of corn on rudimentary grills in a very similar fashion to what I had witnessed in Nigeria. I felt a twinge of longing for West Africa.
I was near my destination city of Lushjnë when a strong wind picked up. Unlike nearly every other night on this trip, I had not booked lodging in advance. Booking.com didn't have any options for this town, although I had been assured that there were hotels. So I decided to continue on in hopes that a local could point me in the direction of a hotel upon arrival.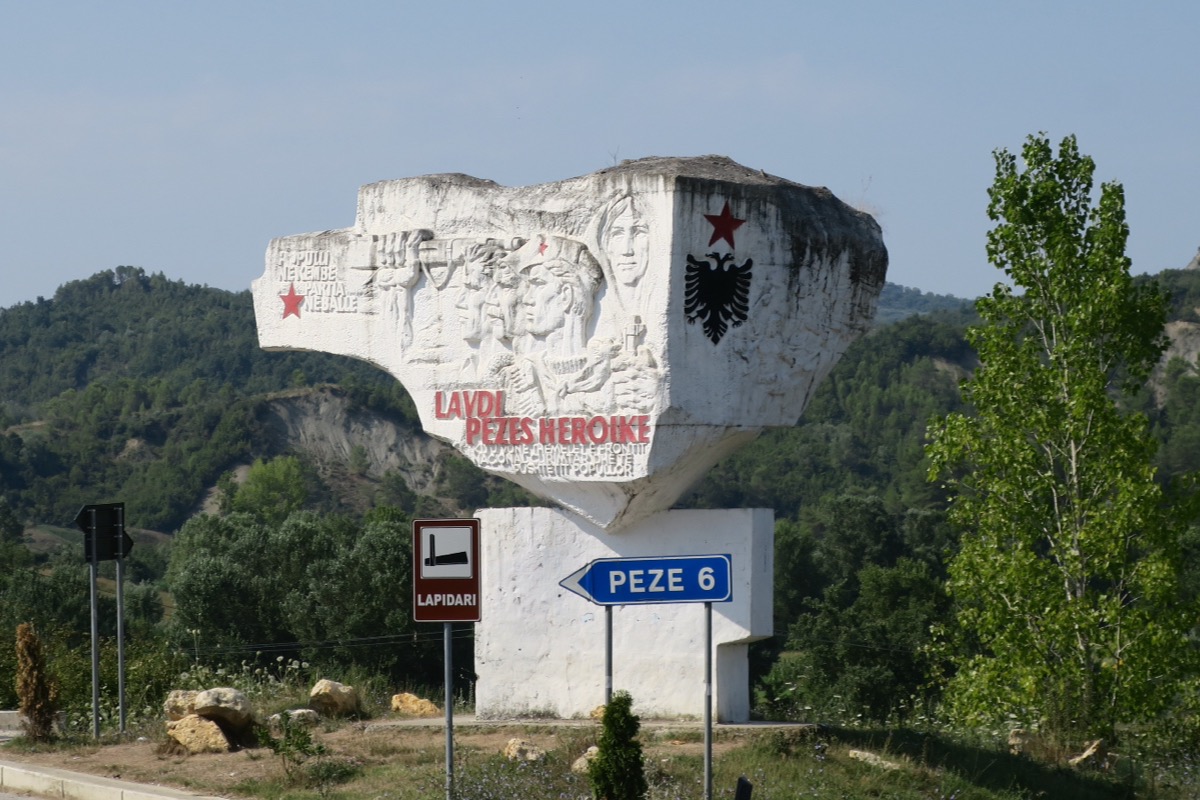 An ode to Albanian independence
I was struggling along the same highway, now on the outskirts of Lushnjë, my helmet tilted into the wind. Sometimes the gusts threatened to send me veering off the road, but I held steady. At least it was trying to blow me off the road and not into traffic.
Suddenly from my right I heard barking and a tan and black dog started running toward me, ears back and hair on end. I was focused on unclipping my cleats in preparation to kick the dog if necessary when my front tire veered off the road into deep gravel. Correcting the tire back to the left only caused my bike to be flung into the road with me still attached to it. I hit with a loud "thunk", my imagination instantly seeing a car speeding behind and over me. Get out of the road, get out of the road, get out of the road was my sole thought as I scrambled up and to the shoulder. A few cars beeped their approach but there was plenty of time for them to witness my tumble. I was ok.
I looked over at the dog who had now shed its menacing façade and was sitting on its haunches with its head cocked, curiously watching me. I looked down to survey the damage. The road had shaved a neat patch of skin off my left ankle and my knee and shoulder were well scraped and dirtied. My bike was fine other than torn handlebar tape on the left side. I looked up from my scene and the first thing I saw was a sign reading HOTEL. I was dirty, scraped, bruised, and tired of the gnawing side wind. I took it as a good omen and cycled to the cream colored building.
I was happy to find there were available rooms and, to my surprise, the option for a room with a jacuzzi for €5 more. Um yes! I figured a good soak would do me good after my tumble.
A leisurely soak and power nap later and I ventured back to the hotel's restaurant. Wanting to get an early start the following day I asked the hotel's owner–a shy woman in her late 30s–what time the hotel served breakfast. "Well you see" she began "People usually just stay here for a couple hours. They don't stay for breakfast. So we can make you breakfast when you like." Ha! It was all coming together now. The stand alone hotel with nothing else around it, the jacuzzi tubs, the king size bed, the leather couches. I was staying at a love hotel. We just laughed and scheduled a time for my exclusive breakfast.
Total miles so far: 2,215