Start point: Barcelona, Spain
End point: Corfu, Greece
Miles: 2,340
Key words: US cycling trip, planning, Mediterranean, cycling sisters, three sweaty amigos, people
The inspiration for this trip began in 2010, when my friend Jess and I were sweating our way through the Appalachian mountain range on the homestretch of our coast to coast US cycling trip. Confronted with the foreseeable end of our 2.5-month sojourn we laid the mental foundation for the next. "Next trip, we are cycling around Italy!" we would bellow gleefully as we tried to ignore the fact that our trip was quickly coming to an end.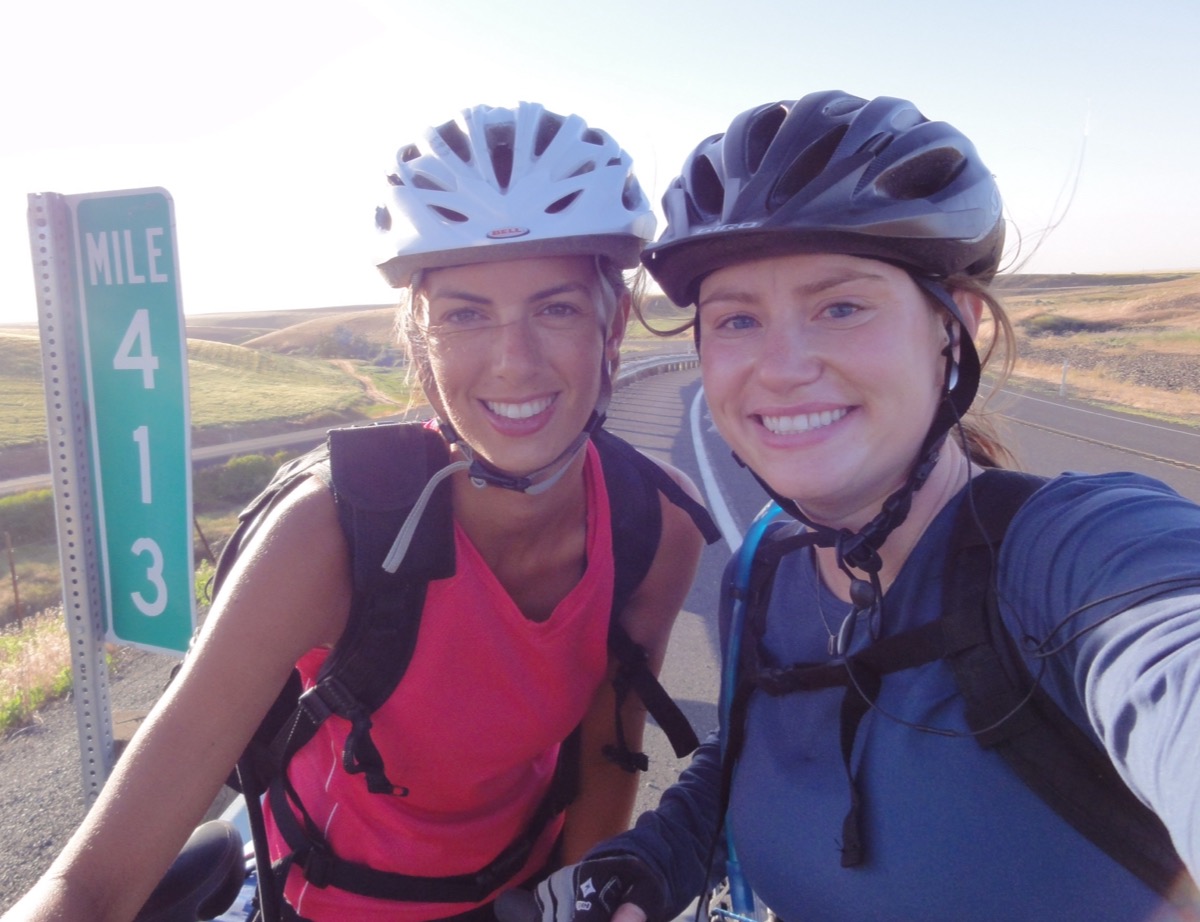 Jess and me in 2010
Fast forward six years and here I was in graduate school with a free summer that was ripe for an internship. But what about cycling around Europe? A small but persistent voice said as it tugged at the shirt of my heart. I weighed the option of working in Sub-Saharan Africa versus cycling around the Mediterranean. Most would have called the internship the responsible option. Others would have sided with cycling by saying "you only live once". I threw my lot in with the latter. Once I graduate I intend to have a full throttle career for the next decade plus. Who knows when I would have a free summer again to carry out such a plot. So I pulled up a map and started planning.
I contacted Jess and her boyfriend and pitched them the idea. We compared dates but their professional lives were in flux and they couldn't commit at this point. I contacted a few other friends who in years before had showed interest in being part of such an adventure. No takers. I began to assess what it would be like to do the trip solo. I have traveled solo extensively at this point, so what was the real difference between traveling by public transport solo and traveling by bike solo? More time spent talking to myself, was the only answer I could come up with. So the planning continued.
Back in 2010 we had talked about cycling around Italy, but my wheels started turning and a secondary theme for this trip began to take shape. How incredible would it be to cycle along the Mediterranean coastline? To witness the differences between towns, cities, and nations all connected to this one body of water? To taste the breadth of Mediterranean coastal culinary traditions? To shed my cycling attire and jump in the sea on a sweat drenched day? I was enamored by the idea and sold simultaneously. I was going to Ride the Med.
I broke the news to my sister Bita about my summer adventure and her instant response was "I want to do that too!" Really? I was overjoyed. We had less than a month to get her up to speed and prepared but I knew she could handle it. She is the type of person that can make anything happen. I was so excited to have a cycling partner in crime, especially Bita. You see we didn't grow up together, so the opportunity to make up for lost time was inspired.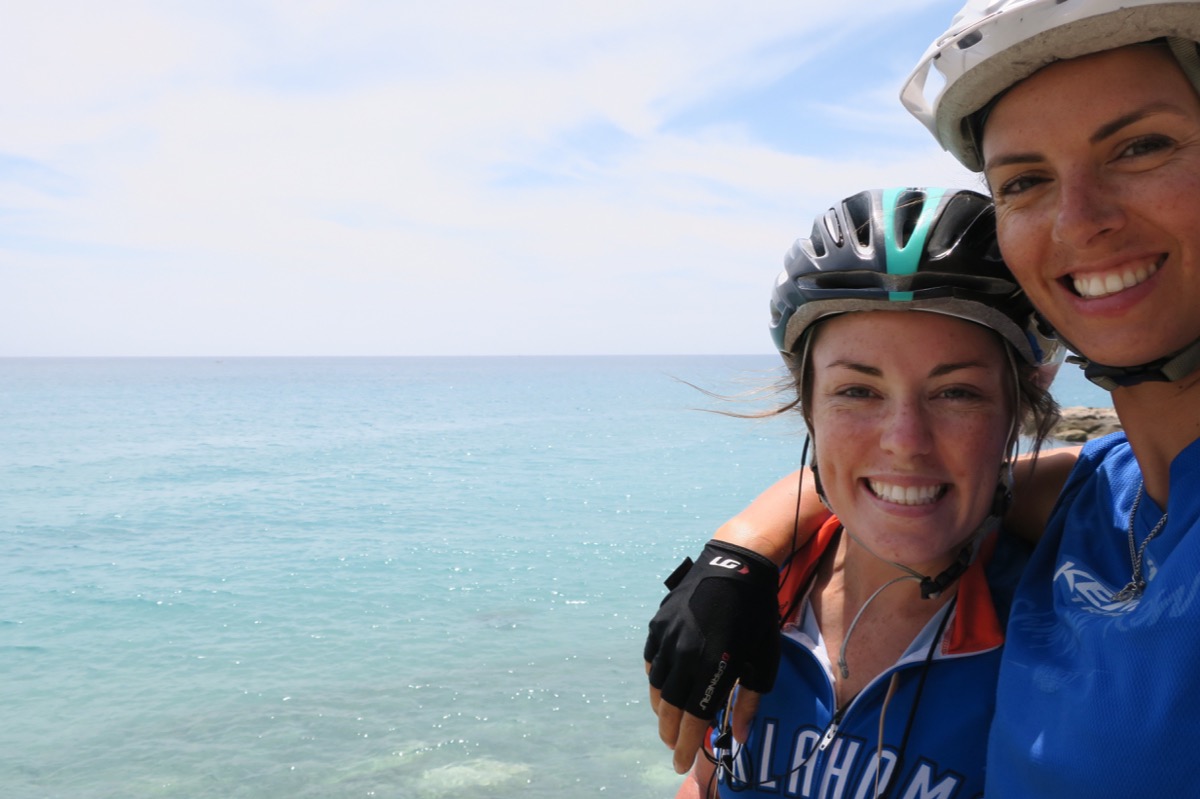 Cycling Sisters in 2016
In total, the trip took 59 days. During that time, I cycled with Bita for the first 40 days and with Jess and Hector (Three Sweaty Amigos) the following 10. The final 10 days were my time to ride solo and fully embrace the adventure I had created. I have compiled some descriptive statistics from the trip for those curious minds who like to see numbers:
Total distance: 2,340 miles
Total duration: 59 days
Countries visited: Spain, France, Monaco, Italy, Vatican City, San Marino, Slovenia, Croatia, Bosnia and Herzegovina, Montenegro, Albania, Greece
Total number of countries: 12
Average distance cycled per day: 39.6 miles
Number of full cycling days (more than 20 miles): 44 days
Average distance cycled on full cycling days: 53.2 miles
Longest duration in one country: Italy, 31 days
Shortest duration in one country: Vatican City, 4 hours
Number of flat tires: 7 (just 1 for my bike)
Types of lodging used: Hotels, hostels, Airbnb, couch surfing, friends
Average cost of lodging per night: €25.20 or 27.90 USD
This adventure was everything I could have hoped for and more. The countless people we met along the way—whether we spoke the same language or not—brought the journey to life. From the elderly Italian women who smiled at us curiously, to fellow touring cyclists who felt our pains, to the kind shop keepers who gifted us with fruit, water and pastries. This trip was not really about the Mediterranean. In the end, the most crystal clear blue waters don't follow you home. What does stay with you, is the perfect stranger who says "you are my hero".