Day 18 Day Off in Florence
Start point: Florence, Italy
End point: Florence, Italy
Miles: 0
Key words: camping, Firenze, duomo, chai, Uffizi, sunset
We awoke in our tent at Camping Michaelangelo enthused for a day off in Florence. When I say "tent" I must be honest, it wasn't your everyday droopy Wal-Mart camping tent. This was a preassembled canvas structure with bunk beds and a hard floor, but it is still the closest we've come to camping on this trip. The grounds were previously an olive grove, and included a restaurant and terrace, so it was pretty campsite fabulous.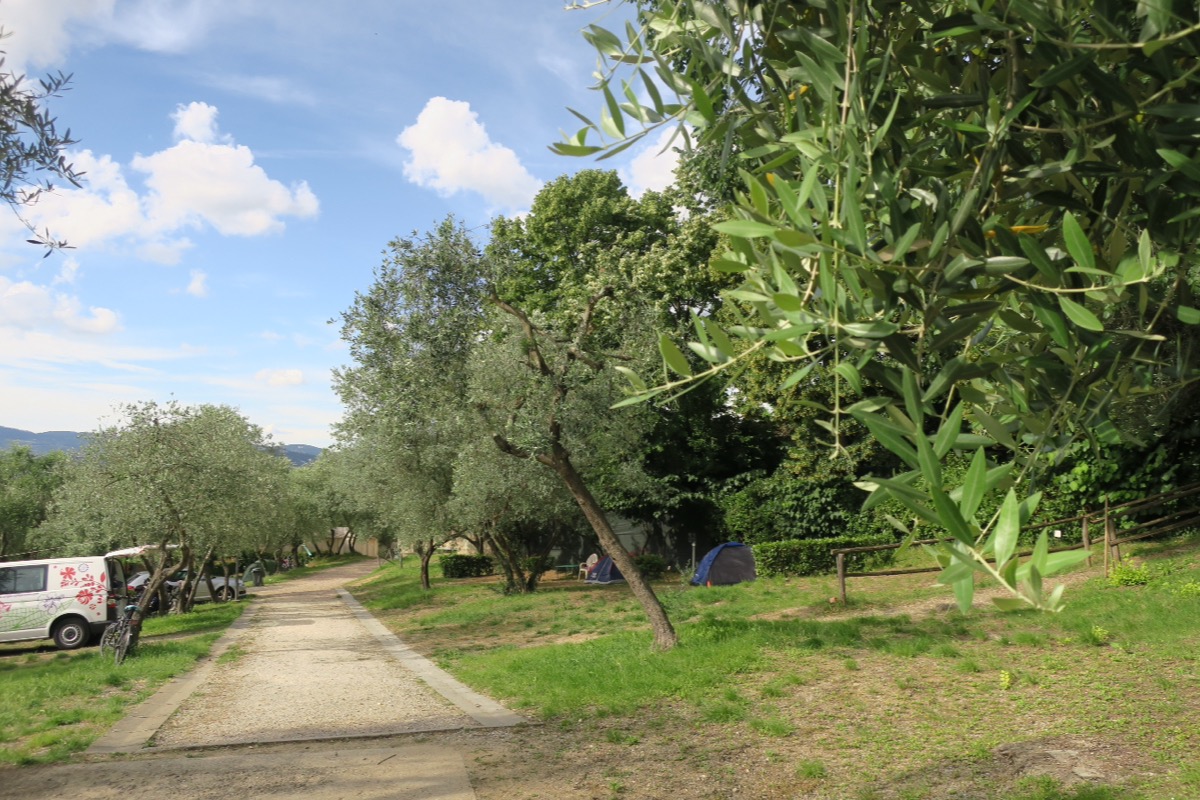 Olive grove turned campground
Florence (or as it is correctly called, Firenze) is considered the birthplace of the Italian Renaissance movement; a cultural movement between the 14th and 17th centuries that brought new perspective to humanism and art. Remnants of this age reverberate throughout the city as art is central to its character.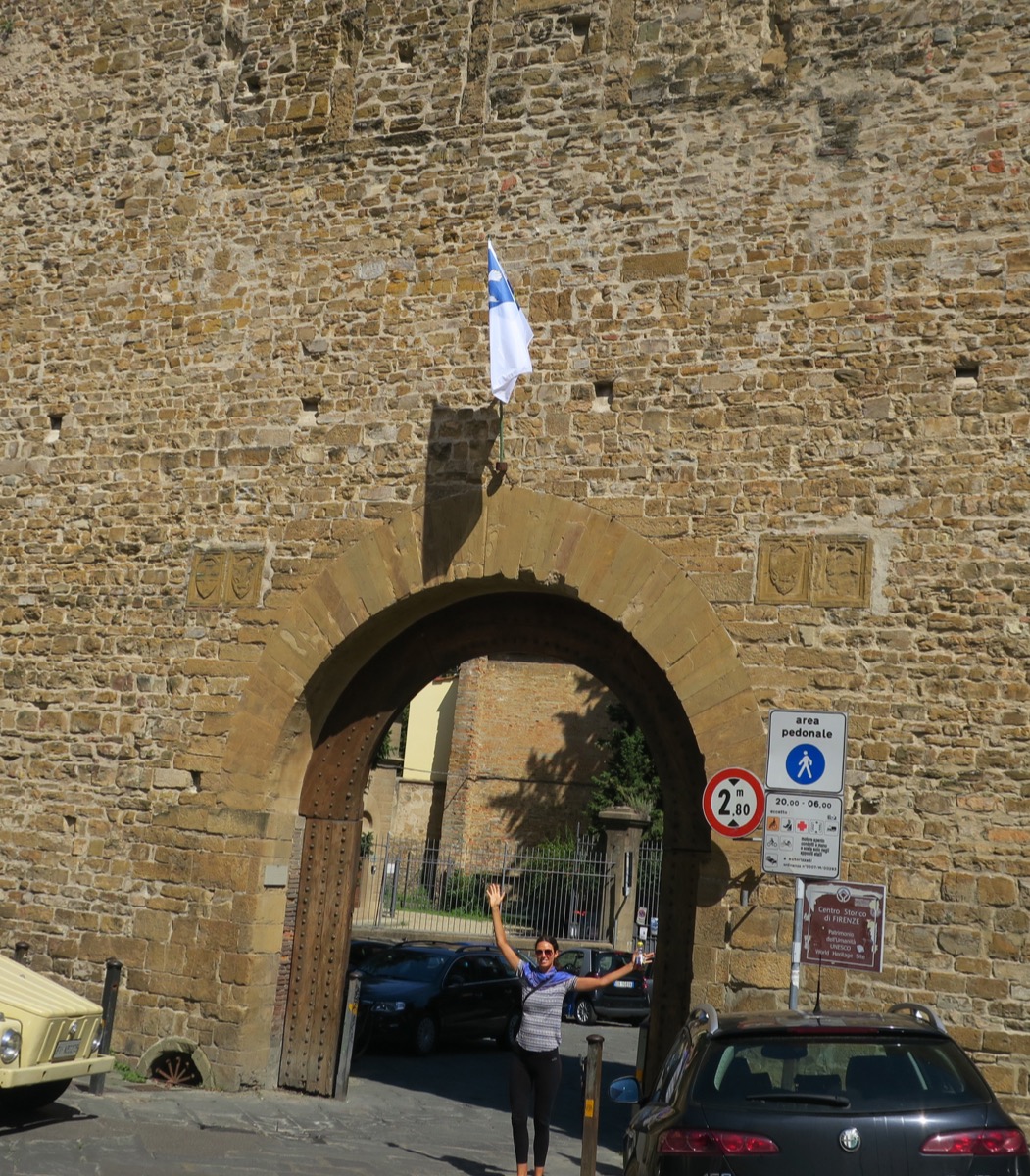 Entering the city walls
We wandered into the city in search of breakfast and popped into a small caffe where we scored nutella stuffed croissants (also known as "brioche" in Northern Italy) for one euro each.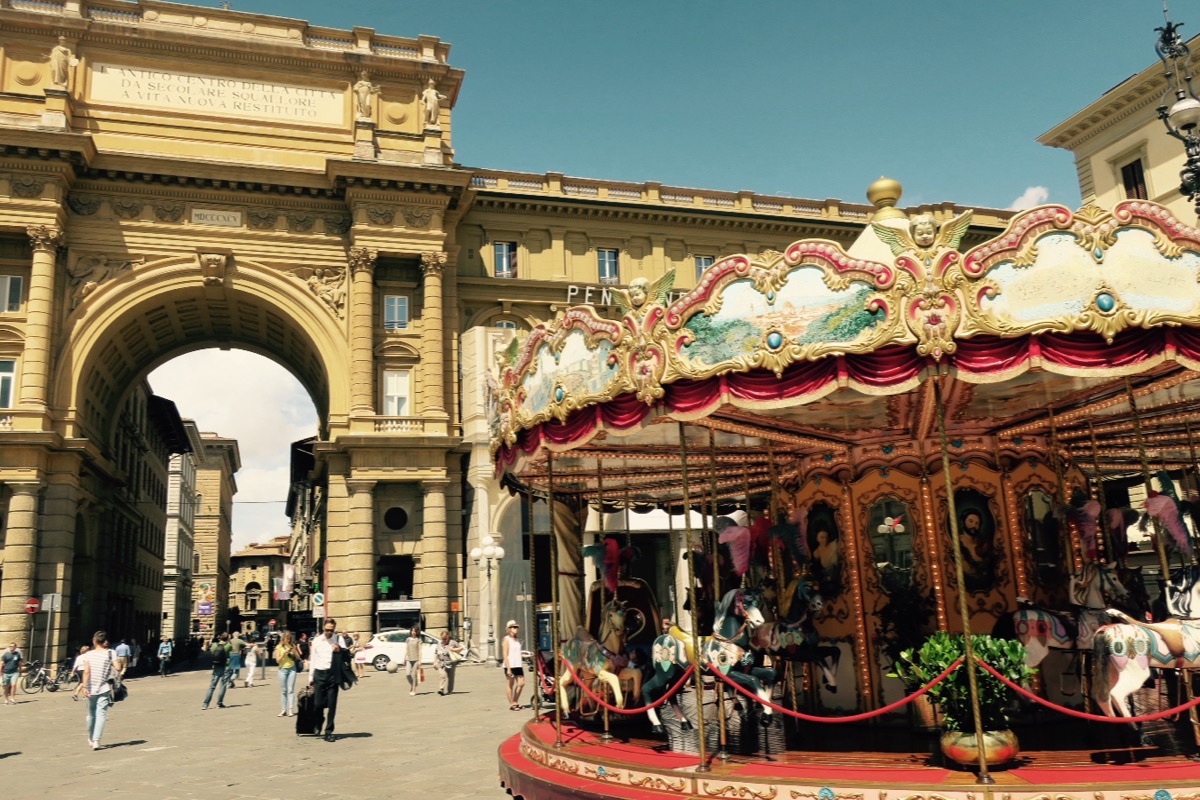 Carousel at the Piazza della Repubblica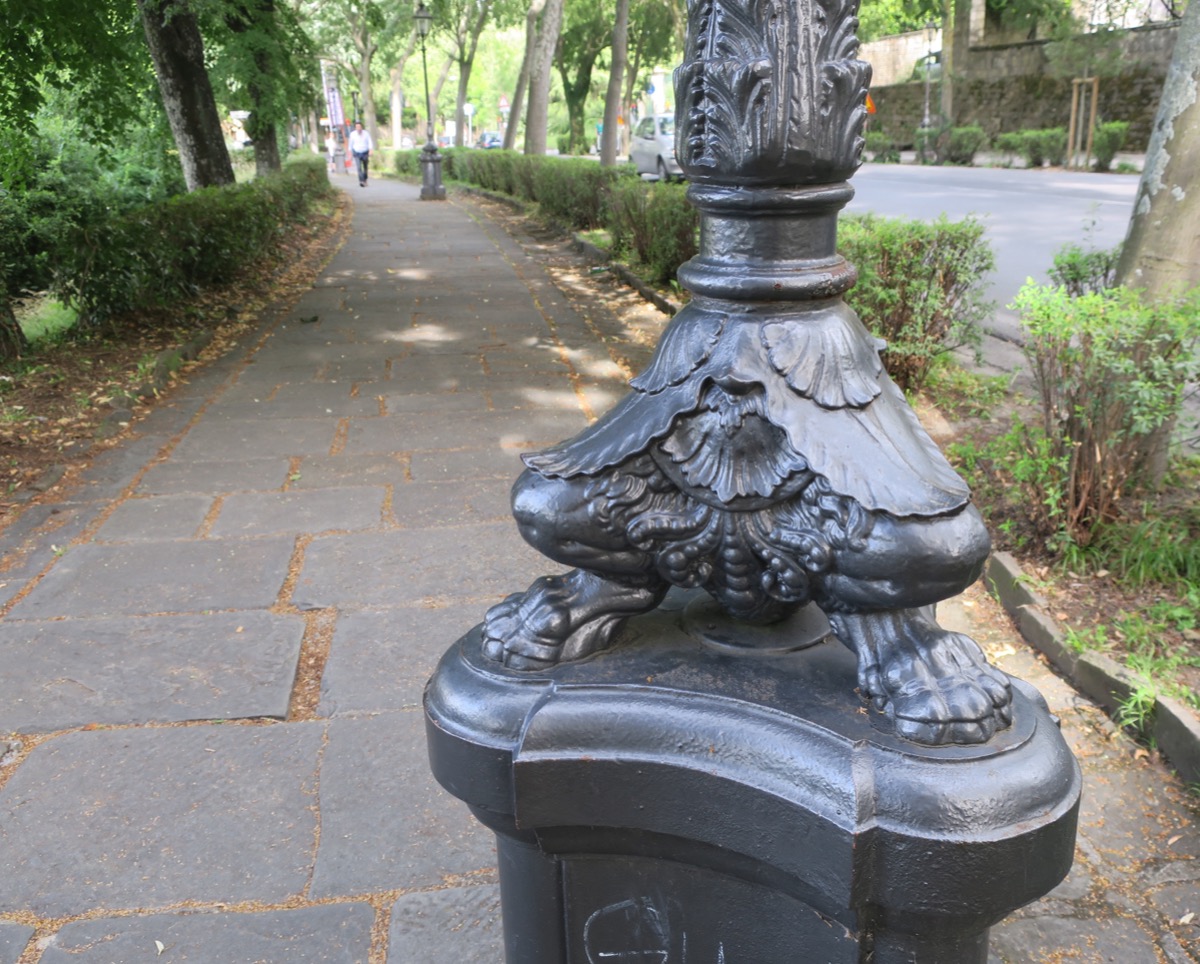 Even the lamp posts have a certain something about them
We walked around and admired the duomo (cathedral) amid the crowds of tourists. The structure which is central to the Florence cityscape is impressive up close as its marble panels that range from white to green to pink, and it's Gothic Revival façade.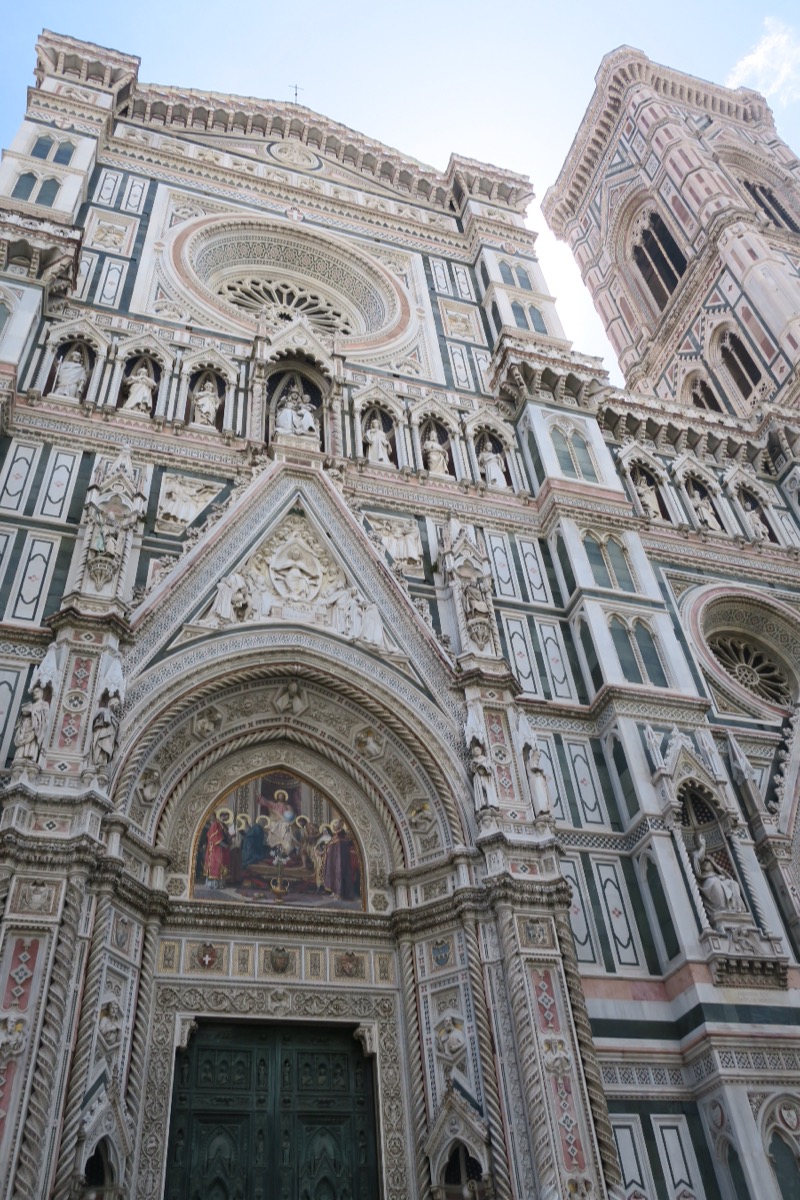 The Florence Cathedral
Continuing our wanderings we explored the cobblestone streets with alluring shops to our hearts content. We may be traveling light and unable to purchase much beyond postcards, but the shops still provide an array of items to entertain the senses.
On one of these random streets I spotted a sign that read "chai (té italiano)" and did an instant double take. Anyone who knows me well know's I'm a chai addict and I'd been without for weeks at this point. We stopped in for two cups of this spiced tea which turned out to be a blend imported from San Francisco.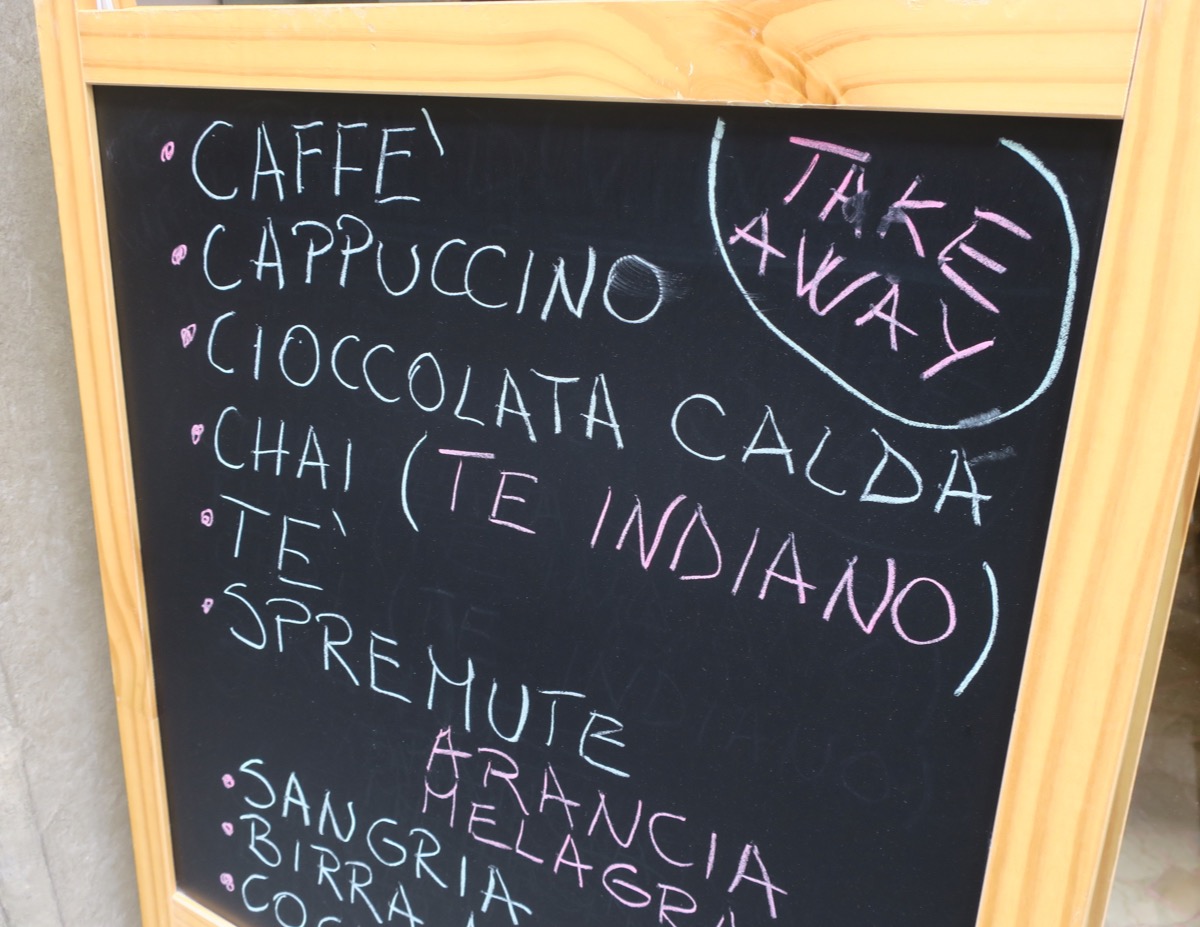 Chai alert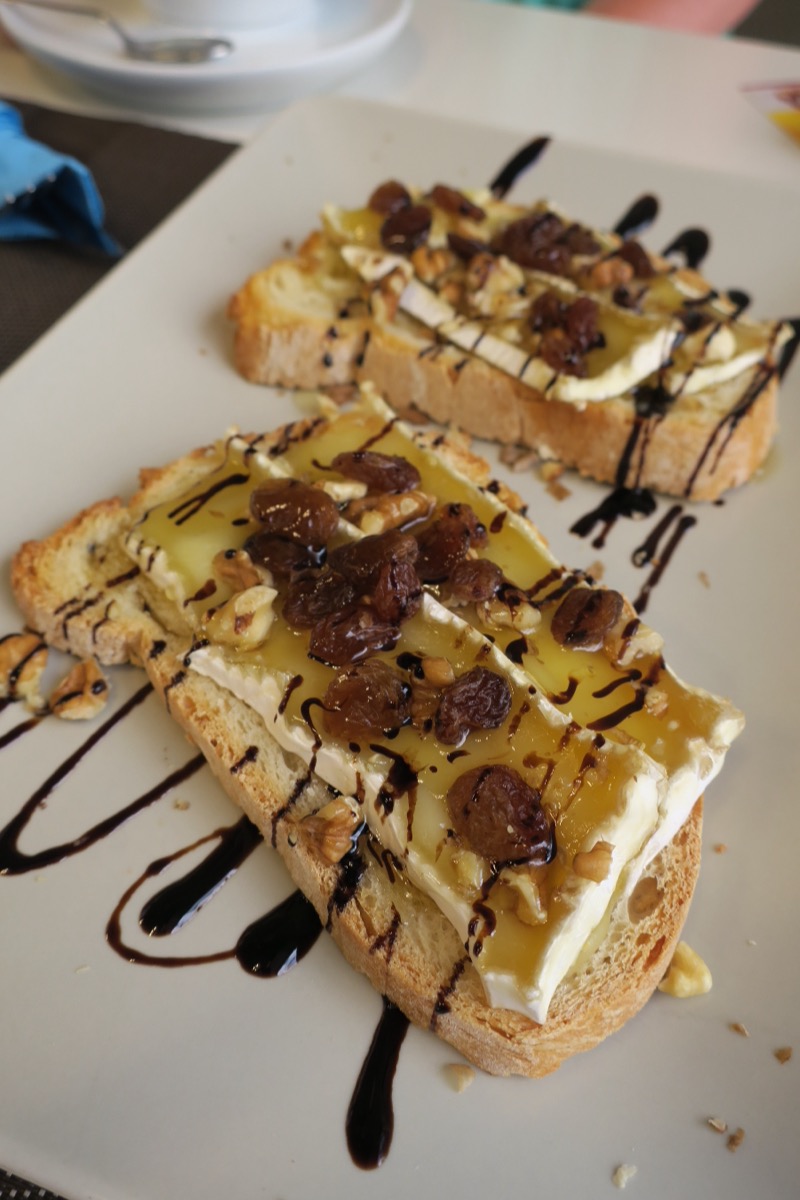 We also had a snack; toasted bread with brie, walnuts, raisins, honey and balsamic. Have I mentioned that we are constantly eating on this trip?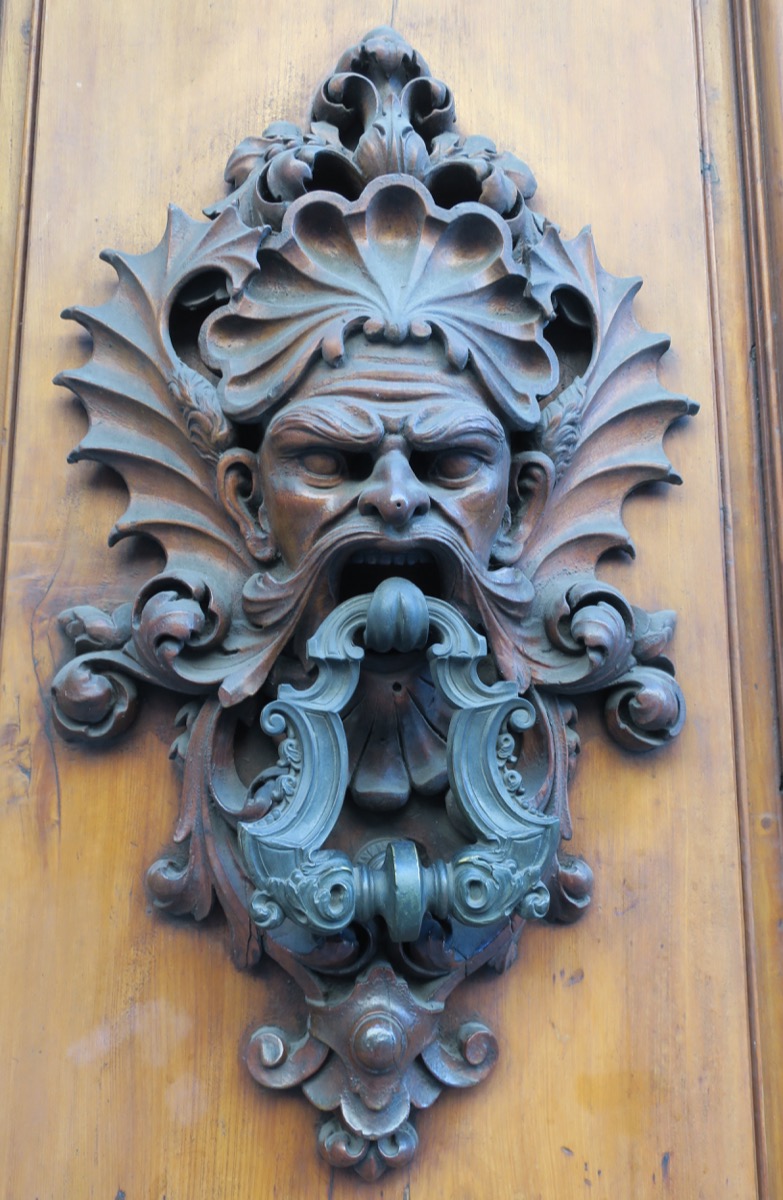 Our favorite door knocker of the trip
Later on I ventured to the Uffizi museum to see firsthand some of the world's most famous Renaissance art. One if the most visited museums in the world, the gallery houses works by the Renaissance greats: Michaelangelo, Botticelli, and Da Vinci. I wasn't the only person hoping to make it into the museum today.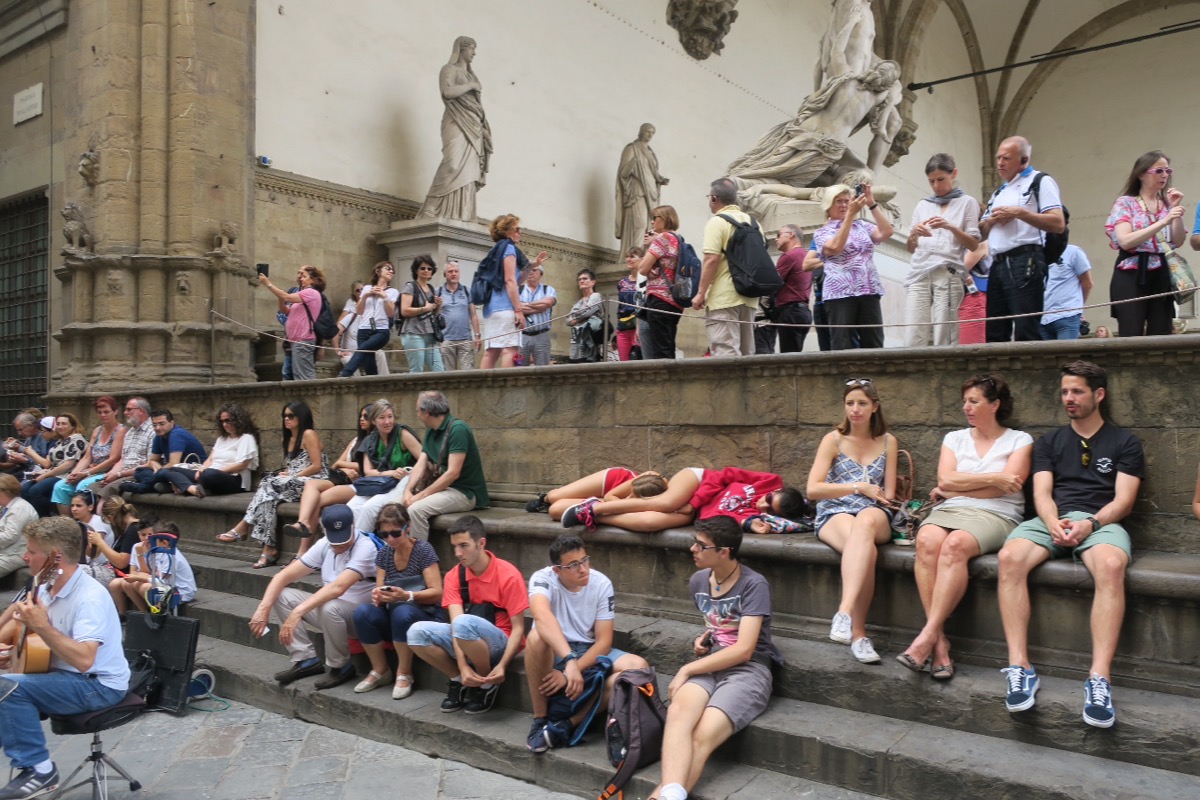 It ain't always easy traveling (as evidenced by the two in the center)
After a moderately long wait in line I payed my euros and gained entrance to the Uffizi. There were inumerable marble statues and frescoes for the perusing. These were some of my favorites: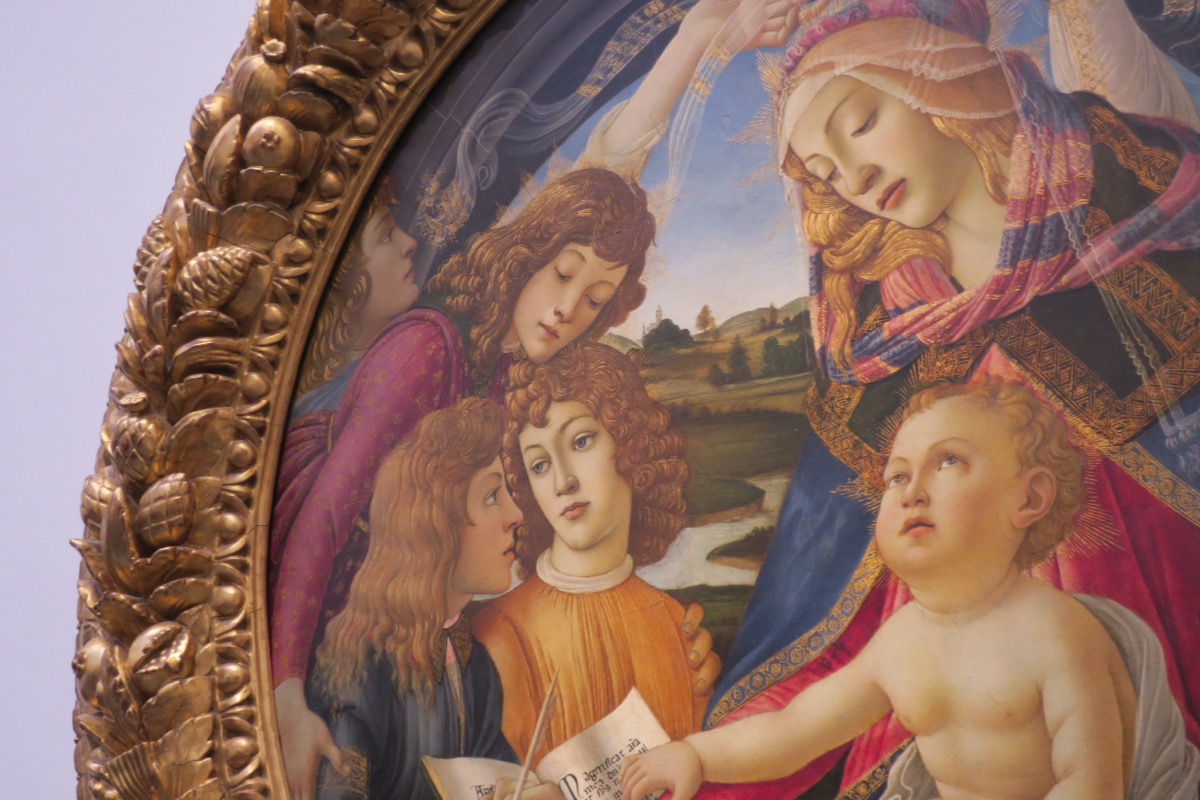 Botticelli's "Madonna del Magnificant"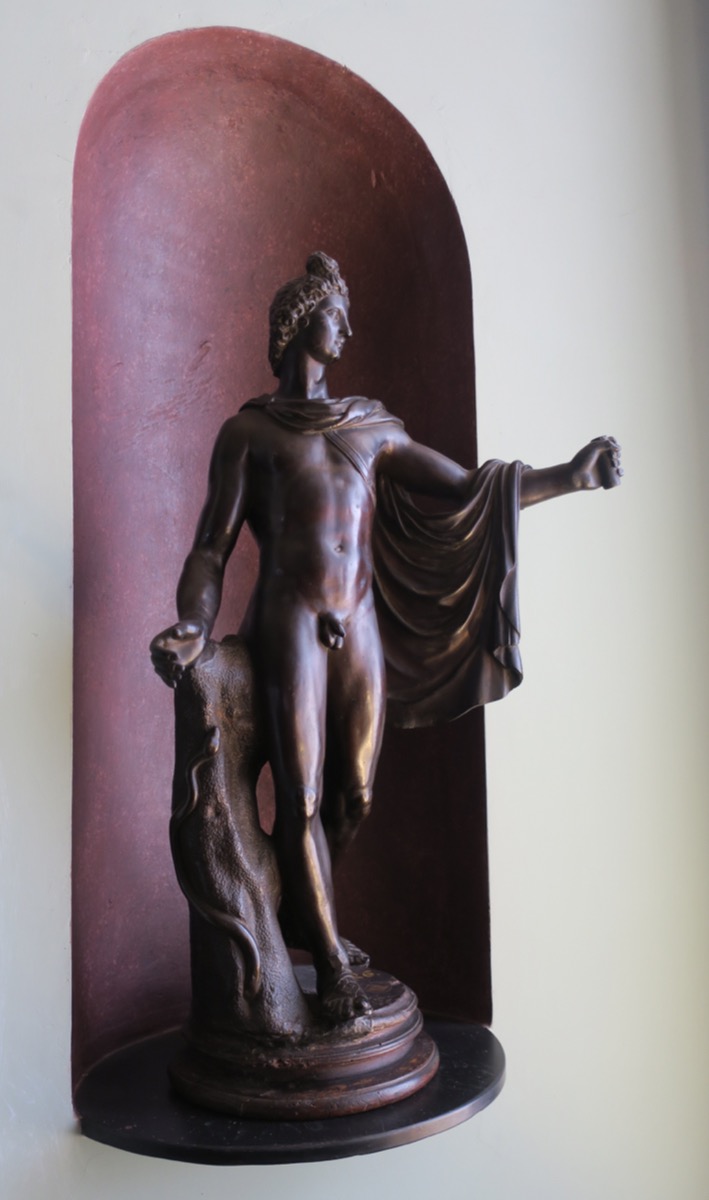 Fist bump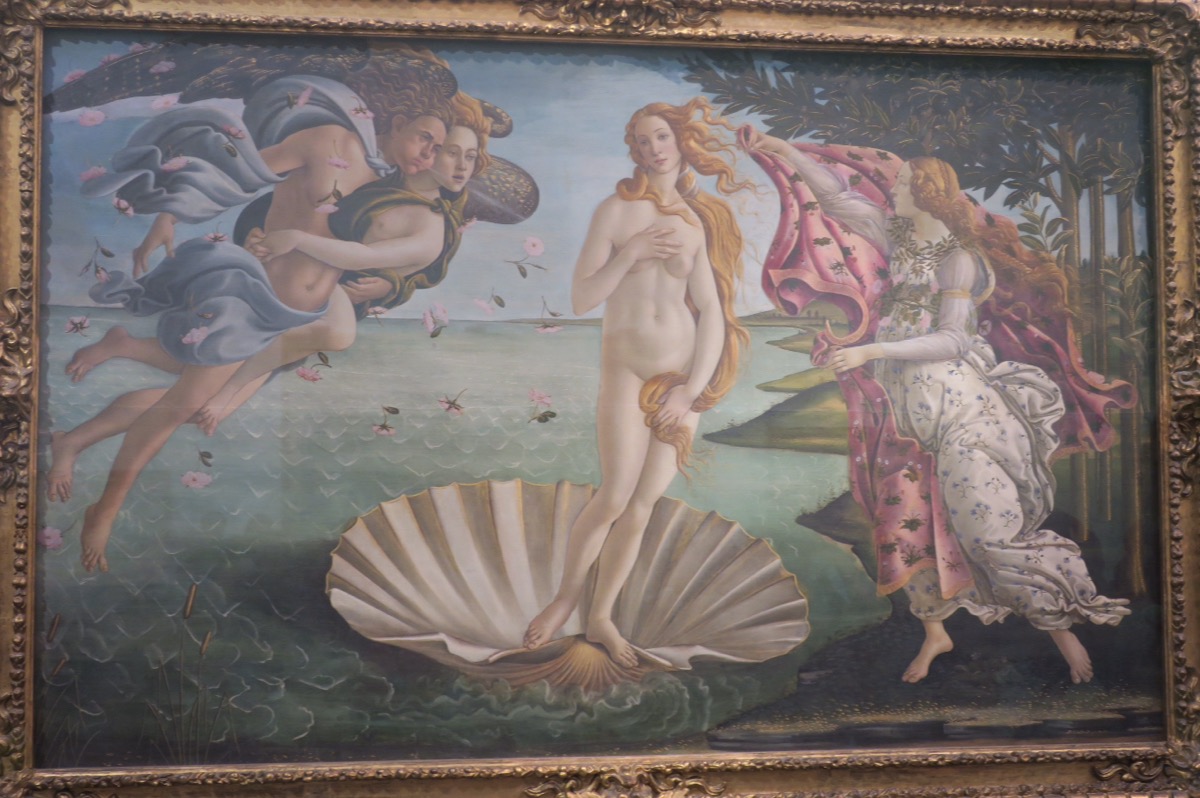 Botticelli's "Birth of Venus"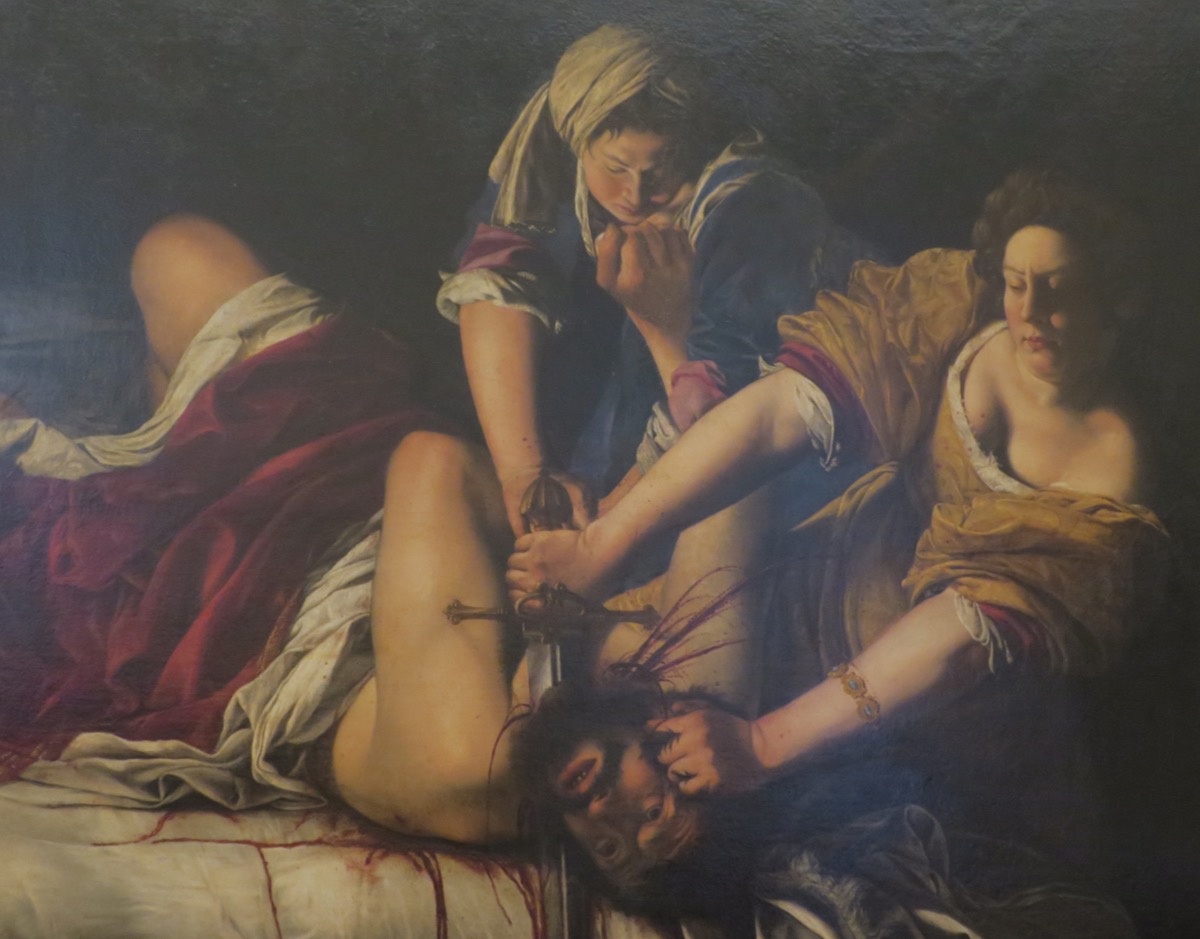 Artemisia's "Judith Beheading Holofernes" Artemisia is regarded as one of the most famous of female painters of the time, a profession that was incredibly rare for women.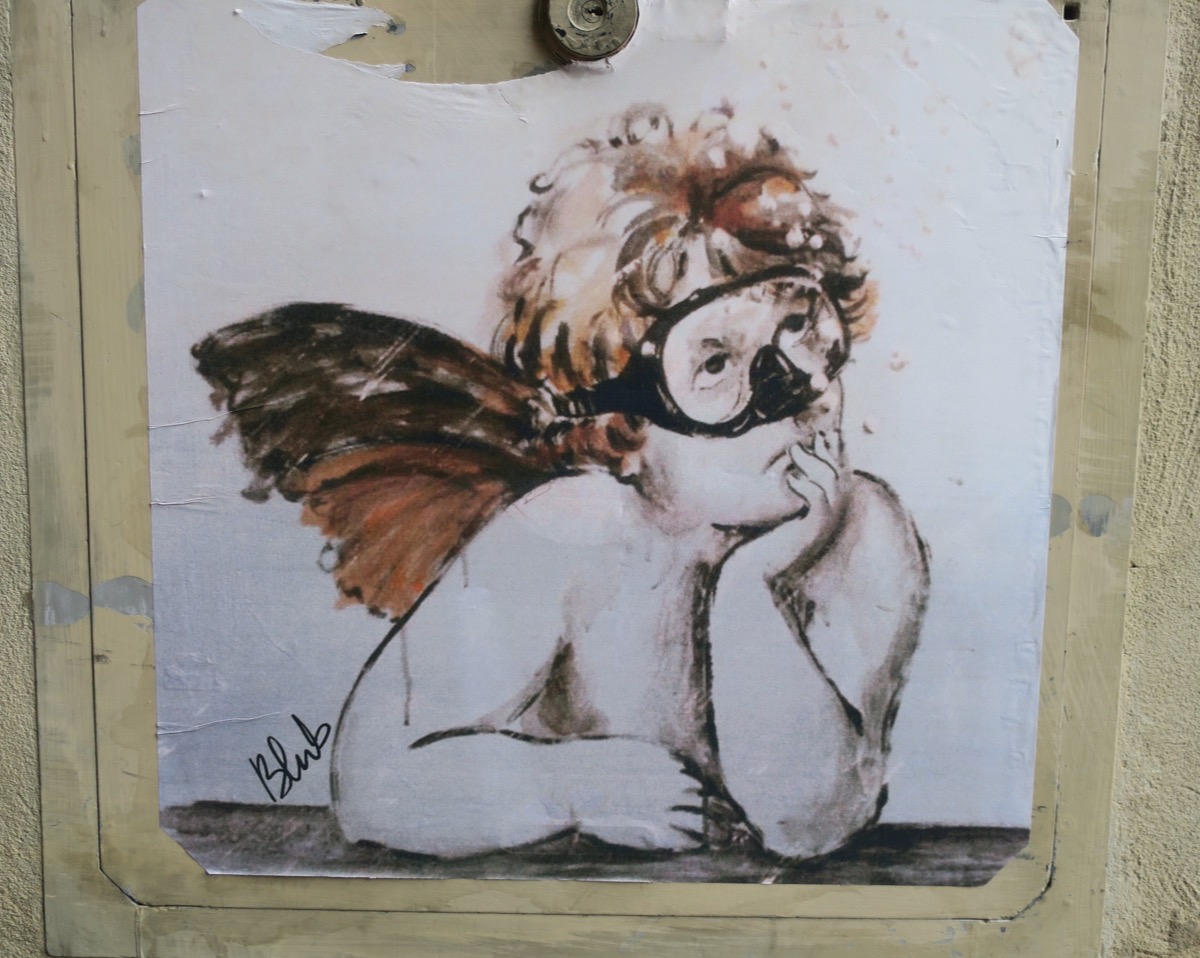 My favorite art outside of the Uffizi, on the street just around the corner
After a dinner overlooking the city we made one last climb to the Piazzale Michaelangelo for sunset. I must apologize for the overal lack of sunset photos this trip. Usually when sunset is happening we are somewhere between dinner and sleep, and too tired or busy planning our next day's route to watch. But tonight we timed the sunset perfectly and arrived gelato in hand to watch the incredible display of colors reflecting off the River Arno. It had been a fabulous day in Florence.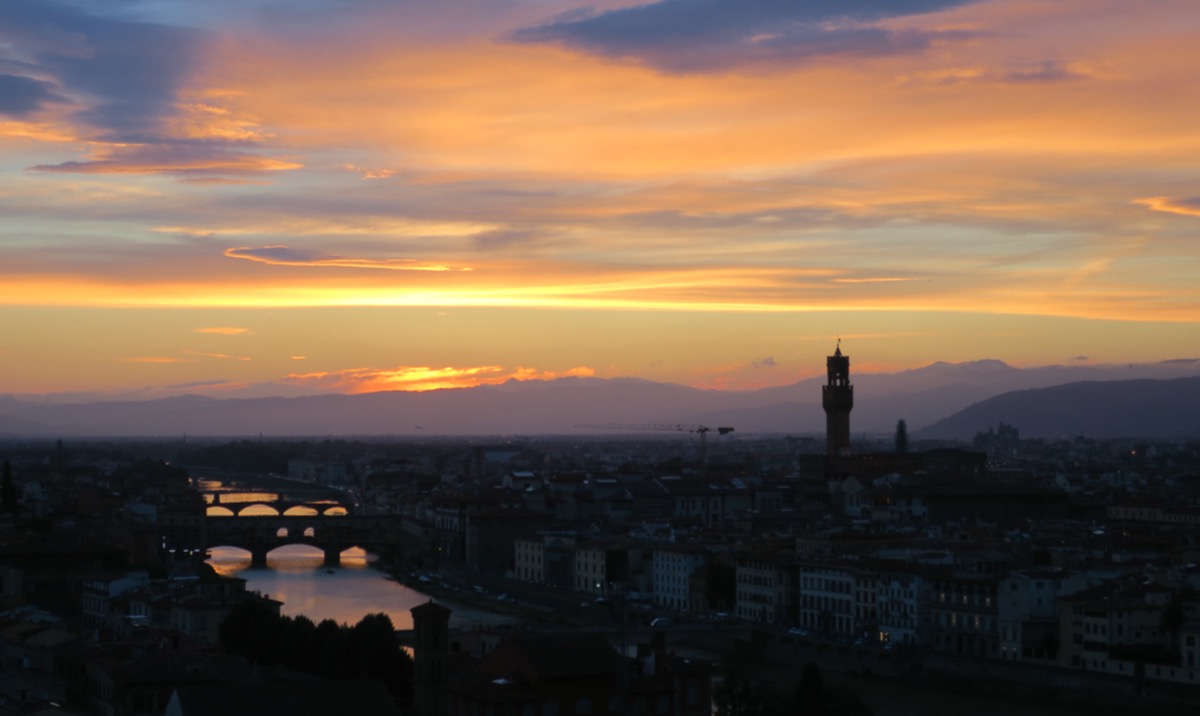 The sun sets over Florence
Total miles so far: 708