Day 27 Leaving Yellowstone
We left early that morning from the Bay Bridge camping area knowing we would be crossing Sylvan Pass in the heat of the day. We stopped off at a souvenir shop and purchased two 5 hour energy drinks just in case.
The serenity that accompanied us that morning
We followed the curvature of Yellowstone Lake and were both lost in our own thoughts as a dark figure trotted up to the edge of the road. I was some yards behind Jess and too far to make out any details of the lanky figure. Then, with one decisive motion the creature ran across the road and into the thick forest on the opposite side. It was a wolf! If only it had been as nonchalant as the bison so we could have snapped a picture of it.

Beautiful Yellowstone Lake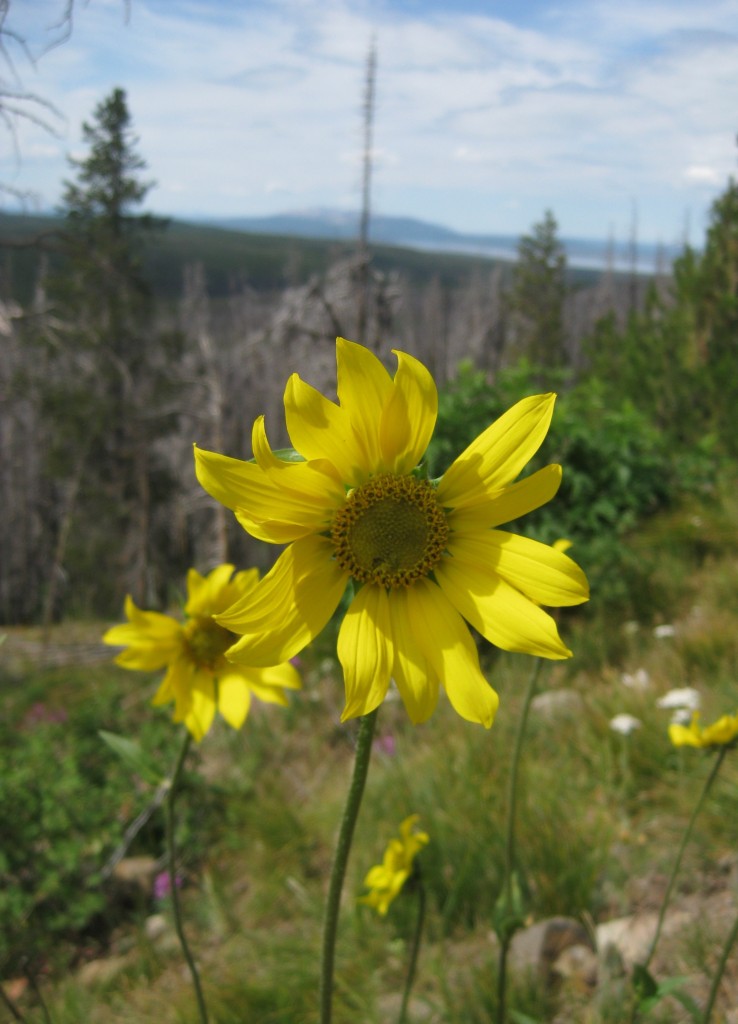 A sunny disposition
Before long we were climbing, carrying ourselves higher and higher into the mountains and closer to Sylvan Pass. My anticipation heightened, as it always does, as we neared the top. I craned my neck around every slight turn and over every crest waiting for that reassuring sign "Sylvan Pass Elevation 8,530." We passed through a gravel area that was under construction and then began to descend coasting faster and faster as we dropped in elevation. I began to worry that we would have an excessive amount of climbing to do to make up for this drop when suddenly it dawned on me. We were over the pass! Apparently the sign had been removed for the road construction. It was all coasting from here!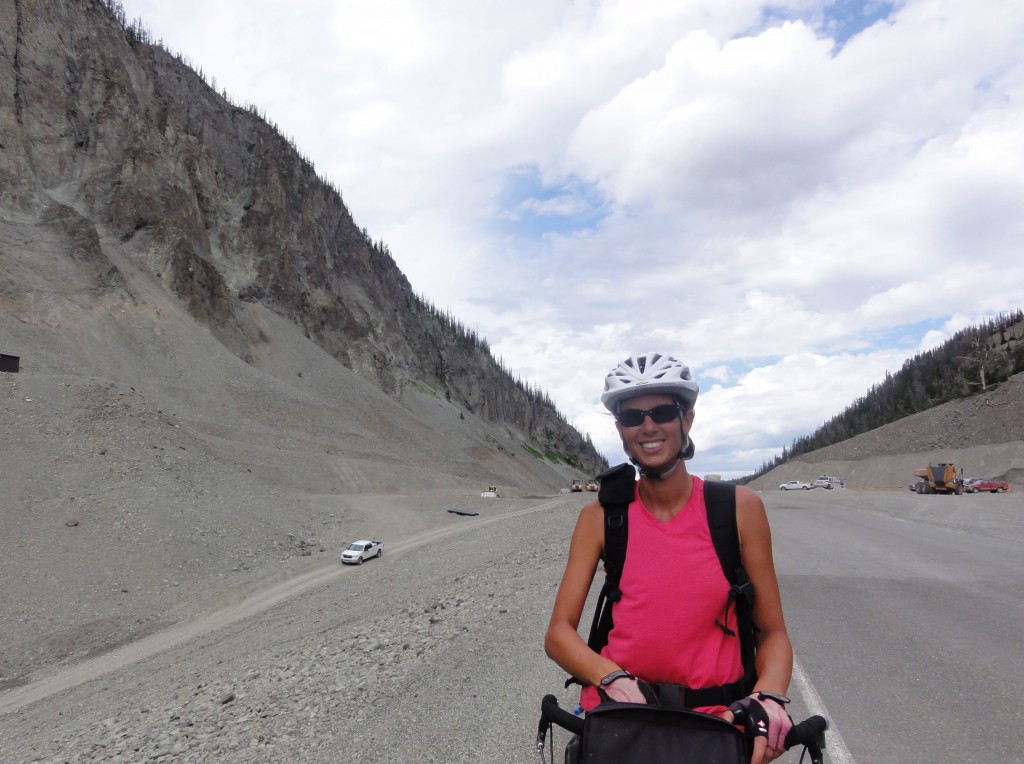 Sylvan Pass Incognito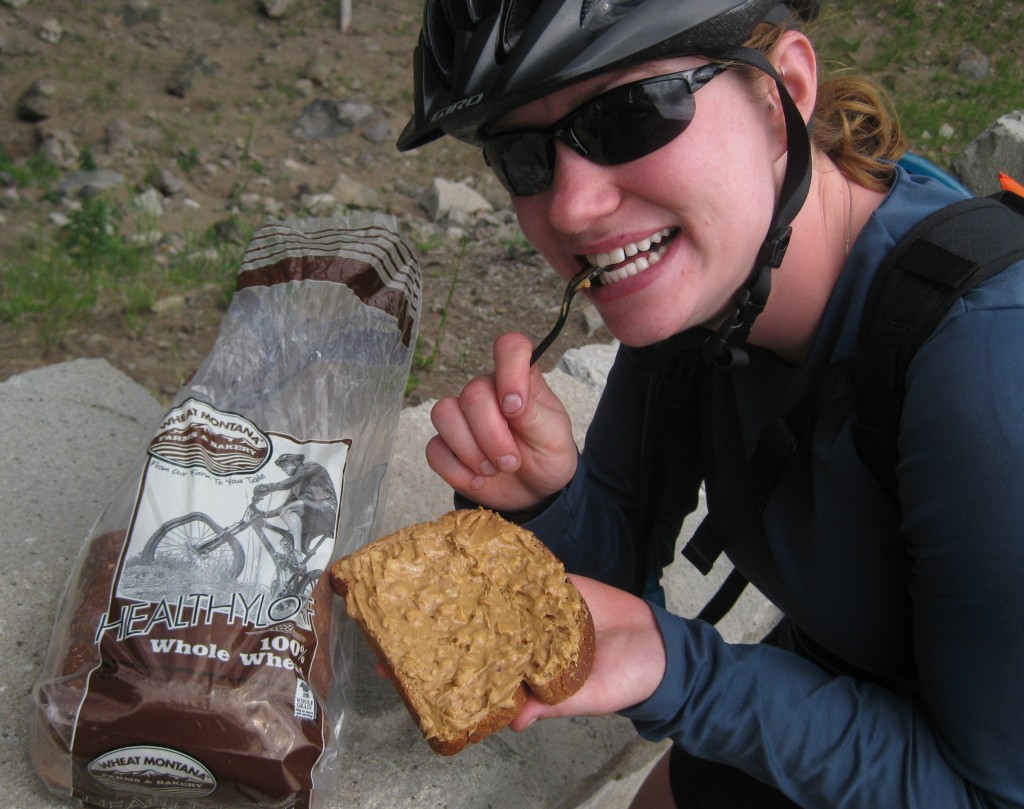 Yes we are susceptible to consumer advertising. Yes we bought the bread because there was a cyclist on it.
After our PB&J break we coasted the remainder of the way down to Yellowstone's East Entrance. It was bitter sweet as we passed the "Leaving Yellowstone National Park" sign as we had really enjoyed the beauty of it all.  As we neared the exit gates, we heard a shout "nice work!" from someone in their car who saw that we had just come from Sylvan Pass. In that moment we felt like heroes.
After a few hours of cycling we stopped in Wapiti, WY a small town with an adorable convenience store. We were both in need of a break from peddling and to refill our water supply.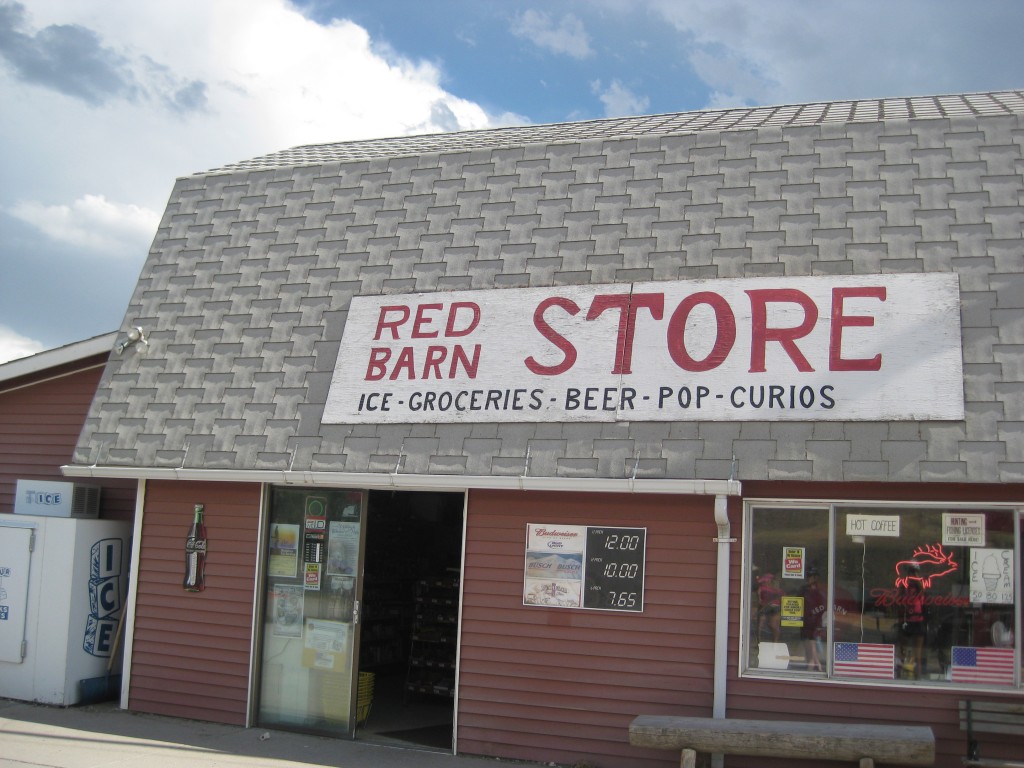 The local store and our oasis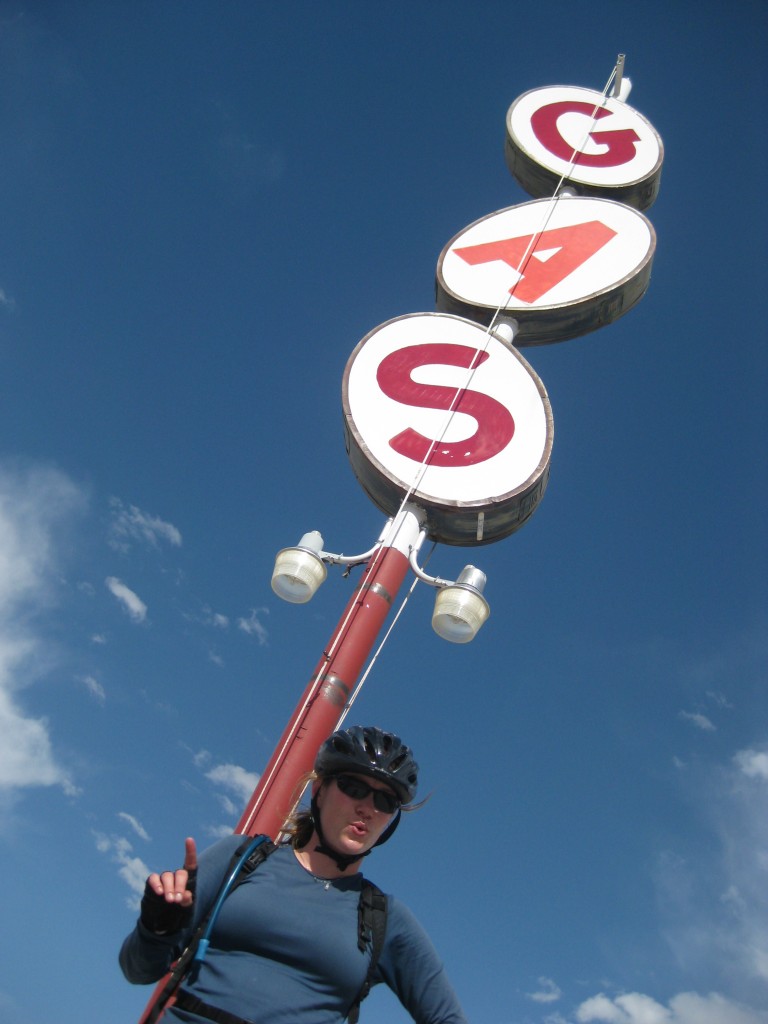 Jess reminding us that we don't need no gas for our trip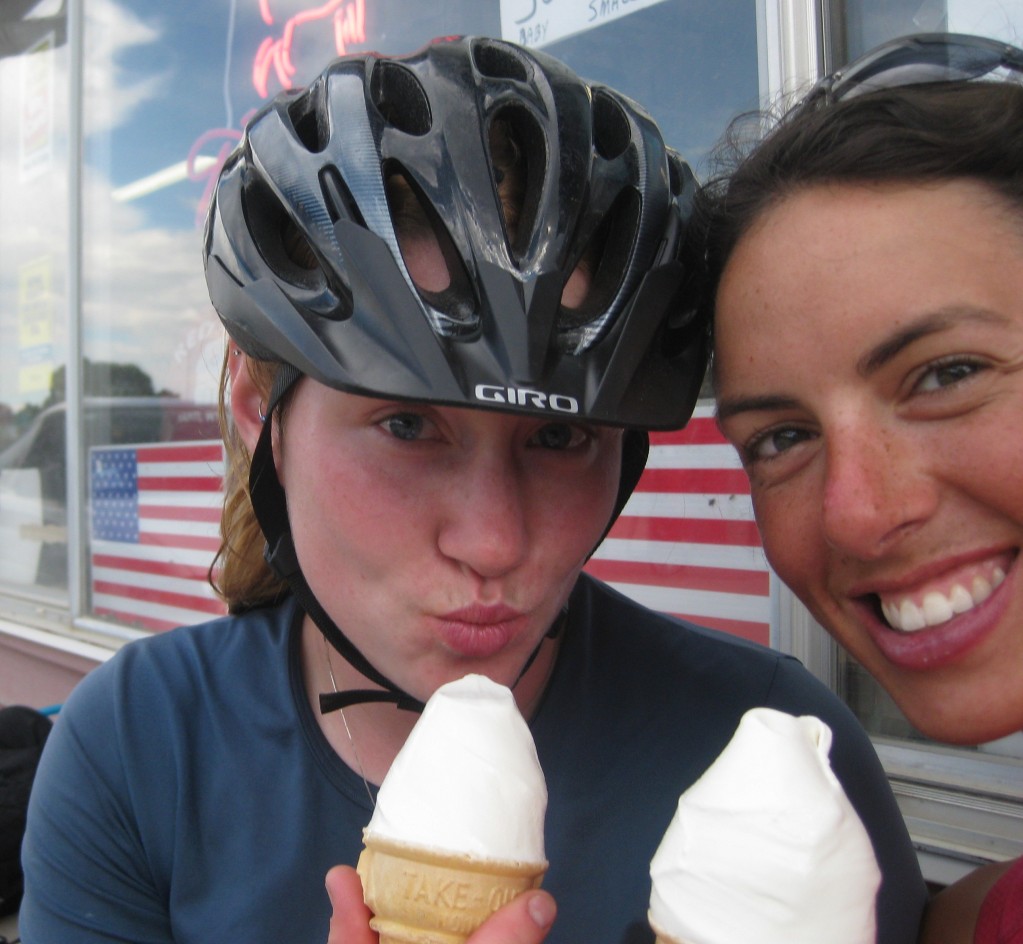 Indulging in ice cream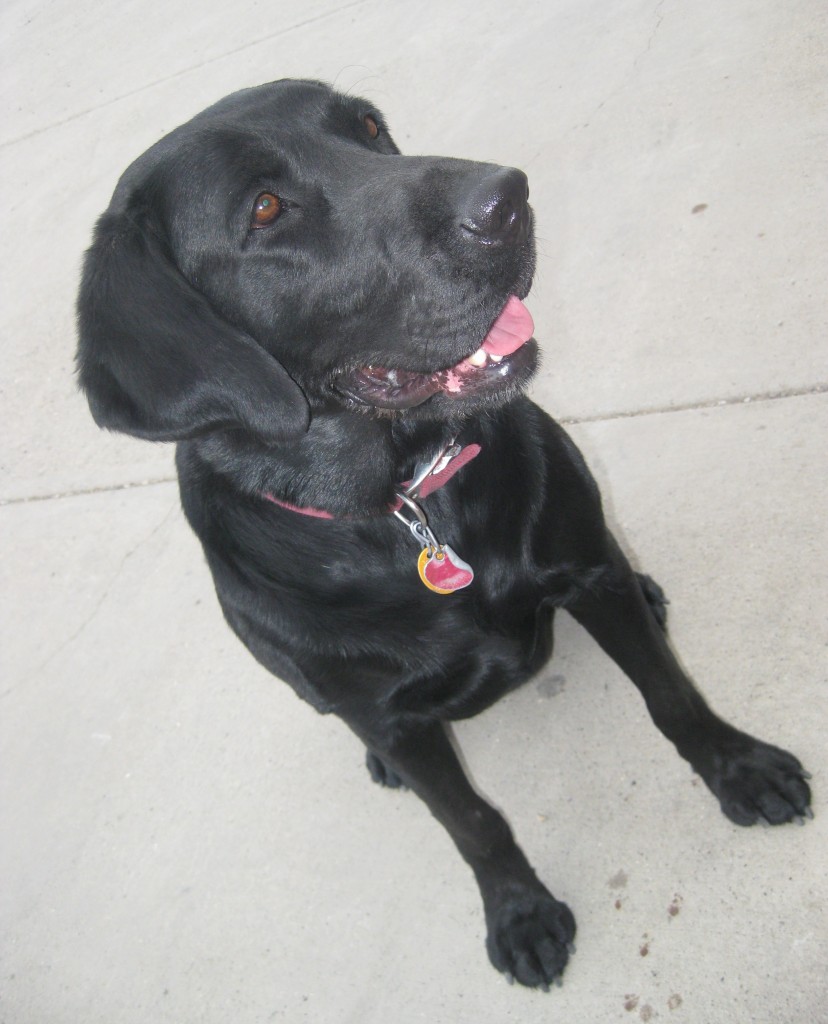 Maggie, the store mascot and local beggar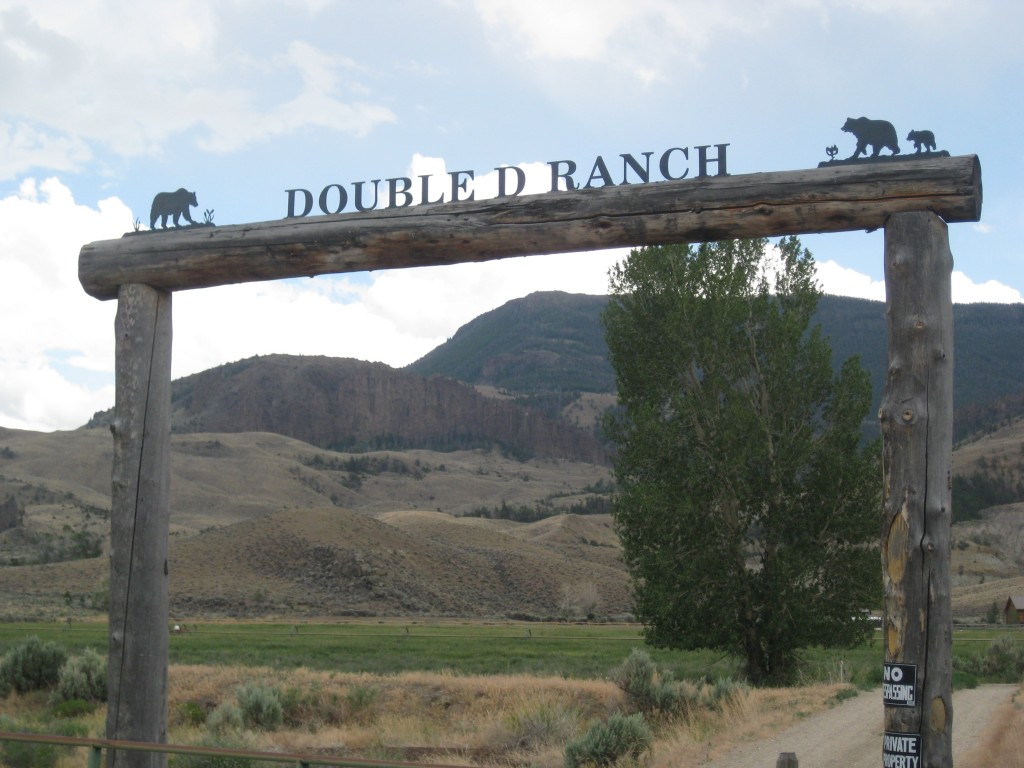 Made me chuckle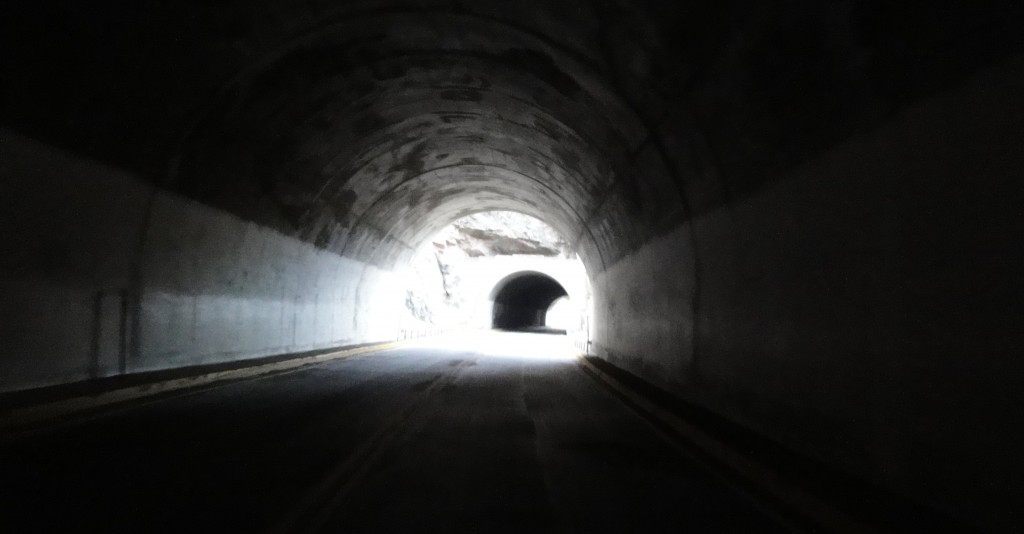 Just West of Cody, WY we coasted through a series of tunnels. The tunnels were cool and comforting in the heat and every time we emerged from a section there were people rock climbing to be spotted. We sped through the passages and took it all in.
We cycled into the Buffalo Bill themed town of Cody, WY, not knowing we would be sleeping that night. Several Adventure Cycling enthusiasts swore than in many small towns cross-country cyclists can camp in city parks with the permission of the local Sheriff. We stopped at the first establishment we encountered and inquired about the local sheriff's number. The employee suggested that we set up camp at Walmart as they have free camping areas. Free camping areas at Walmart? I had never heard of such a thing.
But with dark clouds rolling in more and more aggressively we sought out the town's Walmart and sure enough a long grassy strip was provided for camping and RV parking. We constructed our tent with a sense of urgency as bolts of lightning illuminated the sky.