Start point: Francavilla al Mare, Italy
End point: Ancona, Italy
Miles: 100
Key words: century, warrior cries, switching leads, gatorade, synergy, limitless
The alarm went off promptly at 5:30am. Our first strategy for tackling our hundred mile day was to get an insanely early start so we could take advantage of the coolest hours. Our panniers were already packed so we briskly went about dressing and eating the breakfast that our kind hosts had made available the night before to facilitate our early departure.
We were out of the house within the hour and functioning in that odd state of excited yet half awake. The sensation was reminiscent of Christmas morning in my younger years. I took the lead first. It was good to be on the bike. Spartacus felt light and fluid and the first miles were made energizing by the array of cyclists, runners and power walkers along the seaside promenade.
Within the hour Bita let out one of our warrior cries "woohoo!" signaling that we had cycled ten miles. When planning our strategy for cycling our 100 mile day we decided to break it up into ten mile stretches. Every ten miles we would pause to drink water, eat a bar, stretch, go to the bathroom, or whatever we needed and could accomplish within a few minutes. We also decided to switch leads every ten miles. On our normal day of cycling the leader is whoever is feeling energized, or whoever has studied the map for the upcoming route. On this day we decided to rotate leads so we take turns racing for that ten mile goal. It turned out to be a great tactic that kept our energy high and our pace solid.
We had planned the perfect section of the trip for this special day, as the route was mostly flat and followed the coast throughout the day. It also stayed on the same highway the entire day, which greatly reduced our need to check the map. Trying to cycle 100 miles with frequent map checks would have made our day much longer.
We let out an extra exuberant warrior cry once the cyclometer reached 50 miles. We were half way through our day and we felt great. Our stomachs had started to grumble in protest given our extra early breakfast, but we quickly ate a bar and carried on. We wanted to cycle 60 miles before lunch.
Despite the fast pace we had maintained throughout our sixty mile dash, we didn't sacrifice our normal hour long lunch break. We stopped at a chic caffe restaurant just off our route and enjoyed ice cold water, a caprese salad, and two hunger abolishing pasta dishes. We contrasted sharply with the swank, Breakfast at Tiffany's themed establishment but we didn't mind. We had worked extra hard for our sweat stains and windswept hair today.
We carried on in much the same way as before, although now we were cycling in the heat of the day. Sweat poured and our hydration needs increased, so we grabbed our bottles and drank as we cycled to keep from stopping. When we did stop it was for ice cold gatorade which we gulped greedily.
On our home stretch we reached 93 miles and I let out a warrior cry. I was officially in whole new territory. I had never cycled this distance before in my life. The thought was energizing, and helped me stay focused when the hills started. Although our lodging in Ancona was at sea level along the water we still had to traverse a few inclines to make it into the city. We were running on adrenaline and sugar and sisterly synergy and felt limitless despite the climbs. We coasted the last stretch into Ancona and our hotel appeared before us with ease. "How many miles Bita?!" I yelled. "98!" She said. We needed a way to add two more miles to our day. We carried on along the coastal road of our hotel until we reached a hill and turned around. We had no desire for any more climbing today! We back tracked to the hotel. How many miles Bita?!" I yelled. "99.2!" She said. We darted into a parking lot and began cycling in circles, then exaggerated serpentines. The people enjoying coffee outside the cafe next to us must have been puzzled. Finally we let out the biggest warrior cry of the day "wooohooooooooo!" hooting and hollering as if we'd just won the lottery. It had taken 10.5 hours, an average speed of 14.75 mph, 6 sports drinks and endless positivity but we had just cycled 100 miles. We couldn't have been more proud.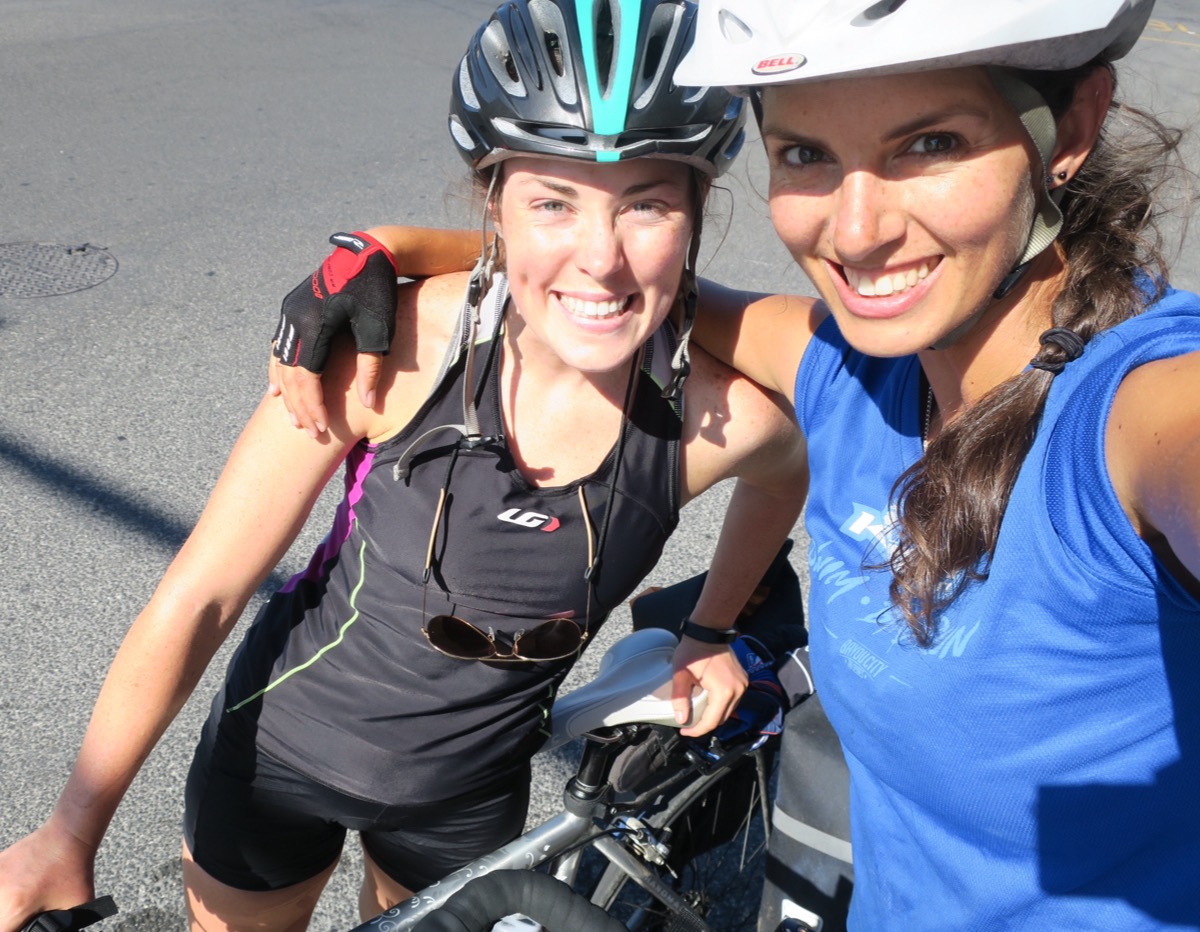 Our first century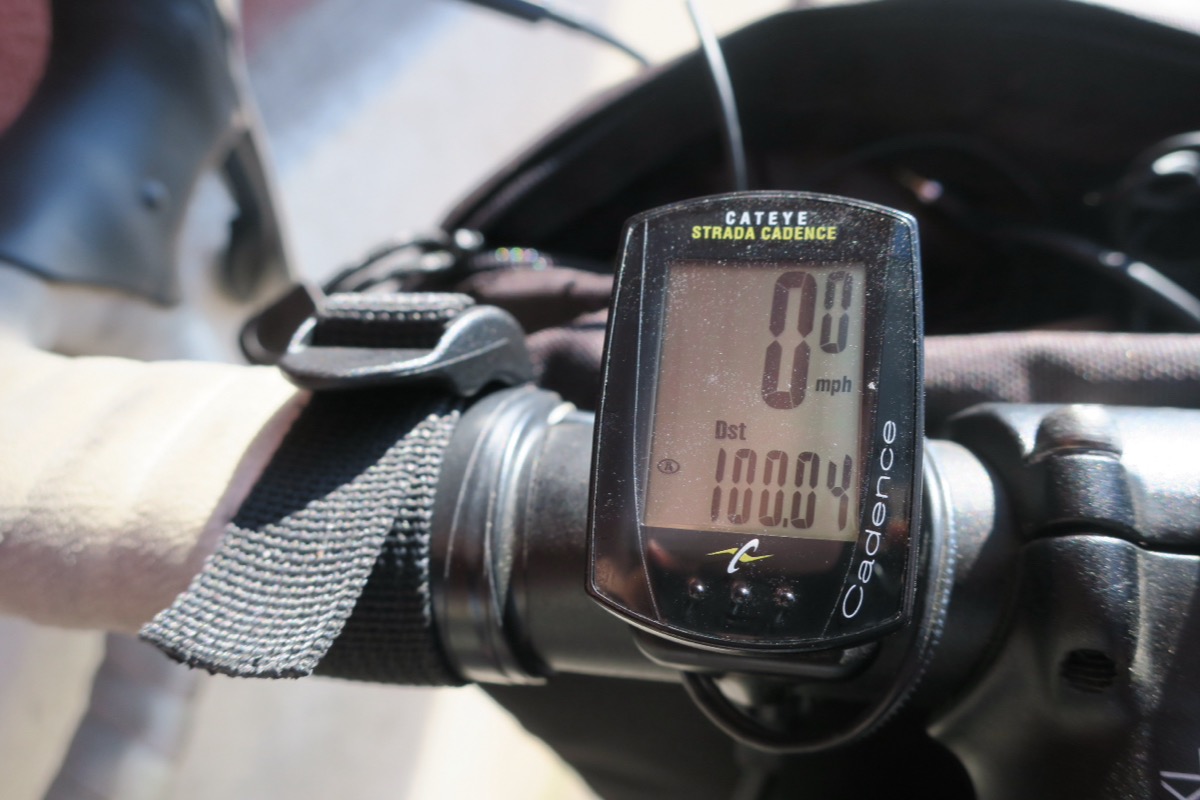 Evidence of 100 miles in the saddle
Total miles so far: 1,419