We departed from the Lazy J RV Park perched above Rapid City where we had camped the night before heading East on Interstate 90. This interstate is not a cyclist's dream by any means. It was loud, hot and hectic. But with no time to waste we wanted to take the most direct route to Sioux City.
The only real tourist attraction we planned to see along I-90 on this day was Wall Drug; an establishment that began marketing their location with miles and miles of billboards since the 1930s. Apparently this drugstore-turned-shopping mall has countless quirky advertisements from Minnesota to Montana. Along with a few random billboards dotted across the globe. Most notably a sign in Djibouti, a sign in Afghanistan, and a sign at the South Pole reading "Free Ice Water 9,333 Miles."
We very much enjoyed reading the advertisements as we pedaled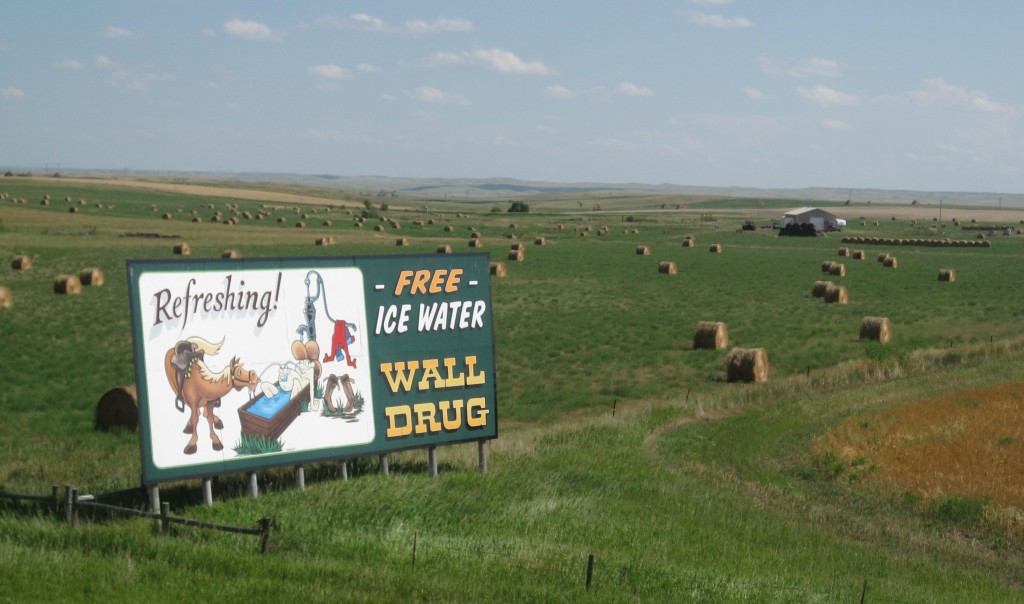 Alluring on this hot day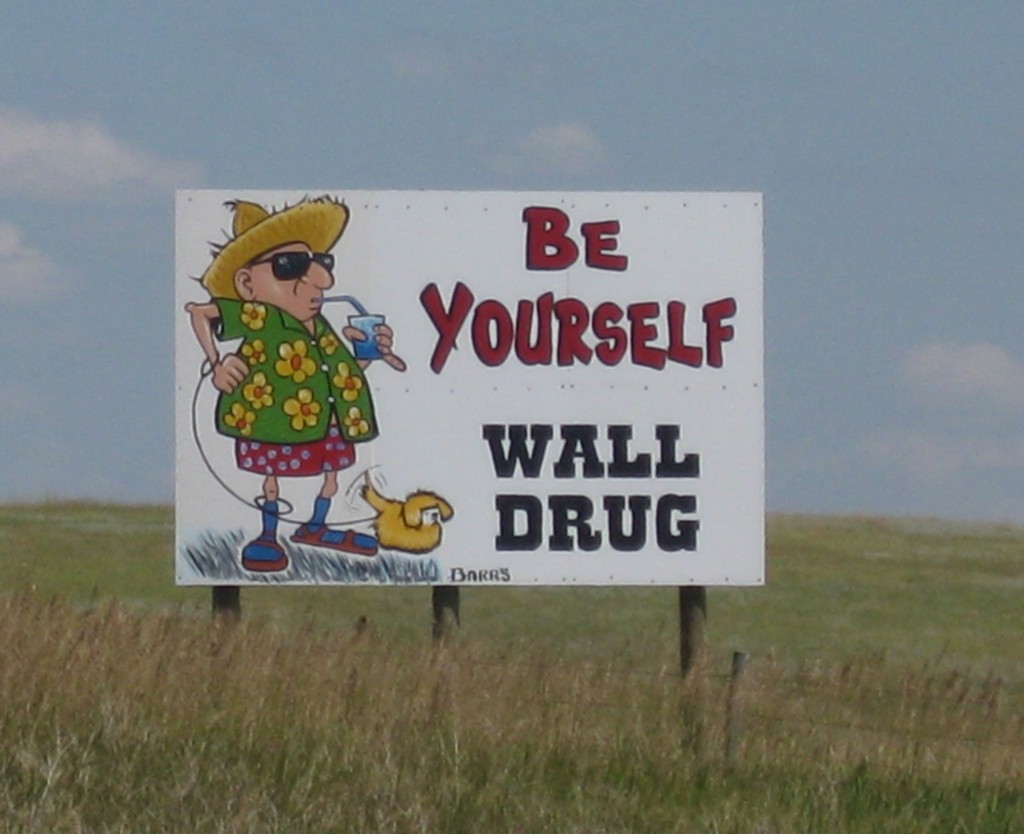 My favorite sign of those we saw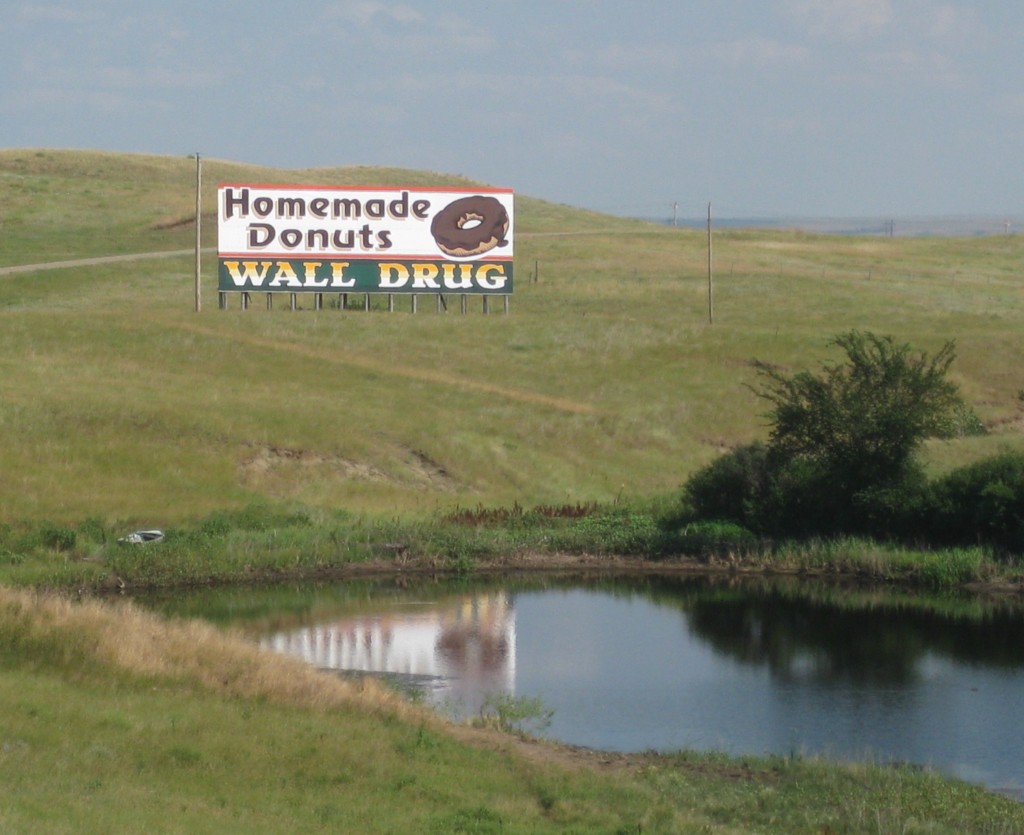 According to trusty wikipedia, Wall Drug spends an estimated $400,000.00 a year in advetising
We were happily pedaling along when I heard the familiar BLIIIIP of a police car asking for recognition. We instantly pulled as far on the shoulder as possible and turned to face the officer as he stepped from his patrol car. What could he be pulling us over for? Was all I could think. I began running the possibilities through my head. Perhaps he saw us riding side by side on the shoulder and that's not ok? Maybe bicycles aren't allowed on the interstate in South Dakota after all? "How you folks doing today?" the middle-aged officer began. He proceeded to inform us that a complaint had been called in for two cyclists on the freeway. While this wasn't illegal he considered it his duty to check and make sure we were okay.
After the initial shock wore off we were kind of excited for our first encounter with a officer of the law on our trip. Jess enthusiastically asked to take a picture with him. He appeared confused by the request, then refused, then allowed us a picture with his patrol car as a consolation prize.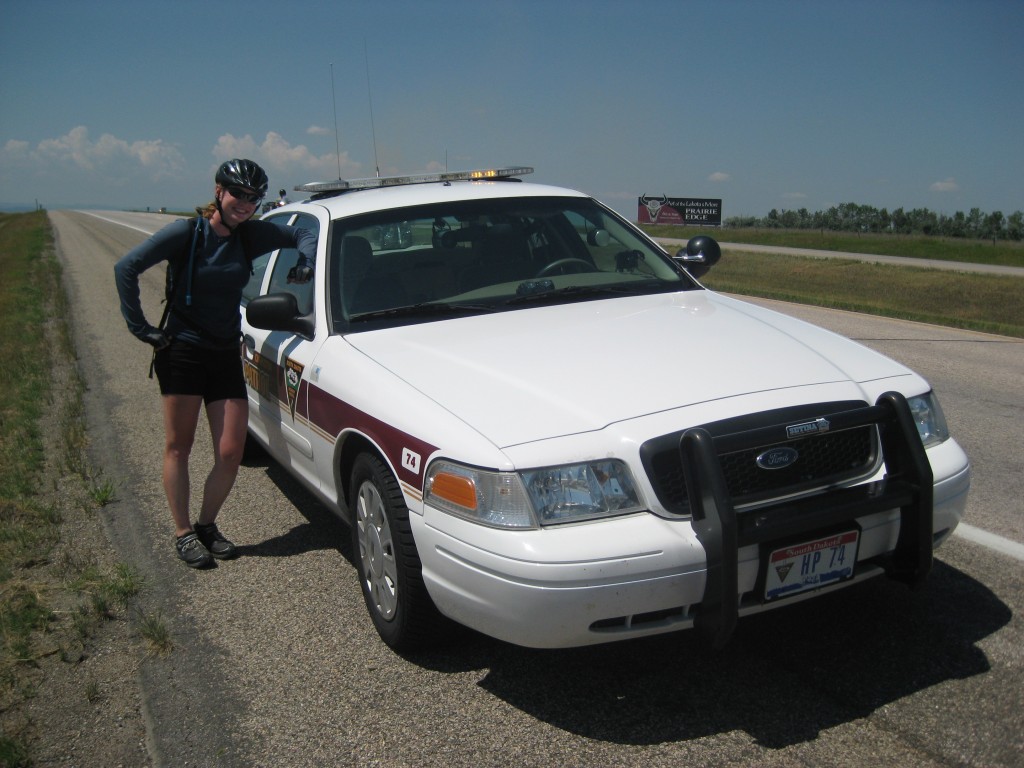 Jess with the cop car
Some time later we arrived in the quaint town of Wall, South Dakota. We had to stop and and have a cup of coffee at Wall Drug after reading about it all day (their advertising does work!). How could we turn down a 5 cent cup of Joe?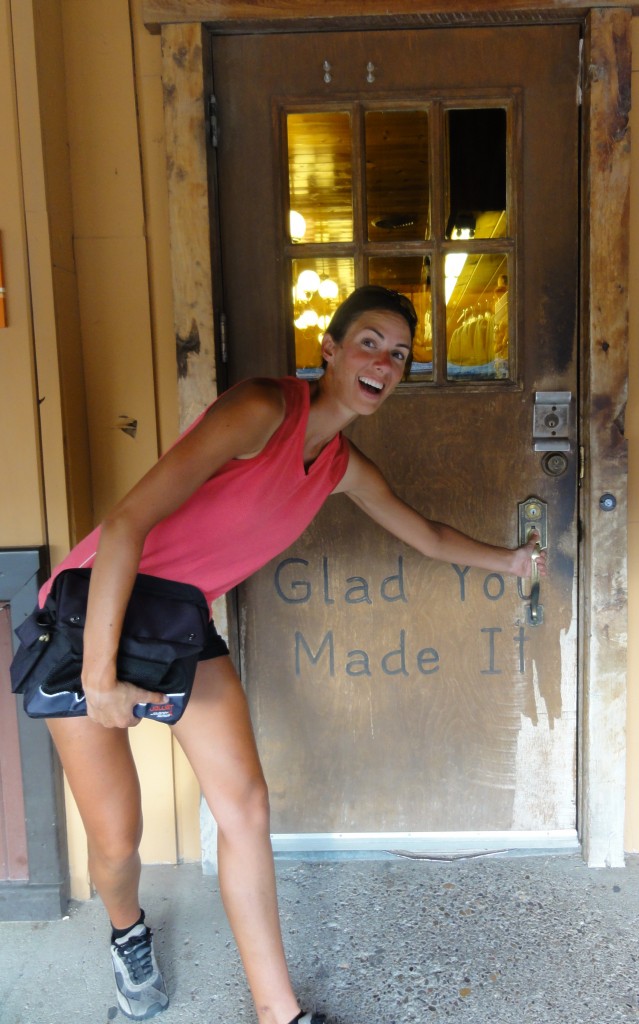 Welcome to Wall Drug
5 cent coffee, a signature offering in Wall Drug's restaurant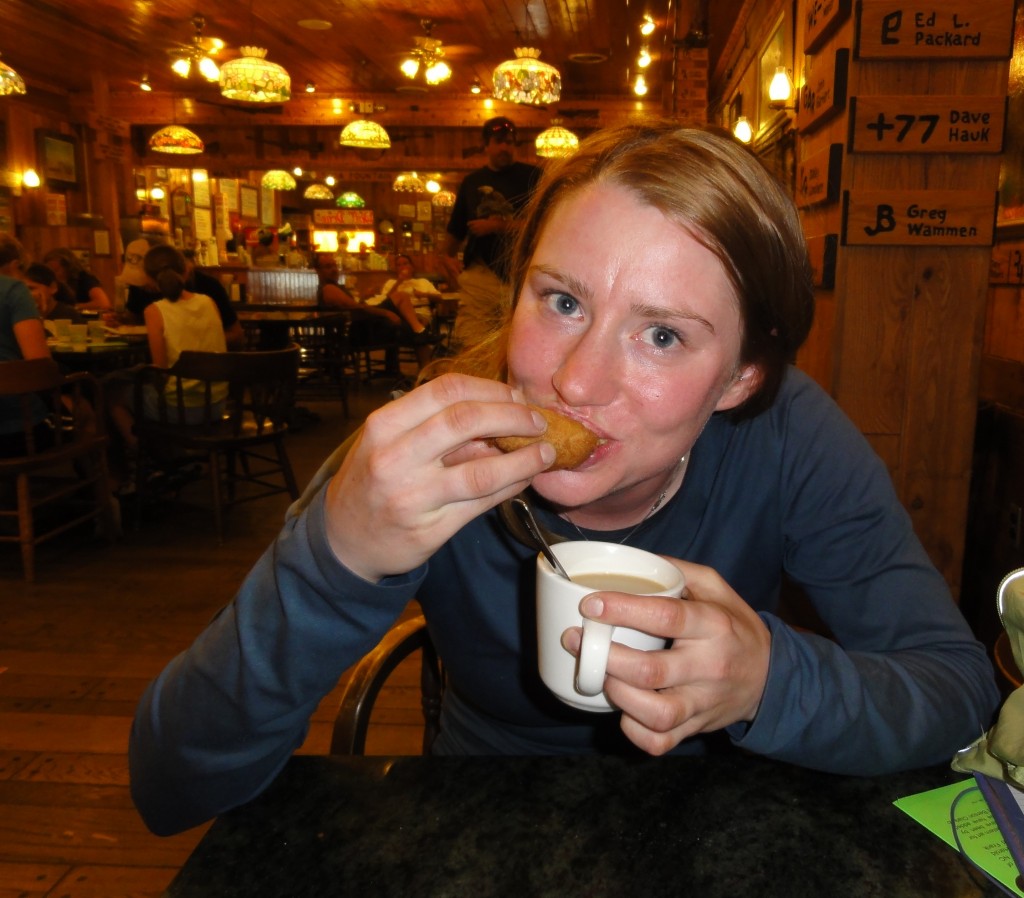 Indulging in some of Wall Drug's finest – donuts and coffee
Before departing we did a quick walk through of Wall Drug's expansive establishment. The entire place had a definite Western theme and sold every sort of trinket imaginable. There were paintings and statues and photos and western paraphernalia galore.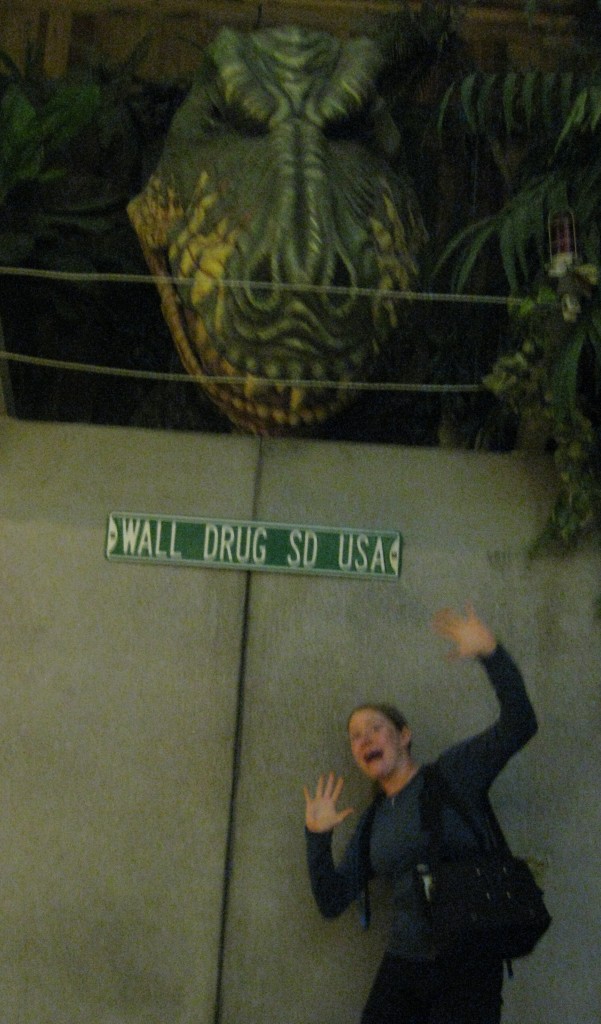 What drugstore would be complete without a T-Rex?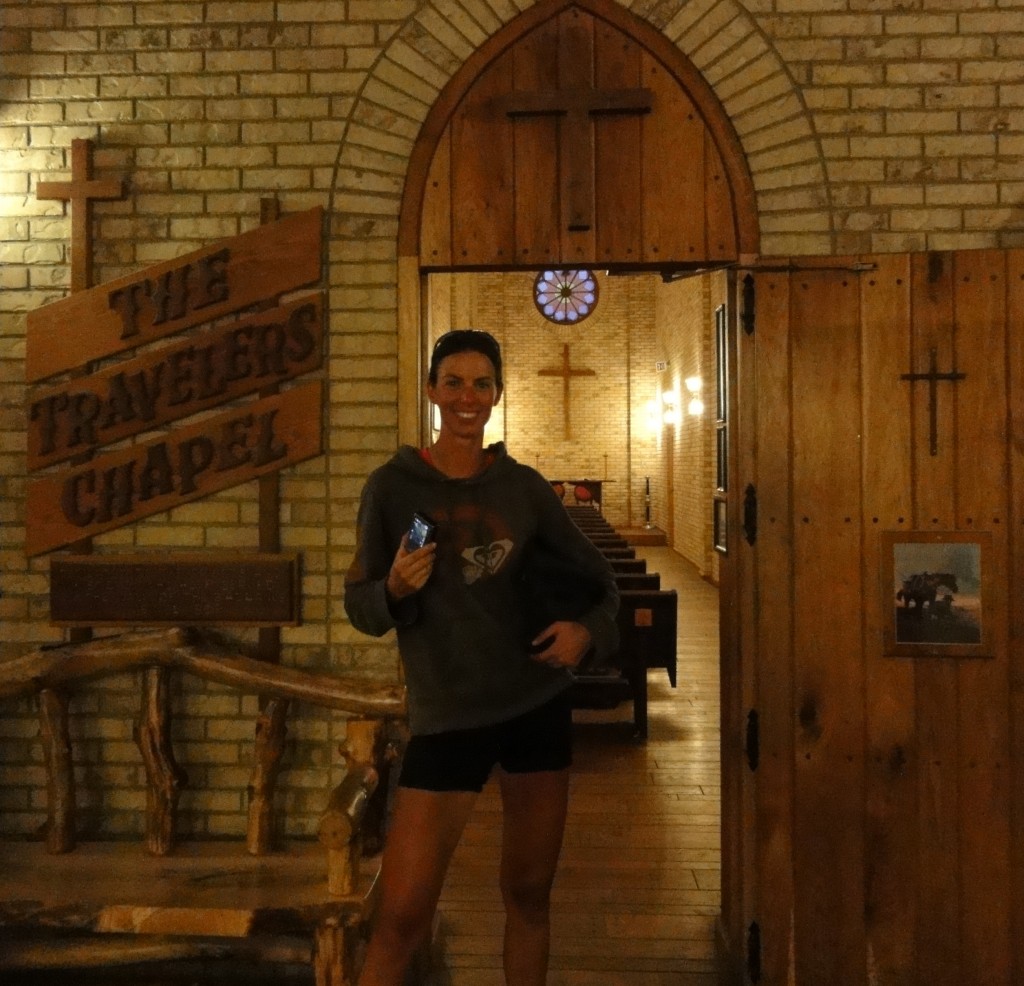 I thought the Travelers Chapel was a unique touch