We spent the night in Wall, South Dakota and set out early to cycle the Badlands scenic loop off of Interstate 90. It would add an additional 20 miles to our route but we expected the experience wold be worth it.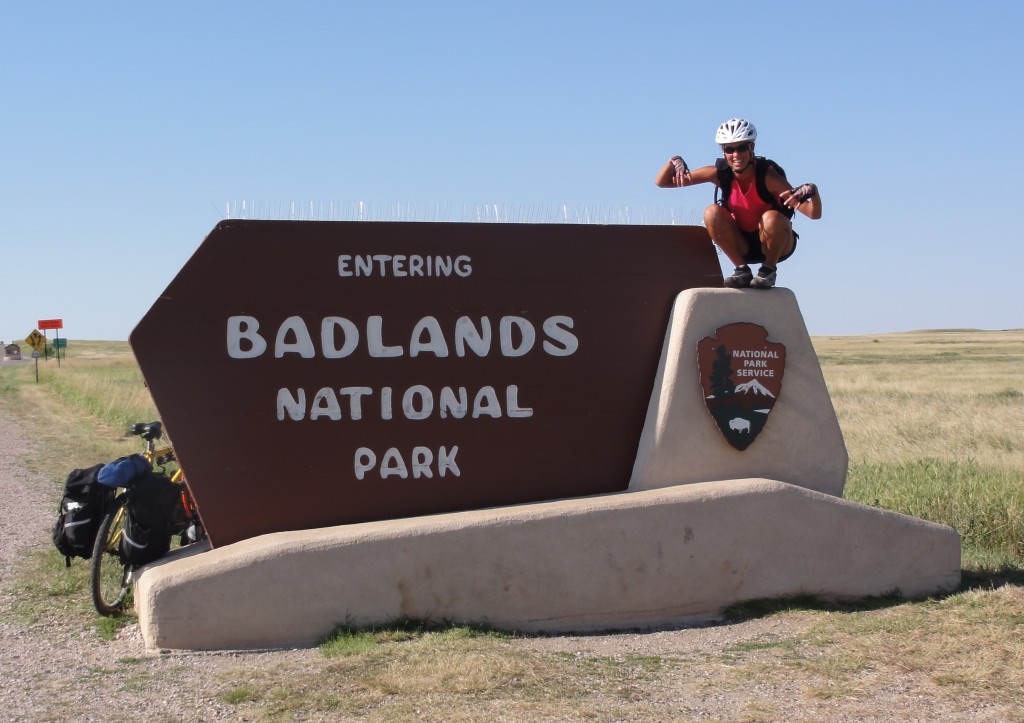 Welcome to the Badlands
Our initial climb carried us into the first leg of the scenic loop. It was early but the sun was already beating down on us with a promise to fry us later. We pulled off at the first scenic viewpoint and took a moment to soak it all in.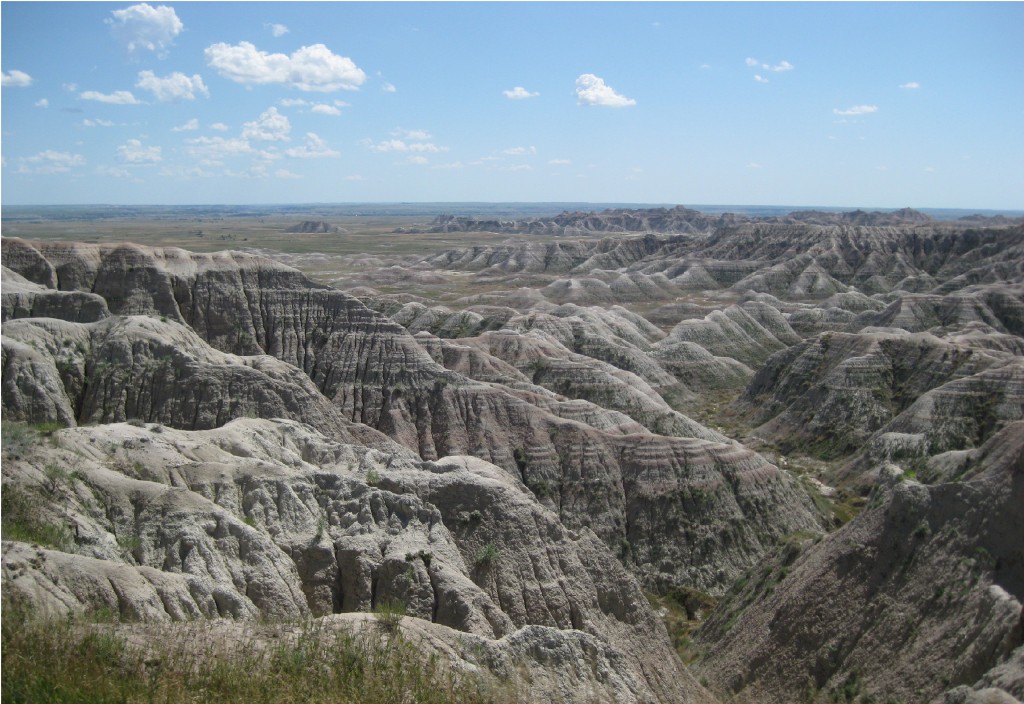 The vast Badlands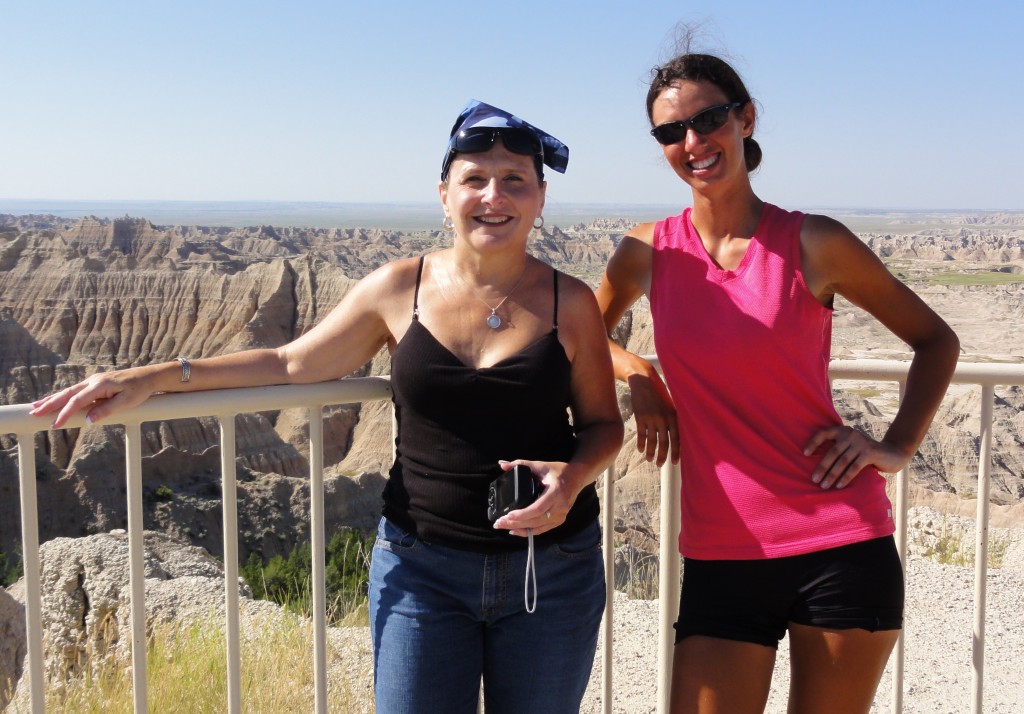 Jan and Me
At our first stop we began chatting with Jan, a wonderful woman who was in awe of our journey. She and her family were en route to Sturgis (the massive South Dakota biker rally) and wished us all the best.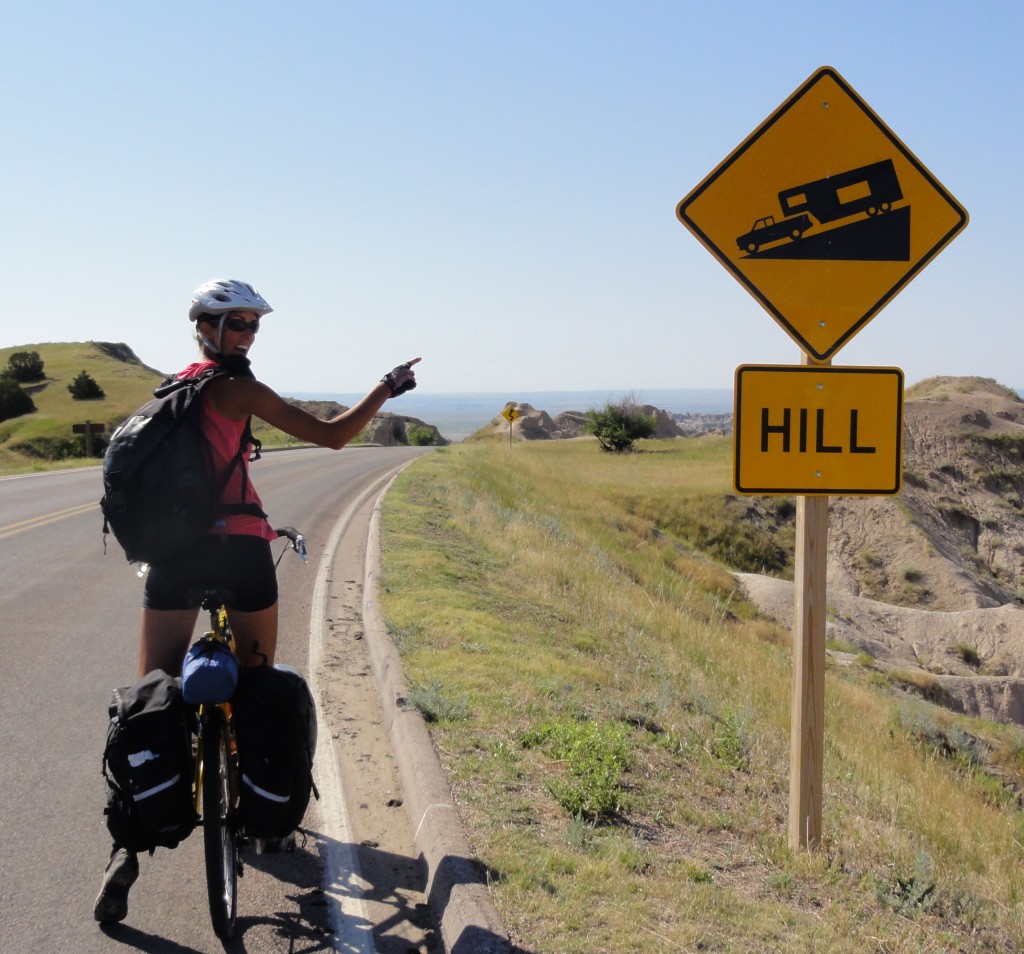 Pumped and ready to take on the hills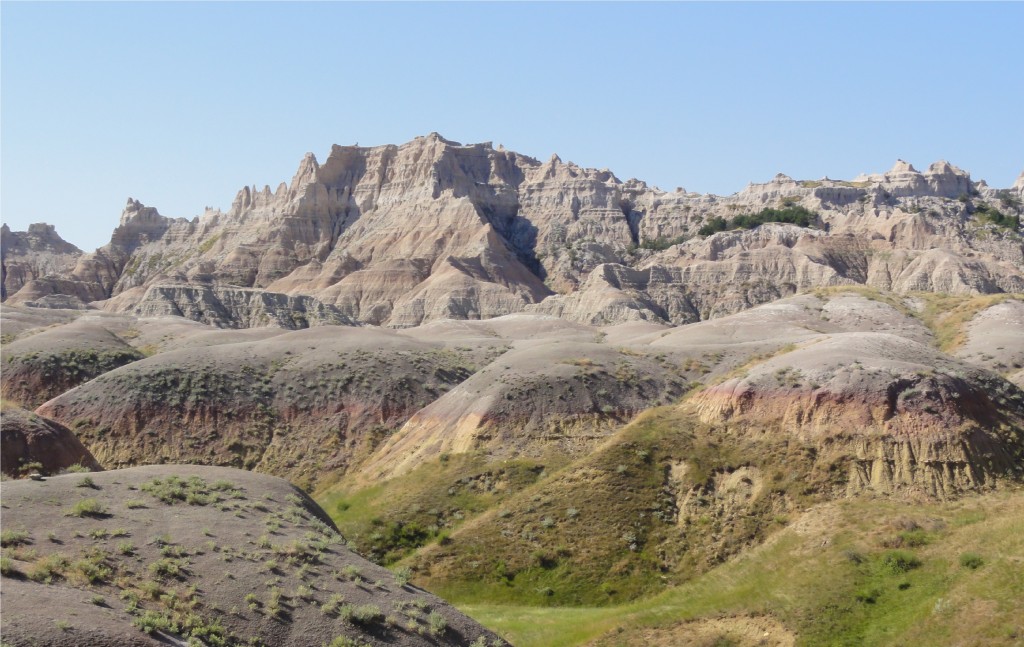 Beautiful shades layered in the formations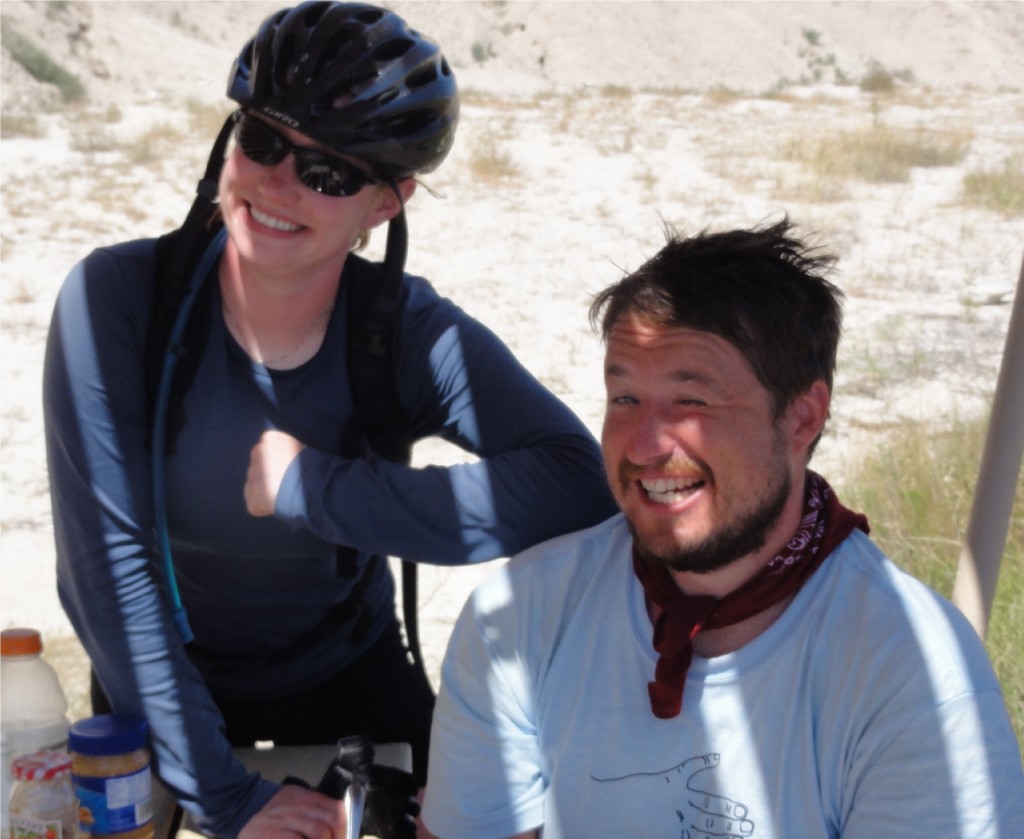 Jess making friends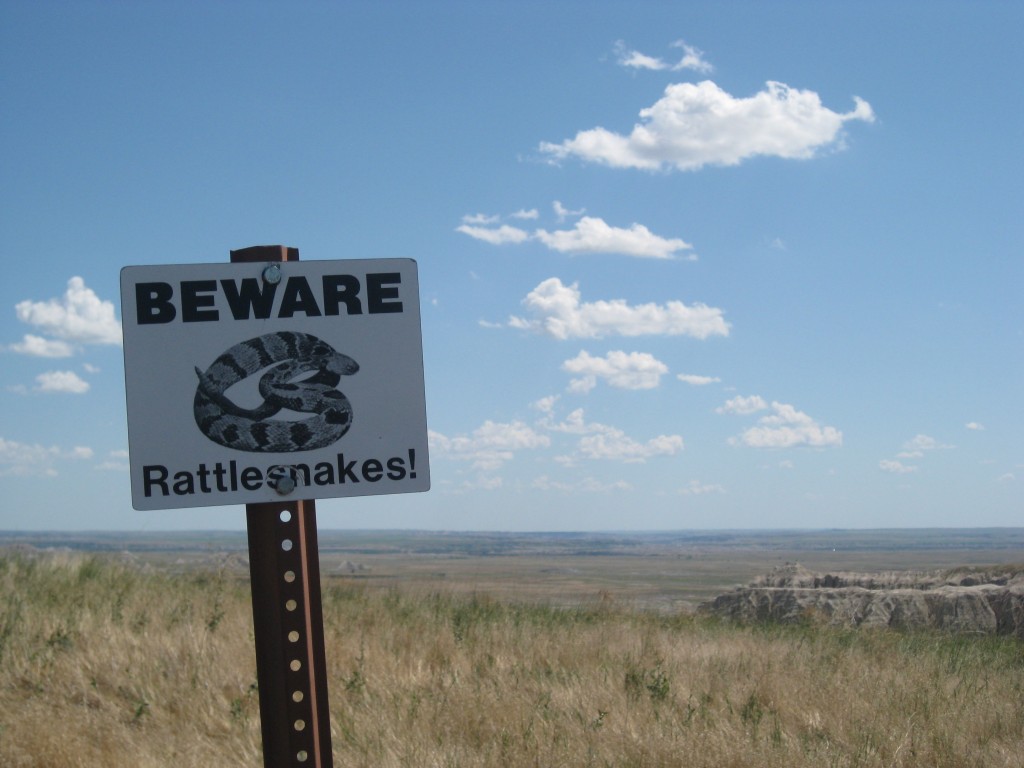 Unfortunately we didn't get to see any of these musical reptiles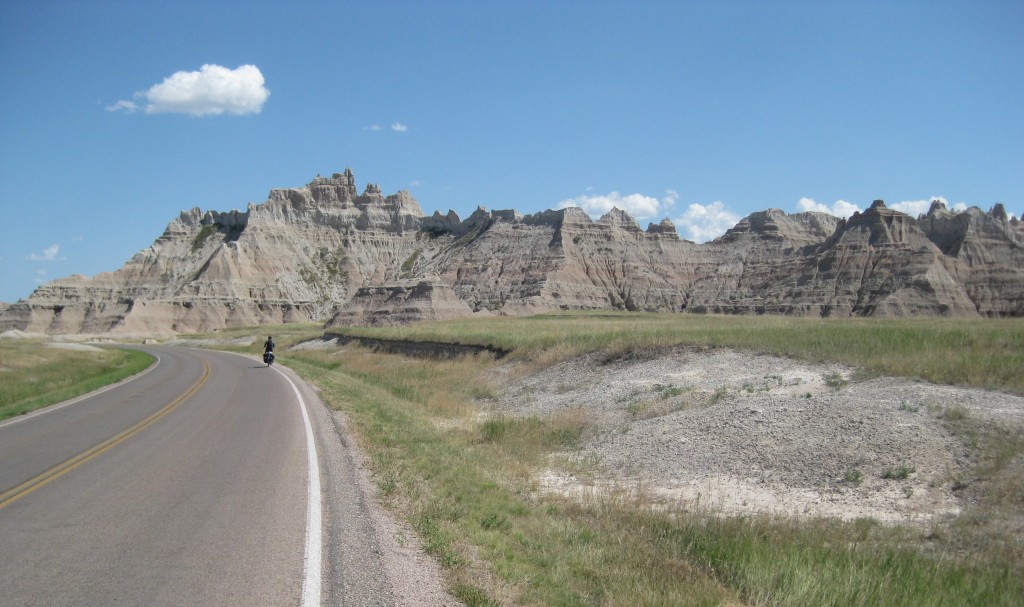 Cycling through the eons
We cycled up to another viewpoint to snap some pictures. As I sauntered toward the overlook I heard in passing "You should get medals for climbing that hill."  The woman's compliment turned into a full-blown conversation with the group of Sturgis-bound bikers. After an exchange of road stories, gifts of ice-cold water bottles and a picture on Kim's royal blue motorcycle we were on our way.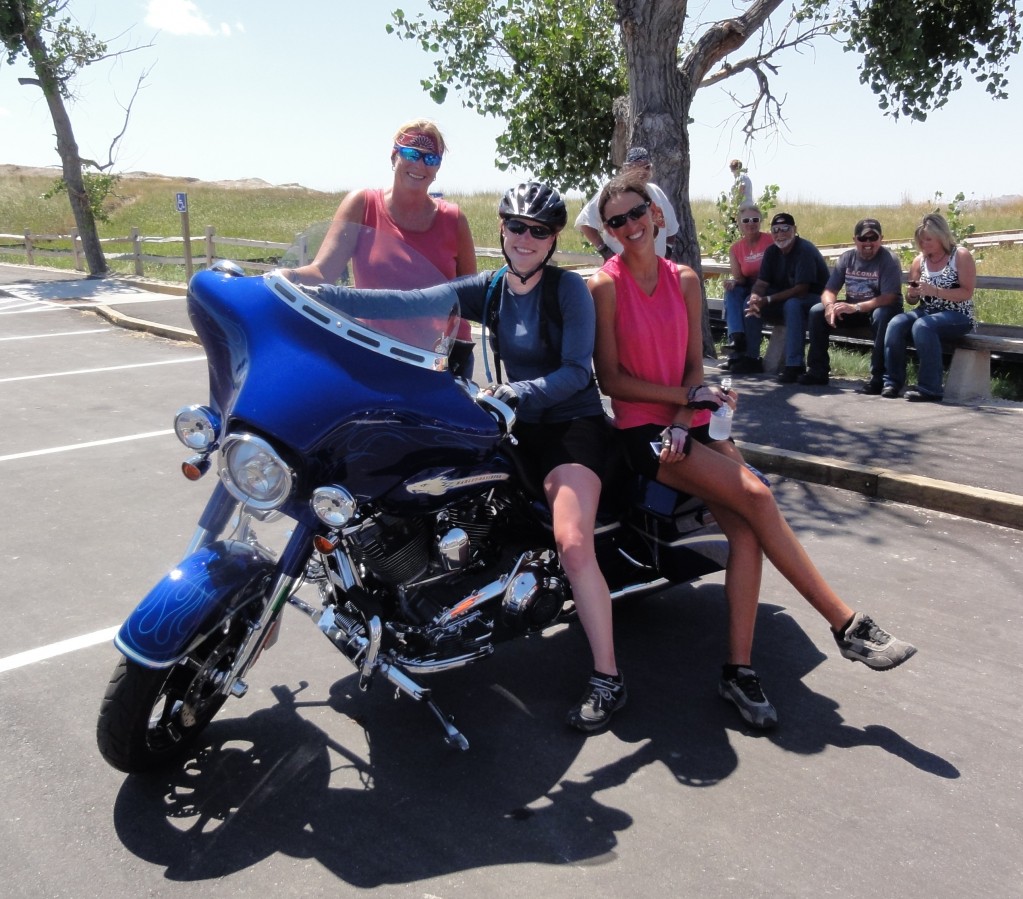 Kim, Jess and Me
We rounded a bend and the fields on other side were alive with movement and the chirping of prairie dogs. They emerged from a series of tunnels that stretched for miles. The quirky little creatures posted some members of their colonies on look-out. Those on look-out would stand on hind legs, let out an alarming squeal and flail back dramatically. They were our entertainment for the afternoon.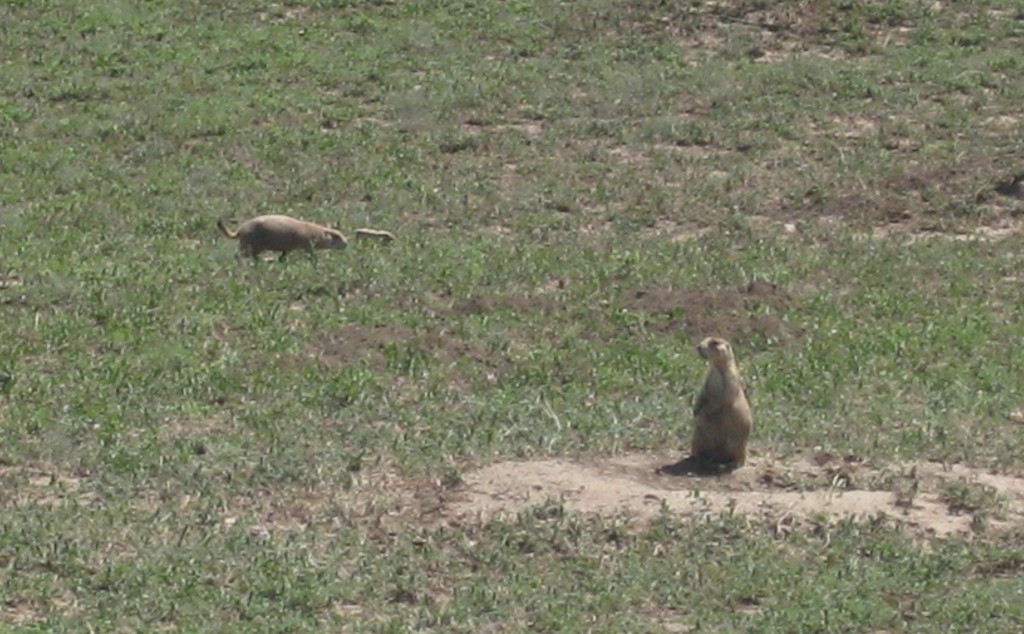 Keeping Watch
Nearing the end of our scenic loop we had one final hill to climb. We pushed our bodies and felt them respond with the precision of finely-tuned muscles that had ascended many tedious miles before. Just as we reached the crest a Volkswagen van sidled up next to Jess and a slender arm reached out. The woman from within, a kind soul who we had chatted with earlier that day, extended herself towards Jess and handed her a $10.00 bill. "When you get to Maine, have a drink on me!"
Inspired by the generosity of yet another stranger, we cycled on with new energy. Heading East on Interstate 90 we hoped to reach Kadoka, SD and find a place to camp. We passed through miles of construction and were approaching our destination when a construction personnel drove up alongside us in a silver pickup. "Do you girls need a ride to town?" We thanked him but explained that we were cycling across the country, and wanted to earn every mile. Another twenty minutes passed and darkness was close at hand. Again the kind man in the silver pickup pulled up alongside this time saying "Alright girls, you just keep doing what you're doing and I'll run defense" with the smooth decisiveness of a coach. Sensing he was not about to take no for an answer all I could say was "Thank you" and "You must have daughters." He smiled slightly at this, nodded, and followed us along the interstate lights flashing until we had made it safely to our exit.