Day 39 The Kindness of South Dakota
We ended up staying in Kimball, South Dakota for the night after thoroughly gorging ourselves on a buffet the night before. Our intentions had been to cycle at least ten more miles, but our swollen guts persuaded us otherwise.
Having our dinners unexpectedly purchase for us the night before, we decided we would support the local diner by buy buying breakfast this morning. We walked into the town's sole restaurant and ordered a big breakfast of eggs, hash browns, toast and pancakes. While waiting we began chatting with three men who had just returned from Sturgis. We exchanged road stories before consuming our pancakes drowned in butter and syrup.
As we savored the last of our pancakes the server informed us that "those gentlemen who just left paid for your breakfast." We were blown away. Jess and I have never had a stranger anonymously buy our meal. Yet here, in the small town of Kimball, SD both our dinner and breakfast were anonymously paid for at the same diner. We were amazed by the coincidental kindness.
We cycled until Mitchell, South Dakota and made it a midway stop for two reasons: 1) we needed to stock up on groceries 2) we wanted to snap a couple pictures of the "World's Only Corn Palace"
After locating and purchasing food from the local grocery store, we were about to leave when an older man approached us curious about our journey. He introduced himself as Gene and then began to mildly chastise Jess for her dark attire, saying that she was in danger and not visible to oncoming traffic. He proceeded to cut off a sheet of plastic from a food crate and fasten it to the back of Jess' bike, saying cars would be able to see her better. I muffled my uncontrollable laughter as we pulled away, Jess' new plastic train trailing behind.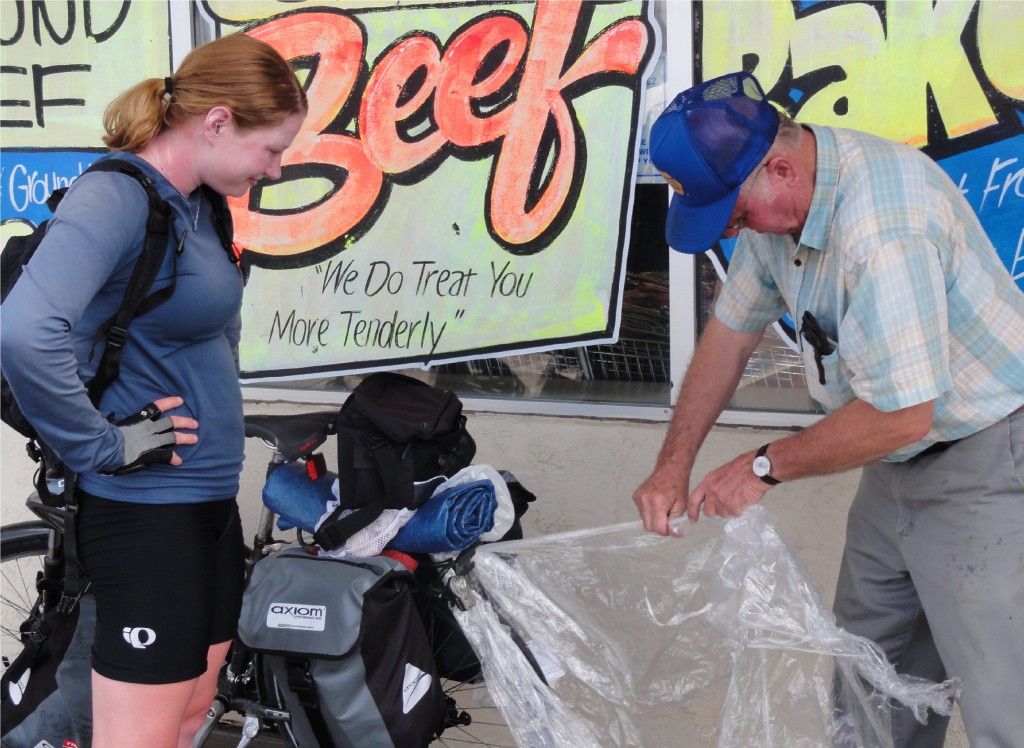 Jess, Gene, and Jess' new safety equipment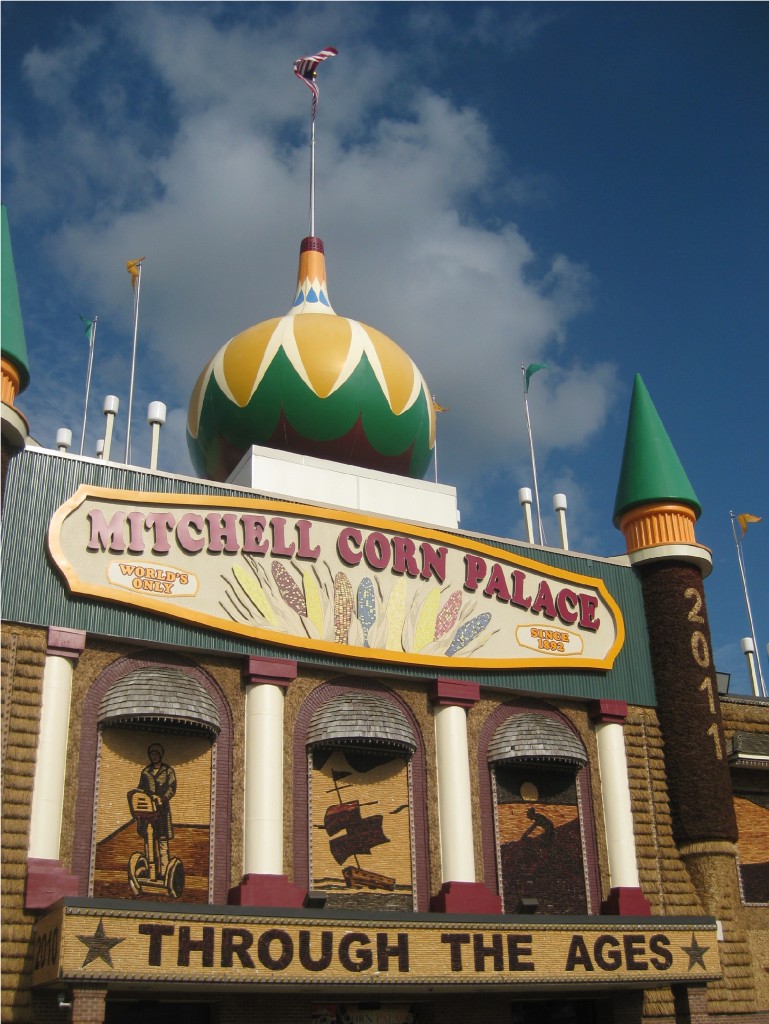 "The World's Only Corn Palace"
I gotta say I don't think any other country  is vying for this title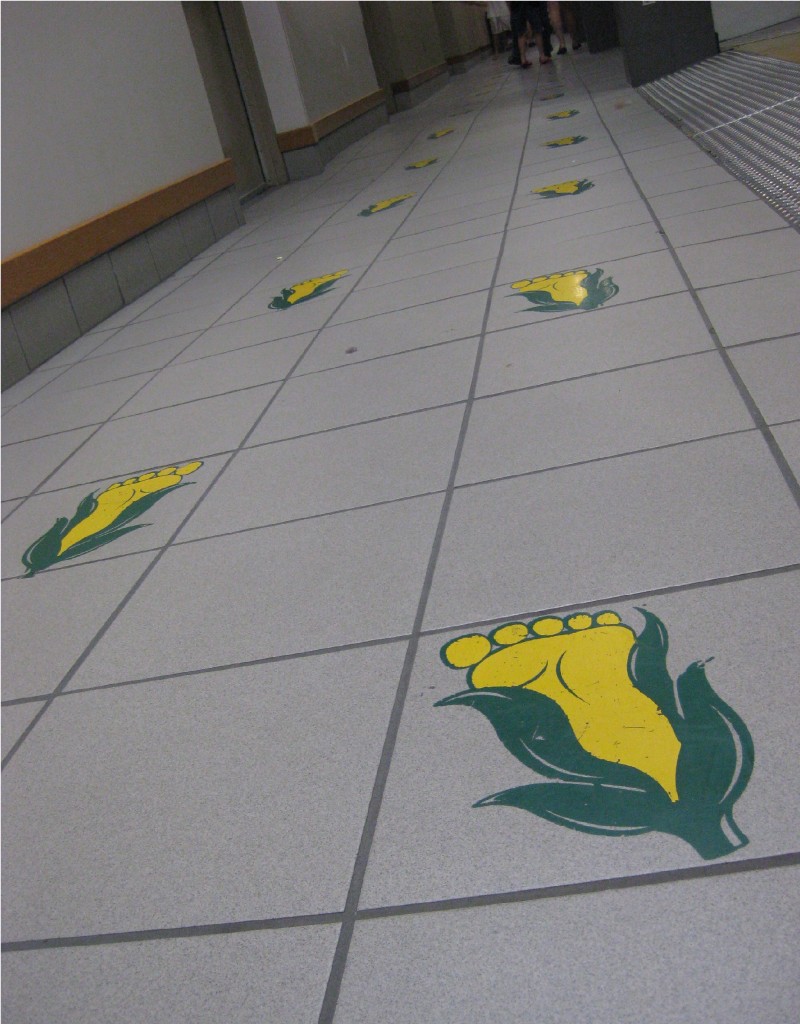 Perusing the Corn Palace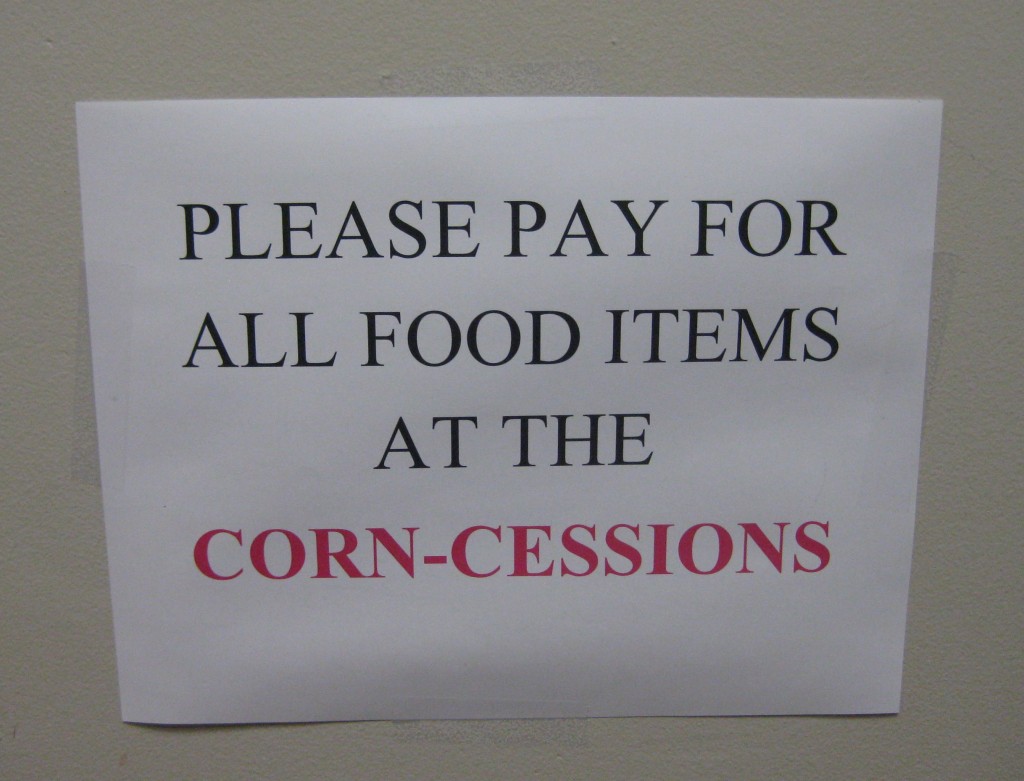 Made me chuckle
After sweeping through the Corn Palace and viewing it's intricate murals we continued on. We cycled south on a country road and conversed in the warmth of the summer evening. We I loved when there was a wide shoulder or virtually no traffic as a good conversation makes the time fly by. We rolled into Parkston, SD and inquired about a campground or rv park at the first gas station. They directed us up the road to Rainbow Motel a establishment that offered rooms as well as rv hookups and tent sites.
We walked into the office and spoke with the man behind the counter. "Hi, we are cycling cross country and are looking for somewhere to pitch a tent. How much would that cost?" we inquired. "Umm, I don't know, how about 5 bucks." We were elated, that was the cheapest we'd paid for a site with showers yet! We walked our bikes around to a site and began to setup camp. Jess disappeared and came back 15 minutes later exclaiming "Don't set up the tent we've got a room!" I didn't believe her at first, but the owner Theresa confirmed it. She then insisted on making us supper and in all other ways treated us like long lost daughters.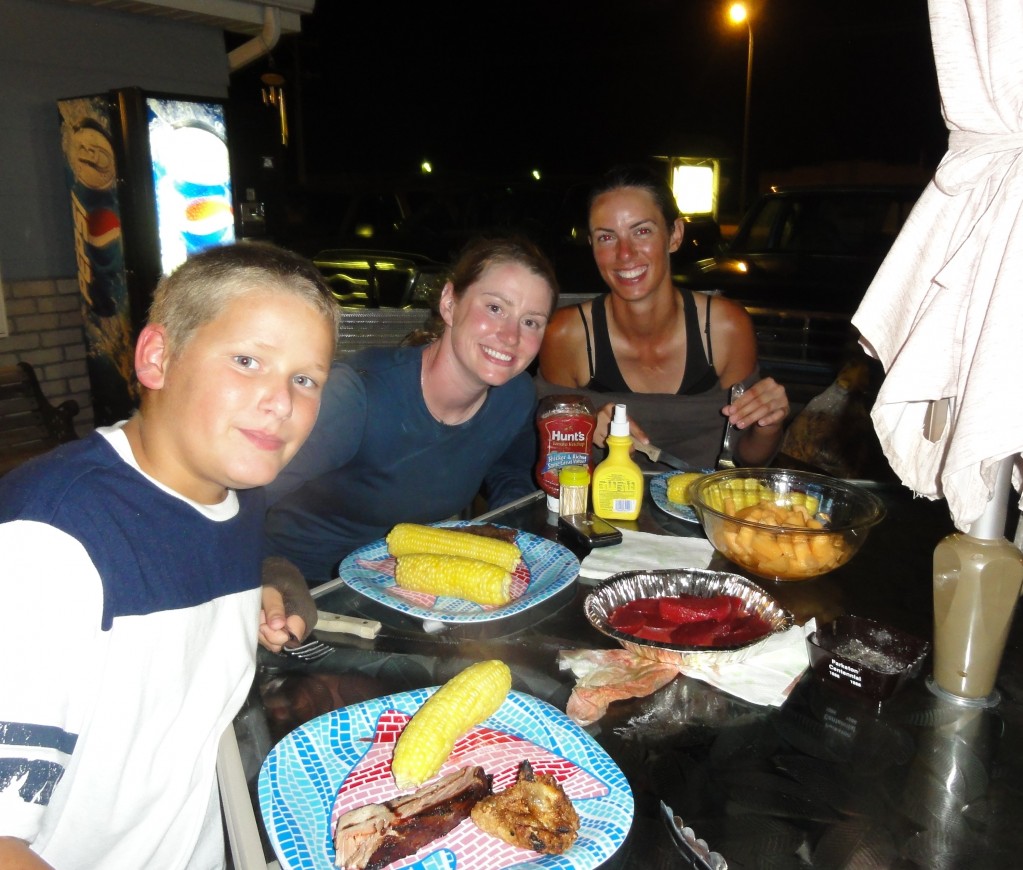 Tristan, Jess and I enjoying a home-cooked meal of steak, corn on the cob, farm fresh beets and cantaloupe
We were so thankful for Theresa's kindness and I couldn't help but ask why she was treating us so. "Well," she said, "I just know I would want someone else to treat my boys the same." I thought her words profound. If only the world could gain such a wisdom.