Start point: Omiš, Croatia
End point: Neum, Bosnia and Herzegovina
Miles: 72
Key words: goodbyes, audacity, mini reunion, cycling family, undercover cyclists, badass
I was woken not by my alarm but by sunlight pouring over me in our villa. I methodically began preparing for the day trying not to disturb Jess and Hector. Brush teeth, wash face, don cycling attire, braid hair, pump up tires, fill water bottles… I had butterflies in my stomach as I get with most transitions. The past 49 days I had always had someone else on this journey with me. Today Jess and Hector were headed back home to Germany and I would begin my first solo day of cycling. I was at once empowered and anxious.
Jess and Hector gifted me a few things I could use on the road (electrolyte tablets, power bars etc.) and we exchanged a round of tight hugs. I missed them already.
Once on the road I felt both incredibly alive and like I was missing something. It felt strange not having a cyclist behind me whose mere presence encouraged me on or a cyclist ahead to focus on and keep pace with. It was just me, my trusty steed Spartacus and the occasional cyclist to exchange a quirky Croatian "ciao ciao" with. My audacity made me giddy. Who does this?
20 km into my day I stopped for breakfast at a cafe. When I did a message popped up from Hector. "You left your long sleeved shirt, we'll come bring it to you. Where are you?" Fifteen minutes later (they were driving) we were reunited and took advantage of the time together to relive moments of the trip over pastries and cappuccinos. It was a perfect mini reunion breakfast and we shared a round of hugs once more.
Back on the road I powered through the ups and downs of the coastal highway 8, pausing only briefly to take pictures. Prepare to be inundated with gorgeous Dalmatian Coast photos: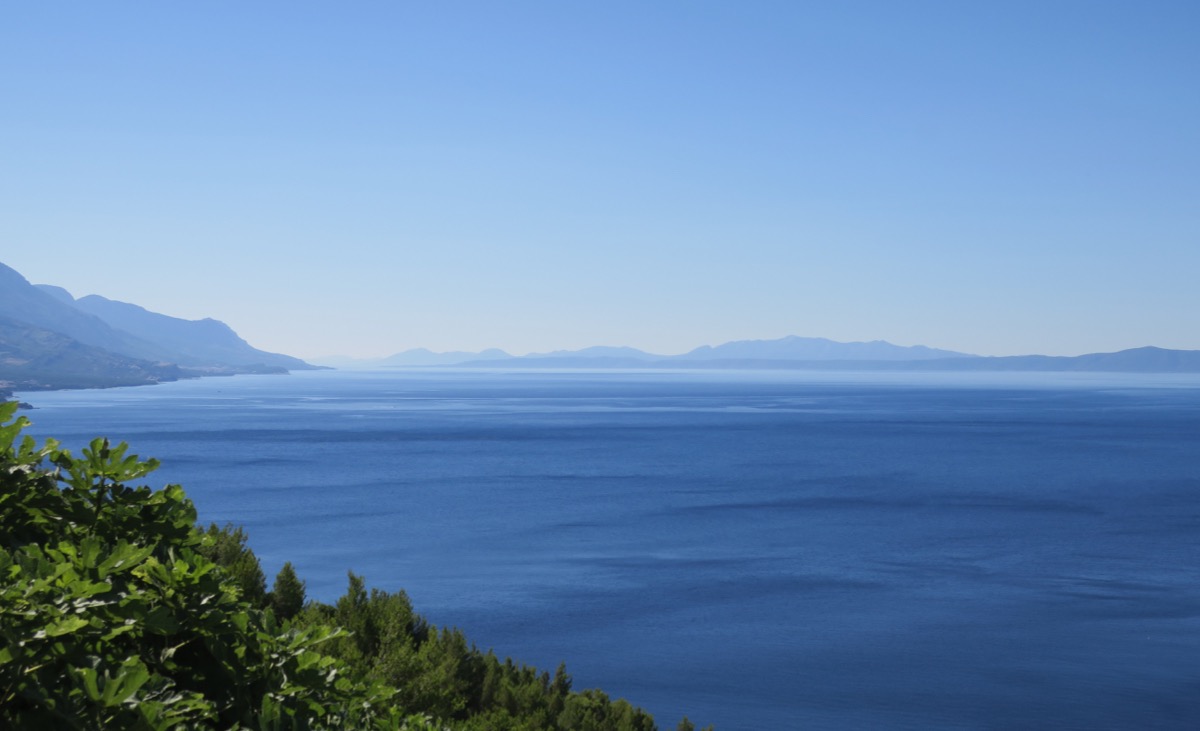 Good morning Croatia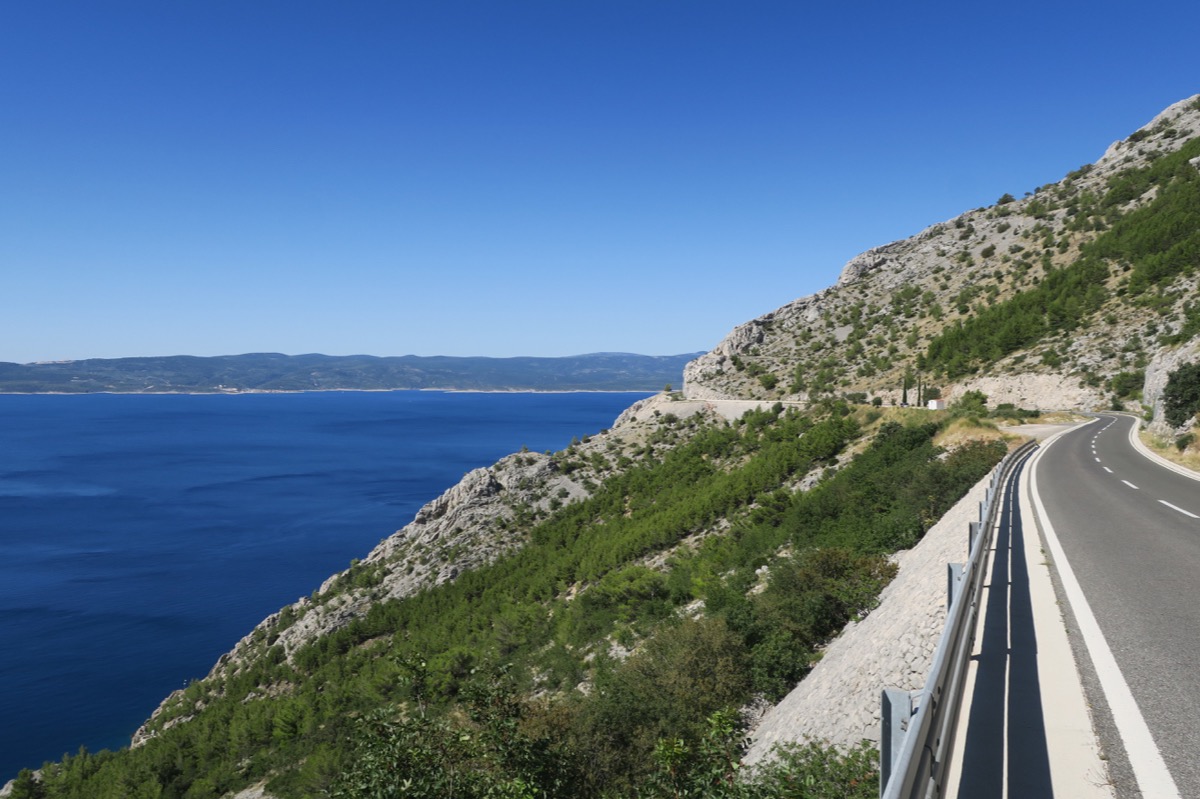 Highway 8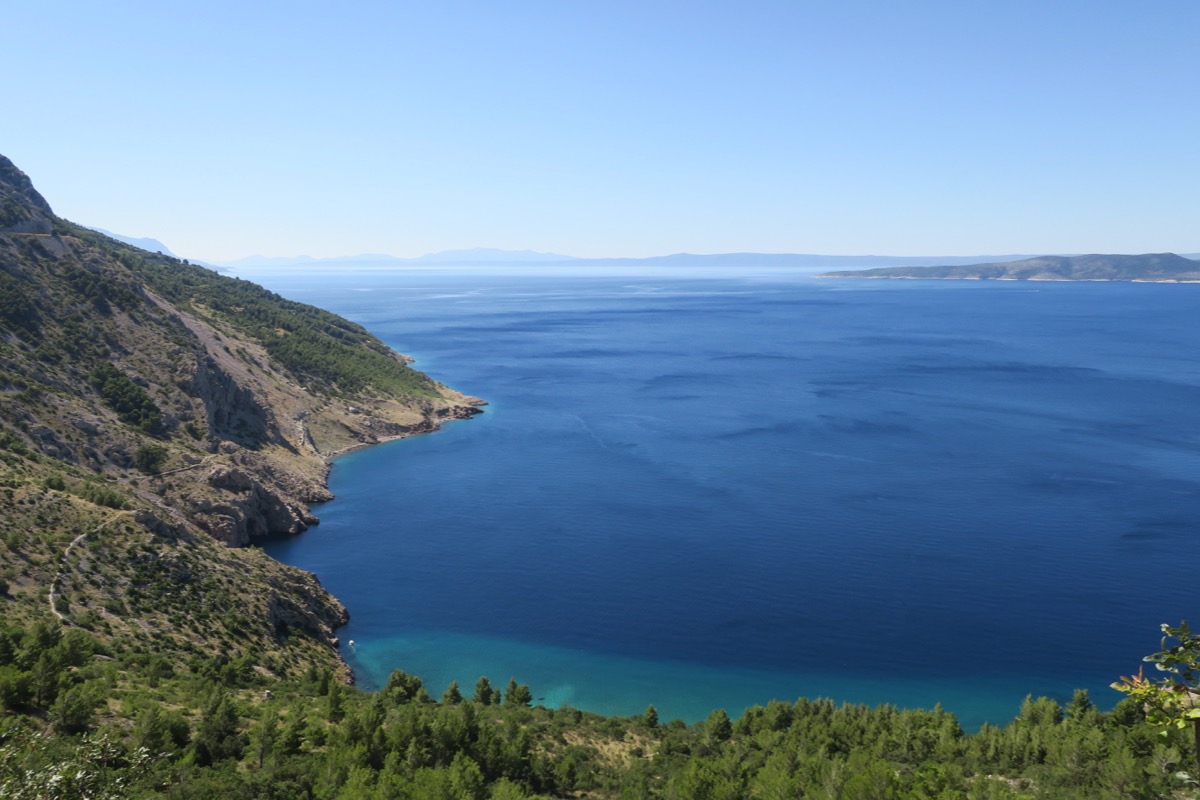 Water so perfect it doesn't look real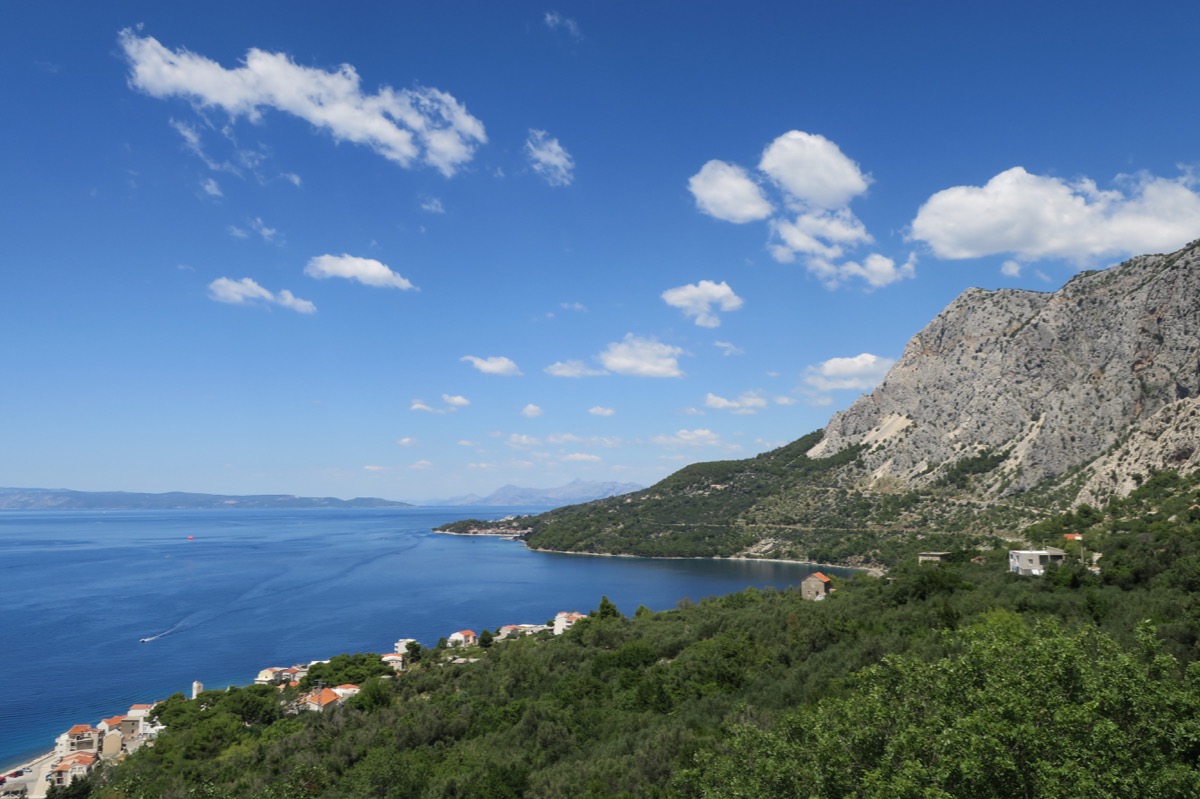 Imagine living here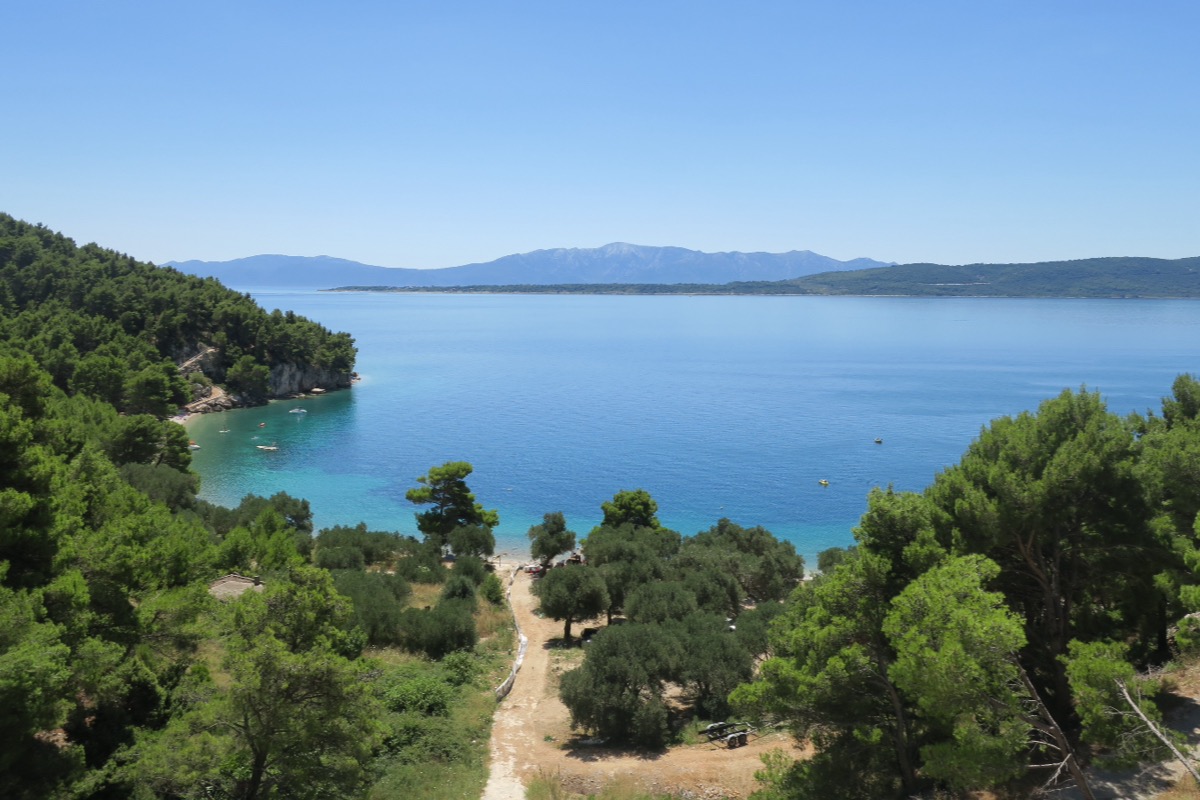 Endless potential swin spots
My pace was solid and the small towns flew by. Suddenly realizing I was well over half way through my day I turned off the highway to a small coastal town for a bite and a swim. I've spent a lot of time by myself (most of my travel experiences have been solo) so going out to lunch alone is nothing new. I munched on a pizza while reviewing my route, moseyed to a touristy shop and bought a floral sarong, and shed my cycling shorts and shirt to jump in for a swim. The water was perfect and, as is the trend in Croatia, incredibly clear.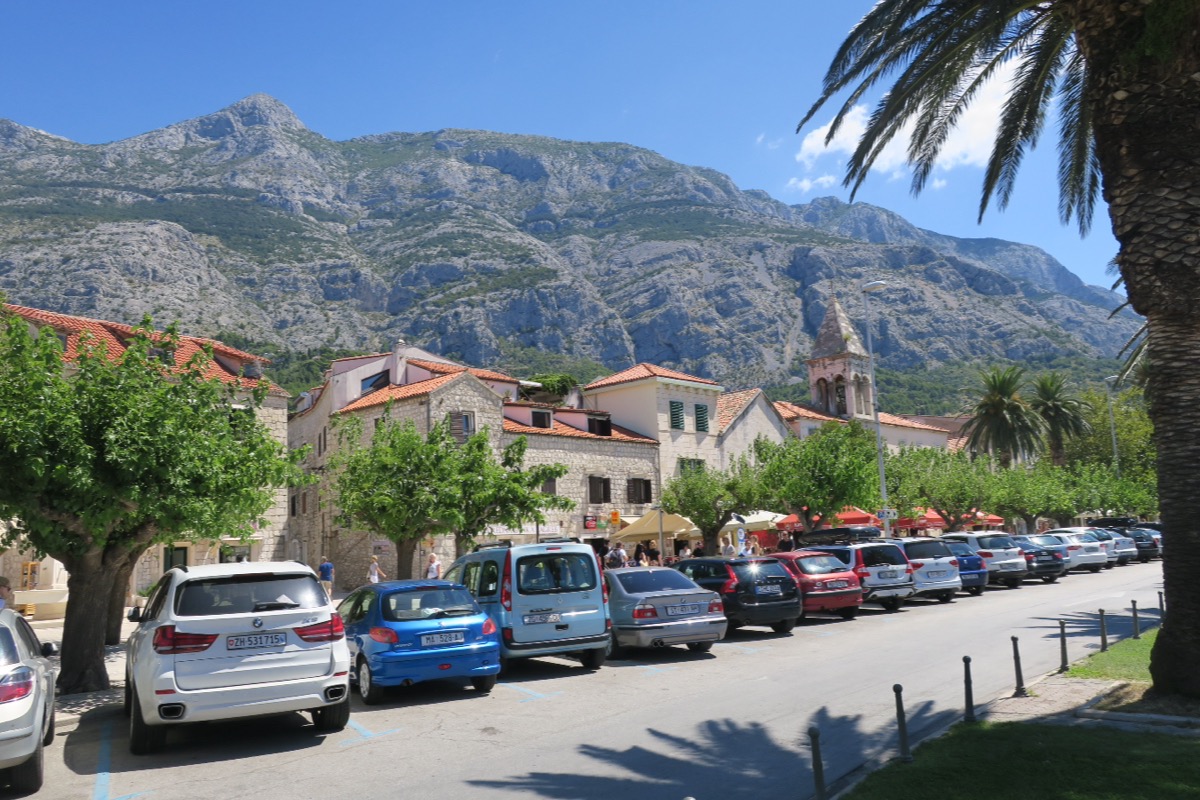 Midday stop in the picturesque town of Makarska
I continued on my way knowing there were even more daring hills ahead. I flew over the first round and descended into a vibrant green valley with beautiful lakes.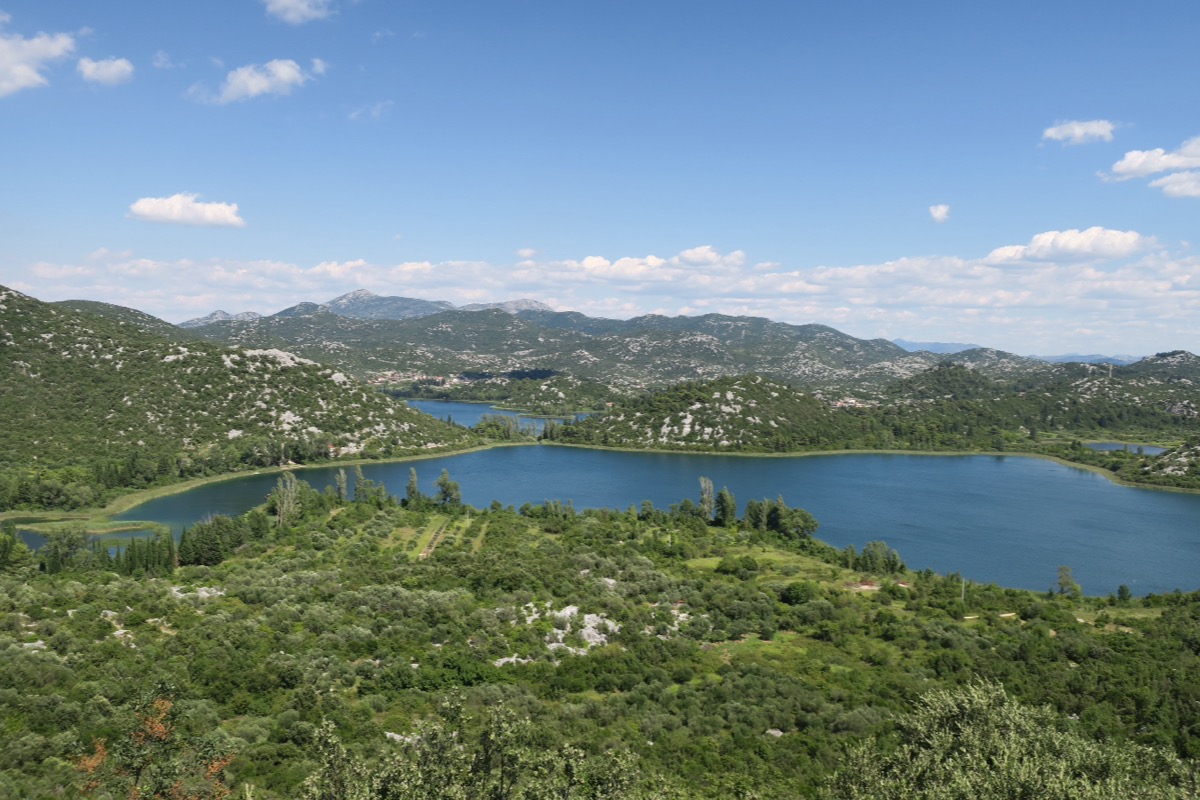 From the med to lakes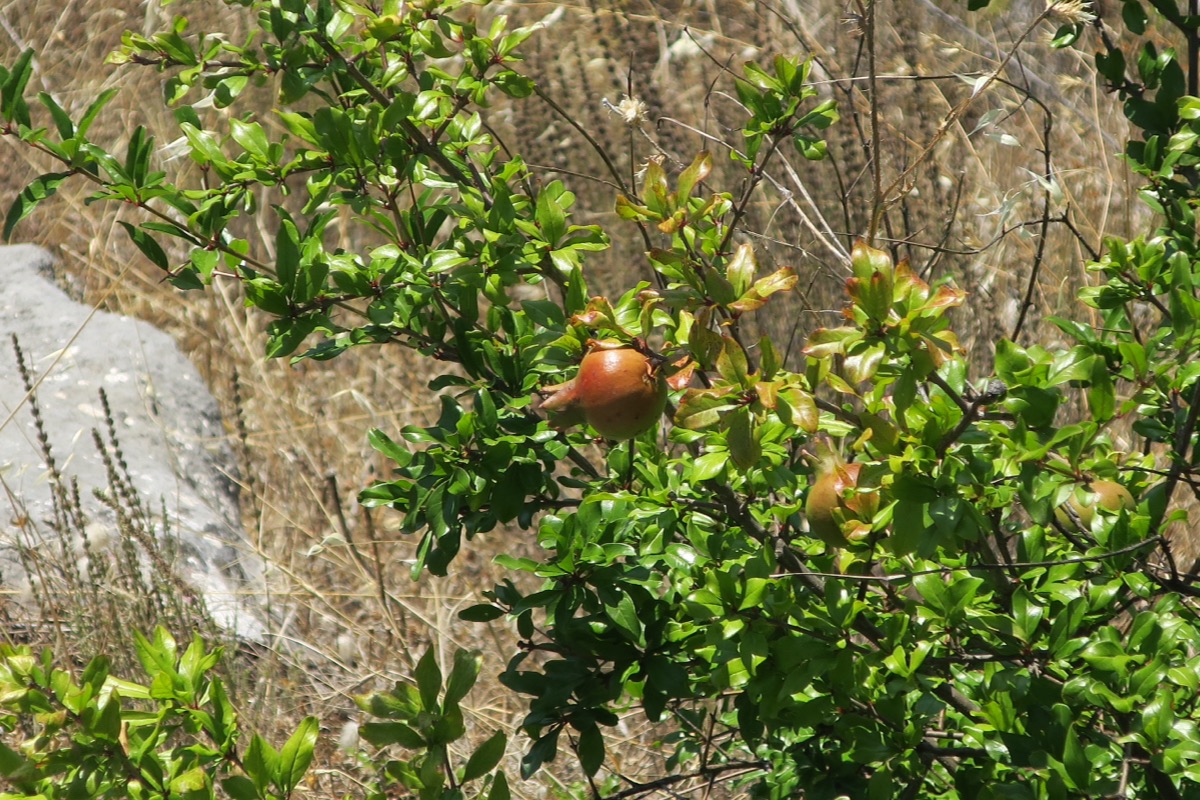 Hello wild pomegranates
The next round of mountains led me to a vast farmland valley. Fruit stands lined the highway in unabashed repetitiveness, each stand attempting to look brighter, fresher, and more enticing than the last. The standard marketing was a home made fountain of sorts with melons or other fruit displayed in the spray. I stopped at one such stand that was manned by an old farmer. I picked out two nectarines and he added two pears to round the price.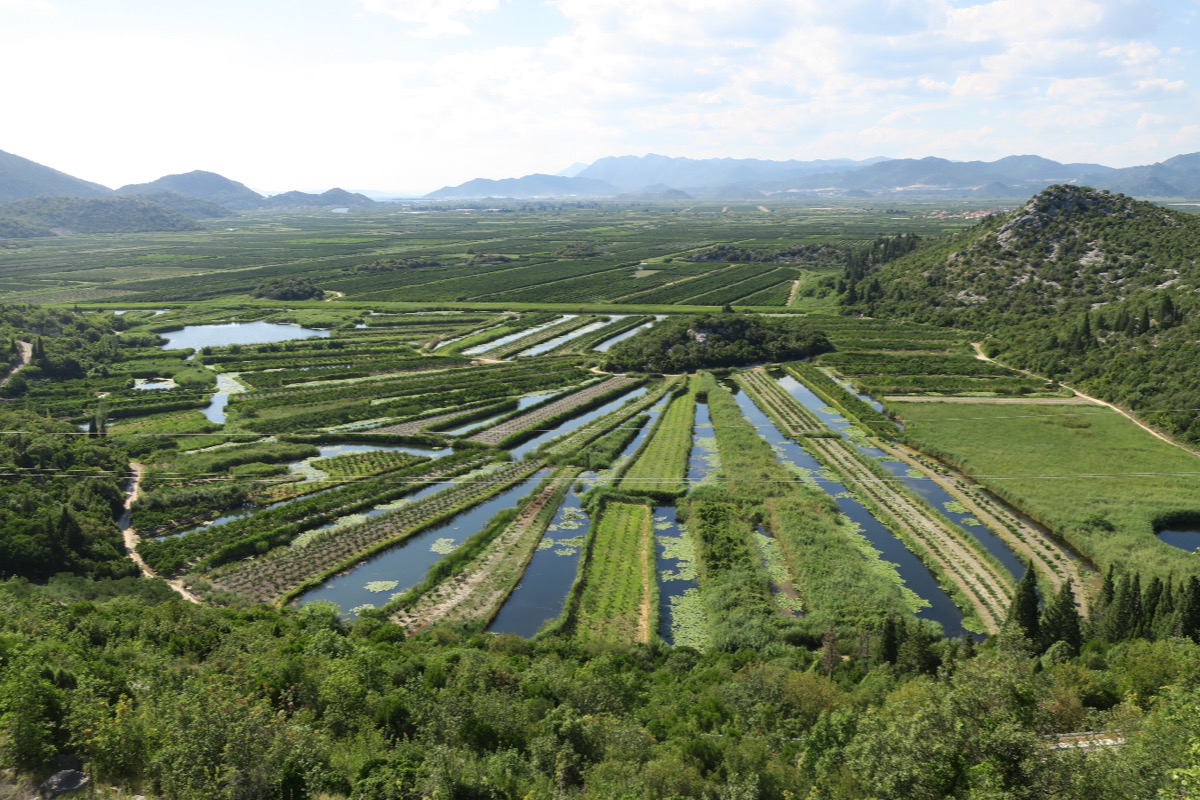 Vast farmland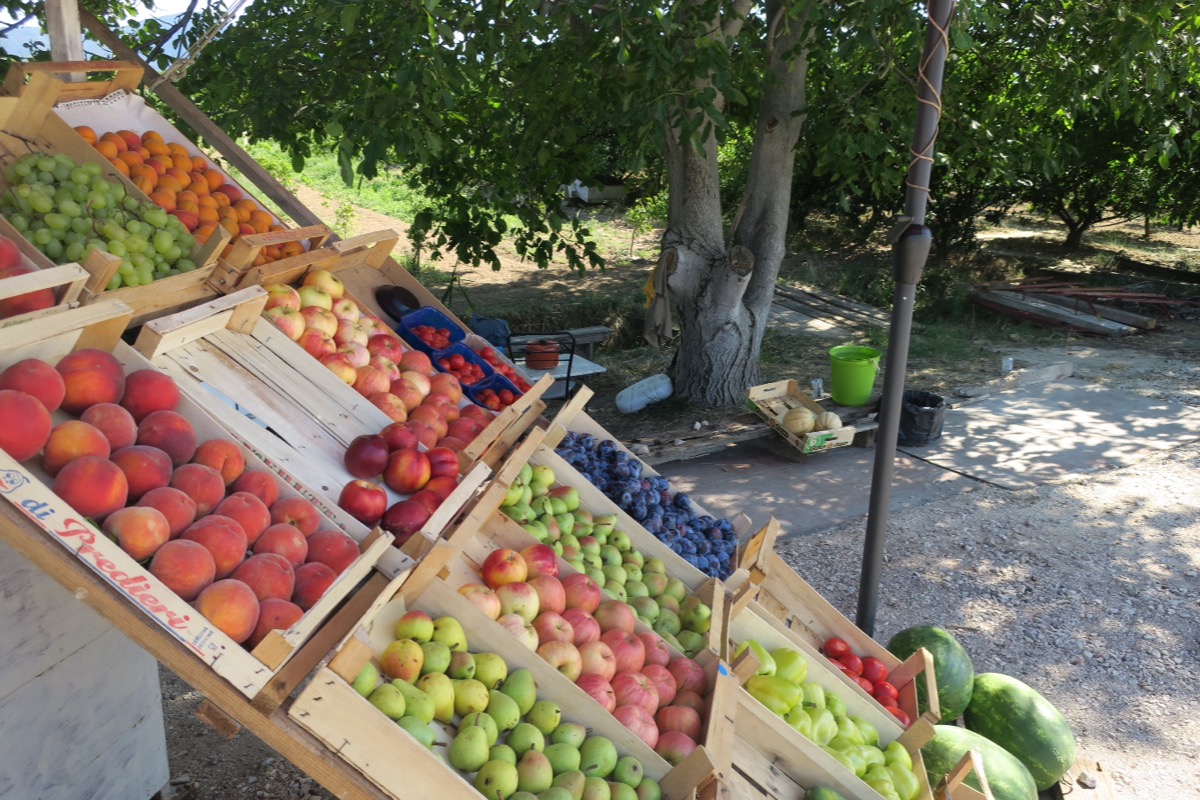 Fruit stand
I hadn't gone much further before I passed a family of touring cyclists on the opposite side of the highway. The daughter who looked about 12 led the team on her bike with panniers. Then came mom loaded up with panniers as well as another small child. Then dad brought up the rear on a recumbent bike. I wish we had been cycling the same direction so I could have asked them where they are from!
I climbed the highest hill of the day out of the valley floor farmlands and was amazed by how little my legs protested. They had really reached the point where I could put them on auto pilot and they just climb. I earned a honk and wave from a car passing me that had bikes wedged in the back seat. I love encouragement from undercover cyclists.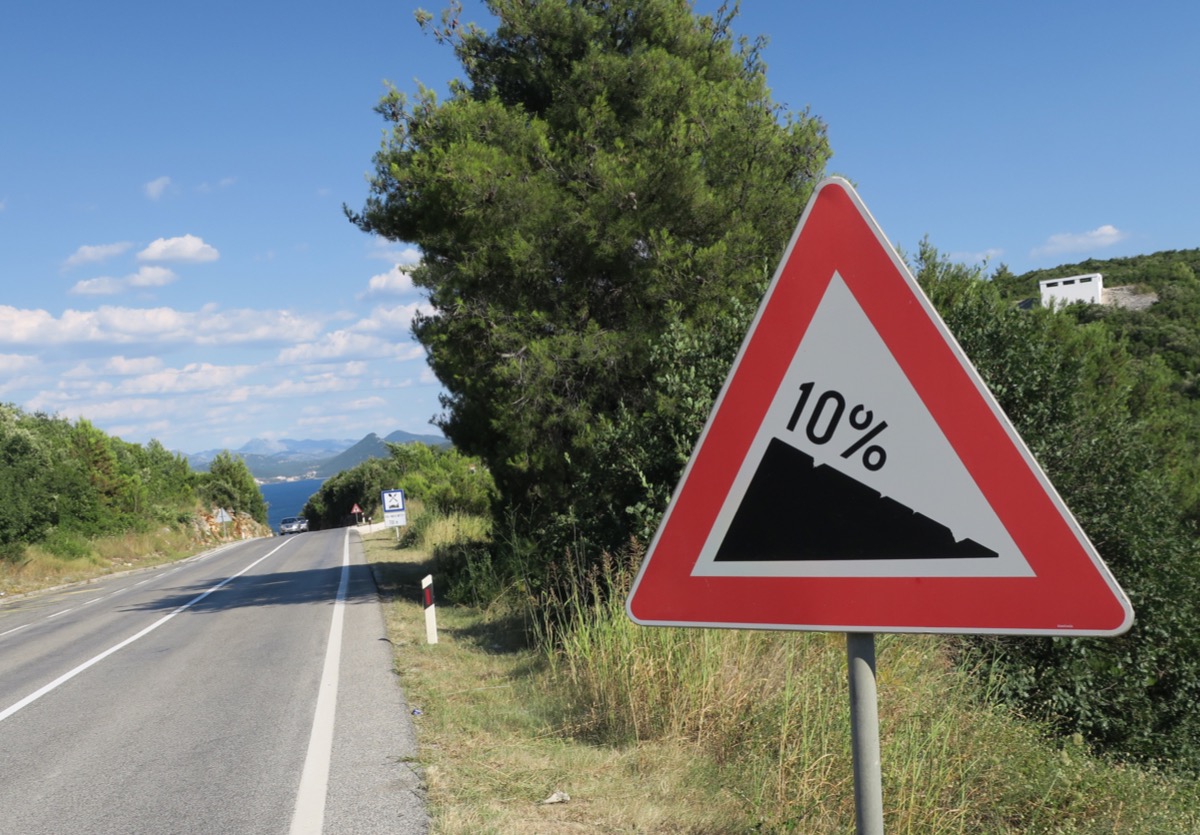 Steepest marked grade of the trip
I descended a steep hill and spotted a bright blue structure straddling the highway. Bosnian immigration! I cycled into line behind a short row of cars and saw some young girls watching me with curiosity. When it was my turn I cycled to the window where three men awaited. A young Bosnian immigration officer reached for my passport, glanced at me and said "are you traveling alone?" "Yes" I replied. "Are you scared?" he asked. "No" I said with a smile. "I started in Barcelona". Three jaws dropped in unison and the furthest officer flashed me two big thumbs up. "And I'm going to Greece, so I'm almost there". With a smile I was handed my passport. "Enjoy your visit to Bosnia". I don't know if I've ever felt like a bigger badass in my entire life.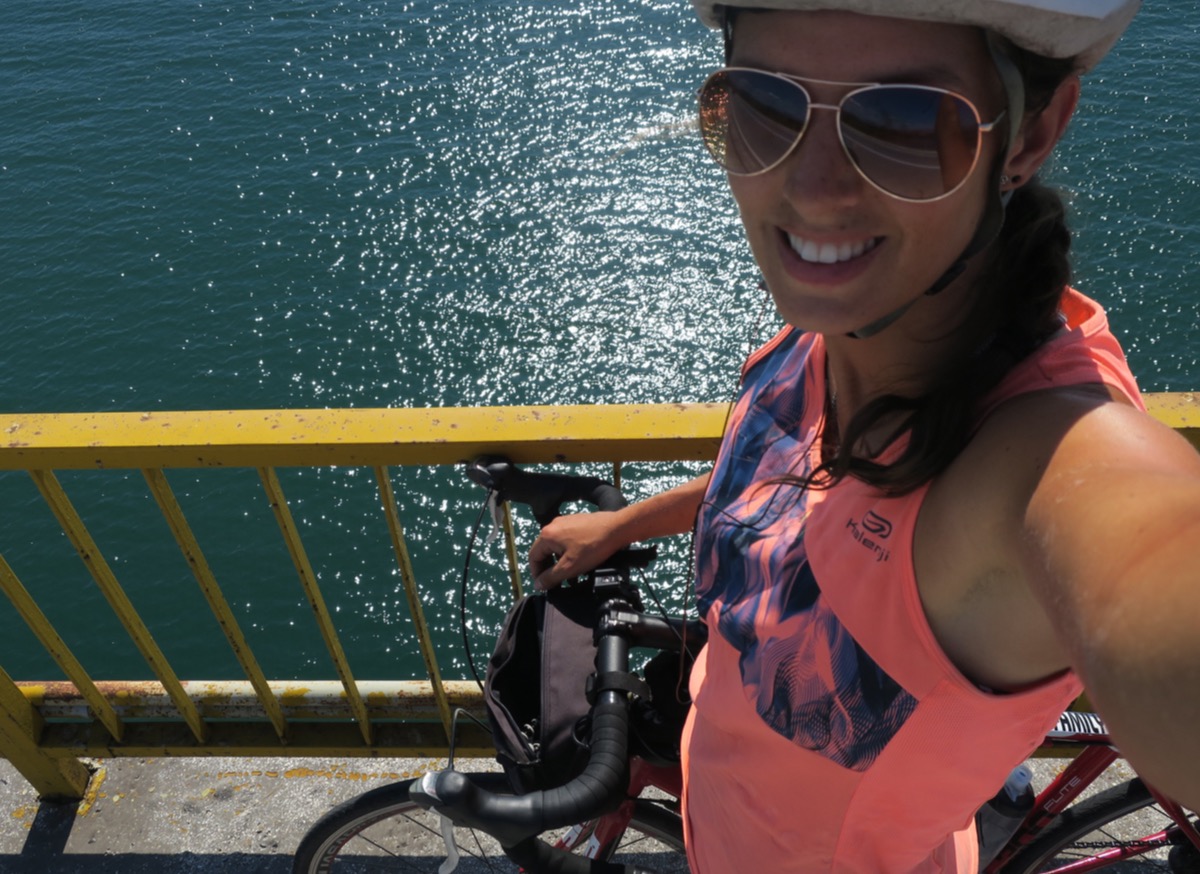 Feeling fearless
Total miles so far: 1,961