Start point: Neum, Bosnia and Herzegovina
End point: Neum, Bosnia and Herzegovina
Miles: 0
Key words: three currencies, pleasantries, local, gelato fail, regular, laku noć
Having combined two days of cycling into a 72 mike cycle the day before, I had earned an extra day off and decided to spend it here in Neum, Bosnia and Herzegovina. As Bosnia and Herzegovina (generally referred to as just "Bosnia" or short handed to "BiH") has an incredibly small 12km long Mediterranean coast, I figured I would linger in this country for an extra day to soak it in a bit. I slept in, moseyed to the hotel's breakfast, did a load of laundry, bought conditioner and fig bars, danced around my hotel room in my underwear, ate octopus salad for lunch and went for a swim. Traveling solo ain't all bad.
After spending a full day in Bosnia's only Mediterranean town here is what I learned:
1) Bosnia operates using its own currency–the Bosnian Mark (BAM)–but they also accept Euros and Croatian Kunas. I had withdrawn Markas from an atm upon arrival just in case, but things are often quoted in Euros. While in the check out line at the grocery story the guy in front of me asked the cashier if he could pay in Kunas. She whipped out an old school calculator and told him the converted price in an instant. I'm been to many countries operating with two currencies, but three is a first.
2) Linguistic pleasantries are the same in Croatian and Bosnian. Having spent the past week in Croatia I had started to pick up the basic pleasantries: "dobro dan" (good afternoon) "hvala" (thank you) "molim" (your welcome and please). But I was hesitant to learn any Bosnian as I would be cycling through another section of Croatia the following day. I didn't want to create a slavic language scramble in my brain. To my relief, when curiosity got the better of me and I looked up the basics online they were nearly identical. Hvala Bosnia!
3) At a glance I could be mistaken for Bosnian. I was walking home with my bag of grocery store odds and ends when a mini van zoomed up next to me and the side door rolled open. Hostage situation perhaps? A middle age woman leaned out the gaping door and began rattling away in what I assume was a Bosnian request for directions. I just smiled at her goofily, shrugged my shoulders and said "sorry, English". It took a second to register but then she said something with a chuckle, slammed the rolling door and the mini van took off. I take great pride in being mistaken for a local. I was positively strutting back to my hotel room.
4) Bosnians fail at gelato. Although the ice cream stands do have the cold cases, do heap their ice cream into long tubs and do garnish the frosty mounds liberally, they miss the mark on taste and texture. Both times I tried the ice cream felt fake and had a plasticky aftertaste. Sorry Bosnia. This was the first moment I began to truly miss Italy.
I enjoyed dinner at the same restaurant a second night in a row. The green salad brought me back for round two and I had the same friendly yet polite waiter from the night before. He even secured my same table overlooking the sea. Two nights in Bosnia and I had morphed into both a local and a regular.
I migrated back to my hotel and began the long ascent up a dozen flights of stairs to the lobby. Neum is built into the side of a mountain and the main hotels follow this topography. It was late and a security guard was huffing and puffing in stride next to me. He said something in Bosnian which I assume was a joke about the never ending stairs. I offered a chuckle. He said something else I didn't understand. "English?" I suggested. "No" he shook his head with a smile. "Laku noć" (good night) I said in my best Bosnian accent. "Good night" he said in his best English.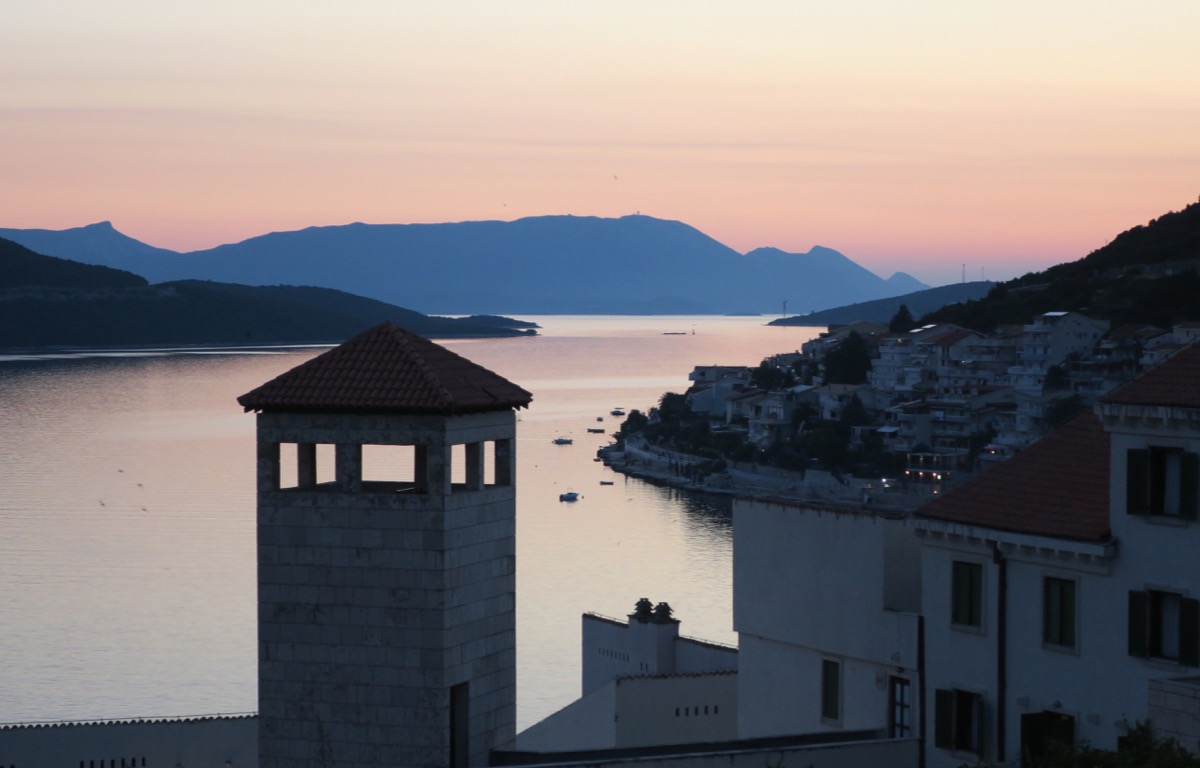 The sun sets over Neum
Total miles so far: 1,961