Day 53 Montenegro and the Lost Pedal
Start point: Cavtat, Croatia
End point: Sutomore, Montenegro
Miles: 67
Key words: Red Bull, cypress, Bay of Kotor, bananas, crankset, Serbian cycling angel
Not long after cycling away from Cravtat I was once again exiting Croatia. I think it's funny that so far on this trip, from Spain to Croatia I have crossed nine international borders, yet the only country that wanted to see passports was in Croatia. Due to the odd coastal border arrangement, on this trip I passed through Croatian immigration four times.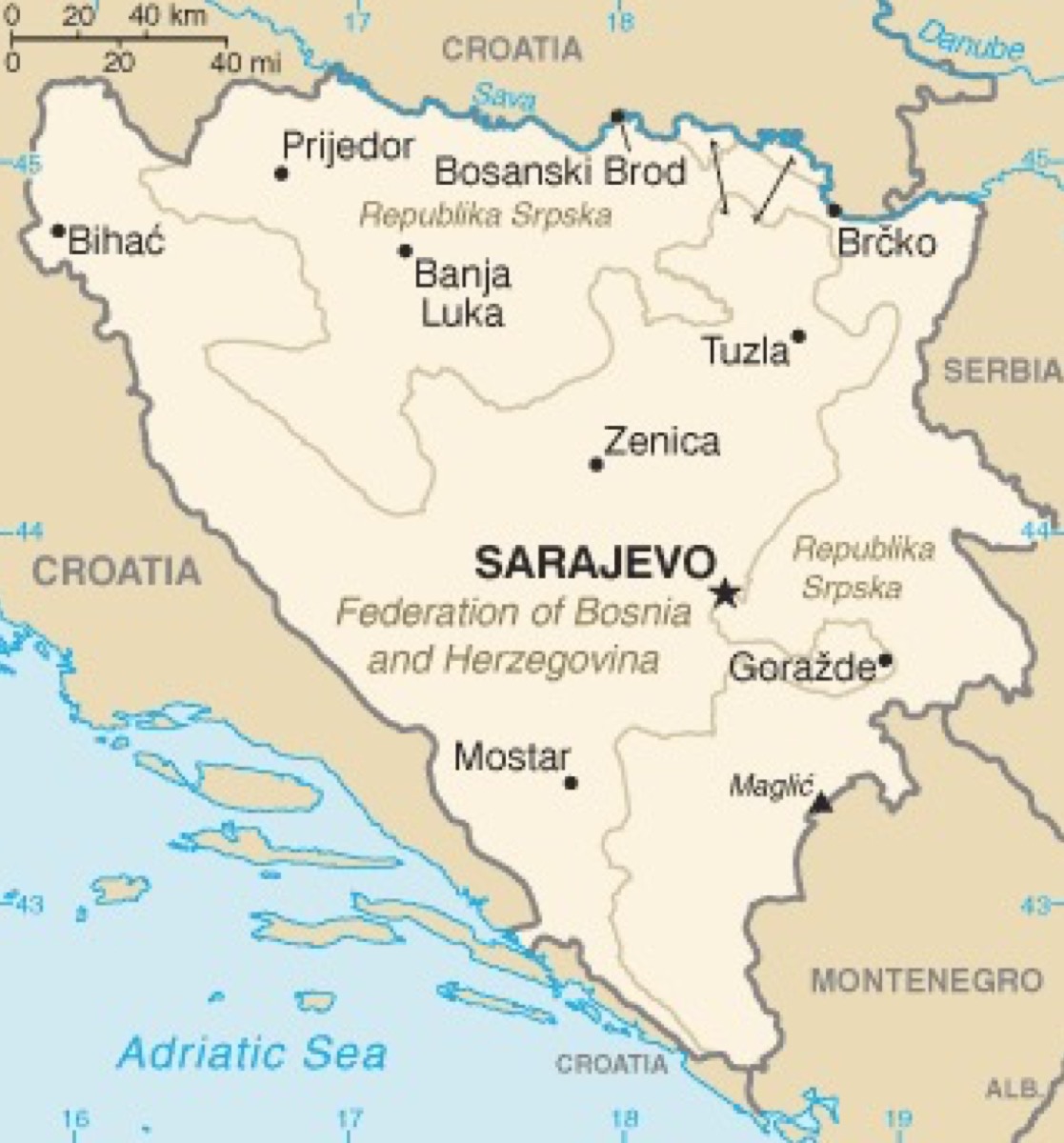 The Croatian coastline with a sliver of Bosnia in it
I coasted away from Croatian immigration and into a line up of cars. I cruised past them on the shoulder, until I realized that the line was for Montenegrin immigration and fell in line. I was two cars back from my turn when I saw the passenger car ahead hand two Red Bull cans to the immigration officer. A local would later confirm that this sort of bribe is not uncommon. The offering keeps immigration from checking trunks, and thereby speeding up the process. I had just witnessed my first Red Bull bribe.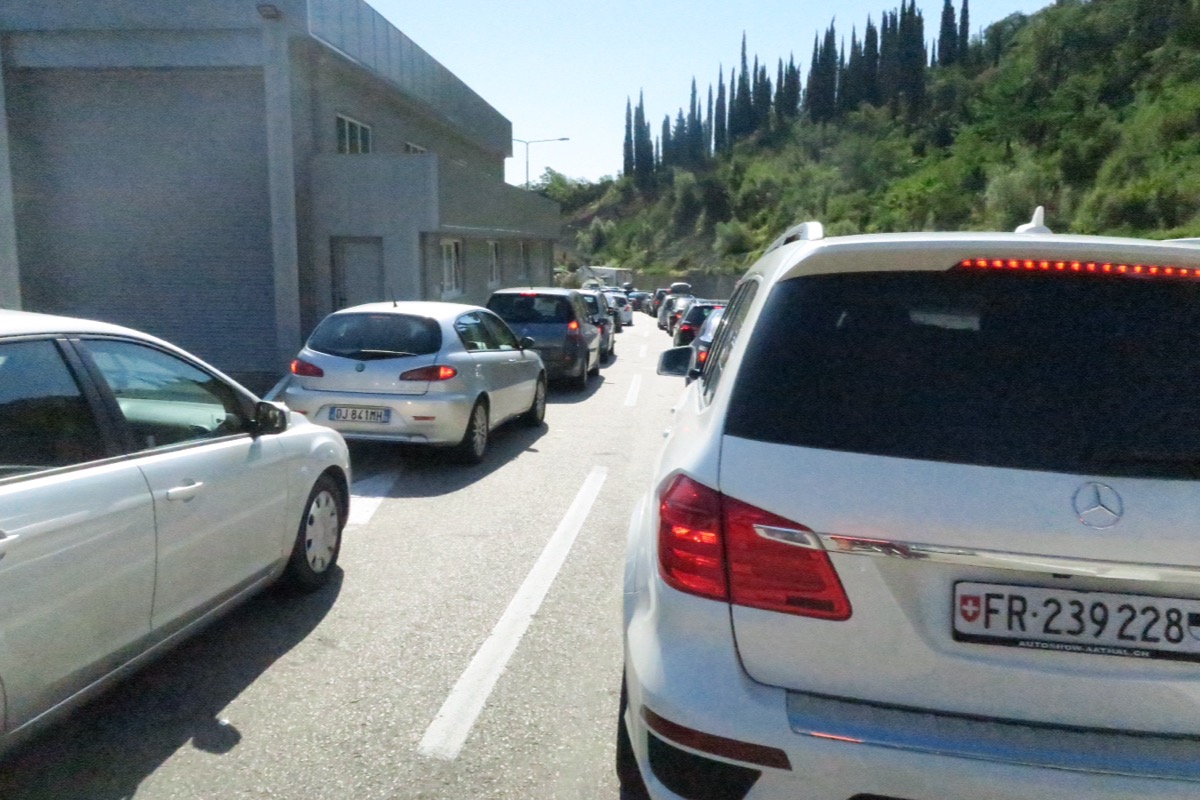 Lining up at the Montenegrin border
Montenegro is a country unknown to many, partly because it has only been its own nation since independence from Serbia in 2006. The tiny Balkan country is known for its beautiful pebble beaches and rugged mountains, as well as its diverse blend of language, religion and biodiversity. I couldn't wait to find out more.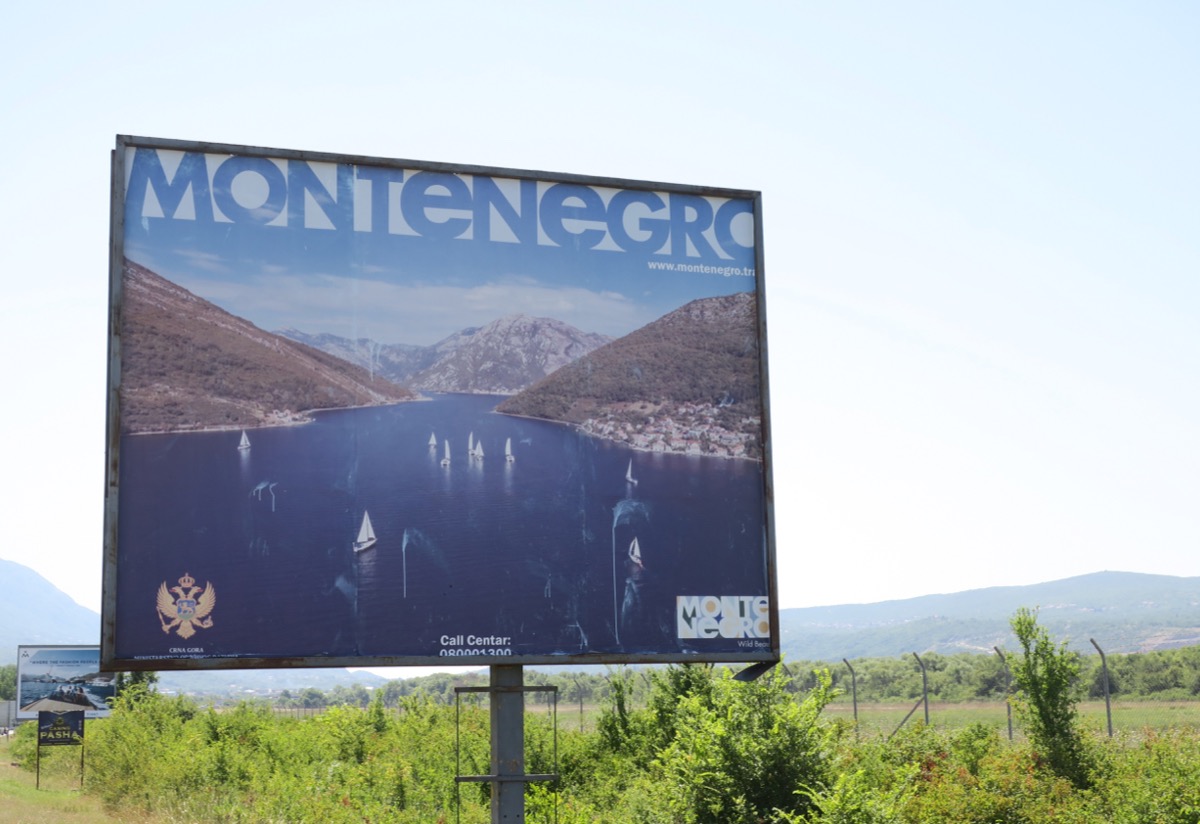 Hello Montenegro!
I immediately had a good feeling about Montenegro. Not only did the terrain become incredibly green and rich with vegetation, but the Cypress trees that had accented the countryside in Italy were now to be found en masse. I soon met up with the Bay of Kotor and cycled along its edge. Locals flocked to the water while shops and restaurants with simple façades abounded. The setting was idyllic; at once beautiful and comfortable. The further I travelled inland along the Bay the more beautiful it became with its crystal clear water and beautiful mountain backdrop.
I arrived at the ferry and pulled up to the tiny white ticket booth. For one euro Spartacus and I could ride the car ferry the 15 minutes it took to cross the unique bottleneck of the bay. In addition this move saved us 30 km of cycling.
One of the ferrymen struck up a conversation, asking where I was from. When I told him the US he listed off the major cities he had visited. He had family in the US as well. As we talked I admired the breathtaking mountains around us. "You have a great job!" I said. "This must be one of the most beautiful places in the world". He did not disagree.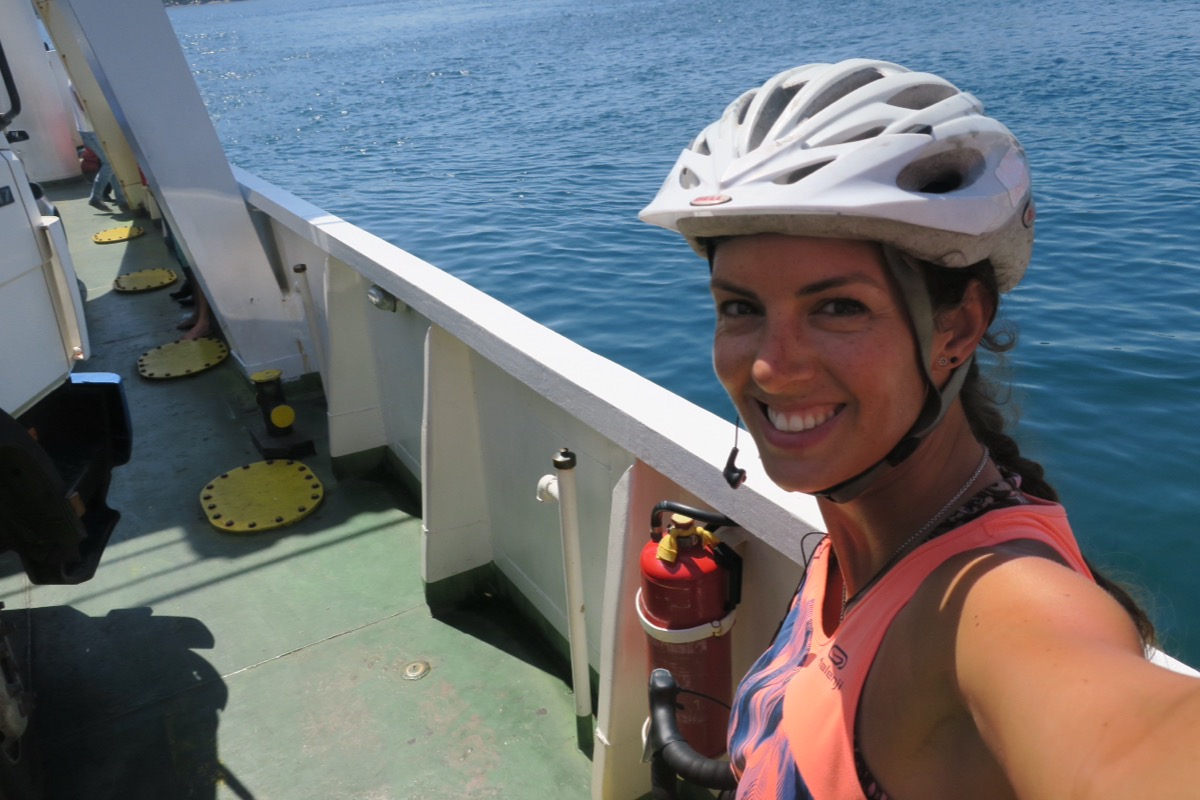 On the ferry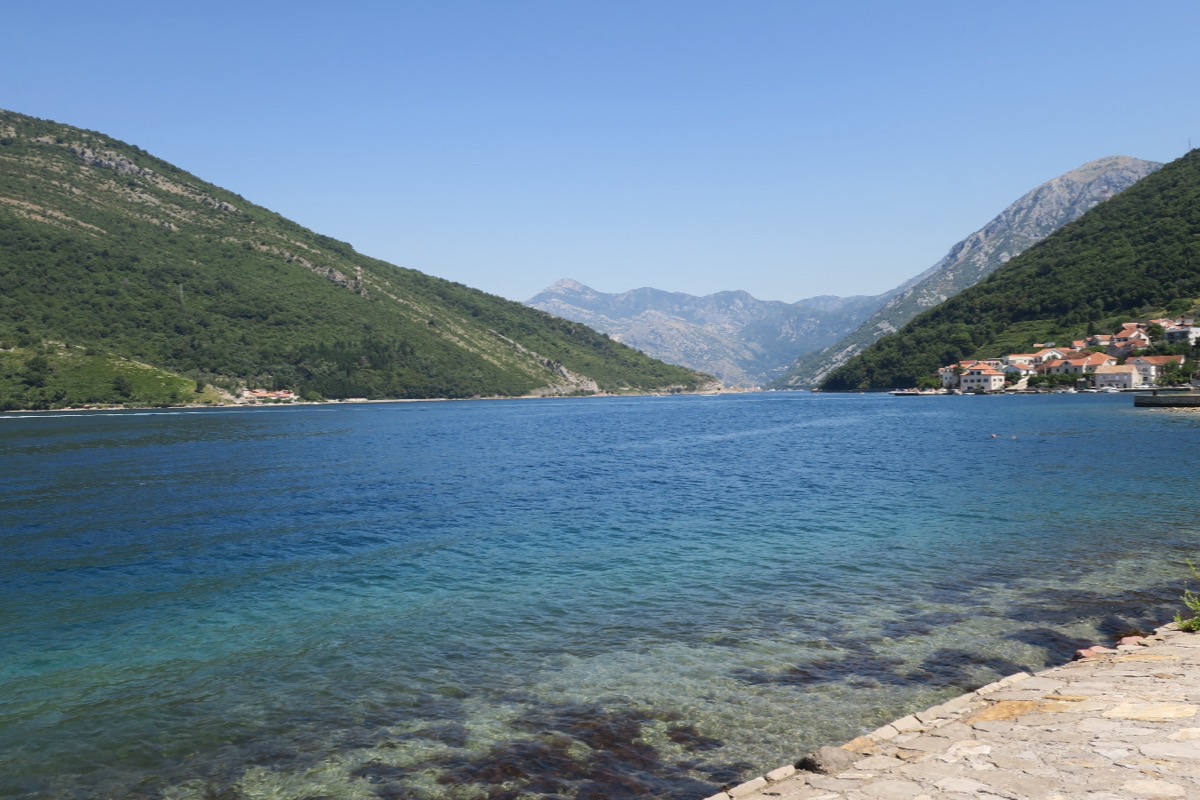 The beautiful Bay of Kotor
Since just before arriving at the ferry my left pedal had begun to feel a little funny. With each rotation there was extra movement. I wear cleats in the bottom of my shoes that clip into my pedals, and I assumed my left one was loose. Fortunately before leaving Boston my local bike shop guys had prepared me for the journey, to include showing me how to adjust my cleats if necessary. I pulled off the road to look more closely and a car pulled up alongside me. The man and woman inside were beaming. As I stepped closer the woman thrust a bunch of bananas out of the window. "A gift!" She said. The man at the wheel began pointing at himself, "I am a cyclist too!" We exchanged a few more words of gratitude and encouragement and they were off. Such kindness.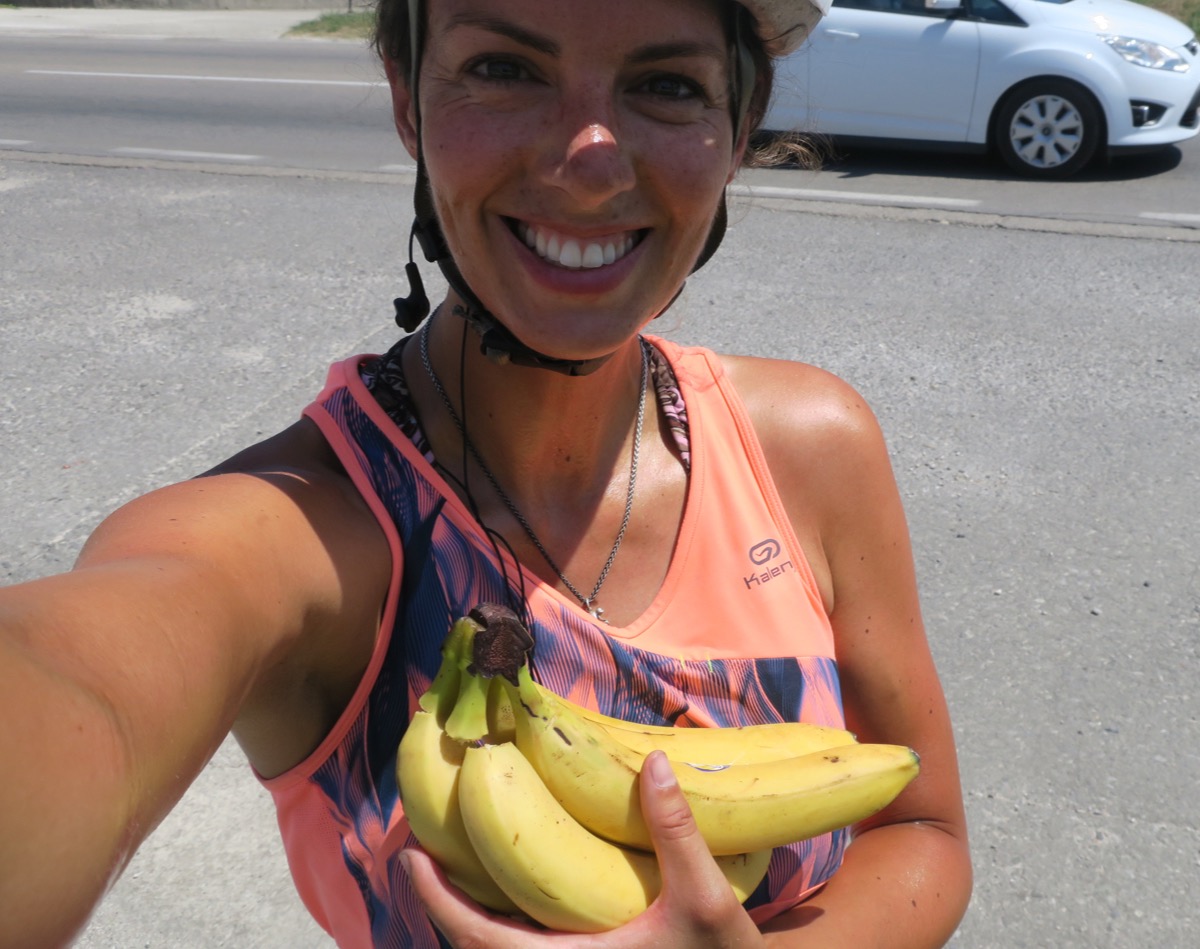 Bananas
Again examining my pedal I realized it wasn't a loose cleat. My entire pedal was loose and falling off! I retrieved my pedal wrench from the bottom of my pannier and tried to tighten the pedal. Apparently the crankset was stripped; there was no longer threading to tighten to.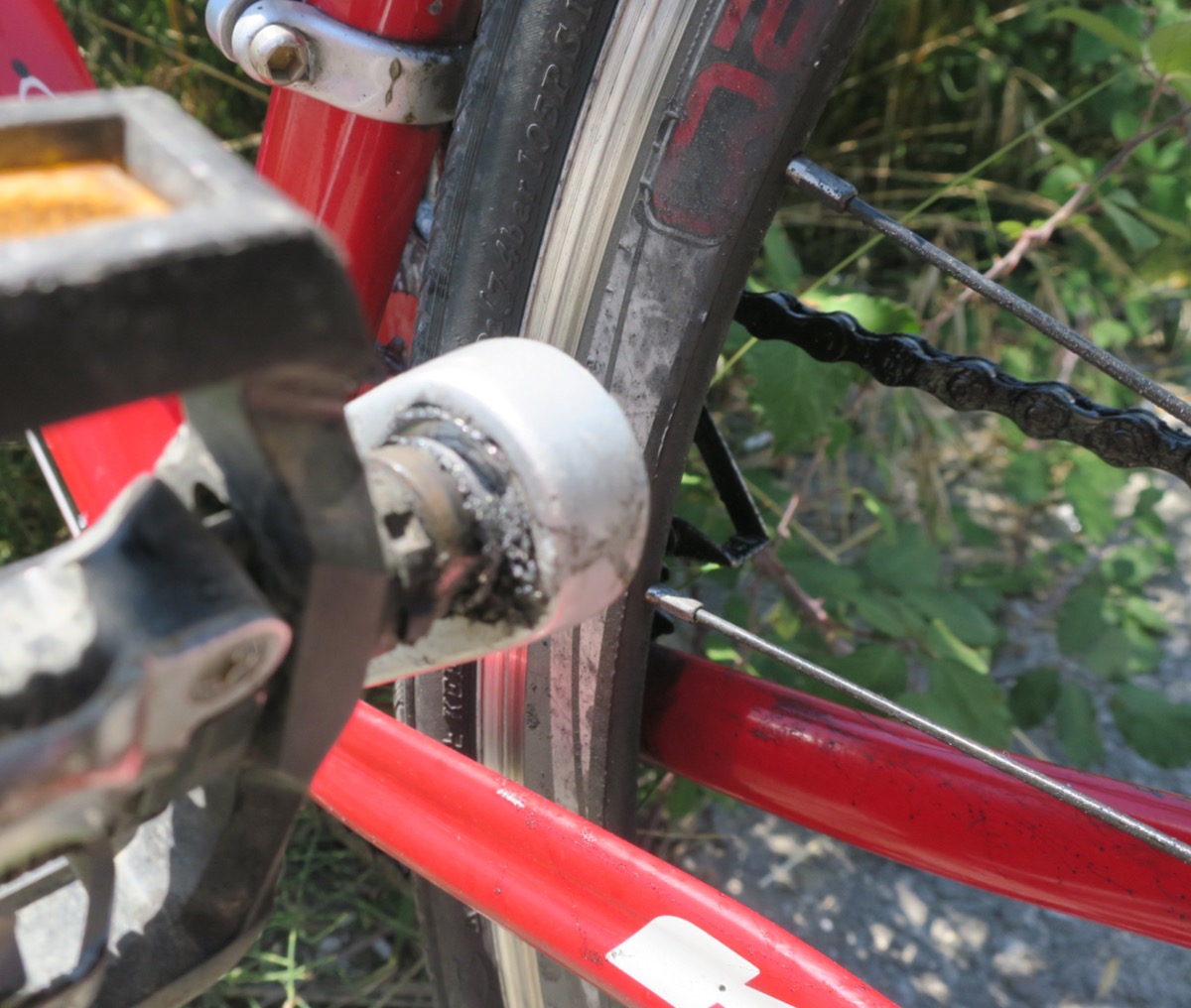 It is a bad day when your pedal falls off!
I took myself to lunch at the next restaurant I spotted to get online and work out a plan. There was nothing but small towns in this area, and judging from the lack of bikes I wasn't confident they would have bike shops. The next town in my path was of descent size but was about 12 km away. I figured I would carry on until the pedal fell off entirely, then I could walk my bike or hitch hike the remainder of the way.
After an incredibly delicious caesar salad I was back on the road and awkwardly pedaling so as to put as little pressure on the failing pedal as possible. I hadn't gone far when I looked up and saw another touring cyclist on the side of the road. "Ciao!" I said with gusto. It's not everyday you meet a solo touring cyclist on the road. We are a rare breed. We began the touring cyclist introductions "Where are you from? Where are you going? What is your name?" His name was Milan, he was from Serbia and he was also cycling to Sutomore, Montenegro today. "Would you like to cycle together?" he offered as he handed me a peach he had just bought from the farm stand next to us. "I would, but I'm having a problem." I went to demonstrate by jiggling my pedal and the entire thing fell off.
Milan offered to cycle ahead and look for a bike shop in the next town of Budva, as his language skills (Serbian and Montenegrin are very similar) could surely speed up the process of finding a bike shop. I thanked him and accepted his offer, with the stipulation that if he did not find a bike shop he keep going without me. "I will find one" he said with confidence "we Serbians don't know the meaning of impossible!" and he was off.
I finished the peach Milan had given me and set my pedal back into the crankset, hoping it would hold for a bit longer. I was able to cycle for a few more km in this manner before the pedal unceremoniously dropped to the ground. Plop! I pulled off and jogged back against traffic to retrieve it. I then embarked on an awkward strategy of cycling one legged on straight aways, pushing my bike up inclines and coasting down hills. It was harder than it sounds and I was relieved to see the town of Budva approaching in the distance. This entire struggle was made easier by the beautiful landscape around me.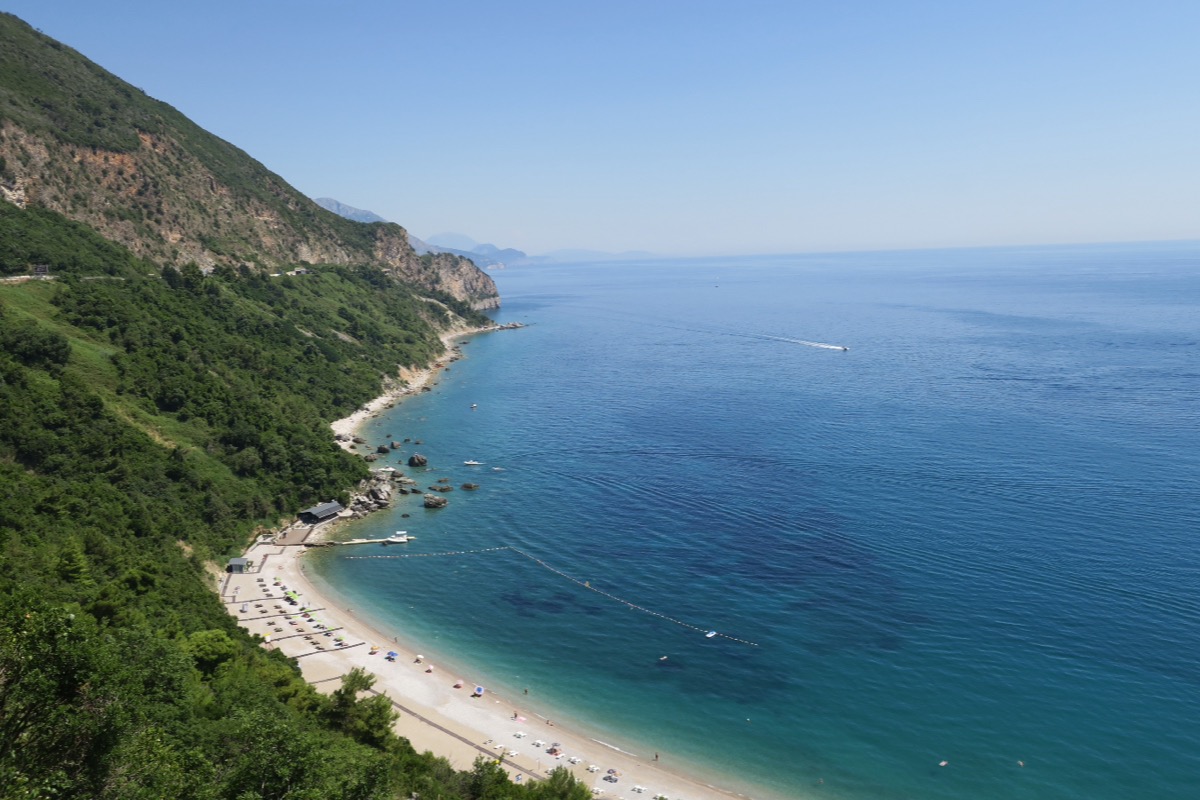 Beautiful Montenegro
I was nearly to Budva when I saw Milan working his way up the hill towards me and I let out another "ciao!" He had indeed found a bike shop, and had bought me a new crankset arm, pedal and tools to replace it. We pulled off the busy road and he deftly began the process of replacing the part. I watched intently. This was a good skill to have on the road in the future.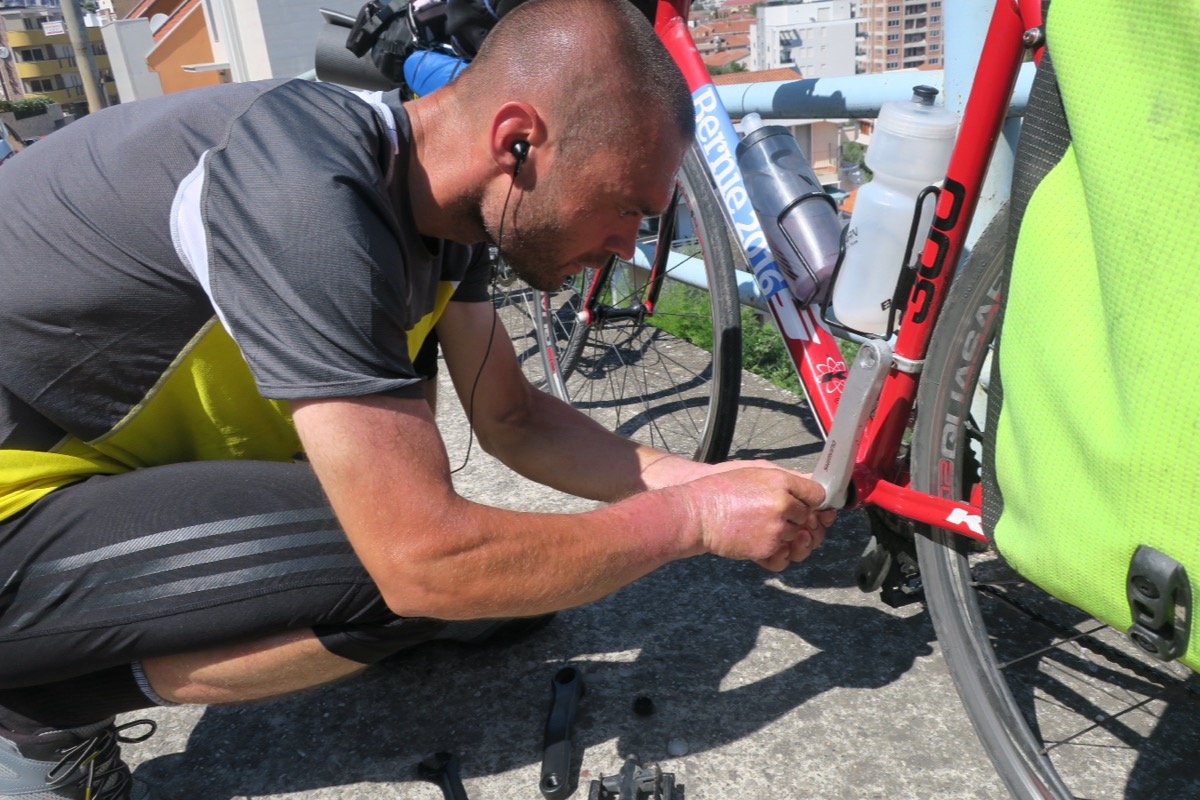 Serbian cycling angel fixing my crankset
I couldn't thank Milan enough and we cycled together until Sutomore, exchanging some thoughts on cycling and the region. When we reached our destination we wished each other the best in our journeys. He was off to meet a friend and I was dying to jump in to the sea.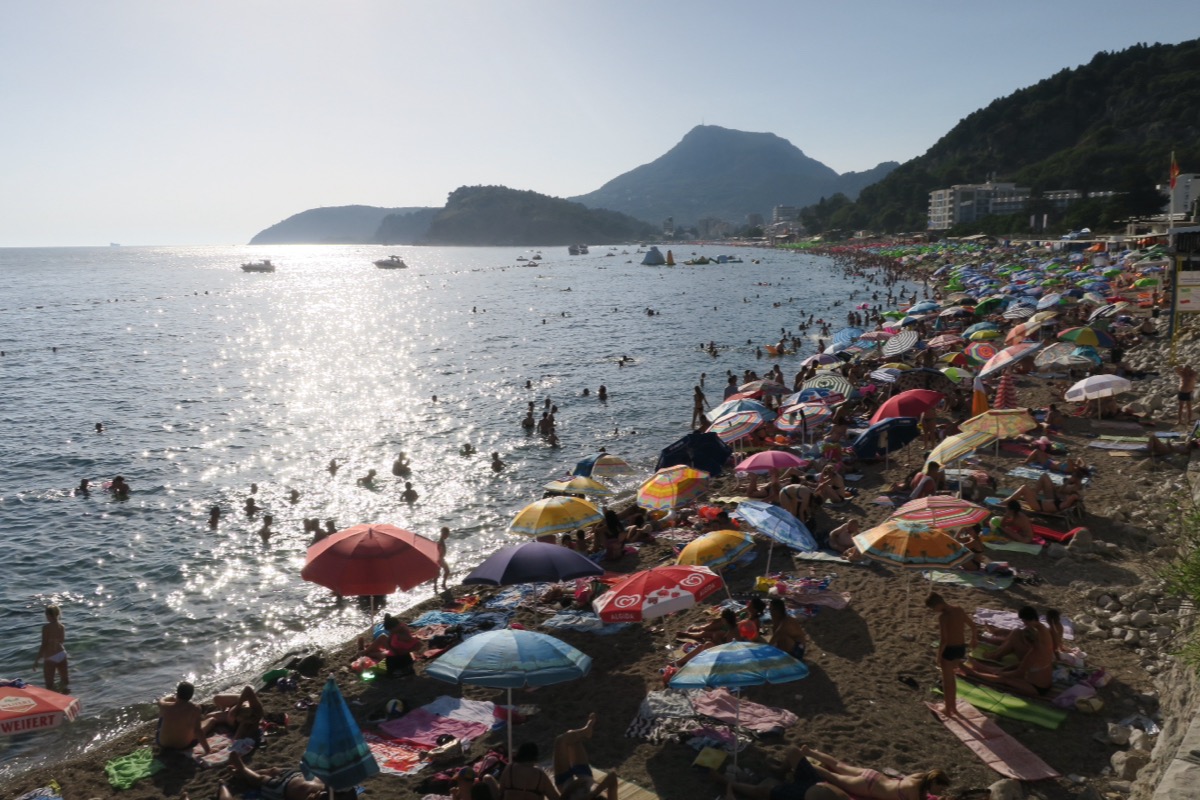 Busy busy beach
After a quick dip the next order of business was finding my lodging. I was renting a room through booking.com and the address seemed a bit vague. I arrived at the Google pin and didn't see a sign confirming the name I was looking for. I asked a woman on the street if she recognized the address. From what I gathered between our traded bits of English and Montenegrin she did not, but she offered to call the number. A few minutes later she was walking me up on the street. Then she motioned for me to follow another older woman who finally led me to my hosts for the night. It was a very neighborly hand off I had just been a part of.
The room I rented was lovely made only lovelier by the family who owned it. Husband and wife lived part time in Chicago and part time here in Montenegro where they are originally from. There daughter Sladana was raised in the states and we had fun comparing and contrasting the Balkans and the US. The place had a big open terrace with kiwi plants dangling overhead and a view of the sea. I soon met another Serbian staying in the room next to mine (named Milos) and together with Sladana we went out to see Sutomore at night. We talked about life and travel and the Balkans. We rounded out the night with a stroll down the board walk and a nutella filled crepe. It had been a great day in Montenegro.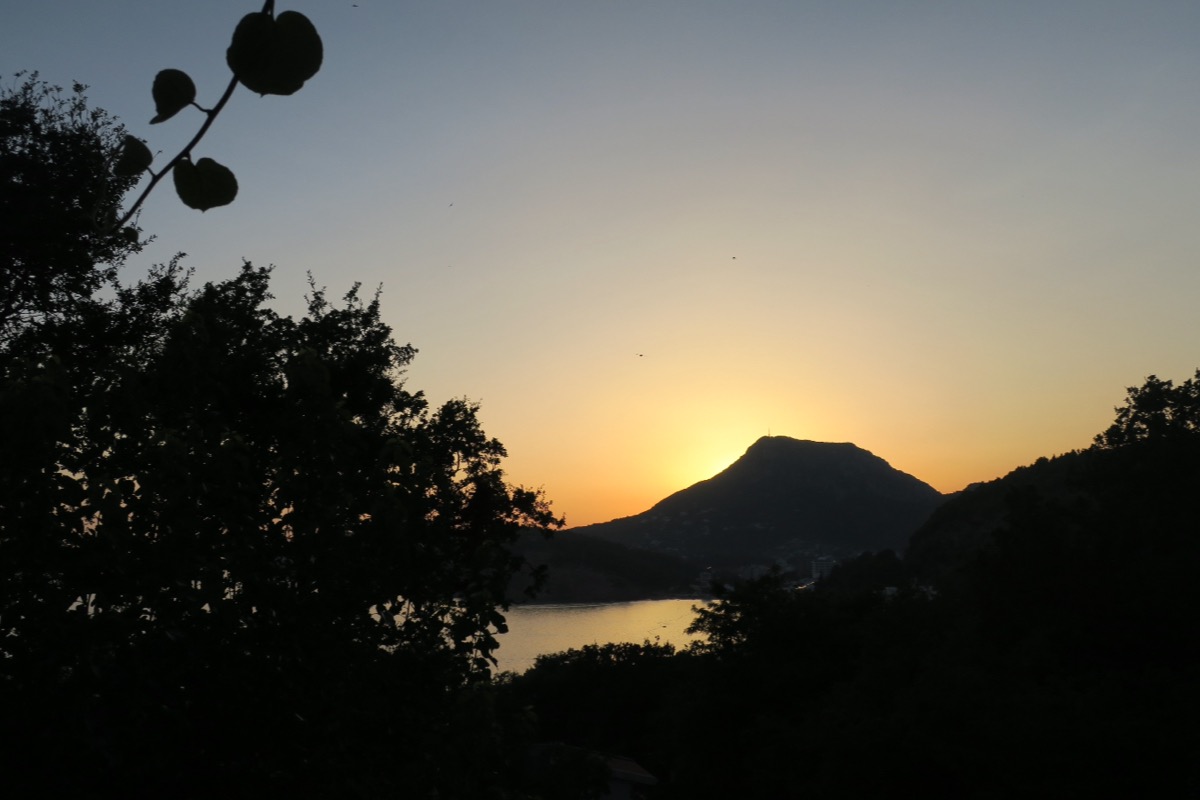 The sun sets over Sutomore
Total miles so far: 2,080