Day 55 Parting Ways in Ohio
Having been alerted of a family emergency the day prior I was unable to sleep at all. After weighing my options I decided to fly to San Diego, CA for two days. Jess, the supportive friend she is, encouraged me to make the trip. She assured me she would occupy herself somehow in Ohio. We left our camping spot next to the cemetery in Camden, MI at 6:45am and cycled towards Toledo, OH.
We cycled East on Camden Rd through farms in the crisp morning air. We enjoyed the fanciful Amish farms we passed throughout the morning. Large powerful draft horses grazed aside historic farm houses. Dainty ponies tethered alongside peripheral fences cropped happily on overgrown weeds – Amish weed wackers.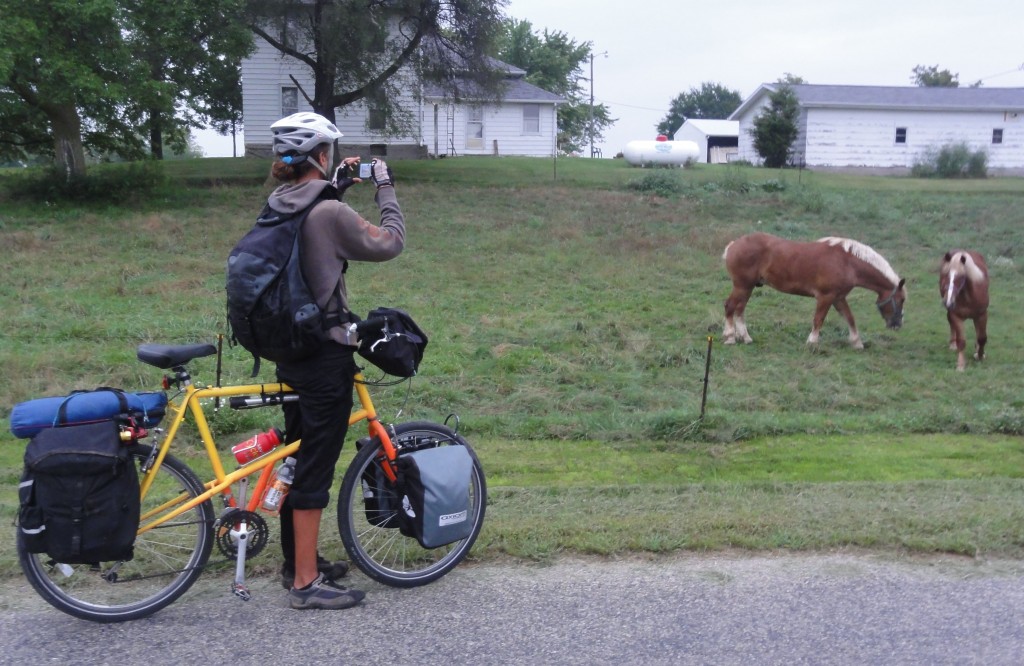 Forever enamored by equines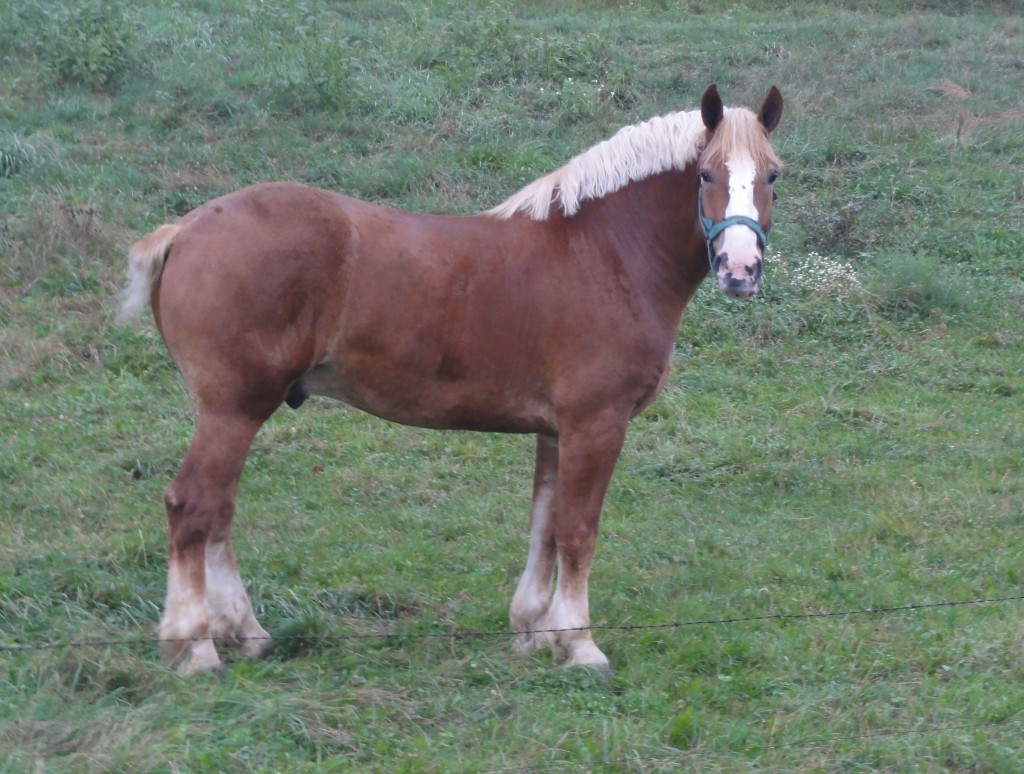 A curious Belgian draft horse
As we cycled by an Amish farm a little boy atop a wiry brown pony trotted up to us. Riding bareback the boy maneuvered his pony skillfully alongside Jess; it's eyes wide with uncertainty about the bikes. "Hello" he piped up cheerfully "My grandma died today and we are going to the funeral" the boy said matter of factly then cantered off to continue with his morning chores. We both had to laugh at his honesty and candor.
The day before we had cycled across the border from Indiana into Michigan. There was never a "Welcome to Michigan!" sign or any signal that we had crossed into a new state as we had taken tiny country roads. Today however we were pleased to be formally welcomed into Ohio.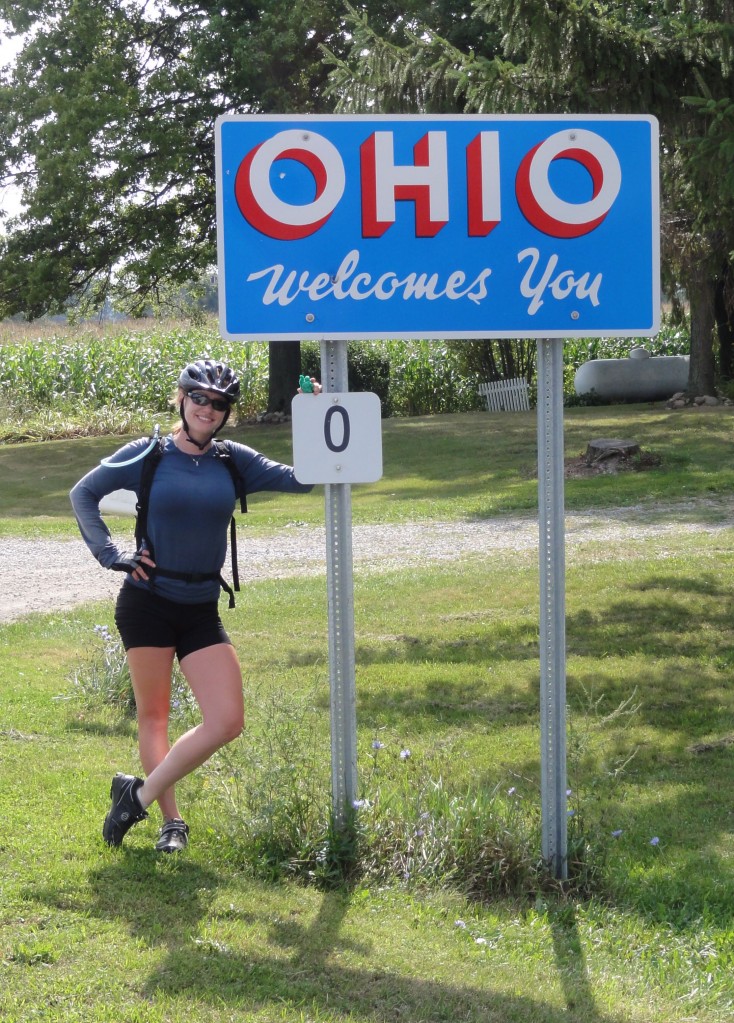 State #11 of the trip!
Assumptions can be dangerous… I wonder if living in Assumption is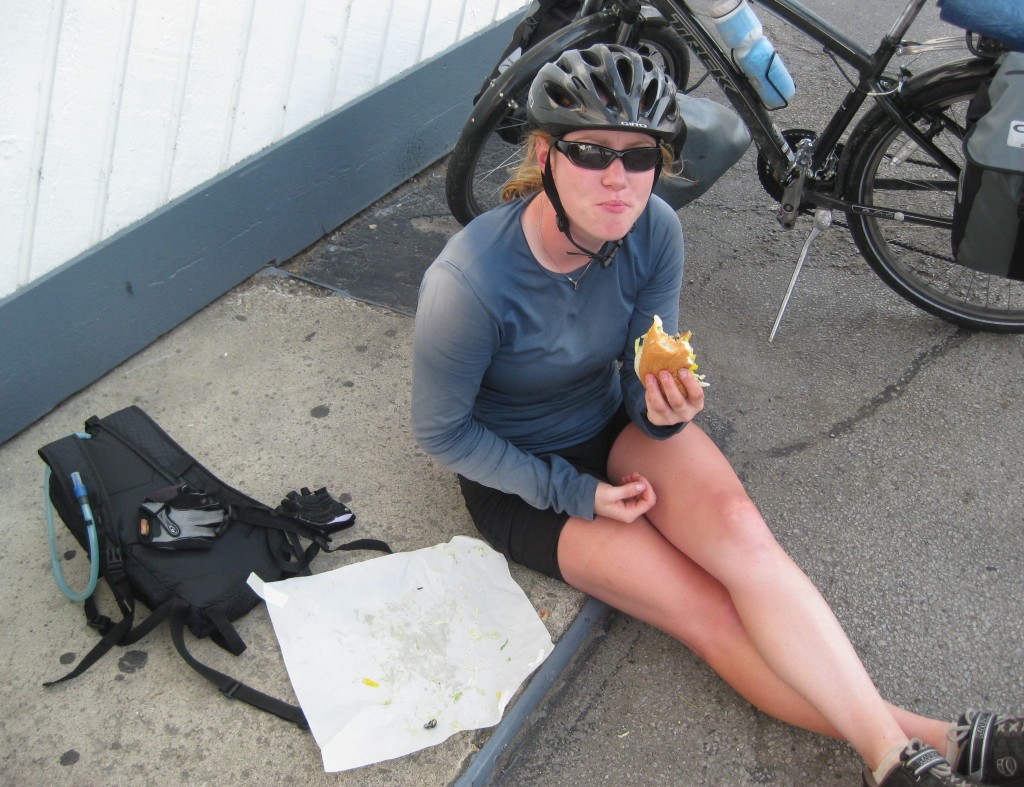 Urban picnicking in Lyons, OH
As I'm sure I've mentioned before in this blog; we eat a lot. The amount of calories we burn means that we are constantly consuming something. We stop to make sandwiches, eat power bars and snack on trail mix regularly throughout our day. We try to make the best of opportunities for calorie-dense foods and environments to stop, relax and eat. Sometimes that means a picnic table under a shading tree, and sometimes that means sitting on a curb and people-watching while scarfing down a sub.
Before we knew it Jess and I had reached the intersection where we would be parting ways. I would be cycling South into the Toledo Airport and Jess would be continuing East towards Toledo. We pulled off the road and began an exchange of goods. I gave Jess the maps, gear and food she would need during my absence. She traded me for anything she was carrying that she wouldn't use over the following two days.
It was a strange new sensation cycling in nearly opposite directions. After all, Jess and I had spent the past 55 days constantly around one another. I threw one last glance over my shoulder at Jess before she cycled behind a grove of trees and out of sight. As I zoomed towards the airport, my energy fully invested in getting to my destination, I thought of how difficult it would be to embark on such a trip alone. To not have the laughter and support of that other person who knows your aches and saddle sores and fully understands your perspective. Just having another person to bounce ideas off of is invaluable.
I arrived at the Toledo Airport and found Matt; the man in charge of airport parking. I had called him earlier that morning and inquired about their bicycle parking policy. He hesitated for a moment in thought "well, we don't really have a bike rack. I may be able to squeeze it in back of my office." I cycled over to the parking pay booths and found Matt who readily led me to a back storage closet which my bike fit into snugly when positioned vertically. I thanked Matt for letting me stash my bike free of charge and hurried off to check in.
Meanwhile
Deciding she was going to use the two days off cycling to rest and run a few short errands Jess made arrangements to stay in a hotel just outside of Toledo rather than camp alongside Lake Eerie. As she was making her way to Perrysburg her attention was caught by a man waving wildly from a recumbent bicycle. "Where are you heading?" The man who introduced himself as Roy inquired. After Jess filled him in on our journey and my last minute diversion he insisted that Jess stay with him and his wife Terri. Jess thanked him profusely but continued on her way to the hotel, promising that we would see them again before leaving the area.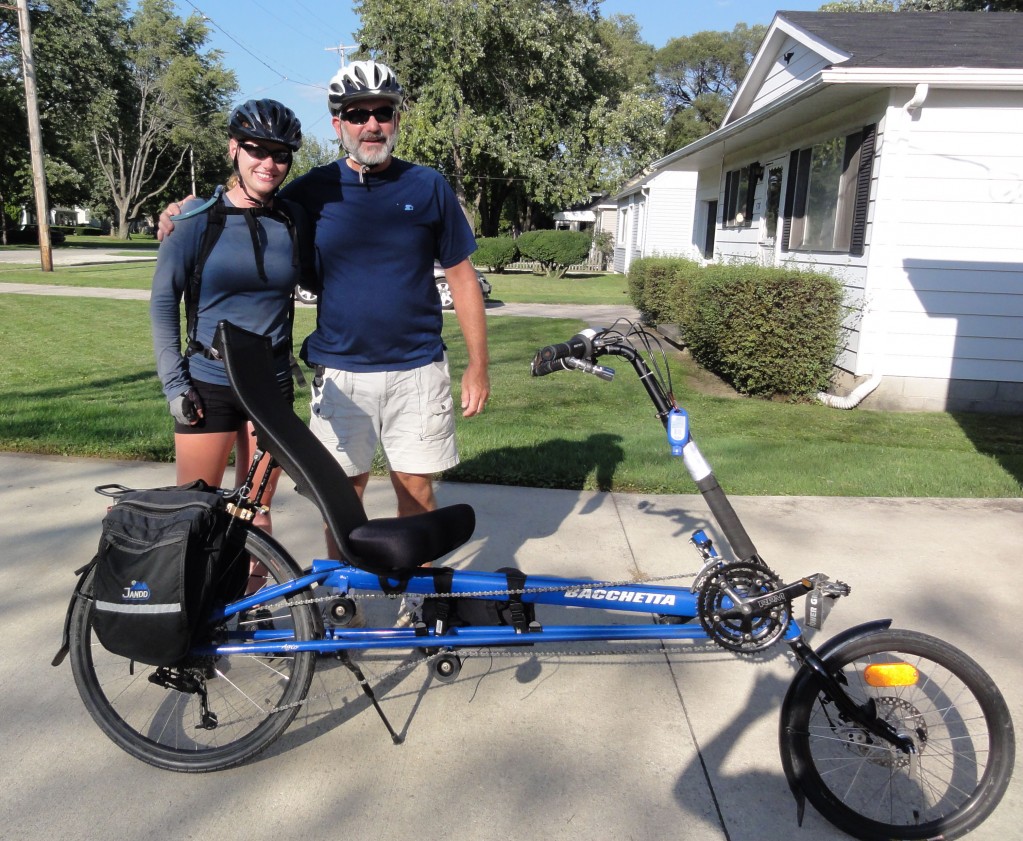 Jess and Roy with Roy's recumbent bike
Meanwhile
I checked in with the Delta desk and made my way towards the security check-point. I had left all my panniers on my bike just cramming a few essential articles of clothing and a book in my backpack. I'm not a fan of checking bags on planes unless I absolutely have to. I sauntered up to the security line and set my backpack on the conveyor belt. As I was removing my shoes, the thought struck me, they probably aren't used to seeing metal clips in the bottom of cycling shoes. I turned to the security personnel. "Just so you know these aren't weapons these are for cycling." I turned my shoes over exposing the soles and inset metal pieces.The man looked at the shoes, then me, then back at the shoes. "Ok."
The Toledo Airport was small and easy to maneuver. I walked through the airport still in my padded cycling shorts my cycling shoes clicking with decisive rhythm on the smooth gray flooring. My mind was reeling.