Start point: Sainte-Maxime, France
End point: Nice, France
Miles: 52
Key words: UFO, donkeys, dirt, bike-hiking, tattoos, air show
We hopped on our bikes and left our picture perfect hotel in Sainte-Maxime. We gushed to our Danish hostess Fanny that this was our absolute favorite lodging of the trip and she seemed pleased. We rolled down the street and wove our way through heavy school traffic of lunch box laden elementary schoolers and their watchful parents. We then made our way to the seawall to snap one more picture with the Mediterranean before cycling inland towards Nice.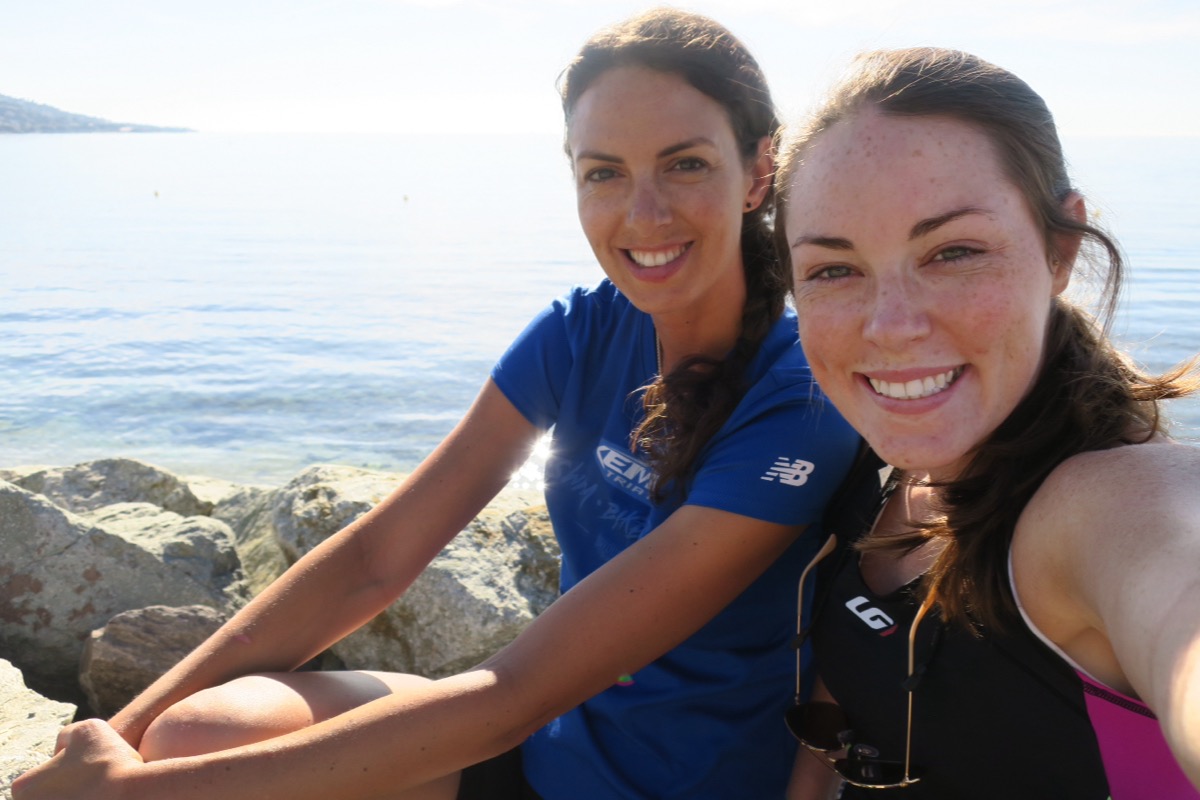 Cycling Sisters and the Mediterranean
A friendly bike path carried us from Sainte-Maxime towards the historic city of Frejus. The bike path ended and we carried on down a quiet country road that was shady and nearly car free. It was just us and our thoughts. "I hope this carries us all the way to Nice!" I proclaimed. I should have known I was jinxing us.
We were cycling along this quiet road when from above we heard a sound that was reminiscent of a lawnmower. Brrrrrrp! Brrrrrrrrrp! We looked up to find what appeared to be a go kart with an air boat propeller suspended by a parachute. Any idea what this is?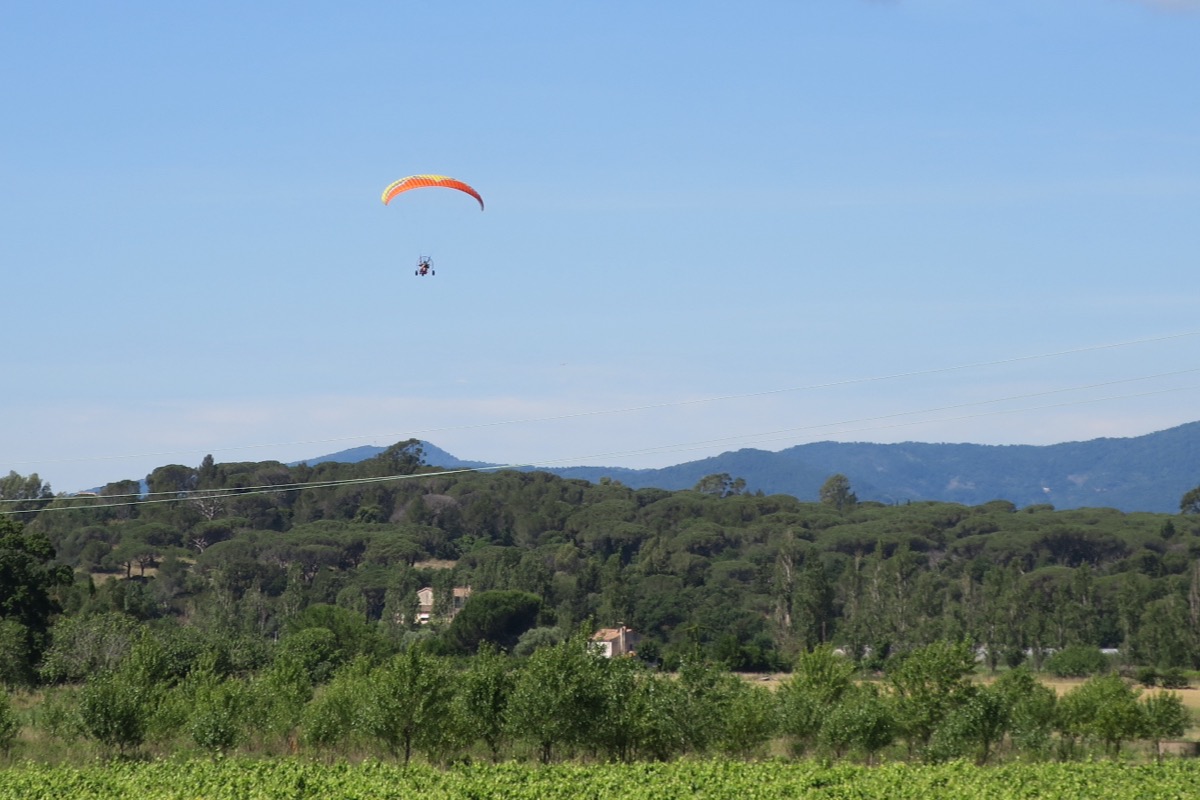 Unidentified flying object
We had cycled by several pastures dotted with donkeys of every color when I finally pulled off the road to make friends with some. They became especially friendly when I started breaking one of my cereal bars into chunks for them. Step one for making new friends: bring food.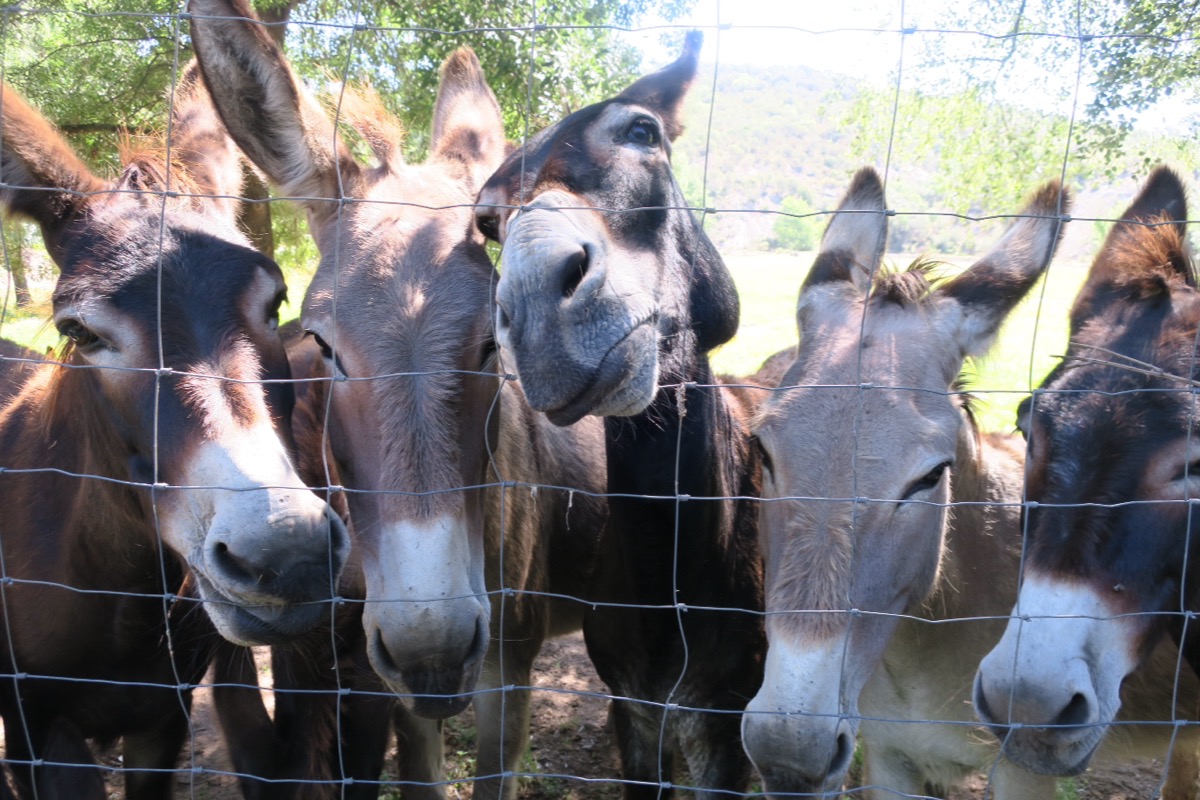 How to make friends and influence donkeys
We were prepared for some climbing this day as our route included some "squiggly" roads, but suddenly our road turned to gravel. Uh-oh. Another one of Google's famous shortcuts. By this point we had developed a very strong aversion to off roading and we studied the map to decide our next move. Google promised a gas station and lake were ahead so we persevered, assuming that where there is a gas station there must also be pavement.
The gas station never materialized and the road turned from gravel to a hot, dry, dirt and gravel mix in the form of unending switchbacks. We checked the map again. Turning back now would mean we had to head either way North or way South, nearly doubling our mileage for the day. Unwilling to turn around we carried on. At least there was a lake if we ran out of water.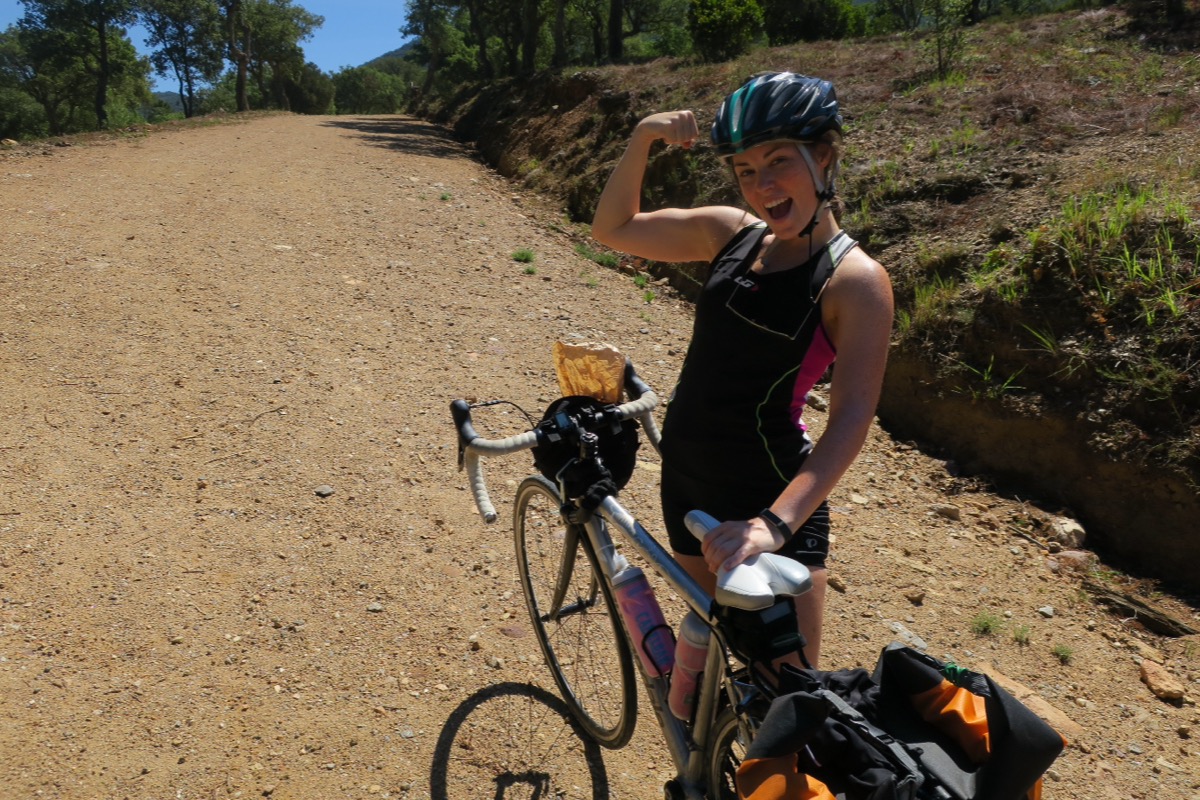 We can do this!
We continued onwards and the inclines increased. We dismounted and pushed our bikes slowly up this arduous terrain. We toiled in the sun on this road for what felt like hours with no signs of life, not even a lonely mountain biker. At some point I spotted a sign indicating these were forest service roads. We realized that we were no longer biking. We were now hiking while pushing our bikes. Or what we aptly named, the hot new leisure activity of "bike-hiking".
These wheels weren't made for hiking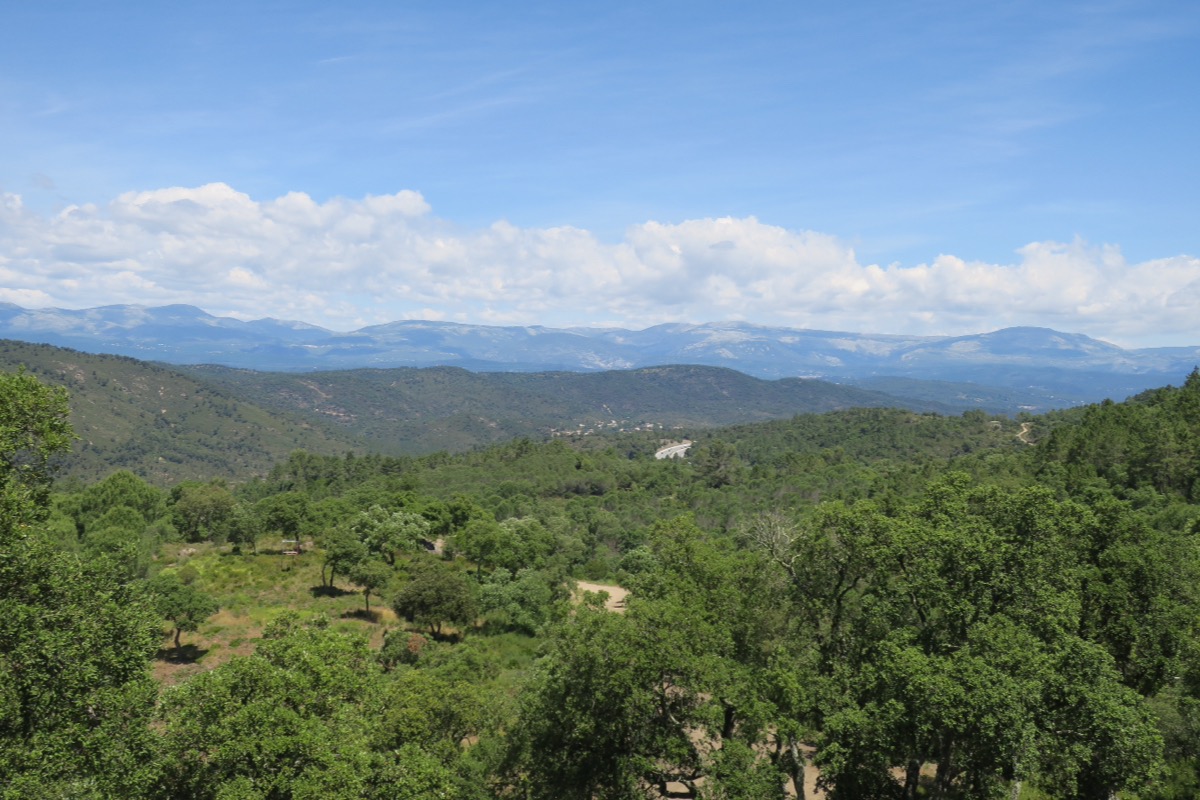 The view was spectacular though
We finally reached the lake which did actually exist. French families were enjoying decadent lunches on picnic tables alongside the lake. We sat down at an empty picnic table to gobble some fruit and nuts, still stunned by the mountain bike-hiking ordeal we had just endured.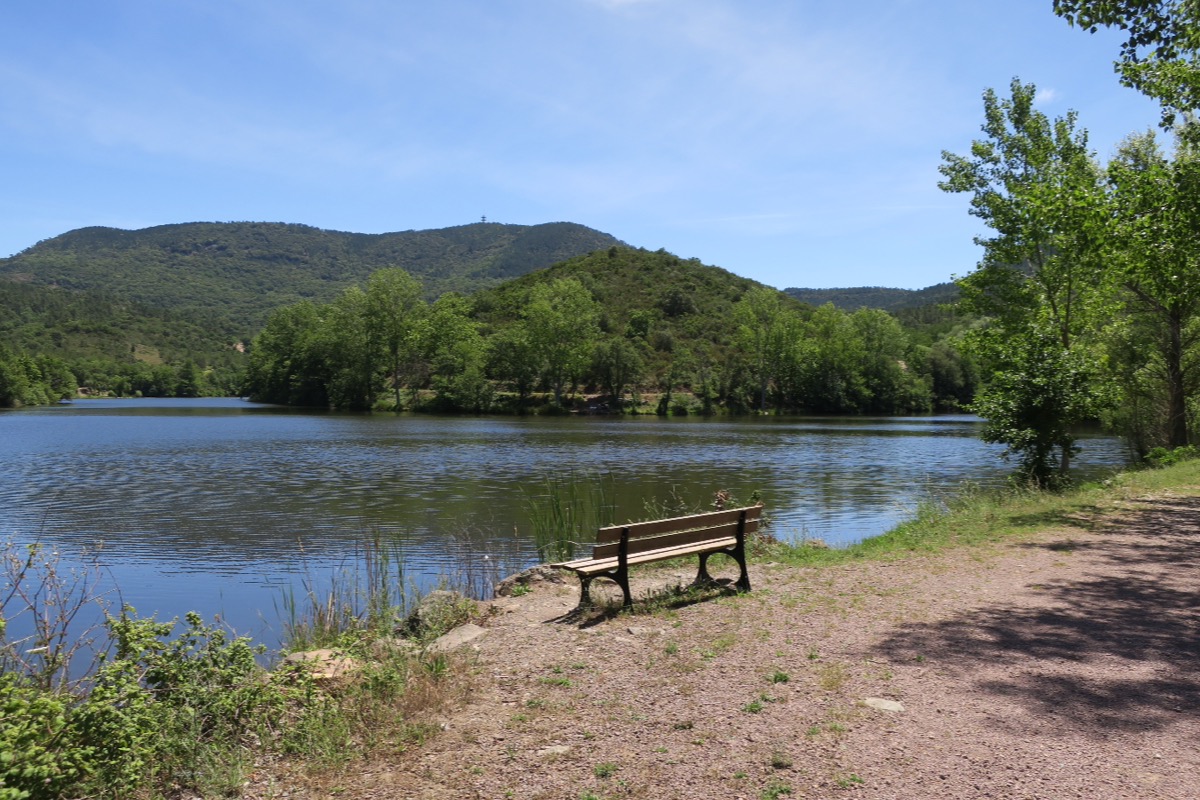 It all looks so peaceful
We cycled for a short stretch around the lake before continuing our bike-hiking antics for another 20 minutes. When we finally reached pavement and a real live marked highway I could have kissed it. I would have if there hadn't been so much traffic.
A random word on my favorite tattoos. I don't have any real tattoos, but if I did get one it would likely replicate the daily "chain art" I receive when cycling. Somehow after a day of cycling I always have at least one artistic print. I've started photographing the best ones this trip in order to make a collage.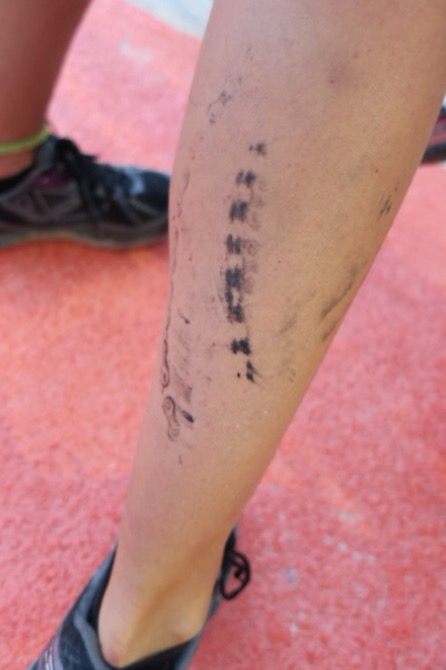 My favorite tattoos
Shortly before Cannes we reunited with the sea. The deep blue waters of the Côte d'Azur and the glistening shops of Cannes seemed worlds away from the raw mountains we had crossed just hours earlier.

Reunited with the Mediterranean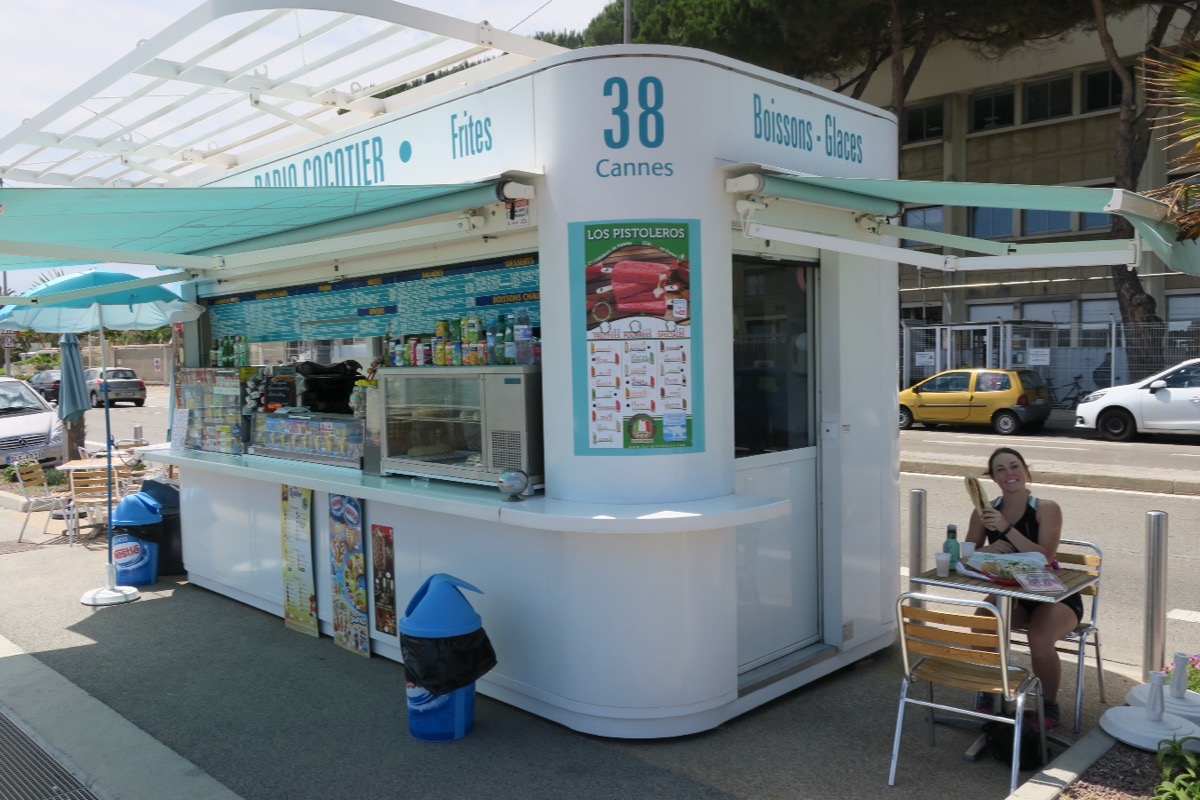 A quick bite in Cannes
We were cycling through Antibes on our home stretch to Nice when a woman perched on a motorbike motioned to us. "Hello! Where are you going?" She chirped across two lanes of traffic and gestured to our bags. "To Greece!" We announced. "Ah, to Nice!" she nodded approvingly. "No, to GREECE!" We chimed together. Her eyes widened and she gasped, motioning to our luggage again. "With just that?! Wonderful! Bon courage!" And our lights turned green and we were off. I wish we had been able to chat with this energetic woman longer.
As we neared Nice we expected to cycle by its airport which lies along the sea, but we soon realized there were more planes using the airspace than usual. Some sort of air show was taking place, and we paused to take it all in.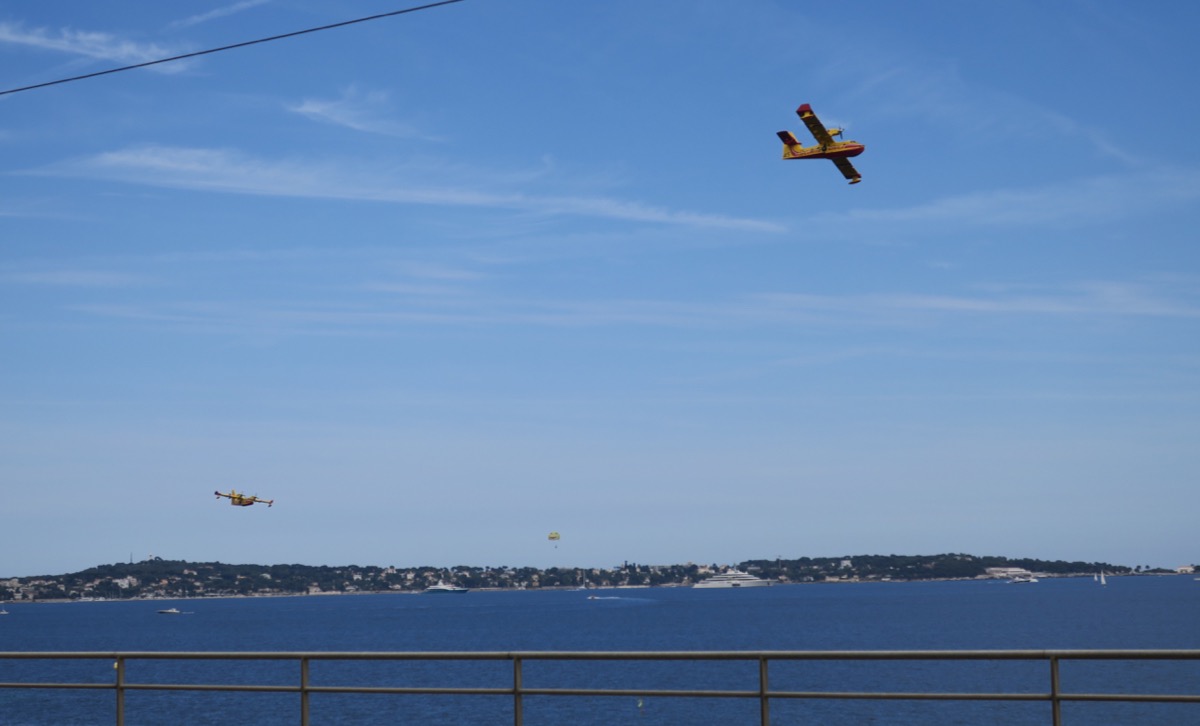 Air show in Nice
Total miles so far: 430