We broke down our camp with vigor as we were excited for the day ahead. We were meeting Jess' friend Jessie for breakfast and then we would be "hitting the slopes" in order to cross the continental divide.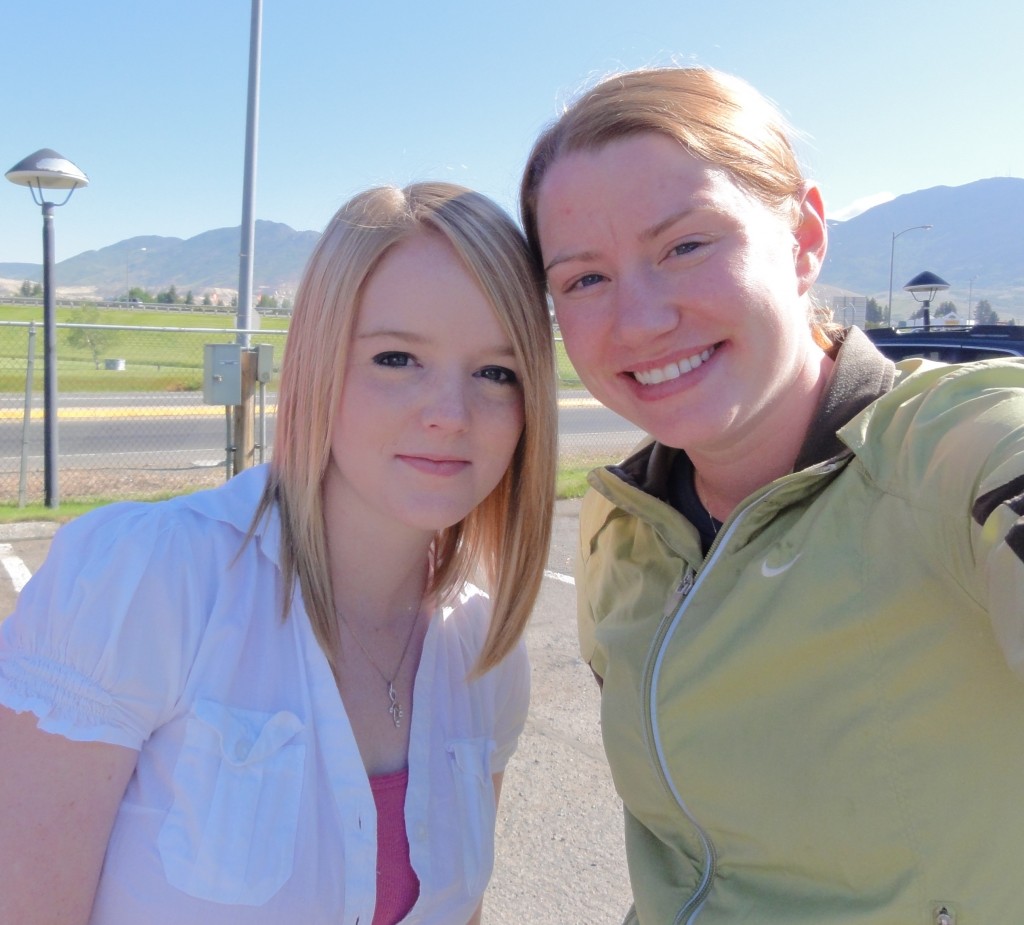 Jessie & Jess
We joined Jessie for breakfast at the Montana Club. Going out for breakfast is a special treat, because it is a great way to supplement our diet with eggs. Eggs are one of the few things we haven't tried to cook over a fire. Although at this point we have successfully made garlic mashed potatoes, macaroni, soup, the fish we caught ourselves, and pasta with red sauce to name a few. Jess and I keep joking that we are going to bake a cake over the hot coals one of these days.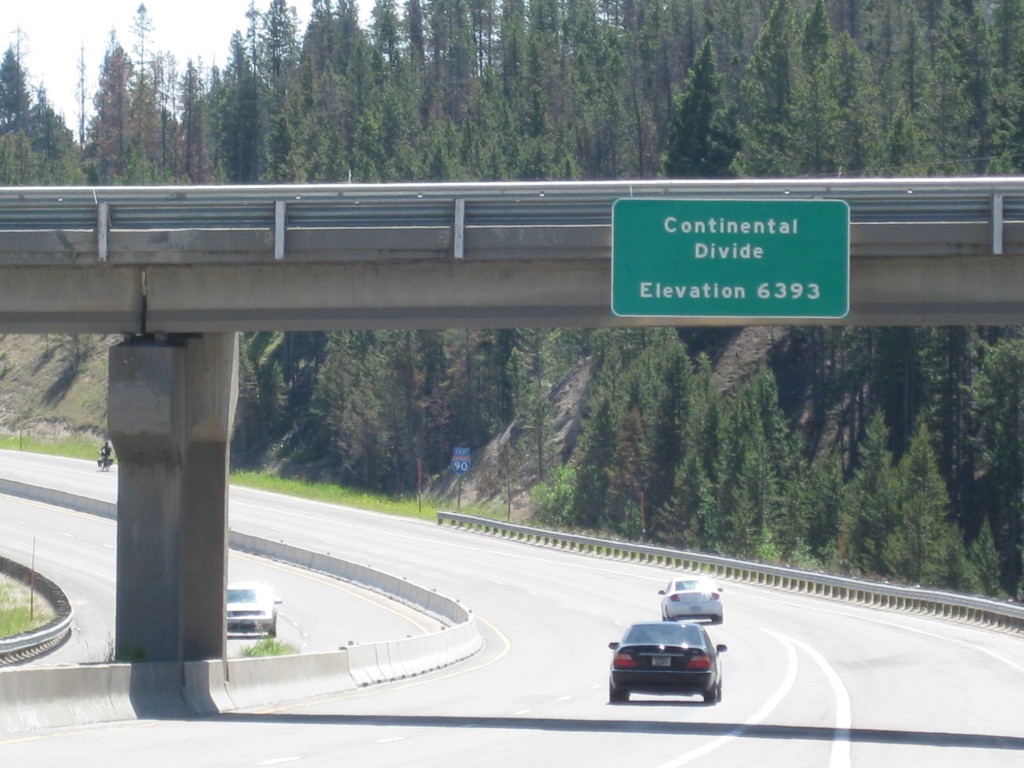 It was a pretty arduous climb as we rose into the clouds above Butte. We cycled to the crest of yet another incline and there it was, the green sign we had been yearning for since breakfast: "Continental Divide Elevation 6393." We shouted for joy, pumped our fists in the air and happily reaped our reward of coasting for miles down the opposite side.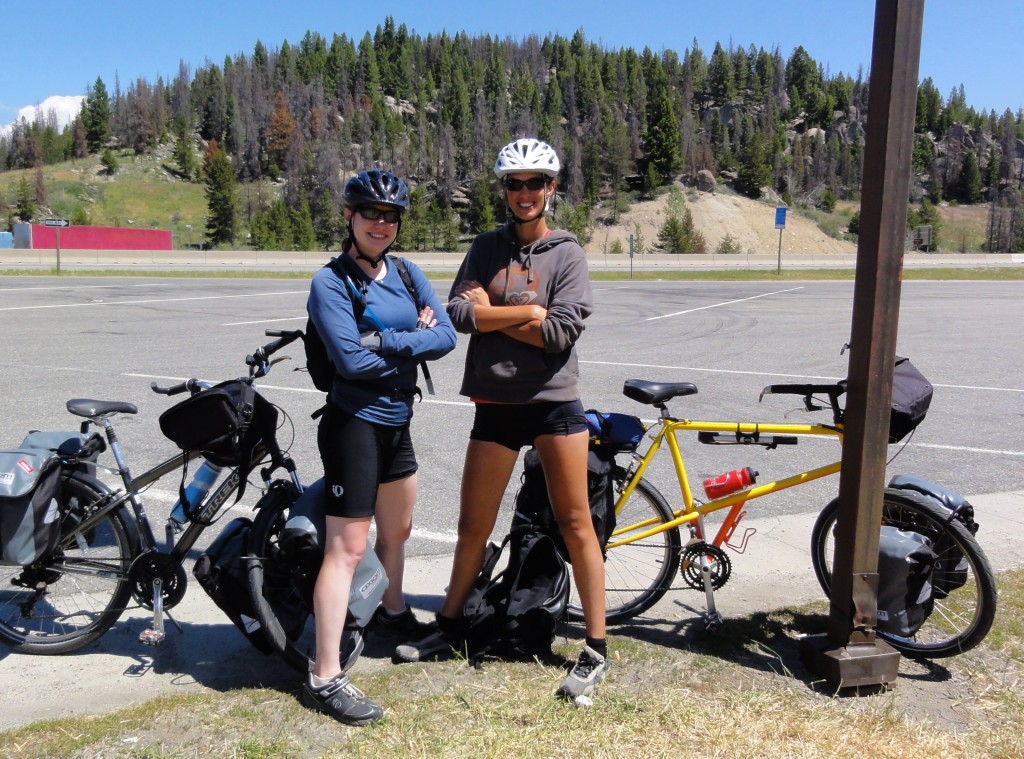 Success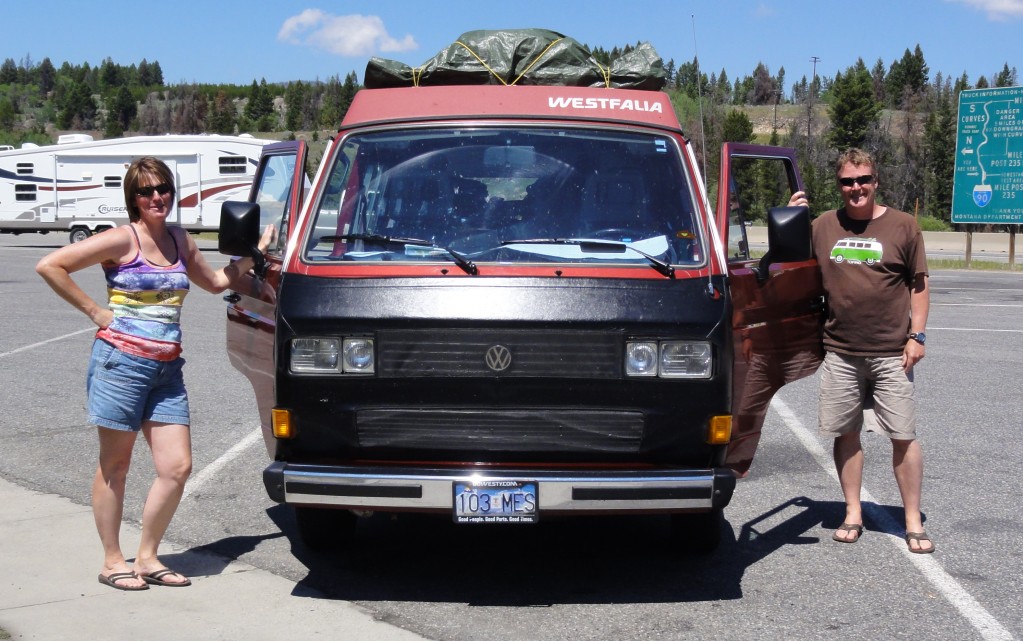 Laura, Ross & Co.
We paused for peanut butter and jelly sandwiches (a definite staple of the trip) and began chatting with Laura and Ross, a Canadian couple on route to Yellowstone with their kids. We exchanged travel stories and spoke of our dislike of inclines, apparently their Volkswagen took it's time over hills as well. We hoped we would run into them again in Yellowstone.

In awe in the big sky state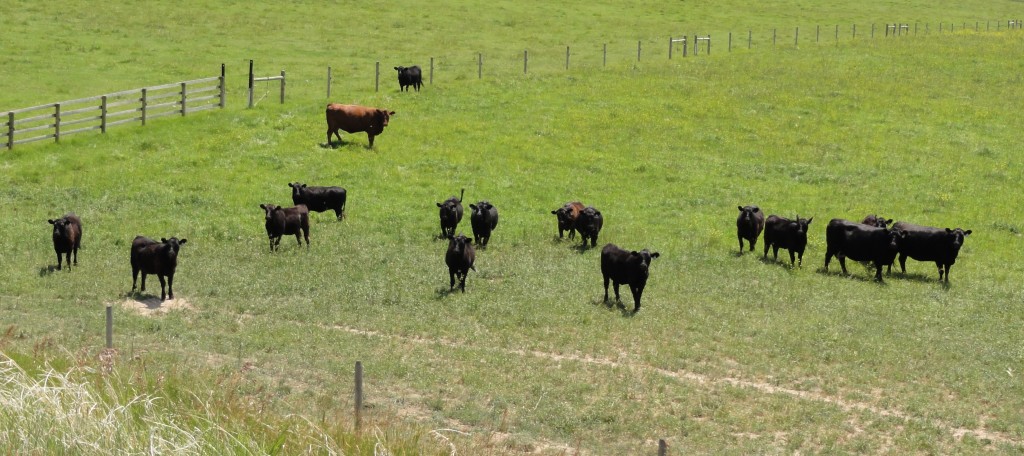 Our Audience
So far without exception cows peacefully grazing alongside the road stop, raise their heads, and fall under some sort of trance while we cycle by. This phenomena is not something that occurs with the countless cars and semi trucks that pass as if these large loud vehicles blend into the roadside milieu. But when two girls on bikes slowly pedal by look out! Every  head raises and for a moment even chewing their cud is put on hold. I wish I knew what was going on in their heads.

Foreboding Skies
We stopped at an A&W in Whitehall, MT for an icy treat and to spend some time online. After relaxing for more than an hour chatting with locals about the area and road conditions, we exited the building to find a shift in weather. A gust of wind swept across the parking lot lifting every bit of dirt and debris and carrying them to the South. We hopped on our bicycles and cycled East with a sense of urgency. The sky was turning darker and darker.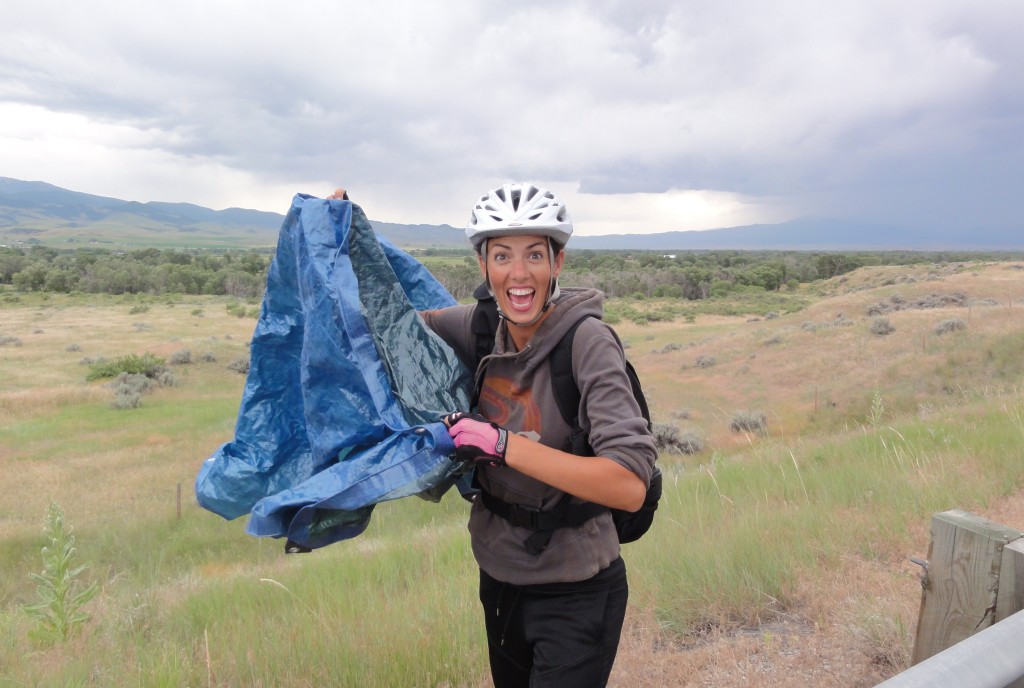 The sky continued to grow dark around us and large jagged bolts of lightning were added to the mix. We were now surrounded by impending darkness except for the little strip of clear sky just ahead. As we pedaled along I grew concerned about the durability of our $30.00 tent. It had been good to us in fair weather, but we hadn't camped in a heavy storm yet. As we sped down the interstate I saw a spot of blue on the other side of the guard rail. "Jess I think I see a tarp! I'm going to check it out." I was elated to find that it was indeed a tarp, a new 4'x8′ tarp that fit perfectly over our tent, in fact. As I carried it back over the guard rail the first large drop of rain splashed on my arm. We cycled on.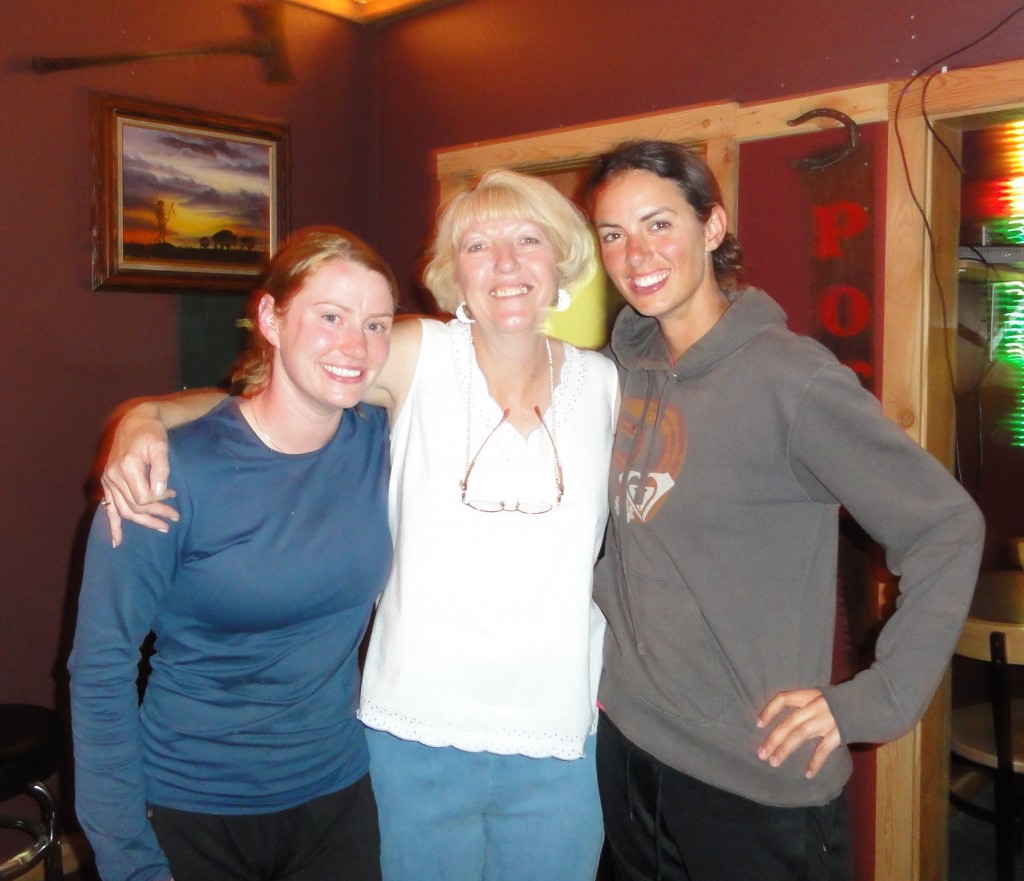 Jess, Jeannie & I
We arrived in Cardwell, MT just before the torrential downpour. We took shelter at the local bar and were taken care of by Jeannie, our bartender extraordinaire!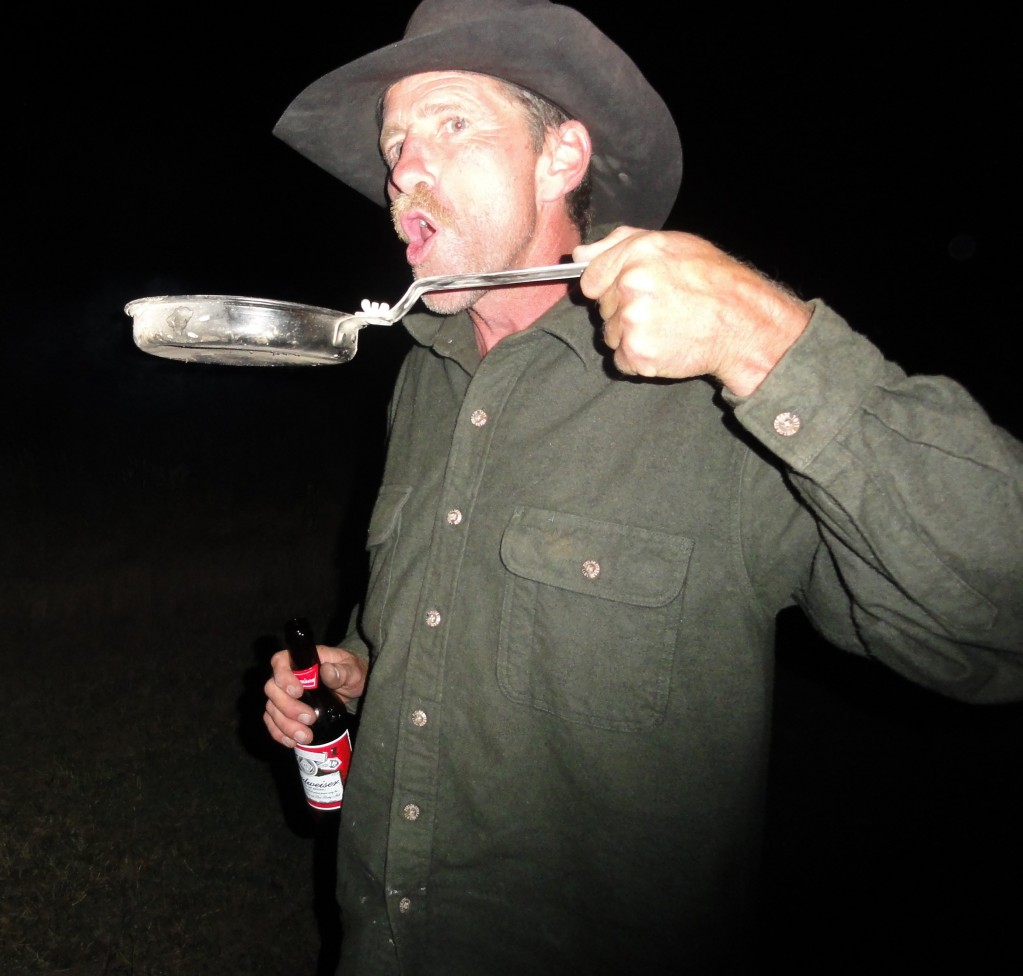 Cowboy Bob "helping" us cook at our camp
While waiting for the storm to pass, we began chatting with Jim and Bob, two locals who take part in cattle drives South of Cardwell. We spent the evening swapping stories and talking about Montana in general. By the end of the evening we had invitations to help with a cattle drive that was happening in two days. We were ecstatic! The idea of trading our bikes for horses for a day was far too appealing an offer to turn down. We fell asleep that night thinking of horses and the beautiful Montana countryside we would be witnessing from the saddle.