Start point: Roma, Italy
End point: Sonnino, Italy
Miles: 58
Key words: cobbleboulders, shade trees, sunscreen, olive groves, linguistic tango, sunset
After two glorious free days in Rome we set off for parts unknown. Yes we do that everyday, but today our destination was the tiny town of Sonnino which we knew nothing about except that it was on our way to Naples, the next destination city on our list.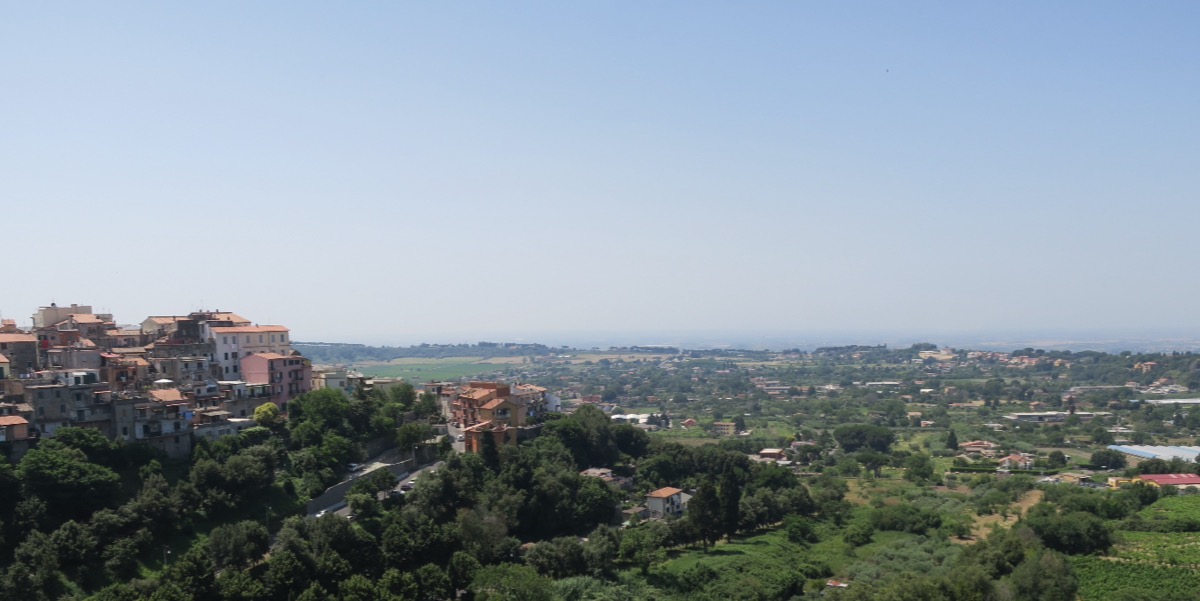 We hadn't realized just how far we'd climbed out of Rome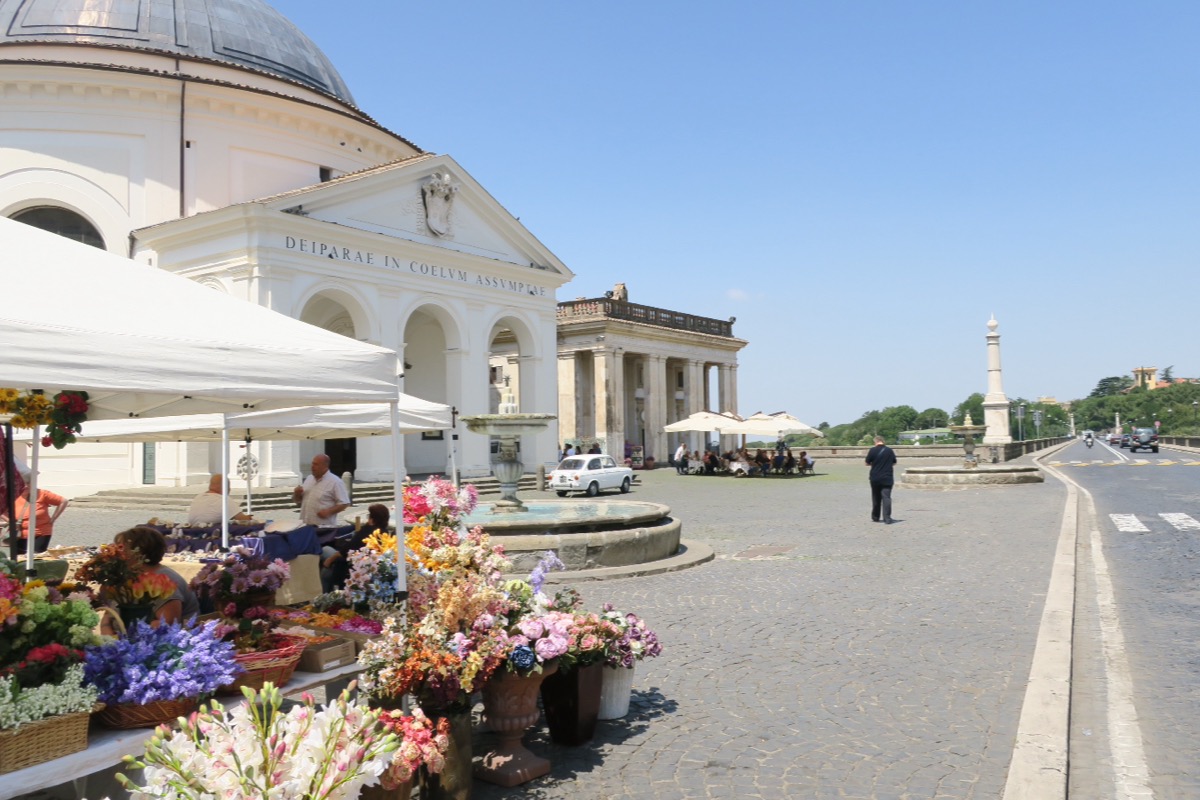 A beautiful moment accented by flowers, a fountain and a place of worship
The day involved some light climbing, which swept us through the small towns we enjoy so much. Our highway had been kind to us, but suddenly we were faced with another Google maps dilemma. The route suggested was a noticeable shortcut, but when we arrived at the "road" we were faced with not just cobblestones but cobbleboulders. It was like cycling through perpectual speed bumps for 50 meters. We were incredibly grateful when we reunited with pavement.
Cobbleboulders, our favorite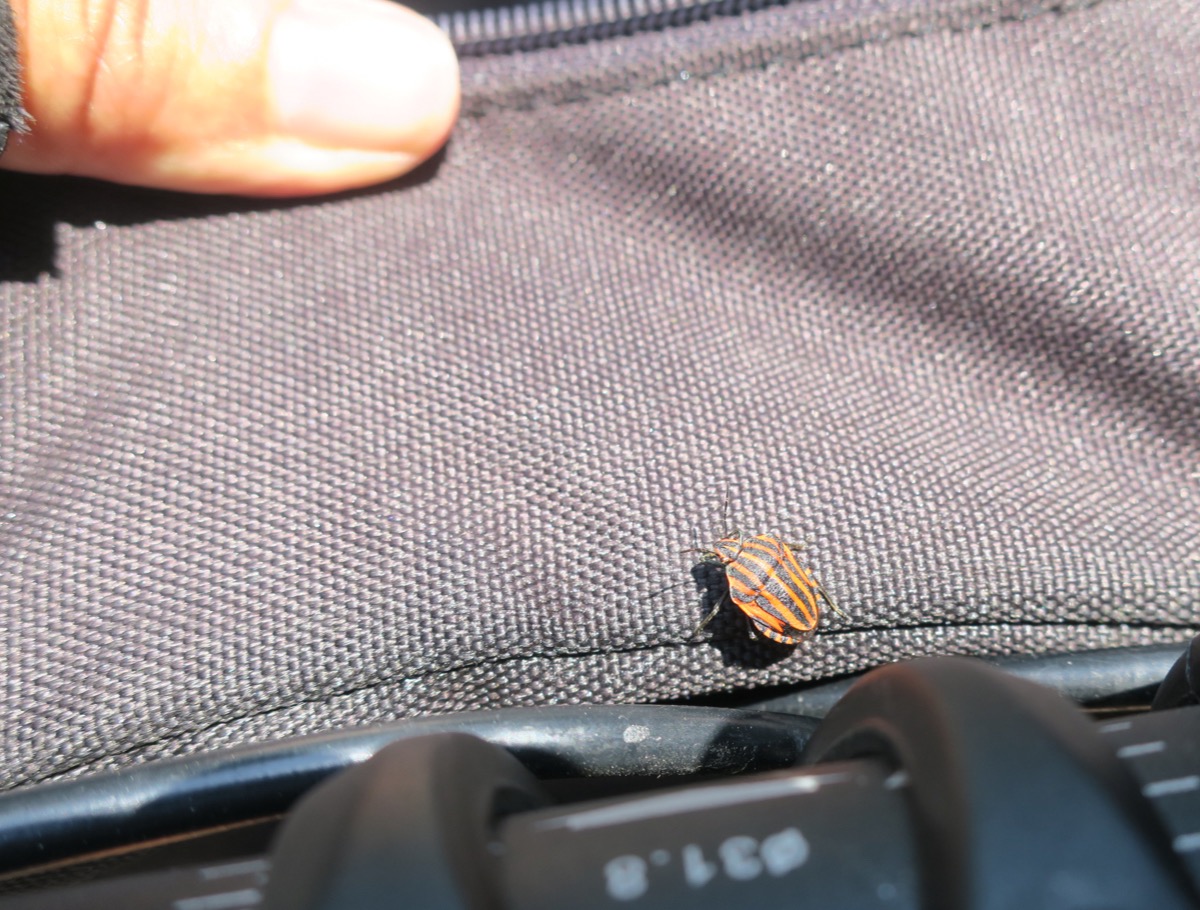 A little stow away on my handlebar bag
The highway we would stay on until the end of the day was very flat, but also very hot and shadeless. These scenarios can be some of the toughest mentally to power through. Thankfully we both have good music to keep us going. Even more thankfully, our highway was suddenly lined with large trees throwing ample shade upon us. We were amazed to find that these trees lined our highway for at least 10 miles before we turned off of it. Cycling under the strong branches of these trees I was reminded of the Greek proverb "A society grows great when old men plant trees whose shade they know they shall never sit in." Thank you whoever planted these vast rows so long ago!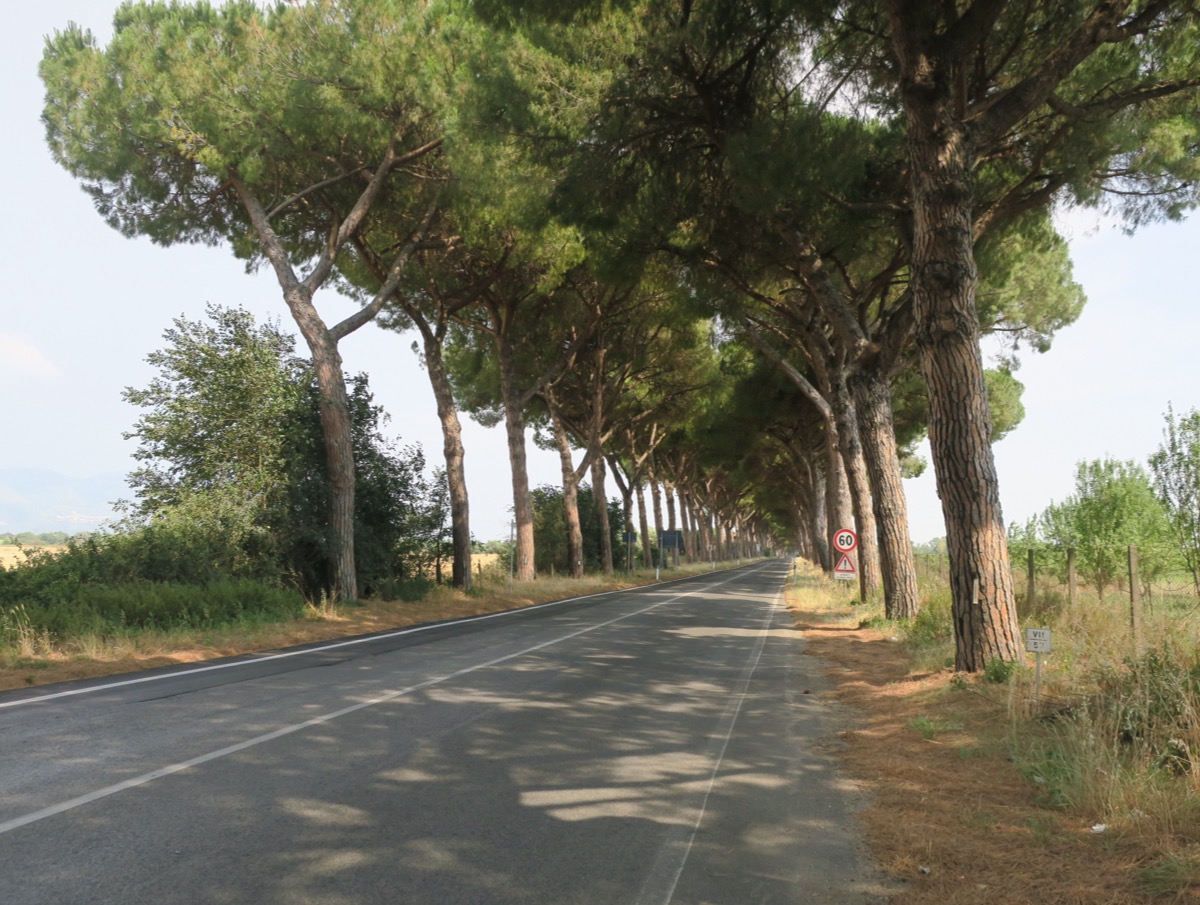 Our beloved shade giving highway companions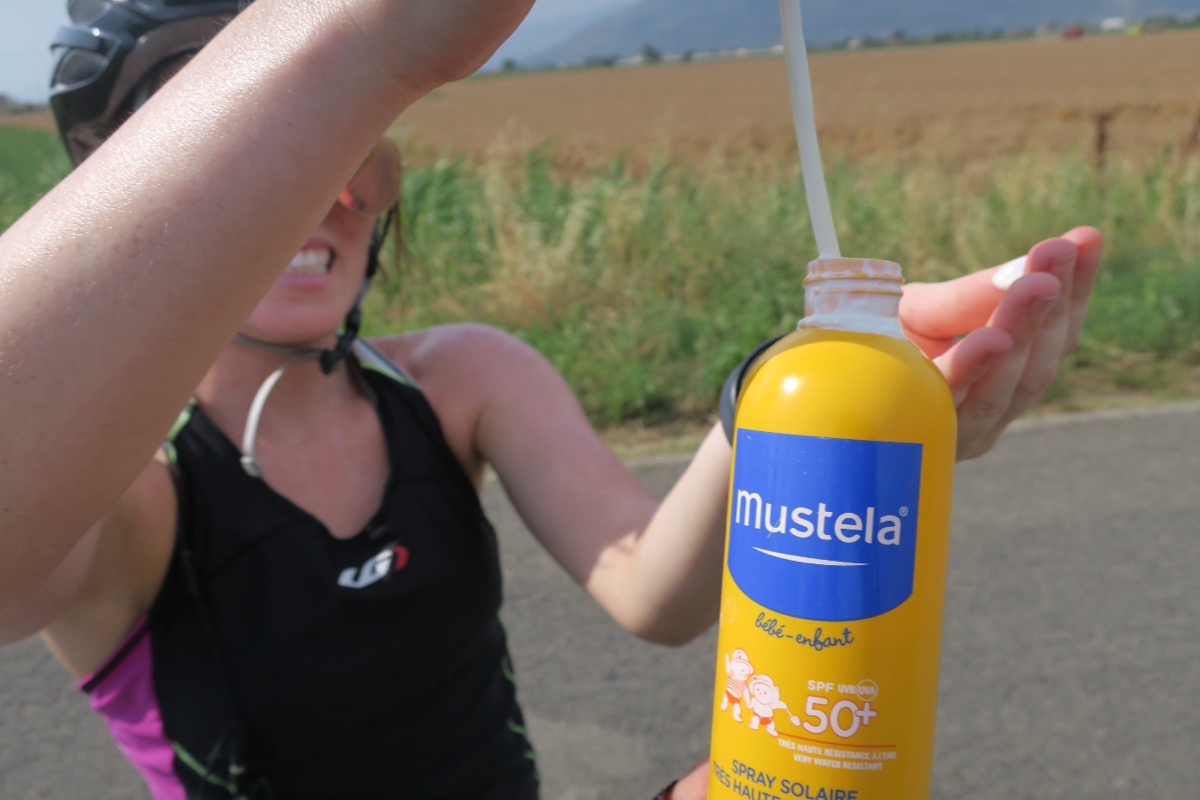 Bita liberally applying sunscreen once we left our shade trees
We neared the small town of Sonnino enthusiastic about arriving early and getting dinner. Our place didn't look far on a map, afterall. Just a few windy roads and we would be there. As we approached the general area of our lodging we realized we were at the base of a mountain. "I hope we're not staying up there" Bita joked, pointing at a white speck, wedged into the side of a mountain. 30 minutes later we were following a steep, windy road up through olive groves. We were sweating buckets and there were zero signs of a BnB. We trudged on until we were on a gravel road, then in the middle of an olive grove. Part of me wanted to turn back when we reached a rusty gate. It wasn't locked so we let ourselves past it, with very little faith this was going to turn out well. Then suddenly we met up with a paved road. We clambered back onto our bikes and slowly climbed the steep switchbacks until the white speck we saw earlier appeared around a bend as a large stone house. Then we saw the comforting BnB sign and let out a yelp. We were home!
We cycled up the driveway (also steep) and saw a tiny older woman walk out into the stone terrace. We smiled. She squinted. We smiled again. She looked like she was seeing a couple sweaty ghosts. Not knowing much Italiano I belted out "buonasera! Camera!" (Good evening! room!) And she suddenly realized we weren't lost psychopaths, we had cycled up the mountain for her BnB.
Her name was Vincenza, and she didn't speak a single word of English. We did a linguistic tango for a while as we sorted out room details between our fragmented Italian and Google translator on her phone. Another BnB guest who spoke a little English joined in on the fun, and before we knew it, we had worked out a deal for dinner. To save us cycling the white knuckle trip down the mountain and back for dinner she would prepare us a simple spaghetti for €5 each. Sold! She showed us our room and bustled around pointing things out while rattling away in Italian. We thought she was at once crazy and endearing. I'm sure she thought the same of us.
Dinner turned out to be a multi course affair between the three of us, with spaghetti, bread, caprese salad, artichokes, and fruit making the rounds around the table. She pulled a bottle of red wine from the fridge and filled our glasses gleefully. When we thought we would burst, she reappeared with dessert wine and an array of pastries that she insisted we eat in entirety. Overfed but incredibly appreciative we sat on the terrace and watched the sky change hues into night. It was one hell of a climb, but it was well worth the sunset and a heart felt evening with Vincenza.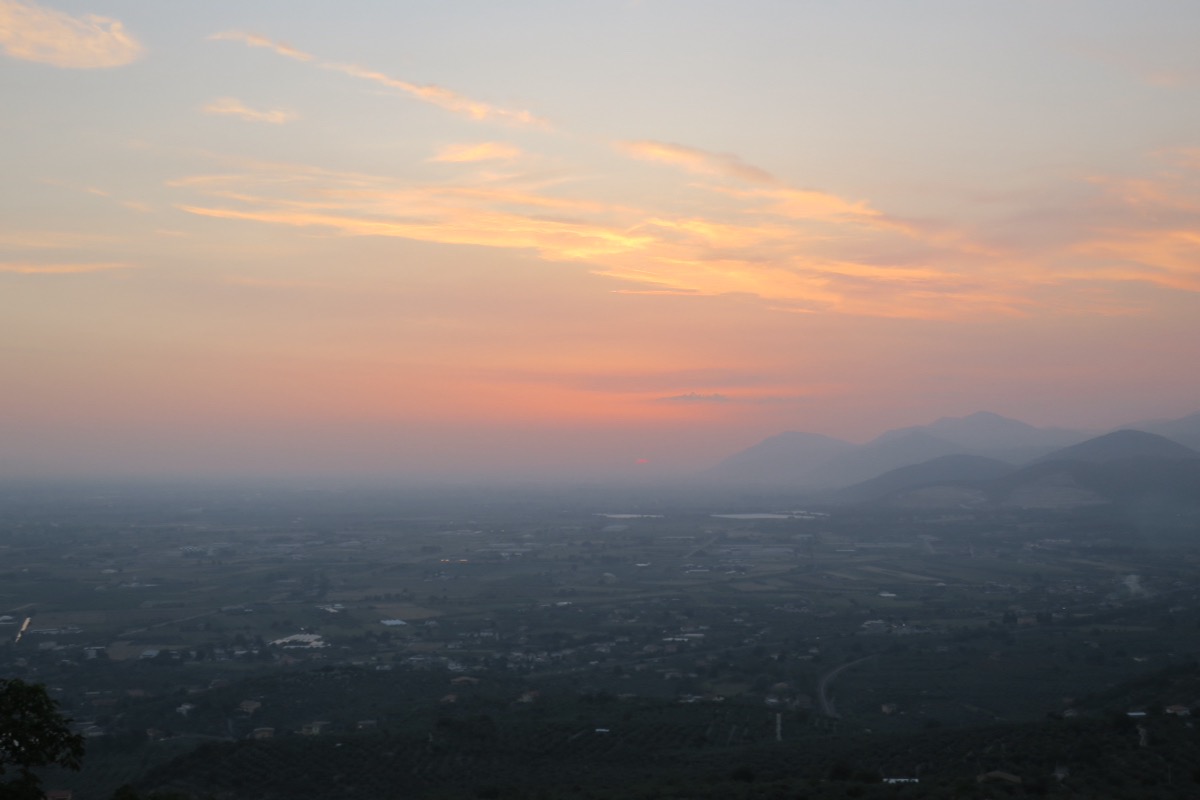 Sunset looking down on Sonnino
Total miles so far: 995