Day 25 Old Faithful and Joe
We left Yellowstone's Madison campground early that morning disheartened that Vice President Joe Biden was speaking less than 200 yards from our campsite and we weren't invited. To our combined chagrin the event was not open to the public and there wasn't a nearby kinko's to help us whip up batch of press passes. Nonetheless, we were excited to explore the wonders of Yellowstone for the day.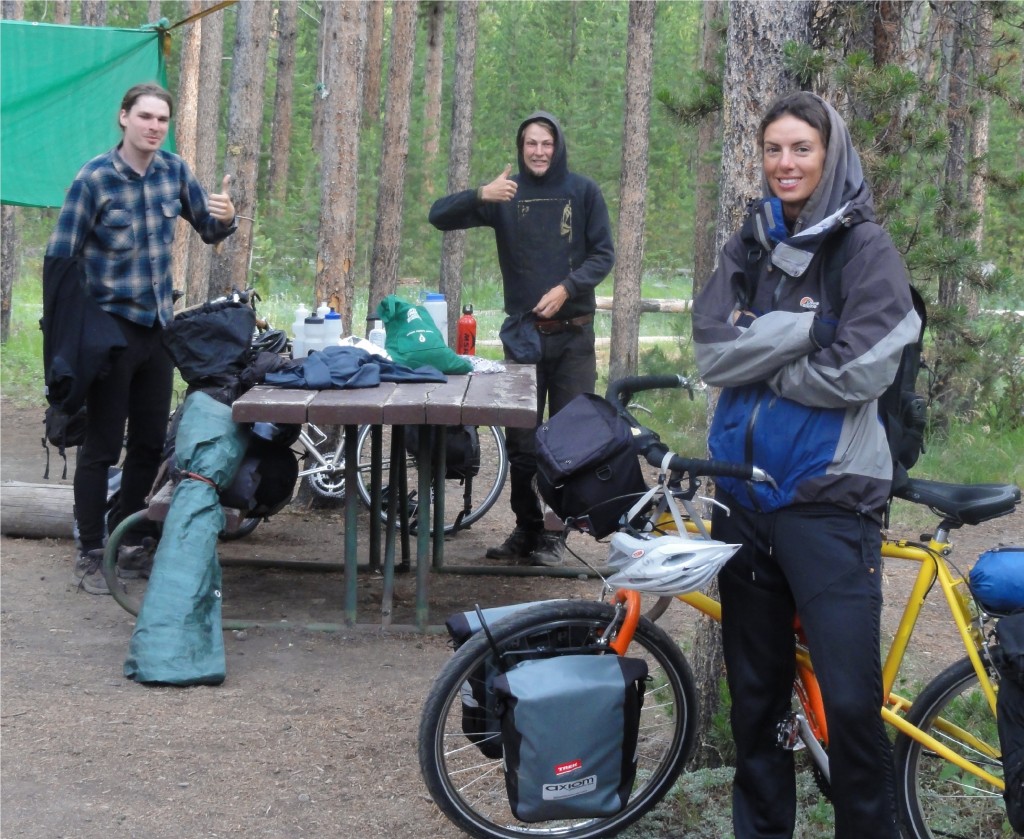 Brett, PJ & Me
We camped next to and shared a fire pit with Brett and PJ two fellow cyclists who had cycled a whopping 130 miles the day prior! And of course I was freezing as always.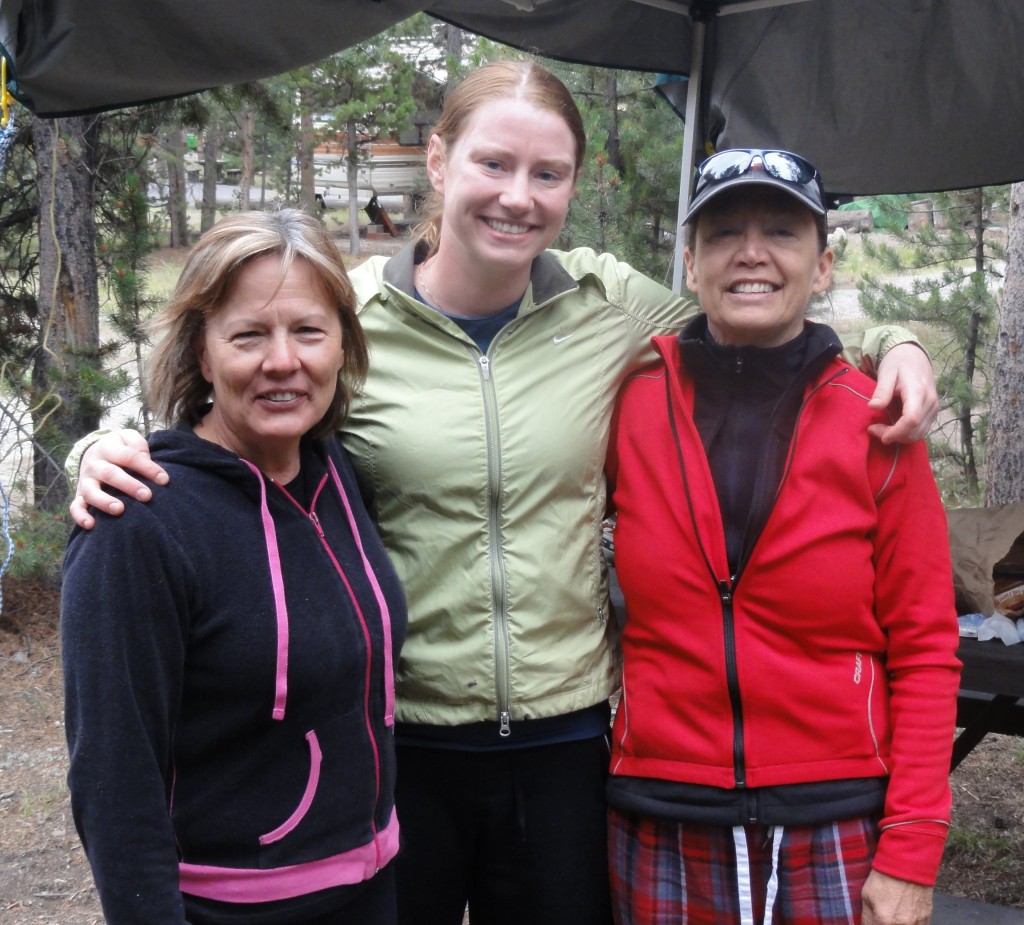 Nila, Jess & Holly
Before leaving camp we also said goodbye to Nila and Holly, two cyclists from Utah who had cycled around Yellowstone in the past. Holly gave us great advice for how to savor our two days in this vast national state park.
Just before heading off for our day of exploration we were approached by a reporter. He basically just wanted to interview campers about the hustle and bustle in Yellowstone with the vice president afoot. He ended up using our sillier comments in a news report:
After an exchange of "good byes" and "good lucks" with the reporter we began peddling South towards Old Faithful. Jess and I were chatting away when she came to a sudden stop. To my right a massive head had broken through the evergreen brush; shining eyes peering at us amid swirls of dark hair. The massive bull buffalo hefted his mass onto the side of the road about 15 feet from us. The liberally posted park warnings of stay away from buffalo, many people have been gored flashed before my eyes and I braced myself to flee. But in the end my flight response was overridden by curiosity. We cycled slowly alongside the great animal for a time until a convoy of tourists snapping pictures from their vehicles began to dull the moment and we cycled on.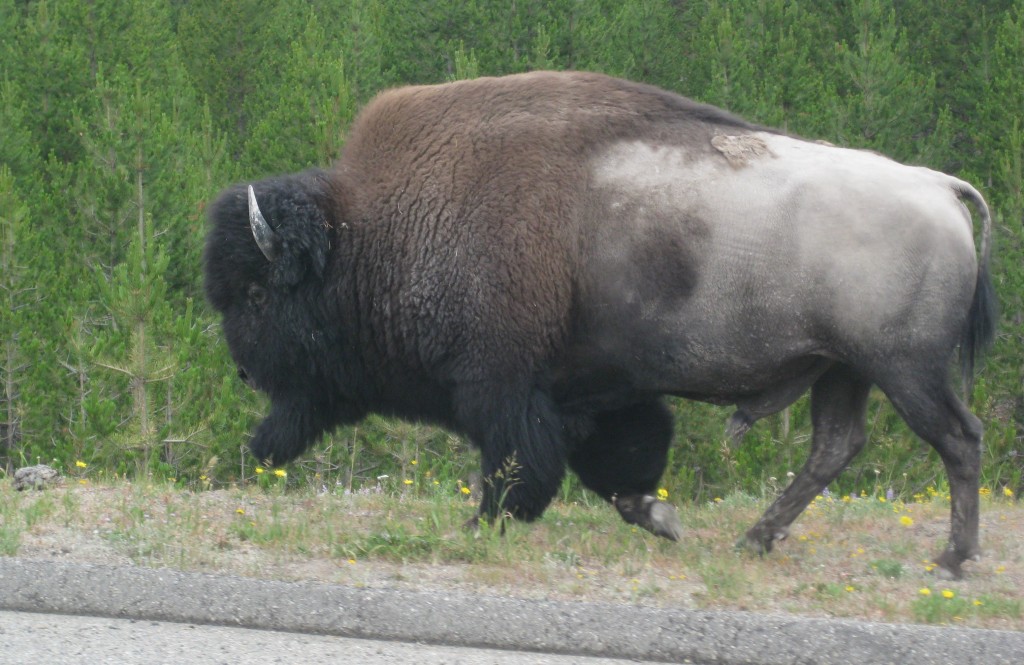 Mr. buffalo taking a morning stroll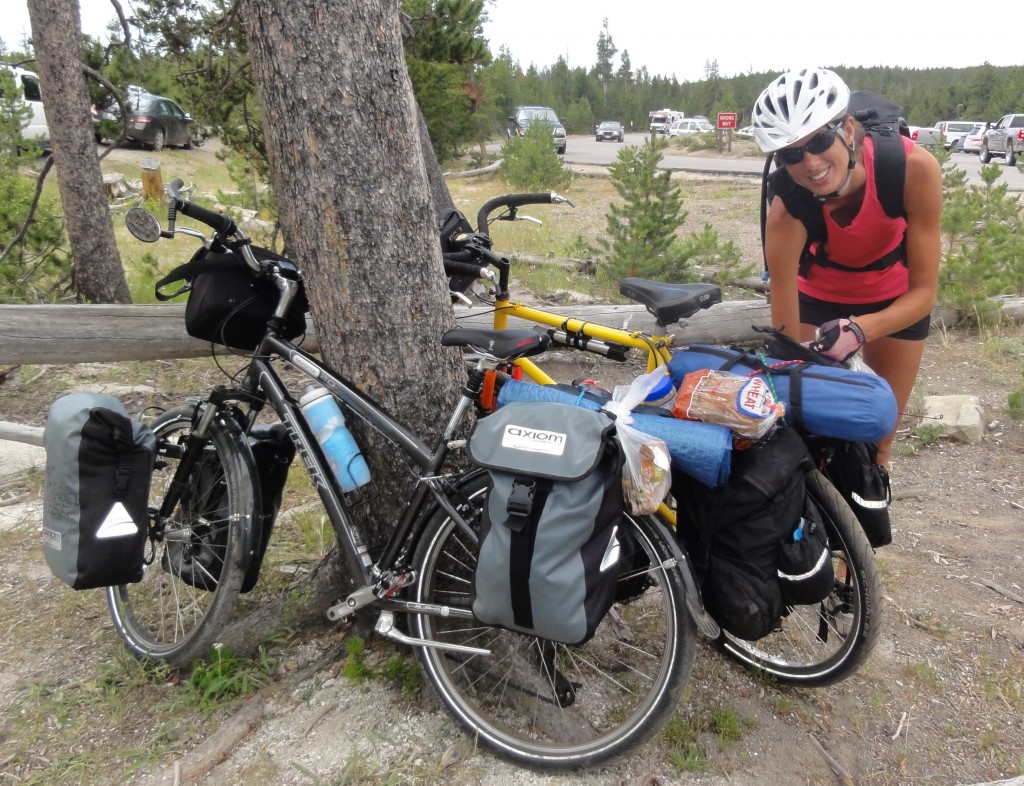 Making a sandwich before seeing the first set of geysers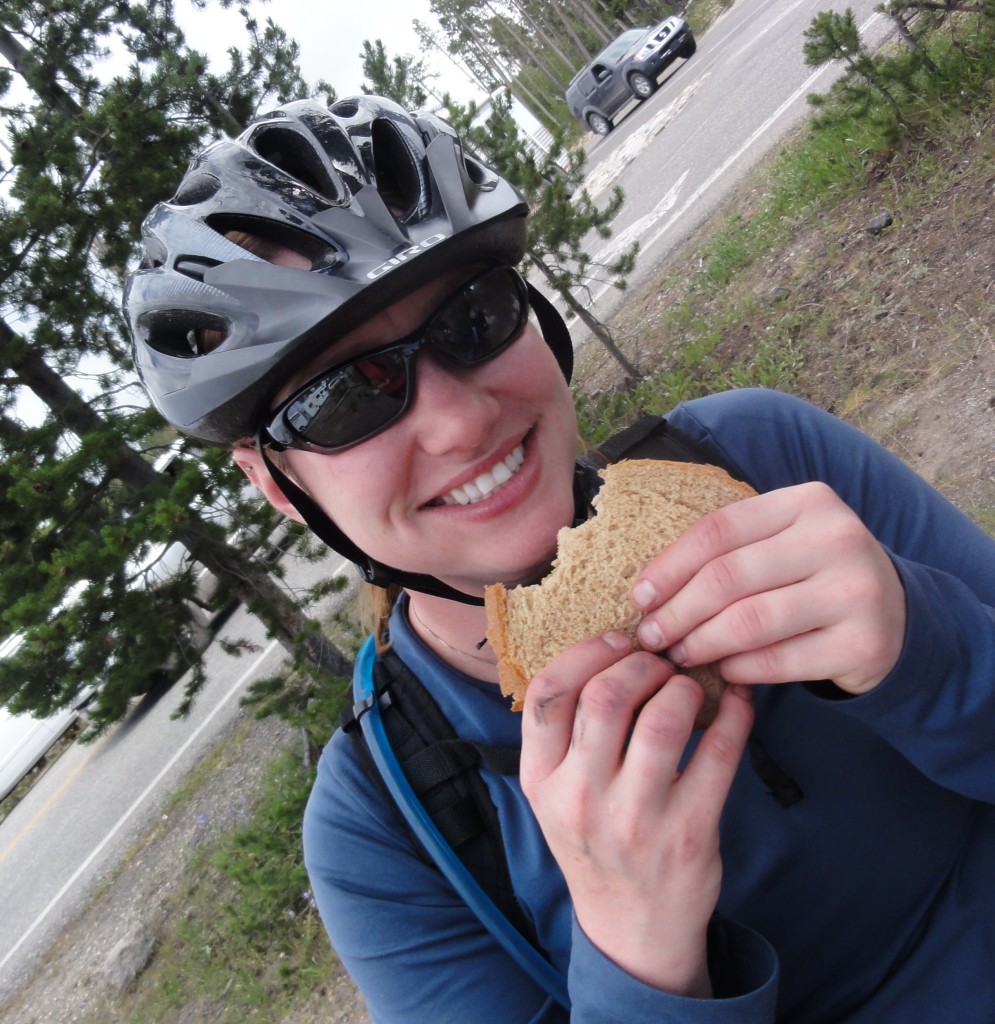 Mmmm peanut butter and jelly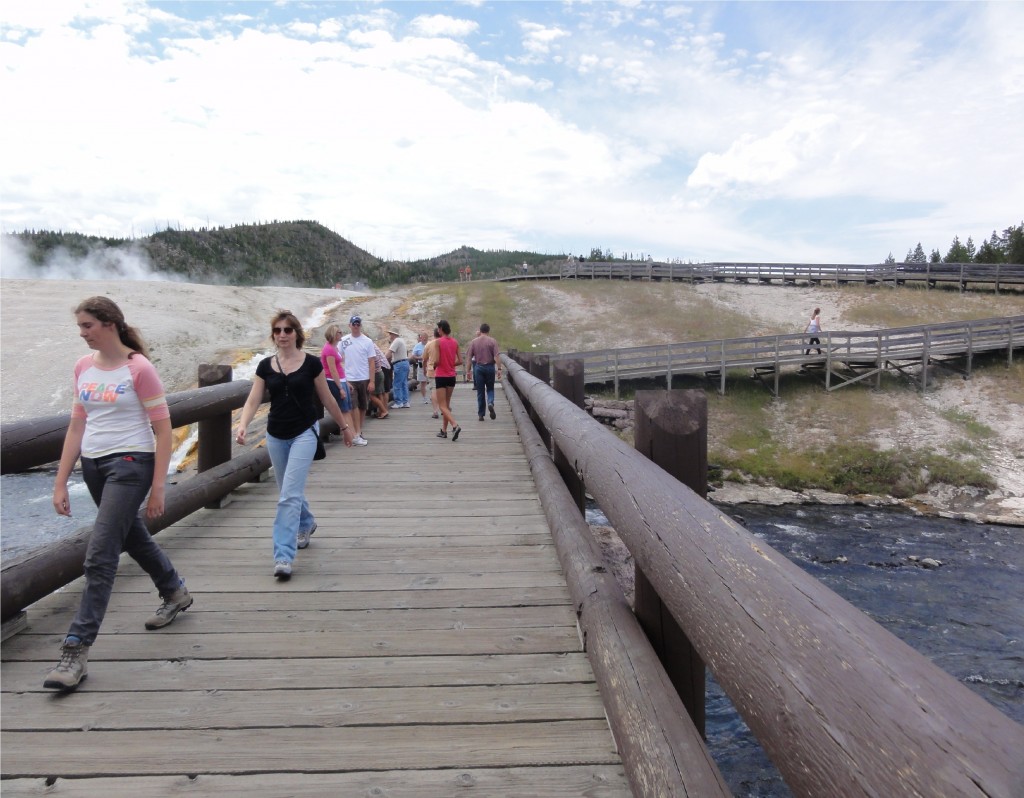 Exploring the Fountain Paint Pots area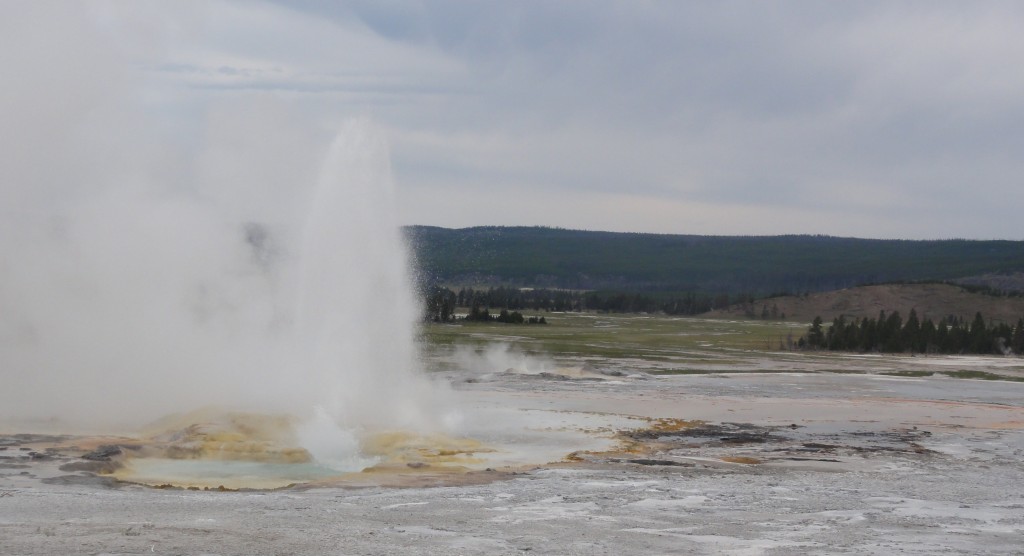 A very active geyser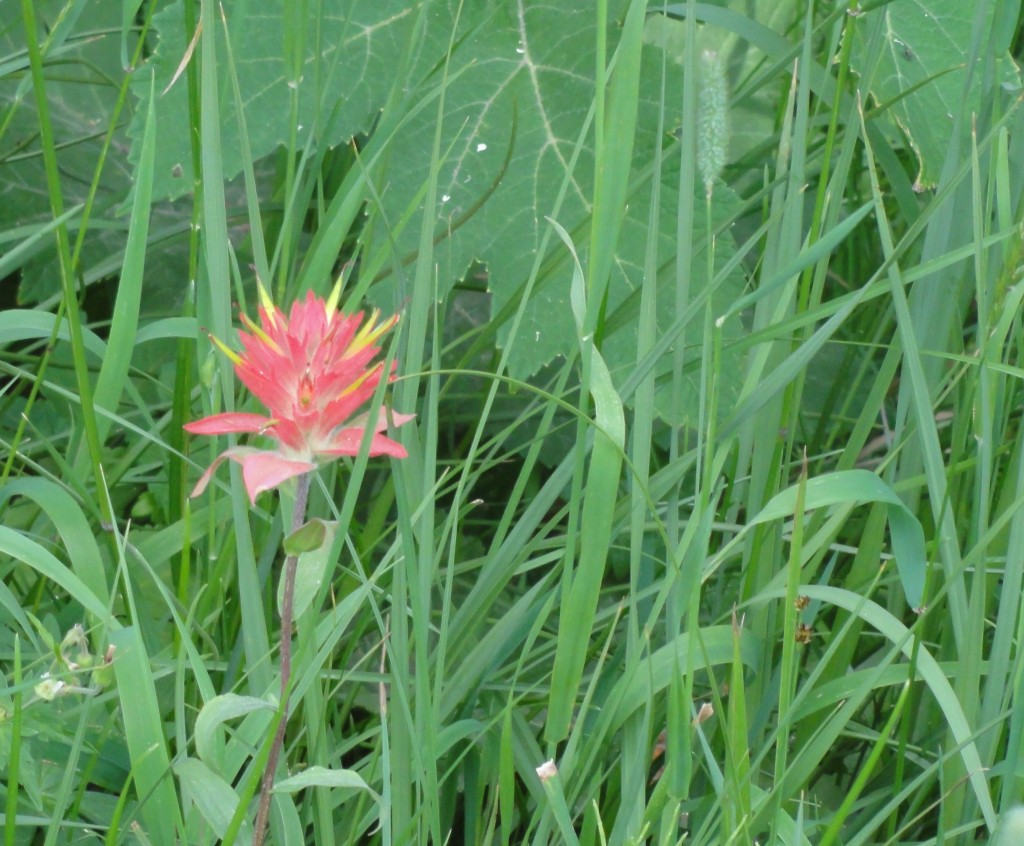 Indian Paintbrush the state flower of Wyoming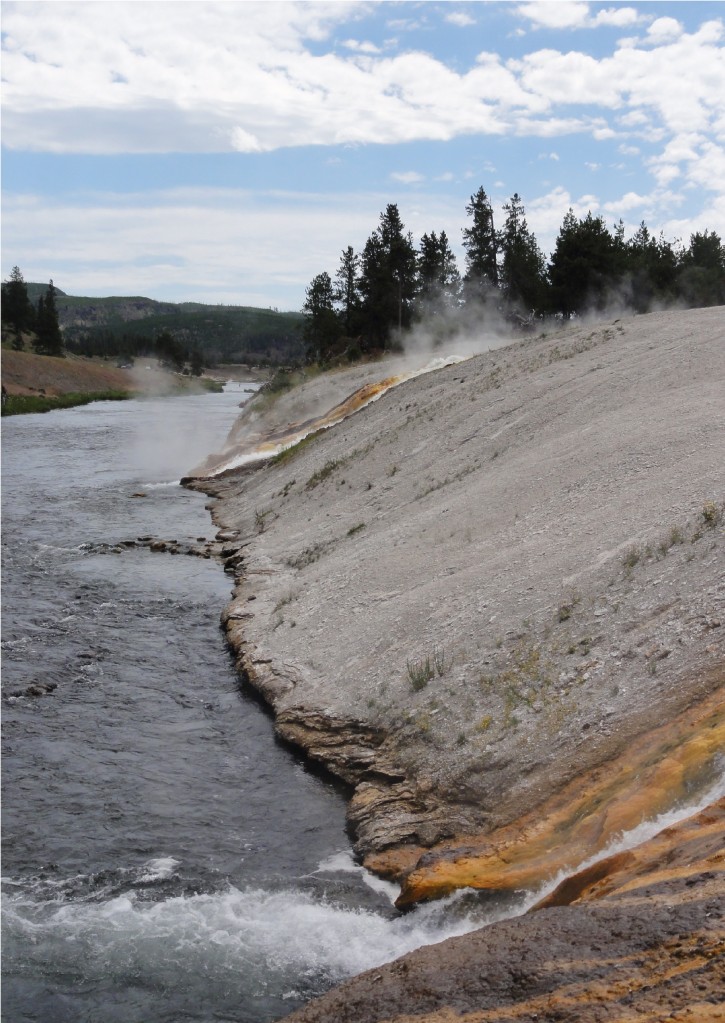 Where boiling water from Excelsior Geyser meets Firehole River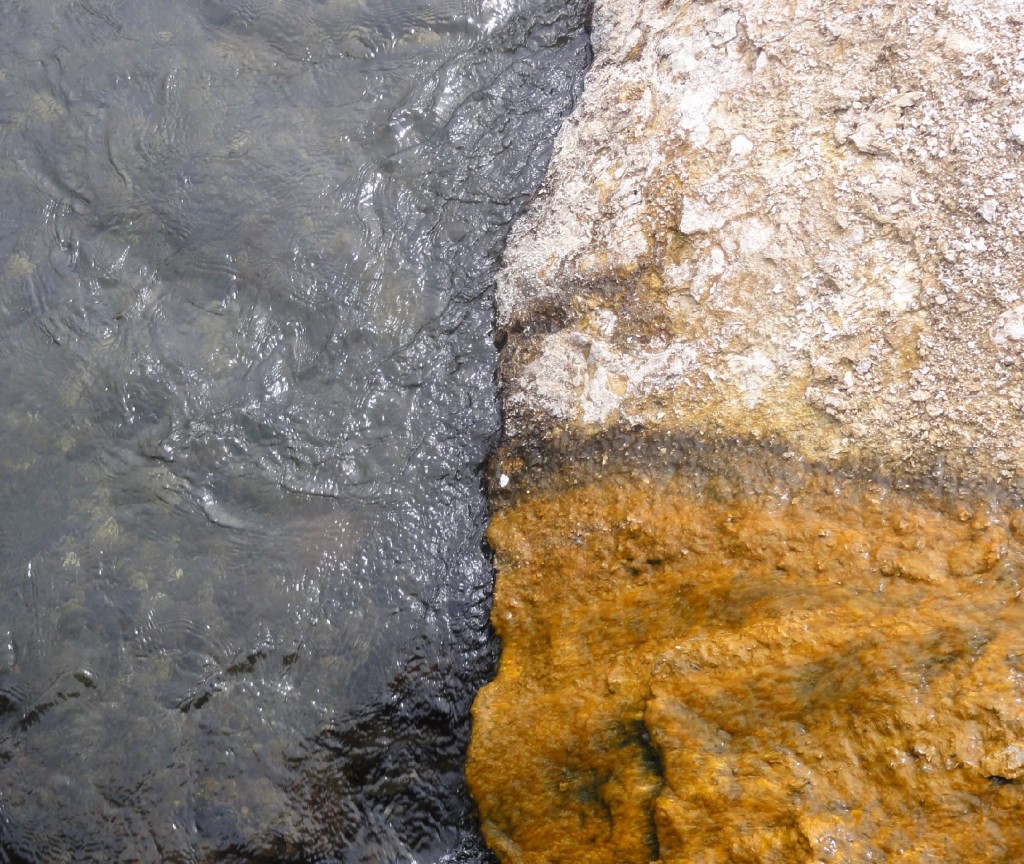 A detailed look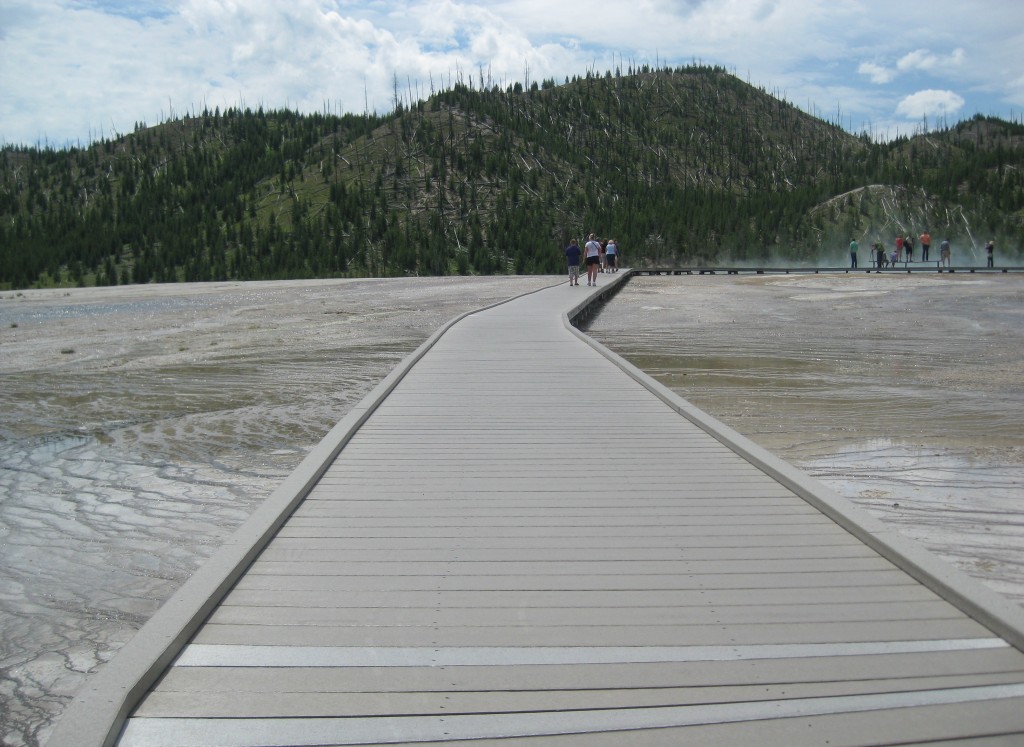 Boardwalk to the Grand Prismatic Spring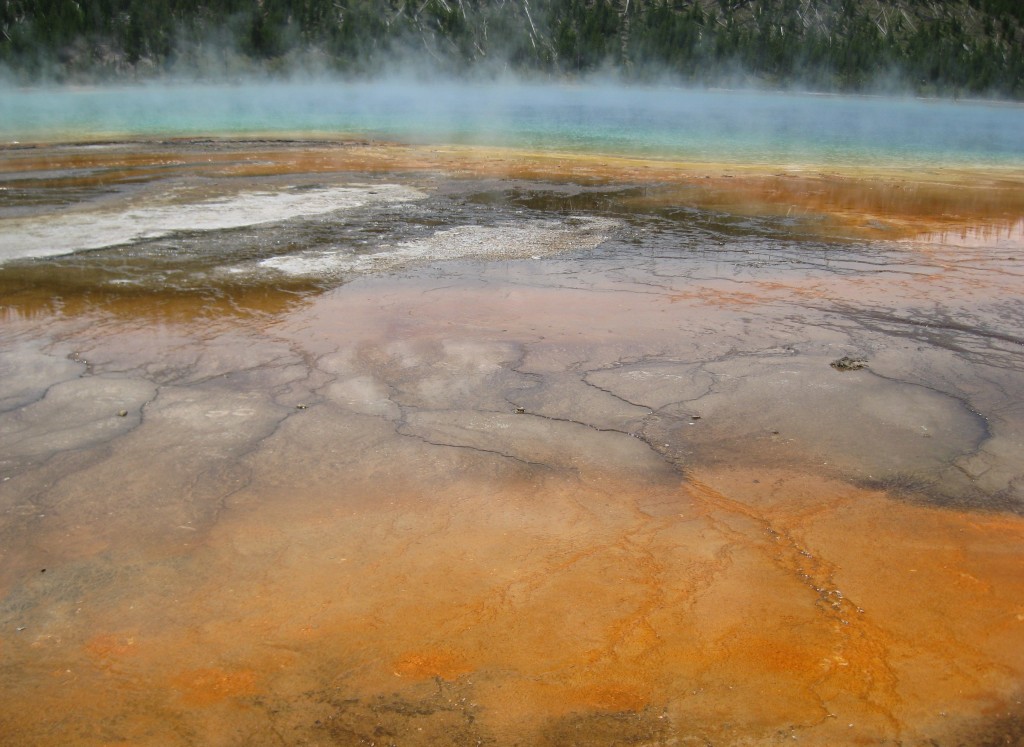 The vibrant color and apparent texture of the Grand Prismatic Spring was breathtaking and otherworldly. I felt as if I were gazing upon the surface of Mars.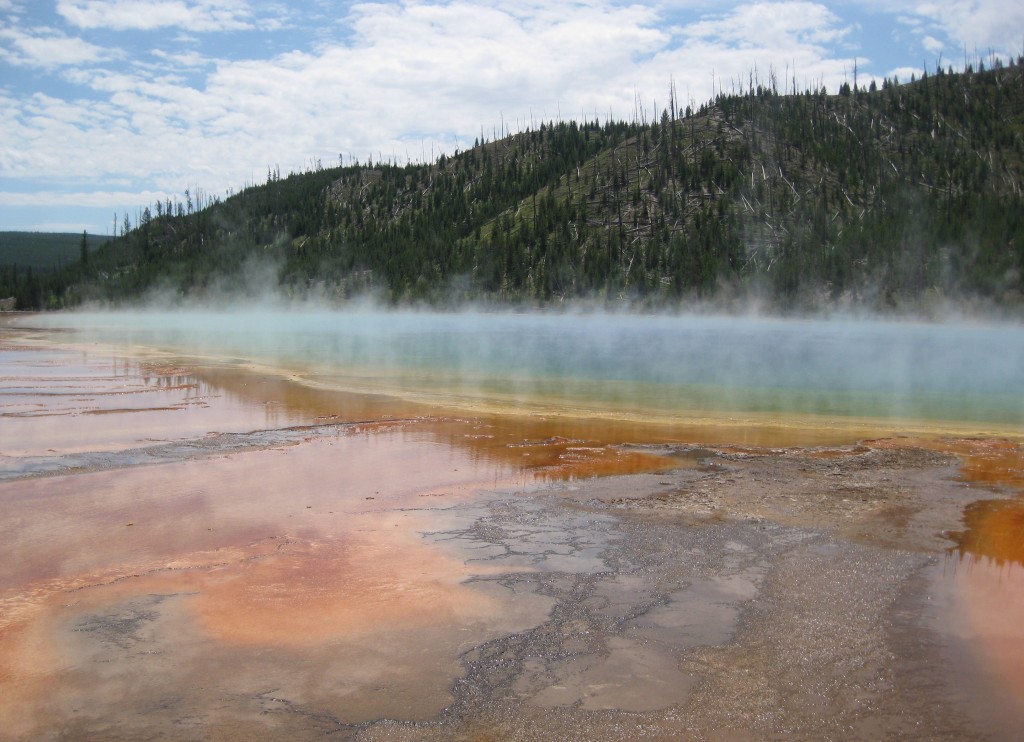 Another view of the Grand Prismatic Spring. Can you believe those vibrant colors are created by bacteria?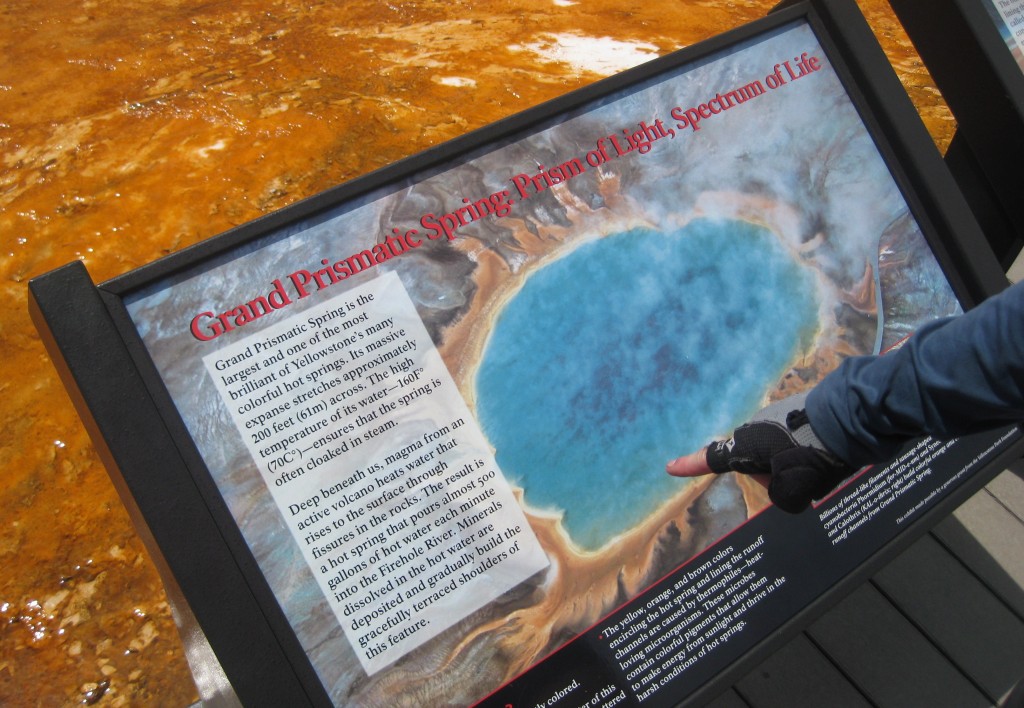 Educational material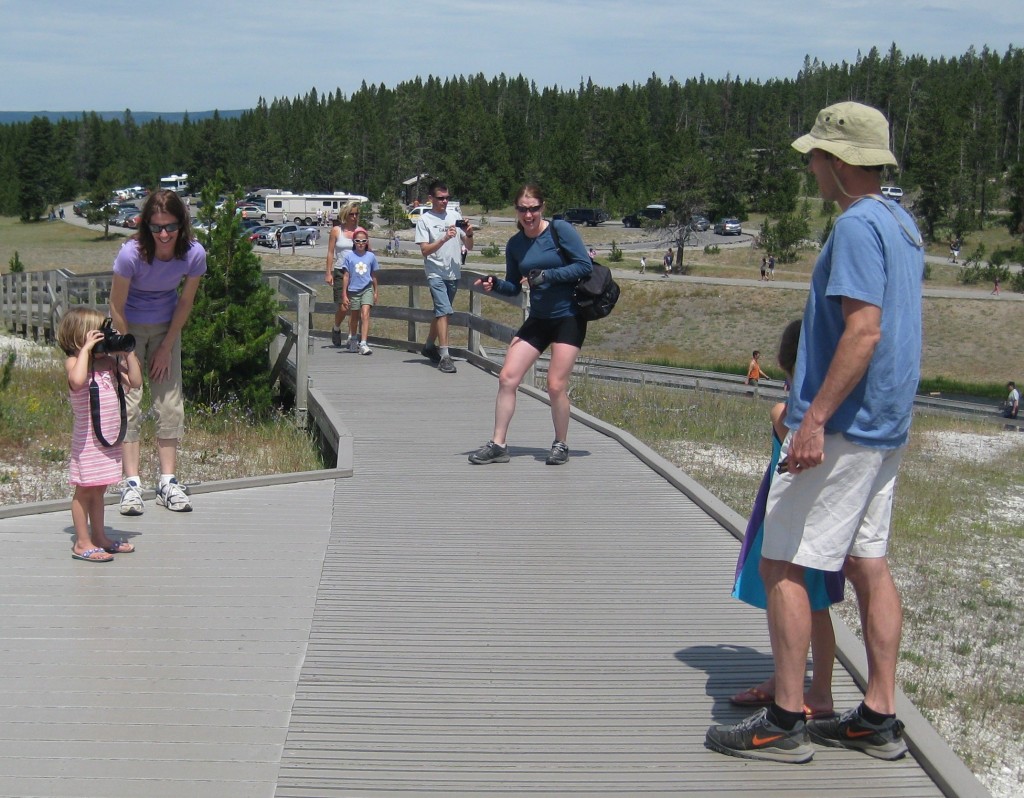 Had to capture this adorable moment as we were leaving the Grand Prismatic Spring. Definitely the littlest photographer with the biggest camera we'd seen on our trip!
Next we cycled down to the most popular Yellowstone tourist attraction: Old Faithful. Instead of clambering alongside the fence near the incredible geyser we took the advice of Holly and positioned ourselves on the balcony of the Old Faithful Inn. Ice cream in hand we made our way to the balcony and found "front row seats" to the exciting event.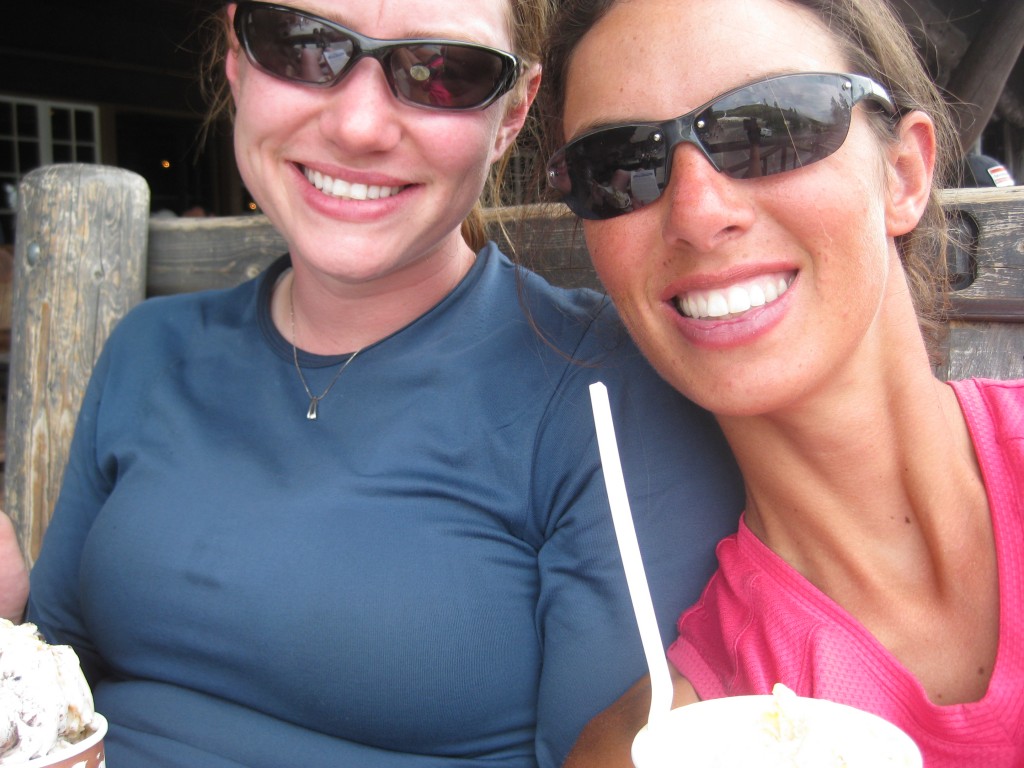 Nothing better than ice cream on a hot summer day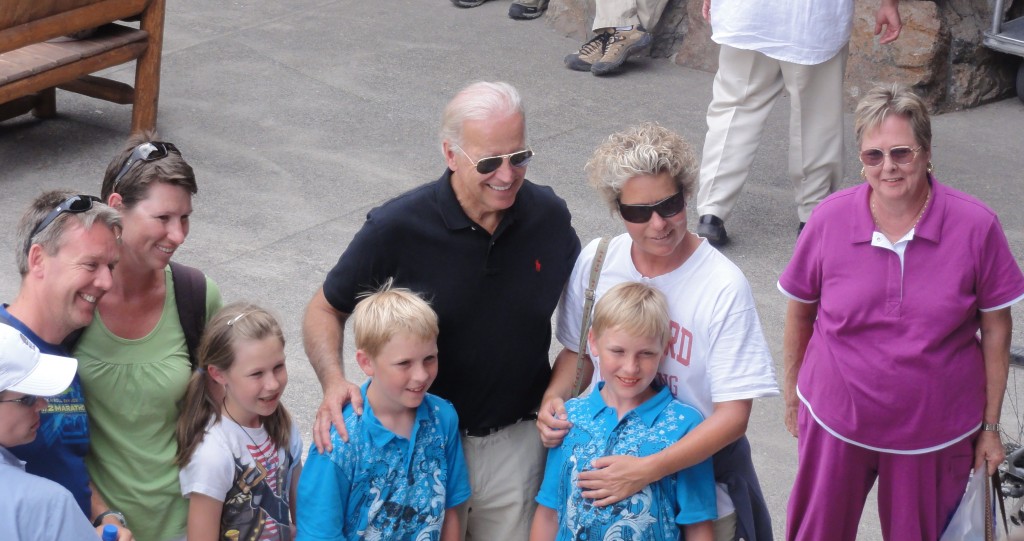 We were enjoying our ice cream and people watching from our perch when half a dozen exceedingly fit and stern "tourists" with obvious curled wires behind their ears came onto the scene. Then a man with snowy white hair and a broad smile emerged from the crowd. It was Vice President Joe Biden! We snapped a few pictures from our roost and watched as he posed for picture after picture with vacationing families.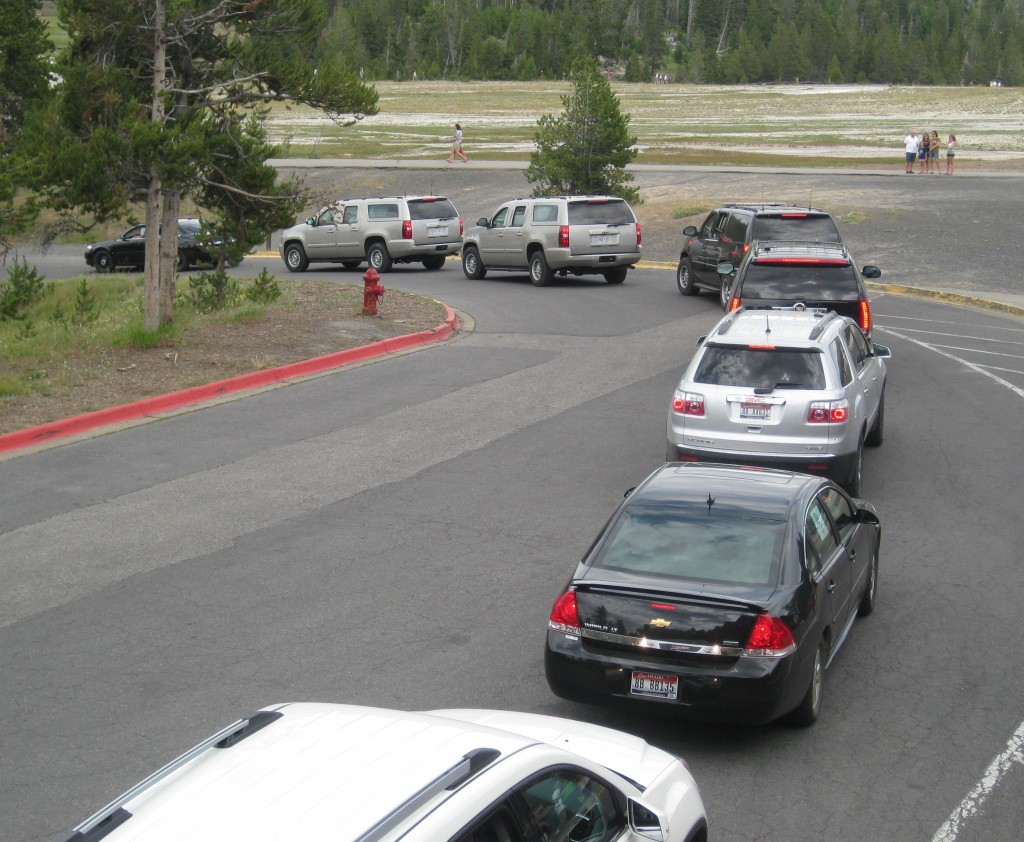 Watching Joe's convoy zoom away (he was in the second tan SUV)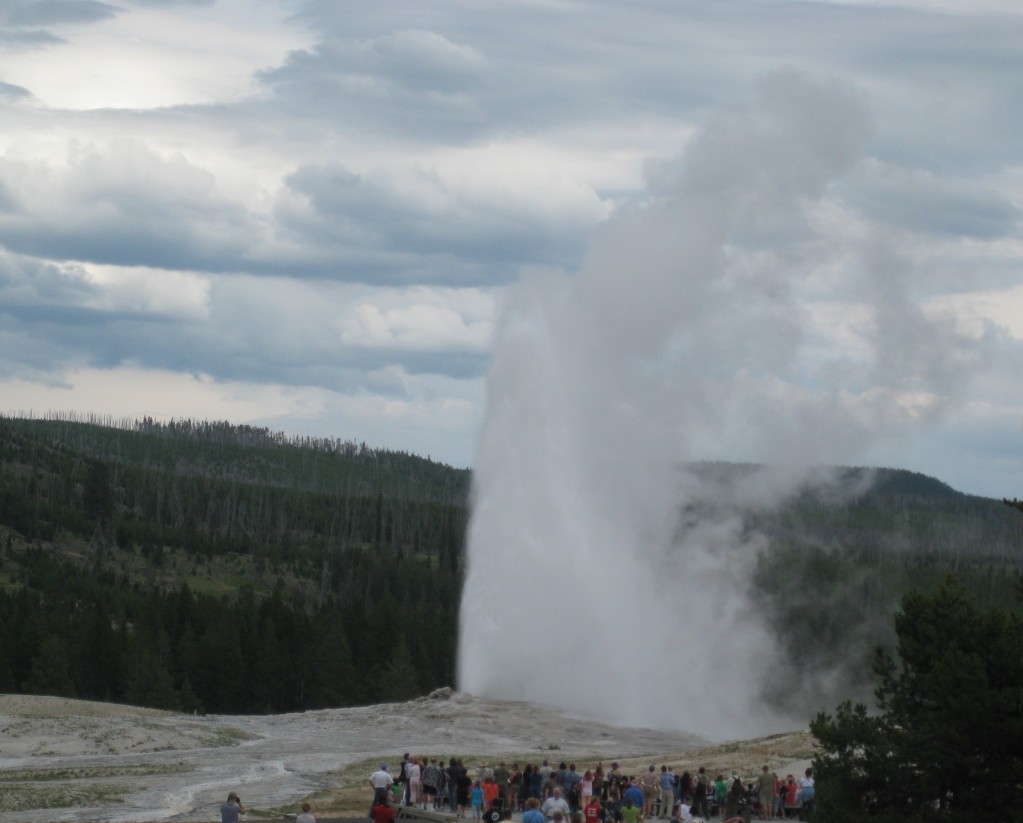 After the flurry of excitement had died down from Biden's appearance we settled back to watch Old Faithful perform. I was excited to finally see this geyser in person a national icon I had known of and joked about my entire life. I do believe we had the best seats in the house!