Start point: Naples, Italy
End point: Salerno, Italy
Miles: 33
Key words: cobblestones, spoke, Mount Vesuvius, Aussies, fugitives, boot
Today we had a short day of cycling and would be visiting the ruins of Pompeii. A UNESCO World Heritage site, Pompeii is flocked to by history buffs, travelers and tourists alike due to its unique preservation of life from AD 62. We hit the road excited to reach Pompeii quickly and have a bucket list destination accomplished by lunch time.
And then the cobblestones started.
Since the early planning stages of this trip I imagined one big difference between cycling across the US and cycling around Europe would be the prevalence of cobblestones; they are a rare find in the US outside of New England. We left our hostel slowly moving over small, jarring cobblestones. This was not abnormal when exiting city centers on this trip, but the trend usually subsided quickly. Twenty minutes later we were still jostling over cobblestones, they had just become larger. Then an hour later. We had been on many a cobblestone street, but this was our first cobblestone highway.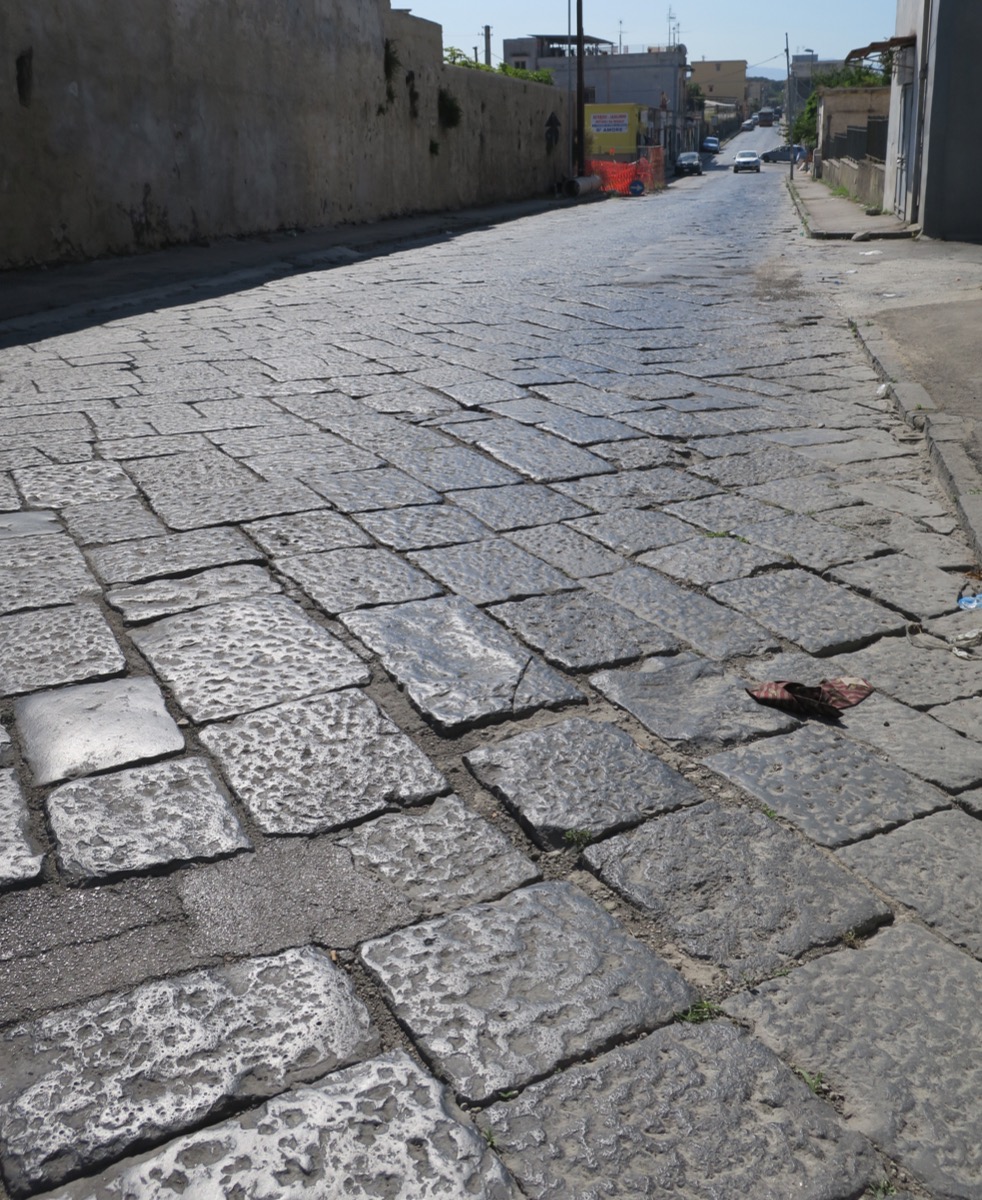 Miles and miles of cobblestones
We had almost worked our way through the painfully slow stretch of cobblestones when Bita's bike started making a funny clanking sound (funny clanking sounds on bikes are never good). We stopped to take a look at her rear tire and found a broken spoke was the culprit. Bike spoke: 0, cobblestones: 1. Bita taped the spoke to its neighbor and we hoped we could find a bike shop as soon as possible.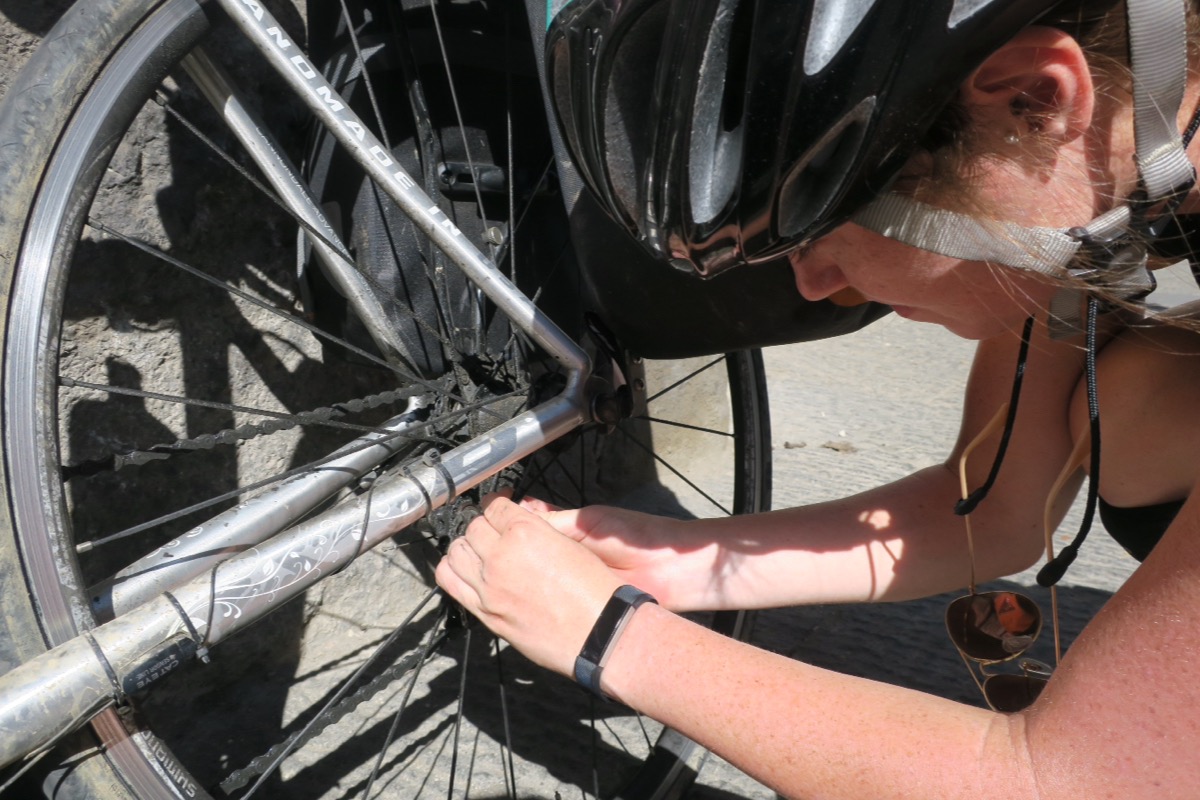 Bita taping up her broken spoke
After ten miles of cobblestones we finally touched down on actual pavement and gave out one of our perfected warrior cries "wooohoooooo!". Onto Pompeii!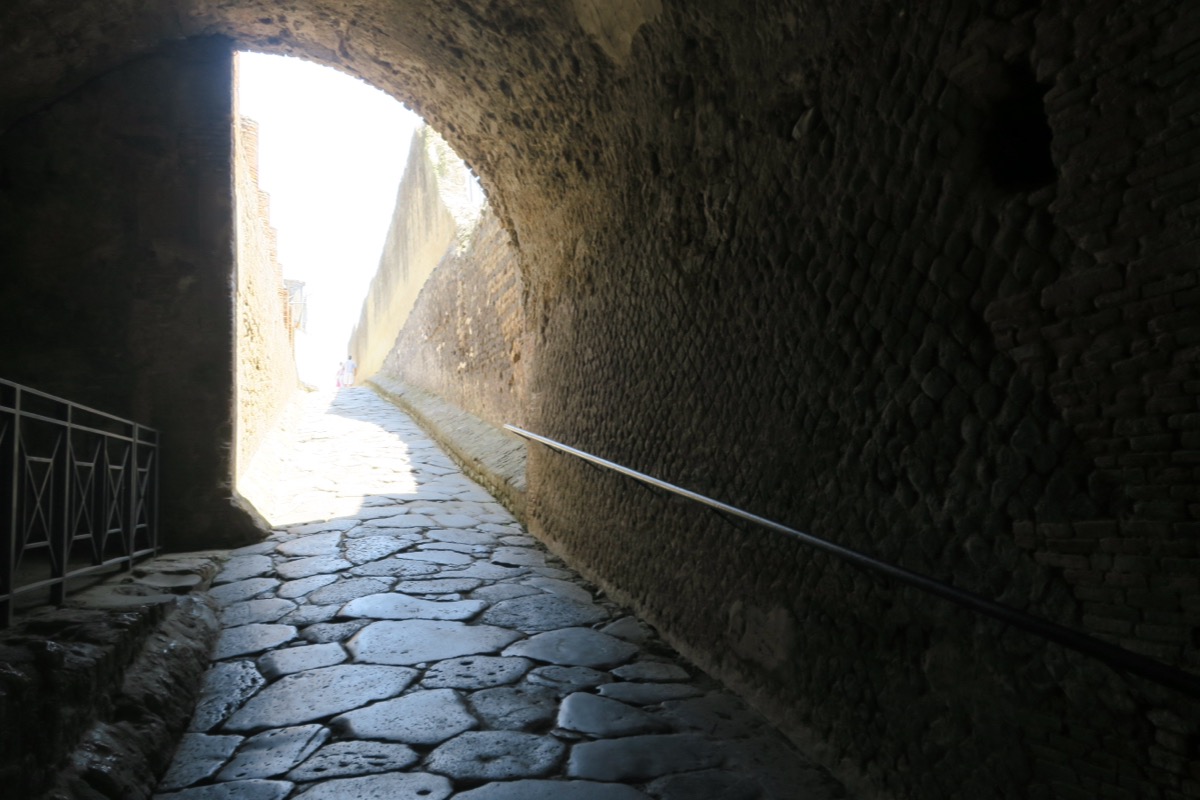 Entering Pompeii
The ruins of Pompeii with Mount Vesuvius in the skyline
We entered the site and wove our way through the crowds of spectators. We were surprised to find examples of modern sculpture staged throughout the ruins. While not necessarily representing the art of the time, they were stunning in contrast to the setting.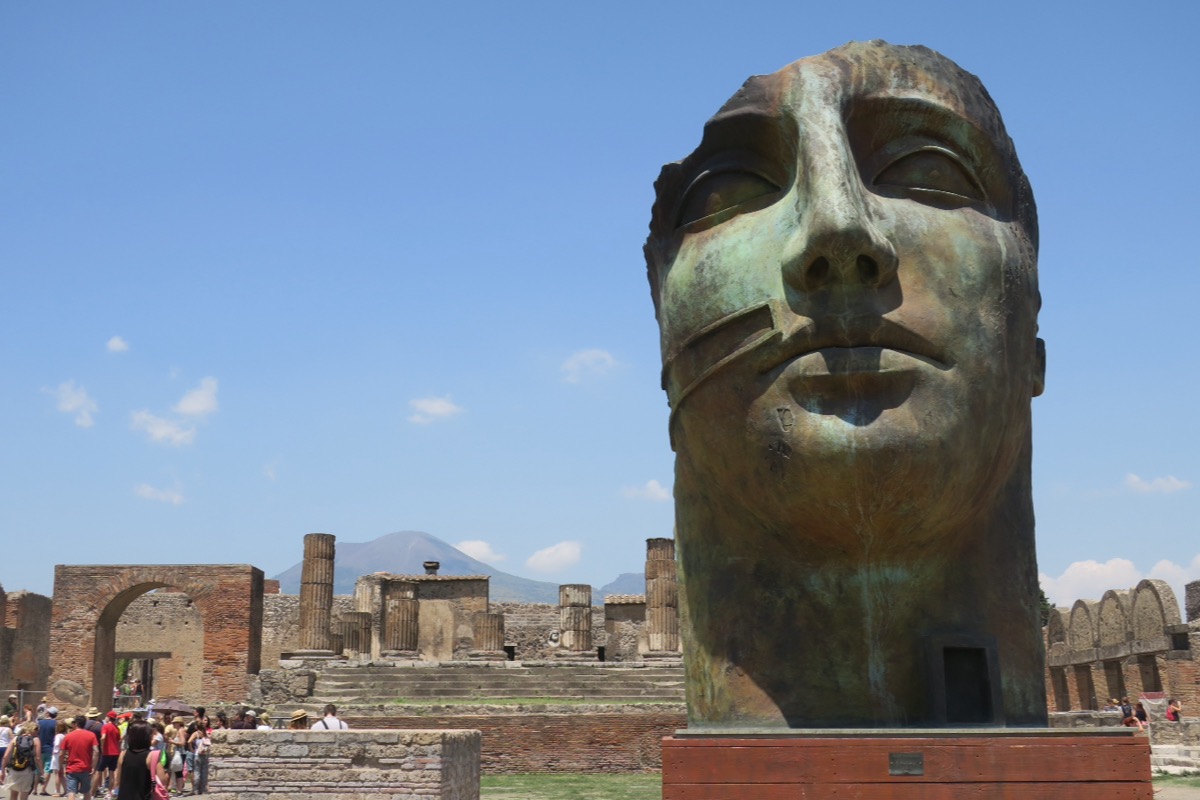 Striking in contrast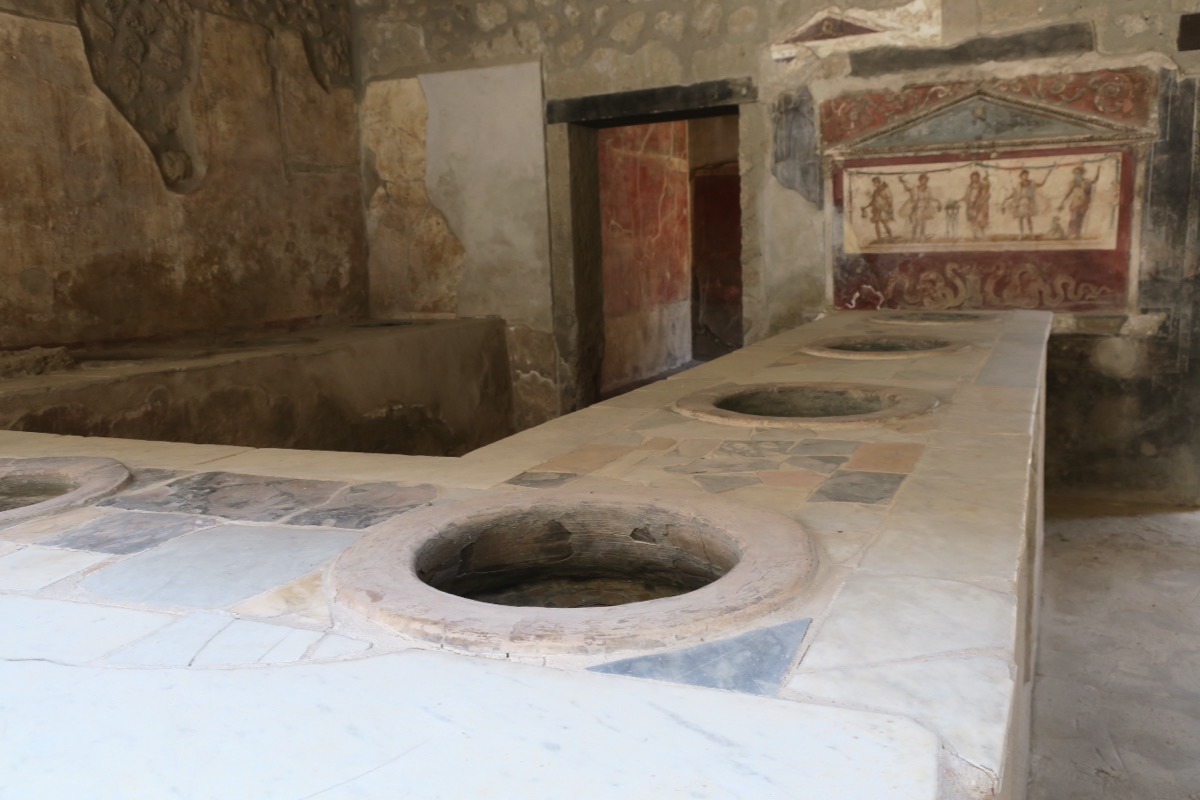 Ancient eatery whose urns were once filled with hot food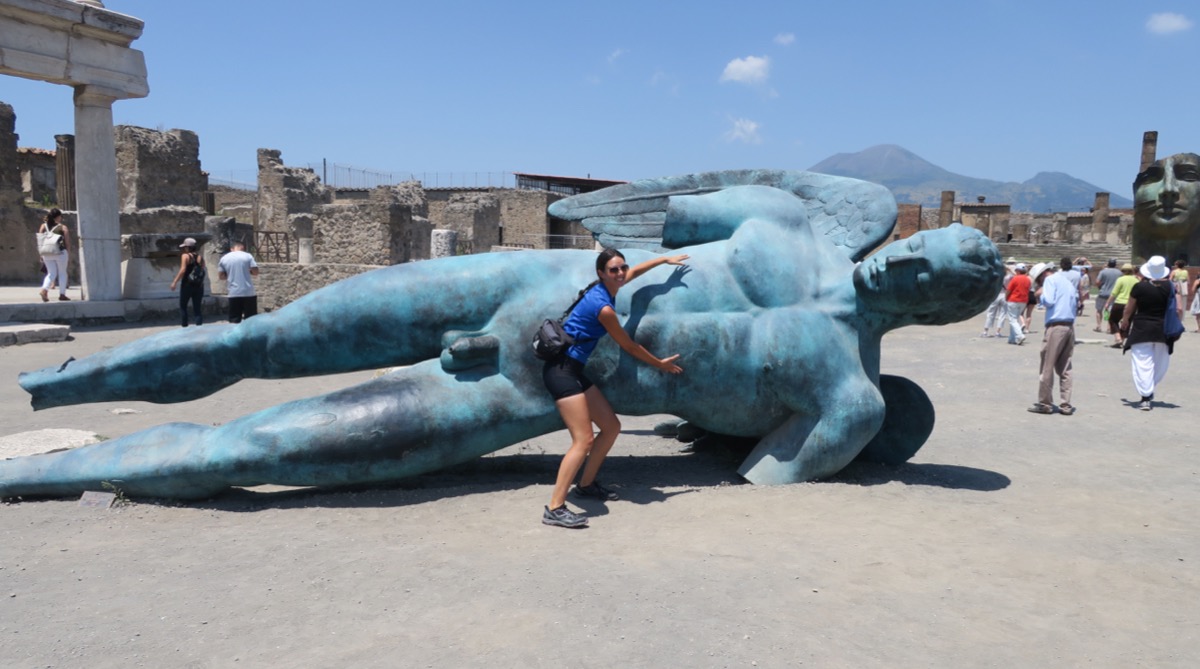 I love abs
Painting in the inner wall of a home
We wove our way through poorly marked streets to find the iconic and sobering Orto dei Fuggiaschi or The Garden of the Fugitives. On the morning of the tragedy of Pompeii–when a massive boom signaled the eruption of Mount Vesuvius and a dark cloud eclipsed the sky–some residents took flight and others sought shelter. Of the 2,000 who perished in the disaster, the remains of thirteen were found huddled in one area. The moulds of these thirteen were displayed behind glass.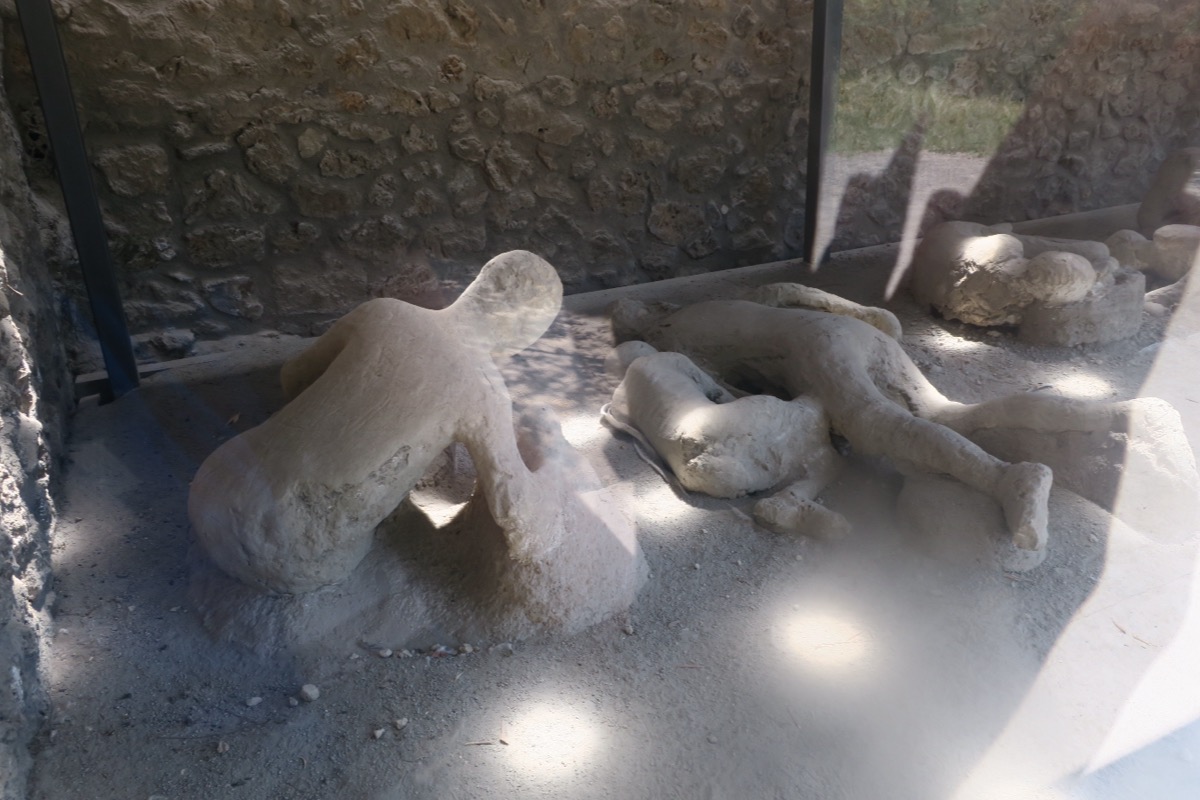 The Garden of the Fugitives
We left the ruins still imagining the people who had once walked those ancient streets and walked to our bikes that were securely fastened to a signpost. A large tour group of aging Aussies were milling about and instantly began peppering us with questions as we unlocked our bikes. "Where are you going? How long will it take? Is that all you're carrying?" We answered their questions with a smile and a few shared laughs before they sent us off with a roar of heartfelt goodbyes, good on yas, and good lucks.
We continued our cycle south in the direction of Salerno, our destination for the evening. The sun was especially hot and there was a bit of a climb that would earn us a smooth coast home. As we sweated up one hill I had to laugh at the signage warning if snow. No worries today!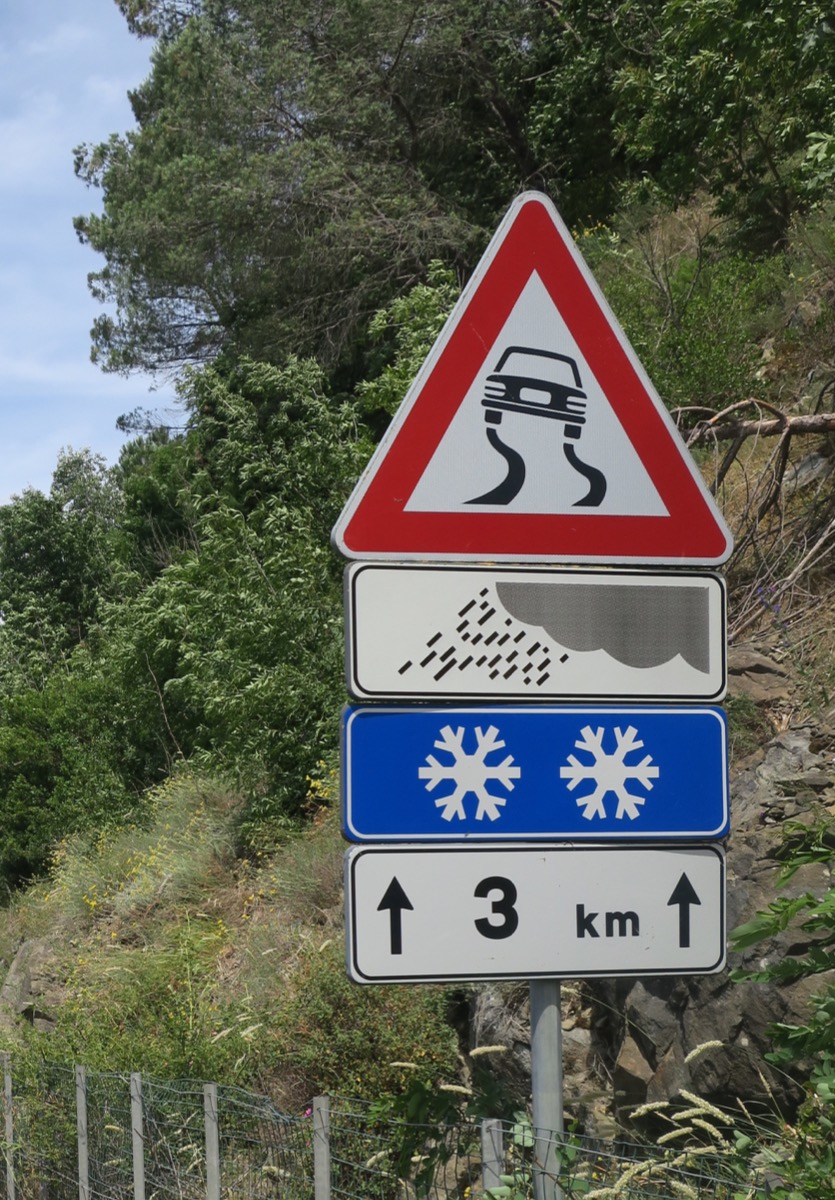 Beware of snowflakes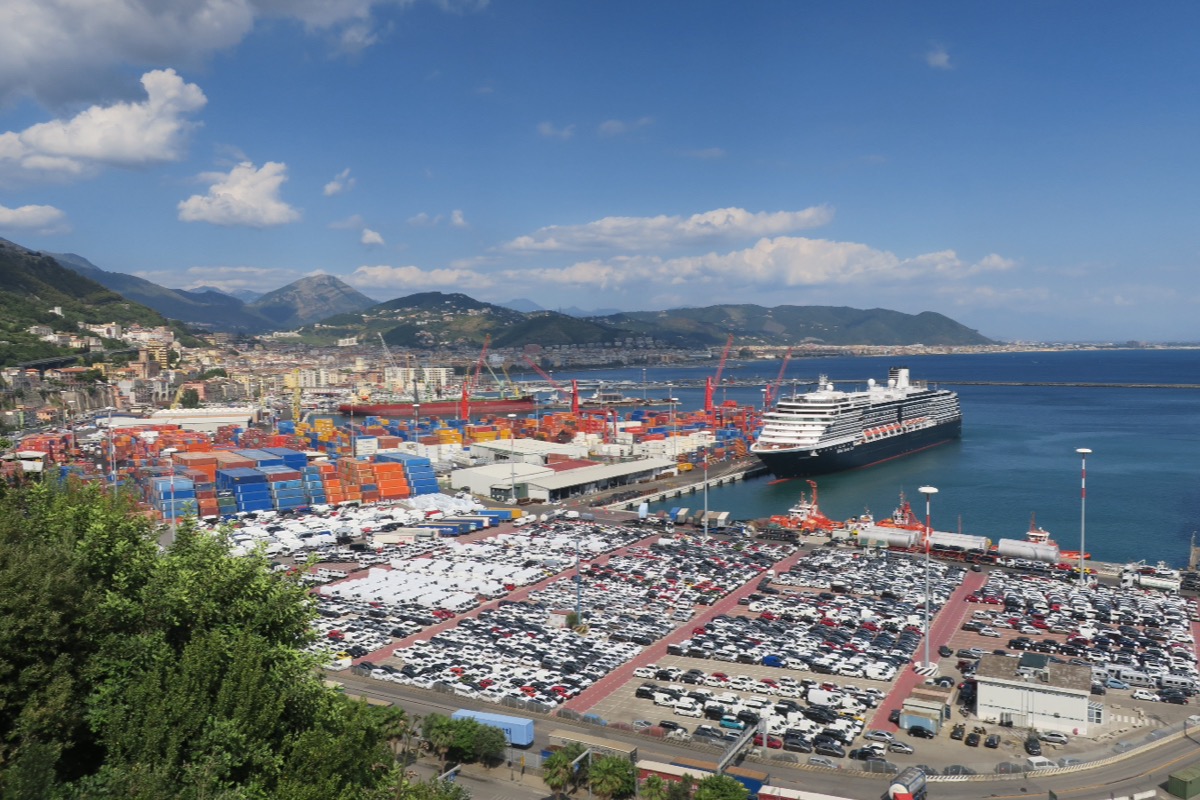 Cycling into Salerno
Our coast into Salerno was breathtaking and before we long we were ringing the doorbell on the apartment we had rented for the night. Later we took a stroll to find dinner and a gelato for dessert. We retired early as we needed every ounce of rest. Tomorrow we would begin our climb to cross the boot!
Total miles so far: 1,116