Start point: Salerno, Italy
End point: Ariano Irpino, Italy
Miles: 50
Key words: banana pancakes, ankle, Rocky, baba, hillacious, il conto
Having booked a spacious apartment for our night in Salerno we decided to make the most of our kitchen. The night before we raided a local grocery store for the ingredients of our favorite high protein banana pancakes (one medium mashed banana and one egg, stir until you have a globby batter) to make a high power breakfast for our big day of climbing. The pancakes sizzled in olive oil and once ready were plopped onto a plate, topped with yogurt and diced nectarine. Yummmm.
We left our apartment with contently full bellies and braced for the mountains ahead. Today we would be cycling half way across the approximate "ankle" of the boot of Italy. Climbing would definitely be involved.
The initial climb out of Salerno was surprisingly pleasant, carrying us through small towns and countryside. In one small town we spotted a grocery store and stopped for sports drinks. After grabbing a few room temperature powerades I made my way to the check out. There was only one cashier, and the two older ladies in front of me had their baskets heaped full. I held my two powerades conspicuously in front of me, in case the ladies would notice and allow me to plop my three euros down and be on my way. The first woman carefully transferred all of her items onto the conveyer and slowly paid. The second woman began setting her items on the conveyer, then turned to me. I was poised to belt out "grazie!" when she motioned me forward but instead she was pointing at her basket, asking me to help her with her things in a long string of cheerful Italian. I smiled and helped her with the task. Some things are more important than efficiency.
We cycled onward through rolling countryside and small towns until we spotted a small bike shop. We still needed to fix Bita's broken spoke before it started affecting other spokes. We entered the tiny shop with tools neatly lining the walls, yet enough grease stains it was obvious repair was the main trade. The shop owner and bike mechanic was a large man with wild black hair. Bita and I both saw a resemblance to Rocky Balboa. Bike shops range greatly in the services offered and timeframe in which they can tackle repairs, but this gem of a man pulled Bita's bike in his shop instantly, removed the wheel from the bike and began working. We tried to indicate in our meager Italian that we would go for gelato and return in 15 minutes, in response to which he directed us to the best gelato place in town.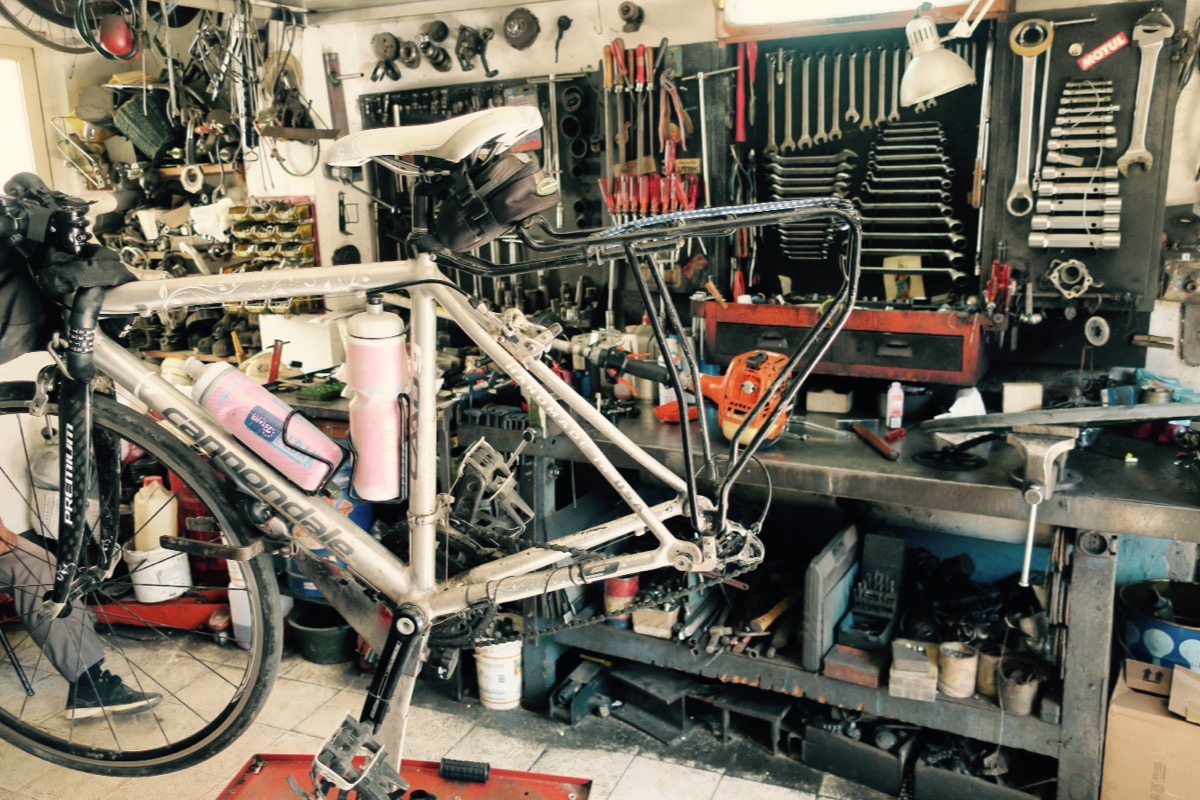 Bita's bike at the shop
We each had a scrumptious gelato and I also tried a "Baba" for the first time. Picture a sweet, fluffy, extra tall muffin that has fallen over. And then (unbeknownst to me until I tried it) has rum poured over it. Happy cycling!
The bike mechanic had replaced Bita's spoke and trued her tire by the time we returned. We were back on the road and ready to start climbing.
The climbs came swiftly and the views became increasingly breathtaking. One pass had some fairly drastic switch backs that we slowly worked our way up, counting the exaggerated turns as we toiled up them. We stopped at the edge of the last switchback to take in all that we had traversed. We could trace our path over the past couple hours from this vantage point.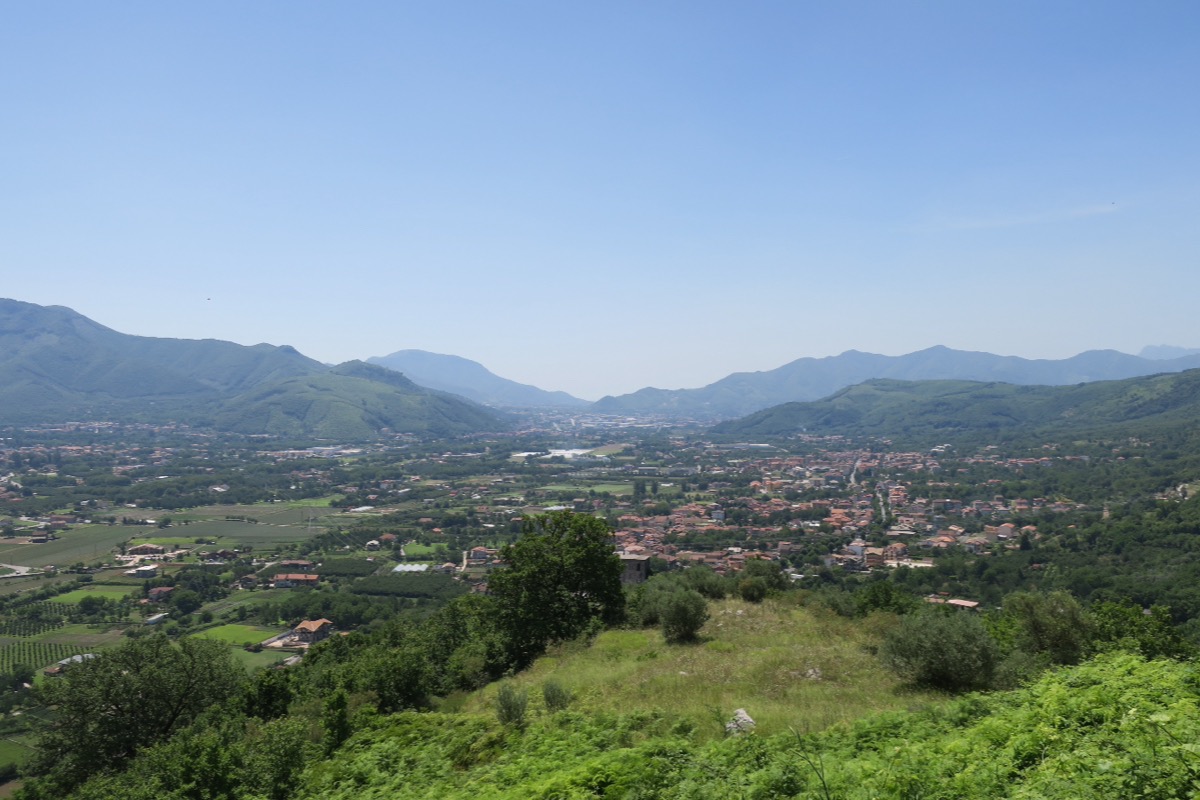 A view well earned
The rest of the day was made up of climbing and more climbing and spawned a new word of the trip: "hillacious". The climbs seemed unending. At one point Google sent us up a country road that was so steep we pushed our bikes 50 meters to the top. We finally reached the crest of our highest town of the day. It was dizzying and beautiful and a photo just wouldn't do it justice. We coasted effortlessly down the other side enjoying every second. Moments like that make a human being feel fully alive.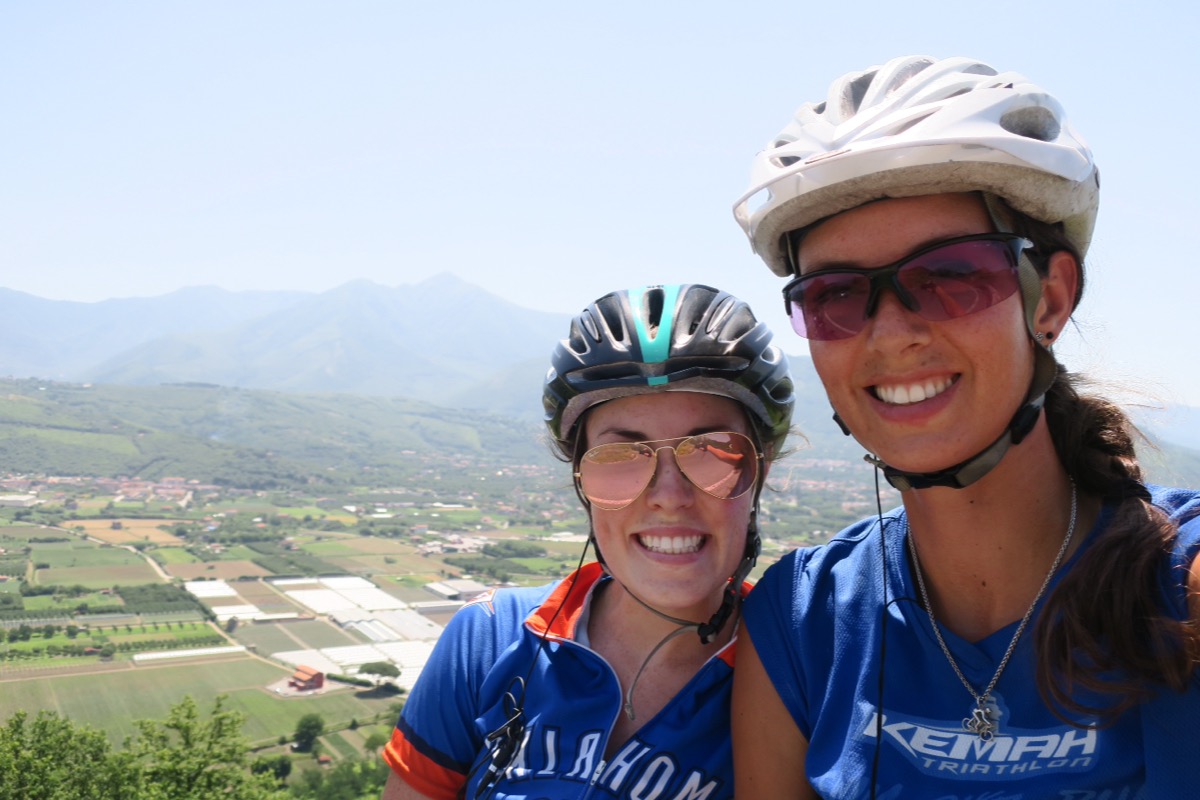 Rocking our hillacious day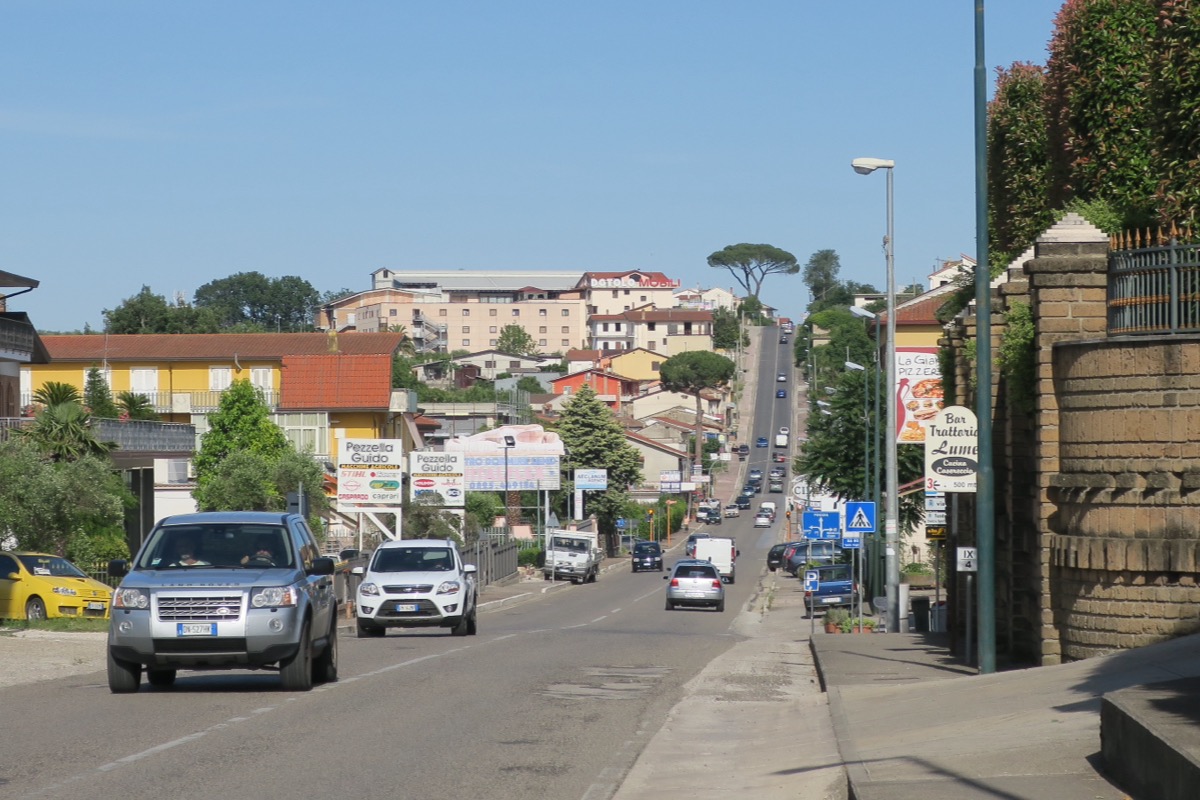 Inclines such as this caused us to create the term "hillacious"
We rolled yet another small town and stopped at a bar to refill our nearly empty water bottles. I walked into the bar with two bottles in hand and announced a cheery "acqua!?" The friendly bartender instantly grabbed my water bottles and filled them with ice cold water free of charge.
Once outside I found Bita conversing with an older Italian man. When she pointed at me and indicated that we are sorelle (sisters) he burst out in raucous laughter because of our height difference. We just laughed with him and got on our bikes. Sisters come in all shapes and sizes.
We continued to climb hills into high farmlands that were incredibly beautiful. Sweeping fields of complimentary geometric patterns blanketed the rich landscape. We were both exhausted and enamored.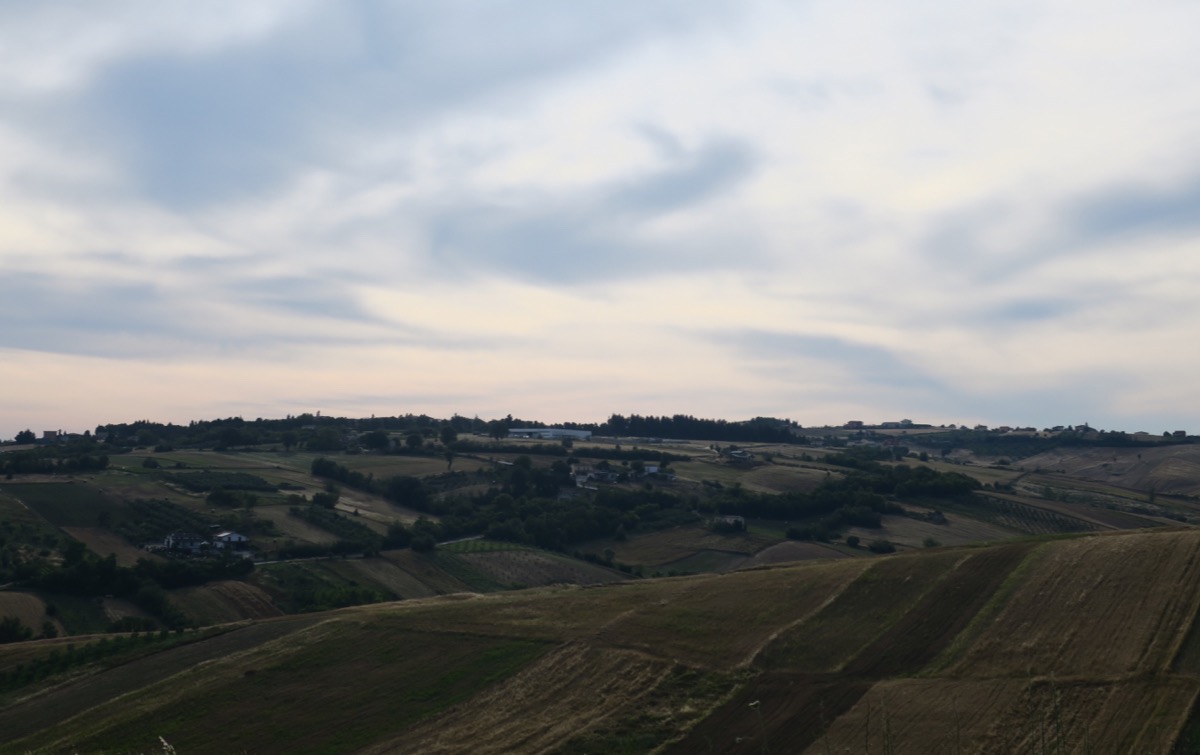 Beauty in geometry
After checking into our bed and breakfast with the best view of the trip, we set out in search of dinner. Our host had suggested one restaurant within walking distance which she said had good seafood. We entered to find a high end restaurant with chandeliers and shimmering draperies. Our waiter verbalized our choices and recommended a wine to pair, so we broke the cardinal rule of eating out on a budget and never asked prices. But hey, we were celebrating the hardest part of crossing the boot! Antipasti, two exquisite pasta dishes, seafood, wine, and a shared dessert later we asked for il conto (the bill) and braced ourselves for the most expensive meal of the trip. We opened the check and it said €20. Our first instinct was to drop a twenty and run. Thinking our bill had been mixed up with someone else's I double checked with our waiter. It was correct, some sort of buy one get one free multi-course offering. We were floored, but incredibly grateful for our delicious and cost effective dinner to celebrate our progress across the boot.
Total miles so far: 1,166