Start point: San Marino, Italy
End point: Ravenna, Italy
Miles: 41
Key words: casualty, advertising, watermelon challenge, emergency nap, Tour de France, dinner under the stars
We exchanged a round of hugs with our hosts and fearless female hitch hikers, wishing everyone well in their travels and pursuits. We left the Guido's place in unison; Guido for work, Luca, Yara and Plume to the old city and us for our next Italian destination of Ravenna.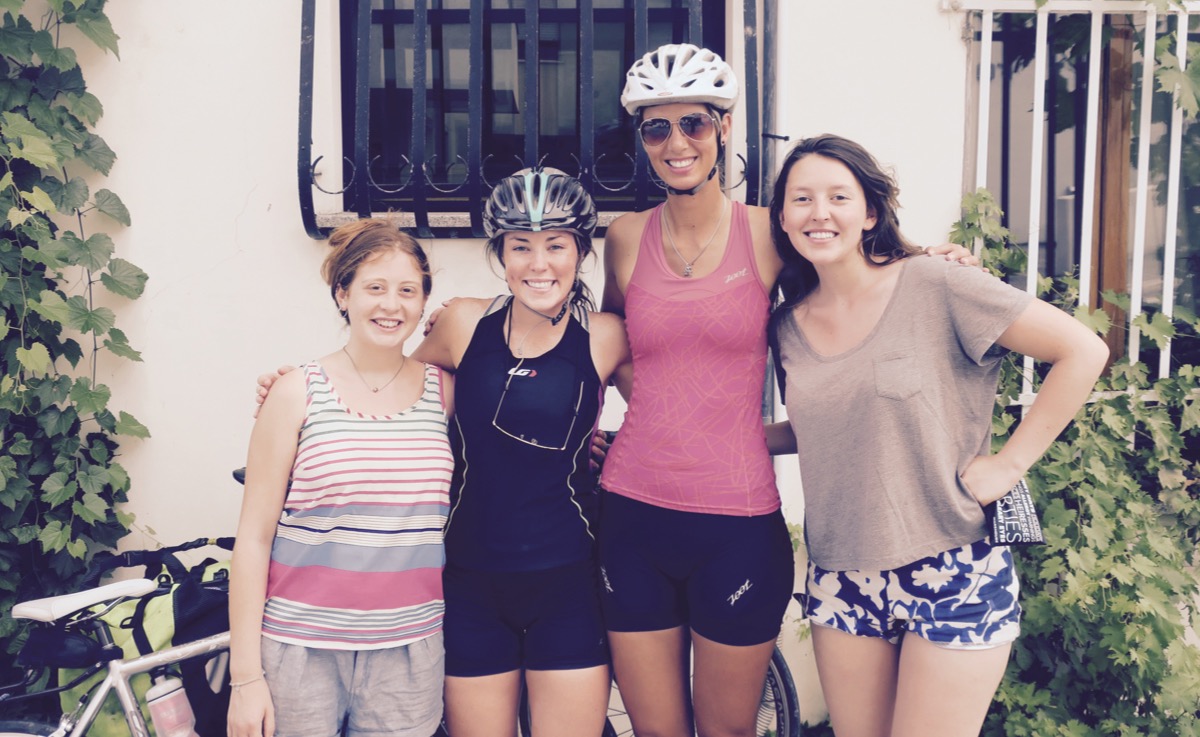 Saying goodbye to our favorite hitch hikers
We hopped on our bikes thrilled to be reaping the rewards of our endless climb the day before. The coast was effortless and I was concentrating on following a turn tightly when I heard Bita yell "stop!" Startled I slammed my brakes and pulled off the road. "I think I left my phone at Guido's!" she blurted, searching through her handlebar bag. It is only a matter of time when traveling for something to be left behind. So far we had been very careful and our only losses were my chapstick in Spain and her adapter in Genova. But an iPhone is a hefty casualty, and we coasted to the nearest cafe to get online and weigh our options.
We had all departed Guido's place at the same time so returning to the scene of the crime would get us nowhere, Guido was likely already at work and didn't have Luca's phone number so we sent messages through every online venue possible. After lingering at the cafe for some time we decided we could try and have Bita's phone mailed, but we really couldn't spend the day in San Marino. We carried on.
By the end of our coast out of San Marino we were again surrounded by beautiful countryside. Fruit stands abounded, and this farm had our had the most interesting agricultural advertising of the trip.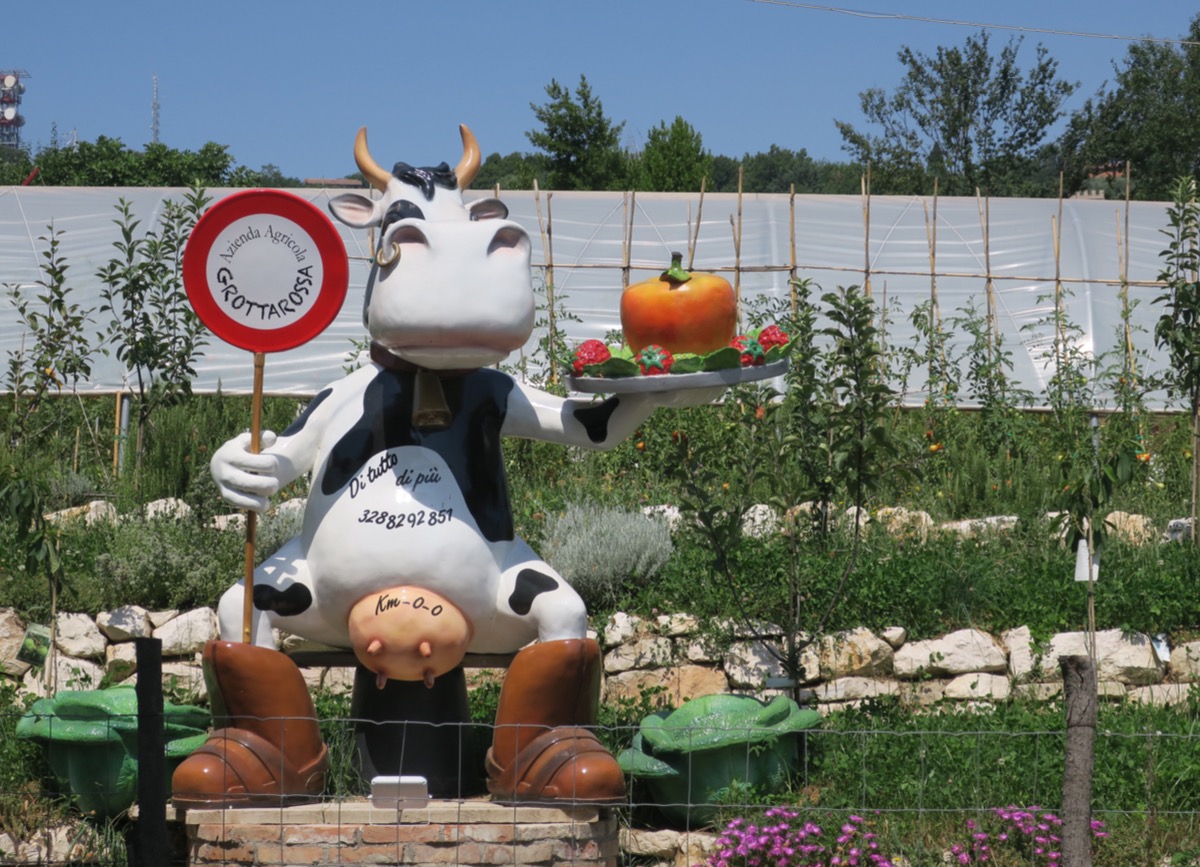 Eye catching
For weeks now Bita and I had been dreaming about cycling up to a fruit stand on a hot day and annihilating an entire watermelon. We had eaten many large meals this trip, so we assumed our stomachs would be ready for the challenge. We spotted a beautiful fruit stand with rotund watermelons on display and pulled in. The kind Italian woman running the stand was more than happy to halve a watermelon for us with her machete-like knife and lend us a couple spoons. We sat on chairs under a tree and dug in.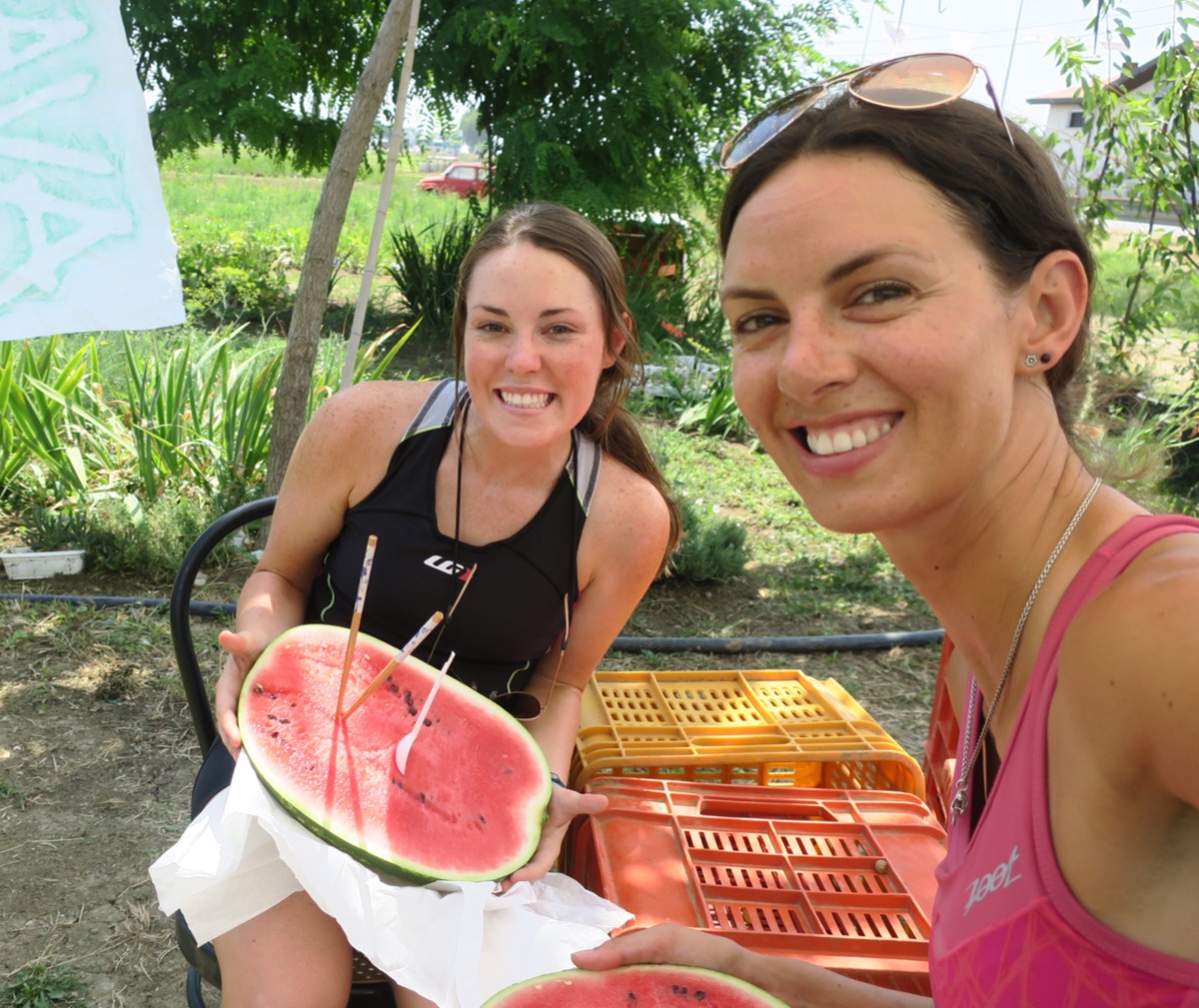 Watermeloned
All went smoothly at first, the watermelon was perfectly ripe and the seeds minimal. The first half of my half a watermelon I ate with relative ease, enjoying the thirst quenching bites. Then I hit a wall and my stomach began to bulge painfully. Each new bite was a struggle. Bita and I both slowed our watermelon eating pace until we gave in and backed away from the not entirely empty rinds. We waddled away from the fruit stand looking like we were trying to sneak half watermelons out under our shirts.
We were in such pain from the watermelon we agreed we needed to find an emergency nap spot just to digest. We were fortunate to find a large and shady park not far away, and we napped on our shawls soundly.
An hour later after we had digested back to a semblance of comfort we hit the road again. We had dawdled long enough, and knew we had to make up some miles to reach our couch surfing host's at the agreed upon time (we have a thing for punctuality), so we dug deep and pressed on hoping to melt some miles quickly.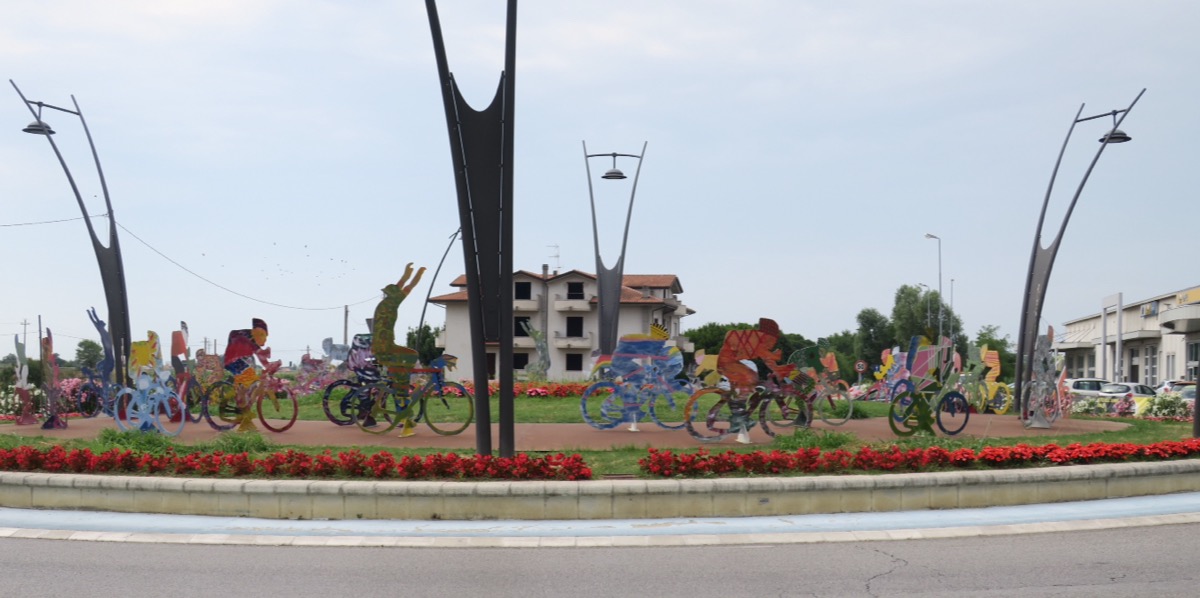 Bicycle-themed roundabout
Our only stop before Ravenna was at a cafe for a quick slice of pizza. The watermelon was great, but was mostly water and did not displace lunch. The kindly bartender heated up a couple square slices of margherita pizza for us as we watched the Tour de France intently. The cafe was full of older folks playing cards, but we and two older Italian men were glued to the TV. Watching these sinewy competitors gave us an extra surge of energy that stayed with us to Ravenna.
We arrived at our home for the night and were greeted by our host Lorenzo. He had a small fleet of bicycles of his own so ours joined the ranks. We made introductions over glasses of ice cold water and in between desperately needed showers. Then we got to work trying to sort out how to best retrieve Bita's phone. Lorenzo and Luca (in San Marino) helped us hatch a plan for the following day. In the meantime Lorenzo had invited us to partake in a barbecue with his sister and friends. The crew began arriving and the ingredients started to be prepped. The star of the show was three kilos of fresh sardines and I was put to work (after much pleading to help) skewering them for the barbecue.
Our eclectic group bonded over our love of Italy and mutual distaste for Donald Trump as we feasted on grilled and fried sardines, french fries, and fresh vegetables. Lorenzo and his sister went above and beyond as dinner hosts by making everyone a panna cotta based dessert, followed by lemon sorbet with a subtle vodka kick to it. It had been a wonderful evening getting to know Lorenzo and his besties. As with all of our couch surfing hosts this trip, our only regret was that we couldn't stay longer.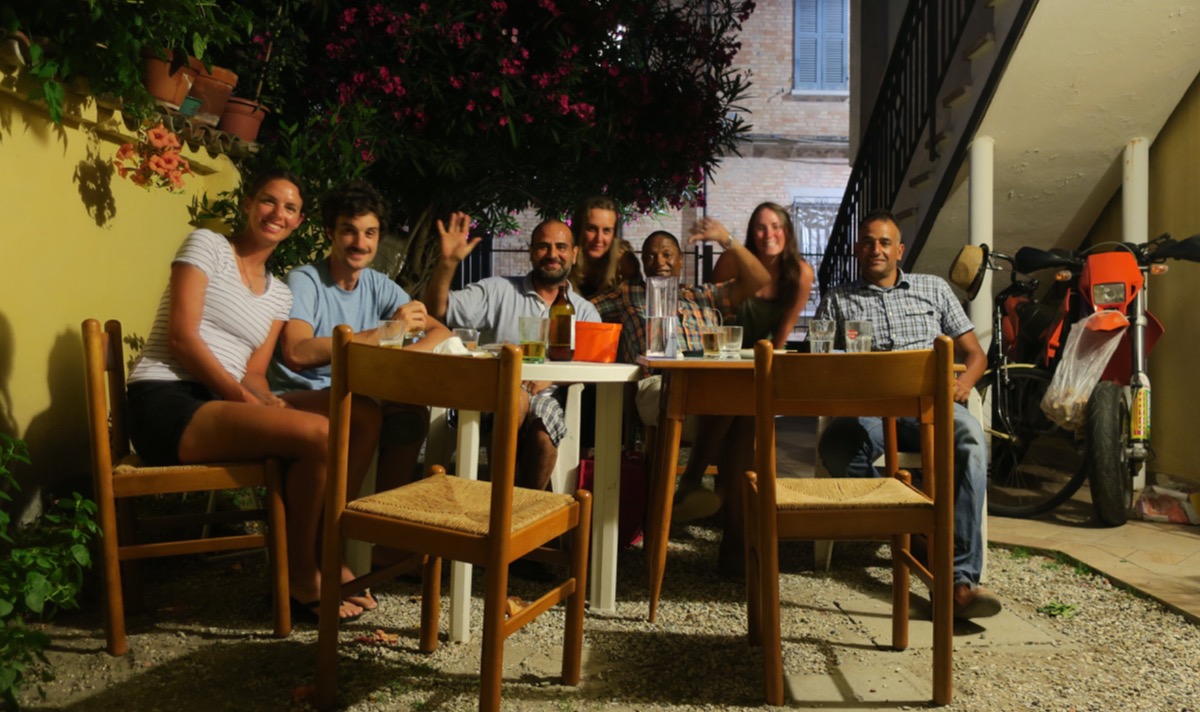 Dinner Under the Stars
Total miles so far: 1,528