Start point: Ravenna, Italy
End point: Taglio di Po, Italy
Miles: 40
Key words: rescue mission, train, bus, cable car, Casalborsetti, carnival food
The alarm rang promptly at 5:30am and we slowly crawled out of bed. We had decided the evening before that the only way to be assured Bita received her phone promptly was to return to San Marino and retrieve it ourselves. But unwilling to sacrifice the time (and additional climbing) to return by bike we were relying on public transport to carry out this rescue mission. On your mark, get set, go!
Lorenzo had kindly offered to lend us two of his older bikes to cycle to and leave at the Ravenna train station so ours could remain safely at his place. We cycled slowly in the crisp morning air. It felt strange being on slow moving, upright bikes after weeks on our swift road bikes.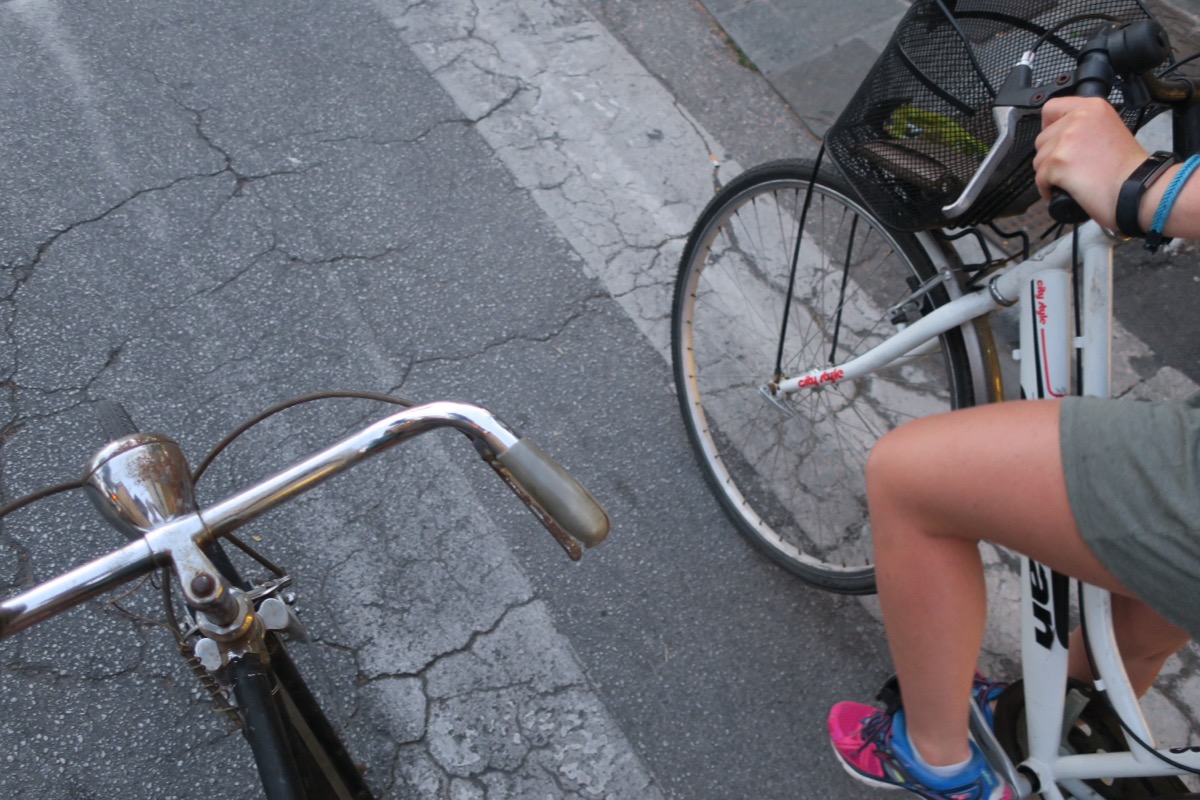 Early morning on Lorenzo's bikes
We arrived at the train station and bought two tickets to the coastal city of Rimini. As there are no trains running directly to San Marino we needed to take several modes of transport to arrive at Guido's door. To outline the steps we: 1) cycled to the Ravenna train station 2) took a train to Rimini 3) took a bus from Rimini to the old city of San Marino 4) took a cable car out of the old city 5) walked 30 minutes to Guido's home. We knocked on his door and nothing happened. We tried again ten minutes later then began to worry that we had trekked all the way back to San Marino for nothing. A third try and a groggy Guido opened the door and handed Bita her phone. "Thank you and sorry for waking you up!" we said half joking and half guilty. The phone in hand we trudged back up the hill to repeat our cable car to bus to train to bike return to Lorenzo's.
Start to finish the round trip to San Marino consumed seven hours of our day, so we immediately prepped to begin the cycling portion of our day when we returned to Lorenzo's. He had been so kind to help us sort logistics to San Marino and to lend us bikes that we grabbed him a bottle of wine from San Marino as a thank you. I hope it tasted of red fruit and gratitude!
We hit the road at 1:30pm. Having spent the cool morning hours on public transport, we were starting our 40 mile cycle in the heat of the day with minimal sleep and the combined effect was draining. The highway was hot and shadeless and the cars fast and furious. In moments like this I am so thankful for music to keep my legs going.
We were about ten miles in when Bita flew over an oblong piece of metal on the shoulder of the road with a dramatic series of clanks. A few minutes later there was a loud "poppppffffff!" And Bita's rear tire was flat. Not the best day for a flat tire but ok, we walked our bikes forward until a cafe restaurant came into view. Which was great luck, as we were cycling in the middle of a national park without many signs of life. We found a shady spot near the building and Bita set to work changing her tire.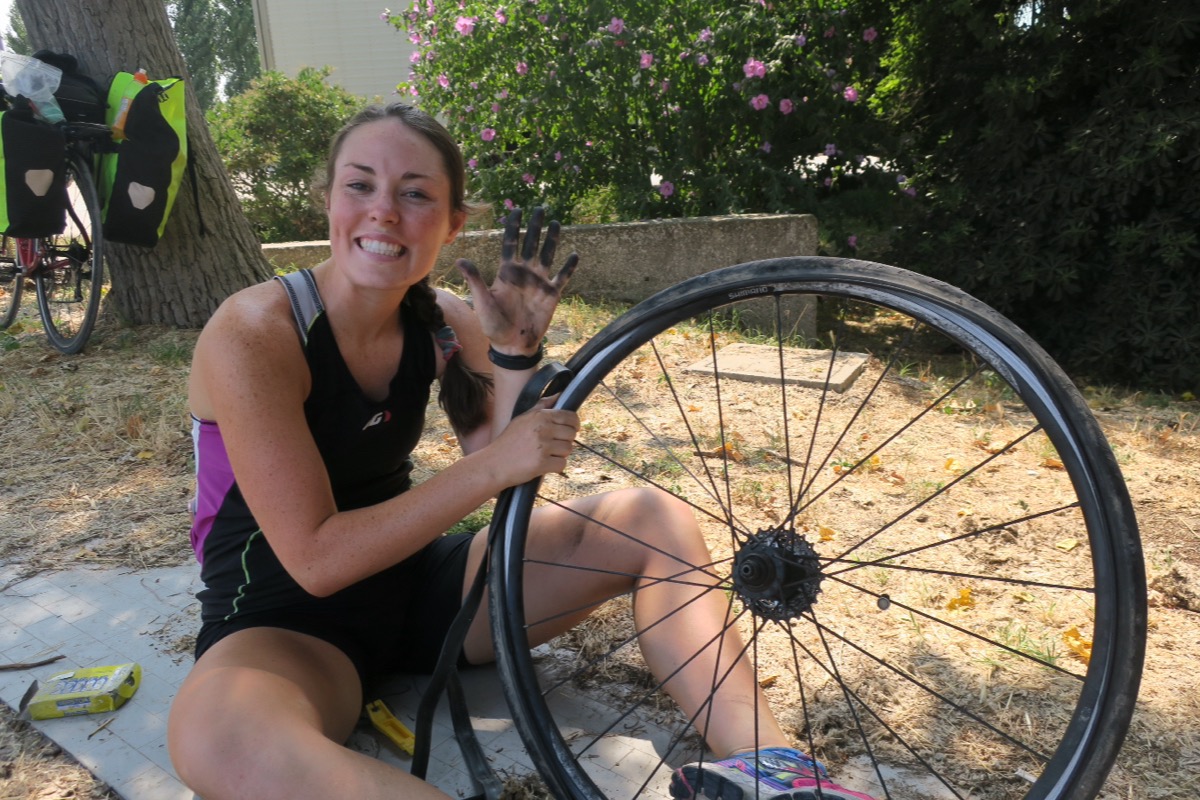 Bita's 3rd flat of the trip
It didn't take long for Bita to find the cause of her flat. The piece of metal she ran over ripped a jagged hole in her actual tire (as opposed to the usual tube puncture which is a quick fix). We tried putting a new tube in anyway, in hopes of keeping enough air in the tire to slowly cycle on. A few seconds after pumping the tube up, however, we heard an even louder "popppppfffffff!" And the tire was again flat.
We went into the cafe to reassess our options over gatorade. We were in the middle of no where with one unridable bike. The closest town was small and two miles away. There were no train lines and no buses that we knew of. I started to imagine us trying our hand at hitch hiking, but that would be much more difficult with bikes.
So we hatched a plan. We would head to the small town two miles away in hopes that they had a bike shop, and that it was still open. We set off with Bita walking while I cycled ahead to the town to inquire about a bike shop. As long as Bita stayed on the one main road that led to the town I couldn't lose her.
I set off with a sense of urgency, following a canal to the town of Casalborsetti. The canal was again filled with the fishing shacks and suspended nets we had seen on the coastline, and I watched one fisherman raise his net to survey his catch. When I approached the town I saw several bicycles which raised my hopes. The main road dead ended at the beach, where several dozen bikes were locked. An older blond woman approached on her beach cruiser. "Ciao!" I said. "Do you know uno mechanico di bicicletta?" I said in a mix of English, Italian and Spanish that I hoped made sense. "Si!" She nodded. "Follow me I show you." And The kind stranger led me three blocks to a bright orange shed filled with bikes for rent. I thanked her profusely, waved goodbye and began a linguistic tango with the hairy Italian bike mechanic whose knowledge of English consisted of "ok". Thankfully I had a handle on Italian numbers by this point so I was able to ascertain how much a tire and tube would cost and what time he was open until. I raced back to tell Bita the good news.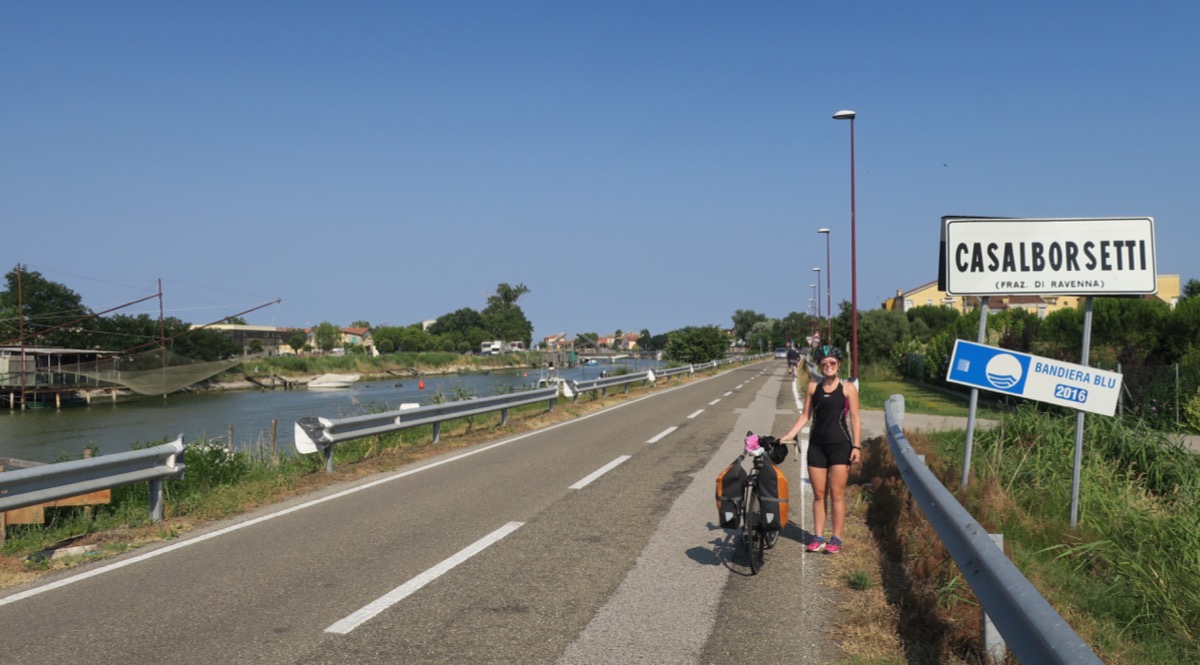 Casalborsetti saved us!
Twenty minutes later Bita's bike was upside down in his shop and he was deftly replacing her tire and tube. Twenty euros and five minutes later we were back on the road. This man gets the award for the fastest service of the trip!
We powered on through the rest of the cycle as afternoon transitioned into evening. We rolled into our small town destination to find a carnival coming to life. Bright lights, American music and the smell of fried dough sounded the alarm.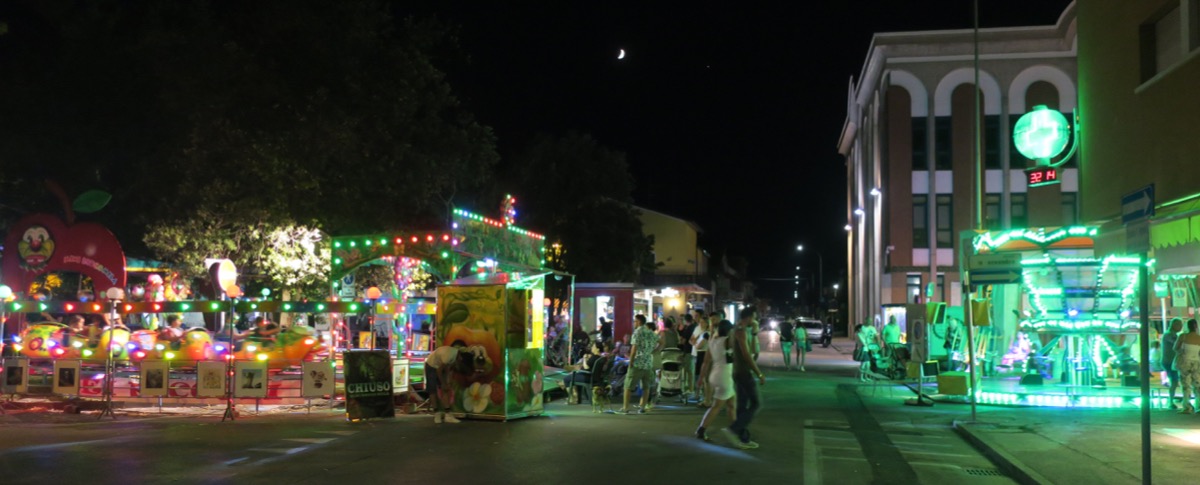 Carnival season
An hour later we emerged from our hotel showered and hungry enough to eat a horse, but unwilling to partake in carnival fare we went in search of a restaurant. Thirty minutes later after finding few restaurants and all of them closed we returned to the carnival we had turned our noses up at earlier, and feasted on what I would equate with the Italian version of a gyro in piadina bread.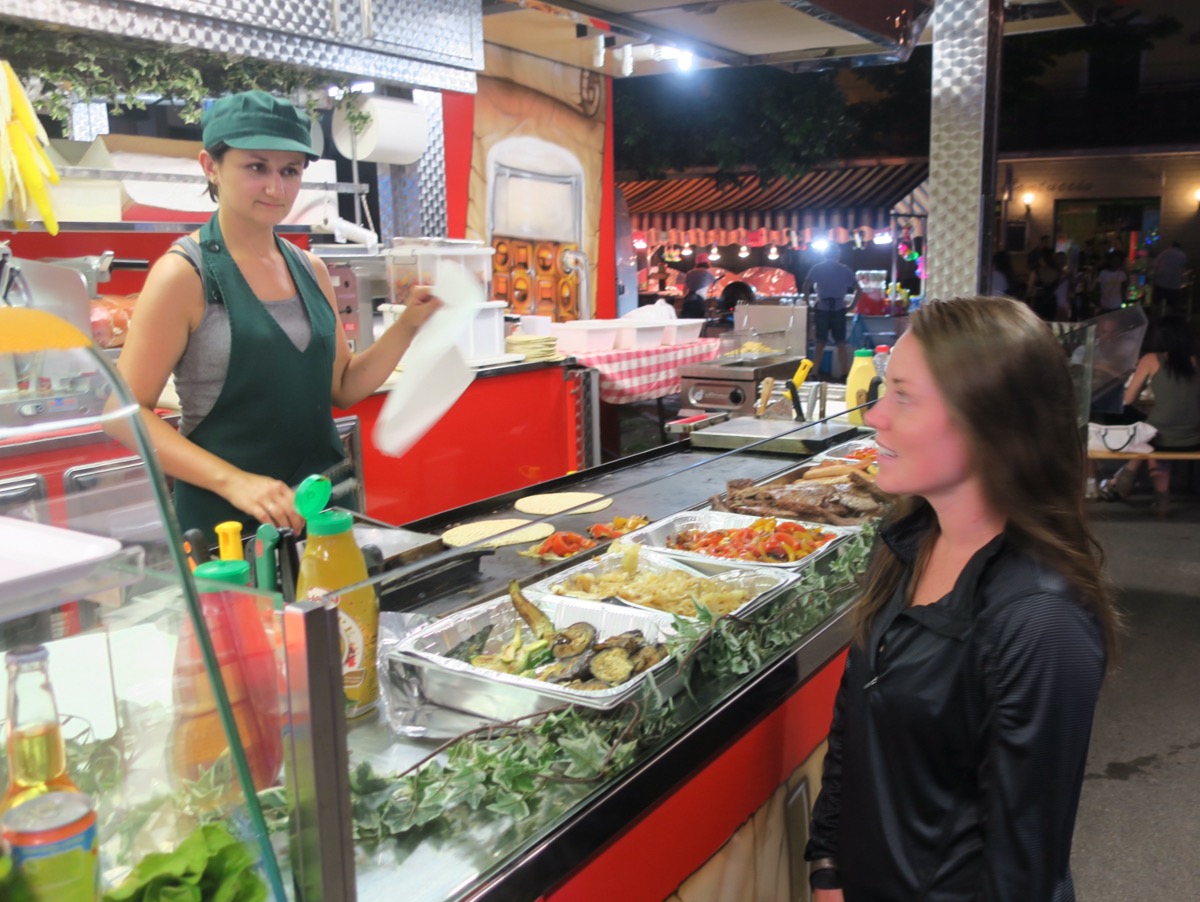 Ordering dinner at the carnival
We had survived a crazy day: 7 hours of public transport, 7 hours of cycling and one busted tire detour. I think we would absolutely rock at the The Amazing Race.
Total miles so far: 1,568