Start point: Taglio di Po, Italy
End point: Venice, Italy
Miles: 45
Key words: last day, old friends, shopping therapy, bicycle parking, reunion, tiny photo bomber
This morning I had a small knot in my stomach. A few days earlier Bita decided she wanted to conclude her trip in Venice, so I would be losing my cycling partner in crime. But as sad as I was to see her go I was also immensely proud of what she had accomplished. Cycling over 1,600 miles through six countries in 40 days is no easy feat. I think my sister is the only 21-year-old I know with the dedication and tenacity to accomplish something like this. I am incredibly prou of her.
We made our way northward, edging along the Venetian Lagoon that the island of Venice is nestled in. I couldn't wait to get there because we were meeting two of my good friends who would be cycling with me into Croatia. Jess is the crazy awesome lady who cycled across the US with me in 2010. This would be her partner Hector's introduction to bicycle touring. The excitement of seeing old friends was in the air.
The heat joined us early today and we made a couple gatorade breaks for old times sake. We made a quick stop before Venice to a sports equipment store so Bita could buy a backpack for her flight home. I took advantage of the stop to buy a couple spare tubes and a new shirt to cheer myself up.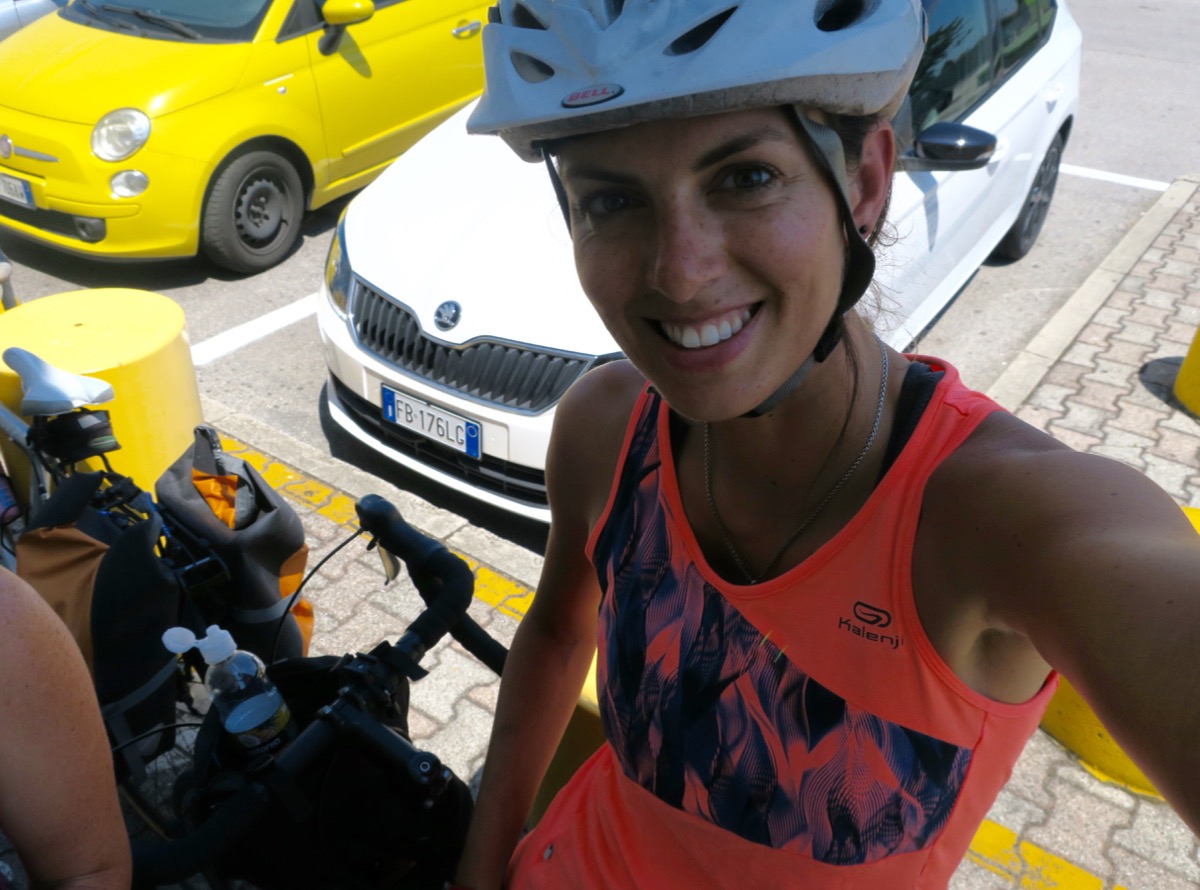 Shopping therapy
We cycled until the city of Marghera where we needed to accomplish two things. One: Bita wanted to try her hand at selling her bike to a bike shop. Two: I needed to find a way to get Spartacus to Venice. Jess and Hector had arrived in Venice a few days earlier with a couple friends and warned me that bicycles weren't allowed in Venice. I could hardly believe it. There existed a city in Italy, the most bike inundated country I'd ever experienced, that didn't allow bikes? I couldn't wrap my mind around it. Were there police running around ticketing people who dared ride their bikes on the island? I guess I would find out. I waited at the train station while Bita attempted to sell her bike. Thirty minutes later she returned glowing, she gave her bike away to a girl on the street who was very grateful for it. I hope she got some great bicycle karma out of it.
Bita waited with Spartacus while I went to inquire about train tickets. There was a train that goes over a bridge into Venice, and I was hoping I could get Spartacus onto it and just walk him on the island itself. I took a number and waited until it flashed above a gray haired ticket officer. "Buongiorno" I began, "Inglese?" The man gesture a little. "Do the trains carry bikes?" I asked. "Si" he responded. I breathed a sigh of relief. "Due a Venezia" (two to Venice) I said in my best Italian accent. "Vene-Zee-uh" he snapped, correcting my mispronunciation. "No bikes! No bikes allowed in Venezia!" He repeated several times, each time his voice raising louder. He was almost to yelling level when I turned around sharply, to keep myself from yelling back, and stormed out. What an A-hole.
Bita and I began our march toward the long bridge connecting Venice island to the mainland when I remembered something I read online about paid bicycle parking. Sure enough there was a big bicycle parking lot but it was closed on Sundays. I hopped on Spartacus and started to cycle the perimeter of the station when I saw a tiny bicycle parking sign at a hotel. Five minutes later Spartacus was safely tucked away at this hotel, I was happily 15 euros poorer and we were buying train tickets (from a machine, not an A-hole) to Venice. It was all going to be ok.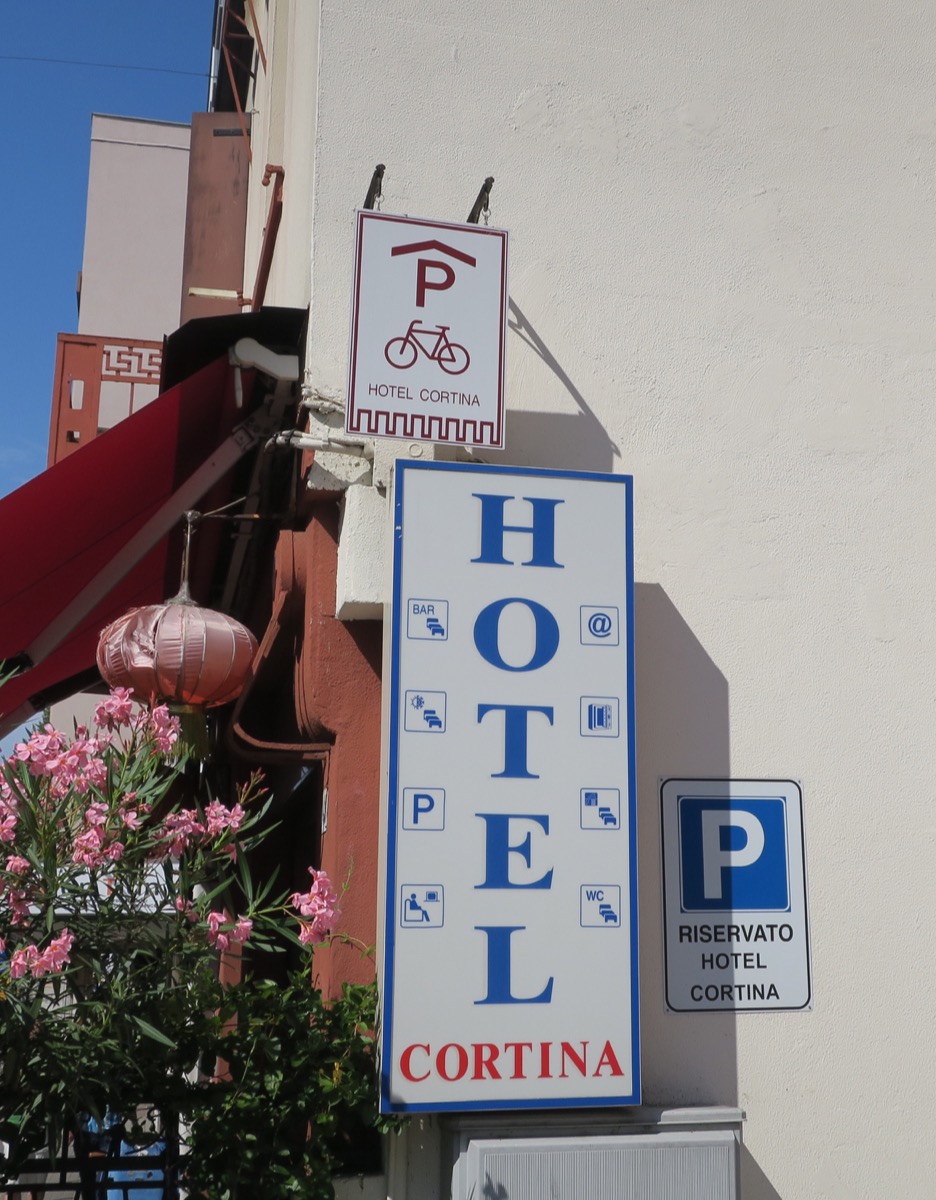 Bicycle parking
We arrived in Venice and I could see why the island would not be favorable to bikes. The small streets and countless stair step bridges would makes navigation by bike difficult. Although outright banning the riding of bikes I disagree with. The real barrier to bikes are the shoulder to shoulder lumbering bodies of tourists. Maybe they should thin the herd before they ban bicycles. But I digress.
We walked through cobblestone streets to the northern edge of the island to catch a small ferry. Jess had booked a place for our band of merry folks on the island of Sant'Erasmo, which promised to be quieter and more bike friendly than the tourist heavy island of Venice. We arrived to Sant'Erasmo and just when we thought we were lost (we somehow had the wrong address for the BnB) Jess and Hector rolled up on their bikes, with their friends Priyah and Mary not far behind. I let out a scream and tackled Jess with a hug. It had been two whole years since I'd seen this amazing lady!
The rest of the evening was magic. Introductions were made, we went for a swim as the sky turned rosy and we shared a great meal overlooking the water. It was a beautiful reunion and a bittersweet goodbye all rolled into one.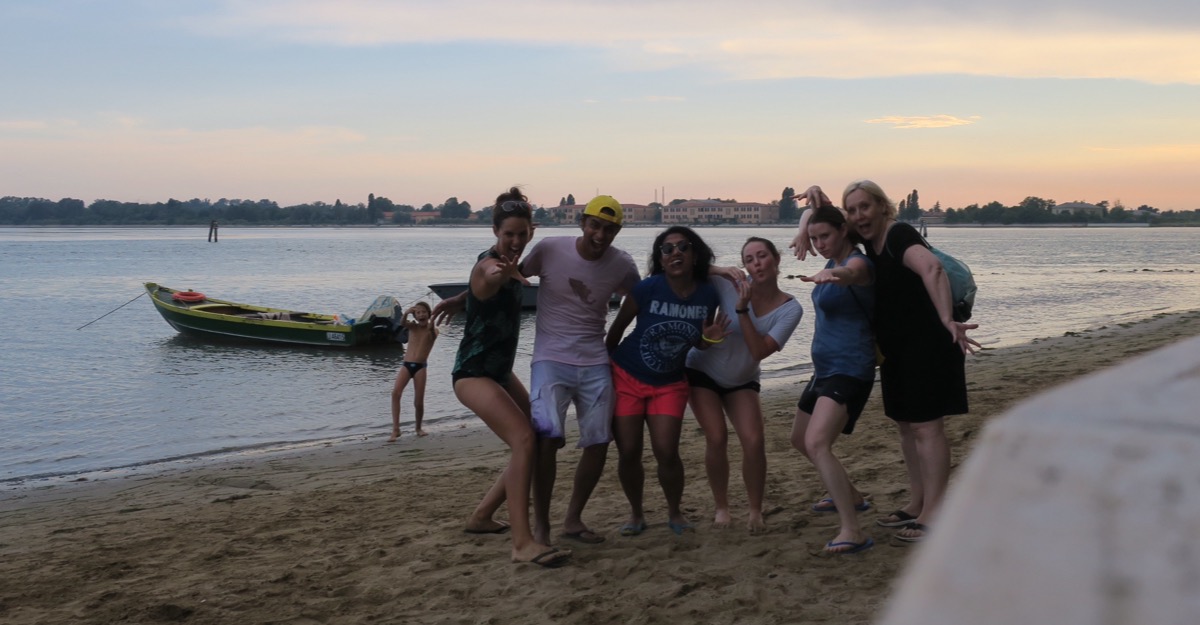 Our crazy crew in Venice
I didn't realize it until reviewing the much photos later, but we had a tiny photo bomber in our midst.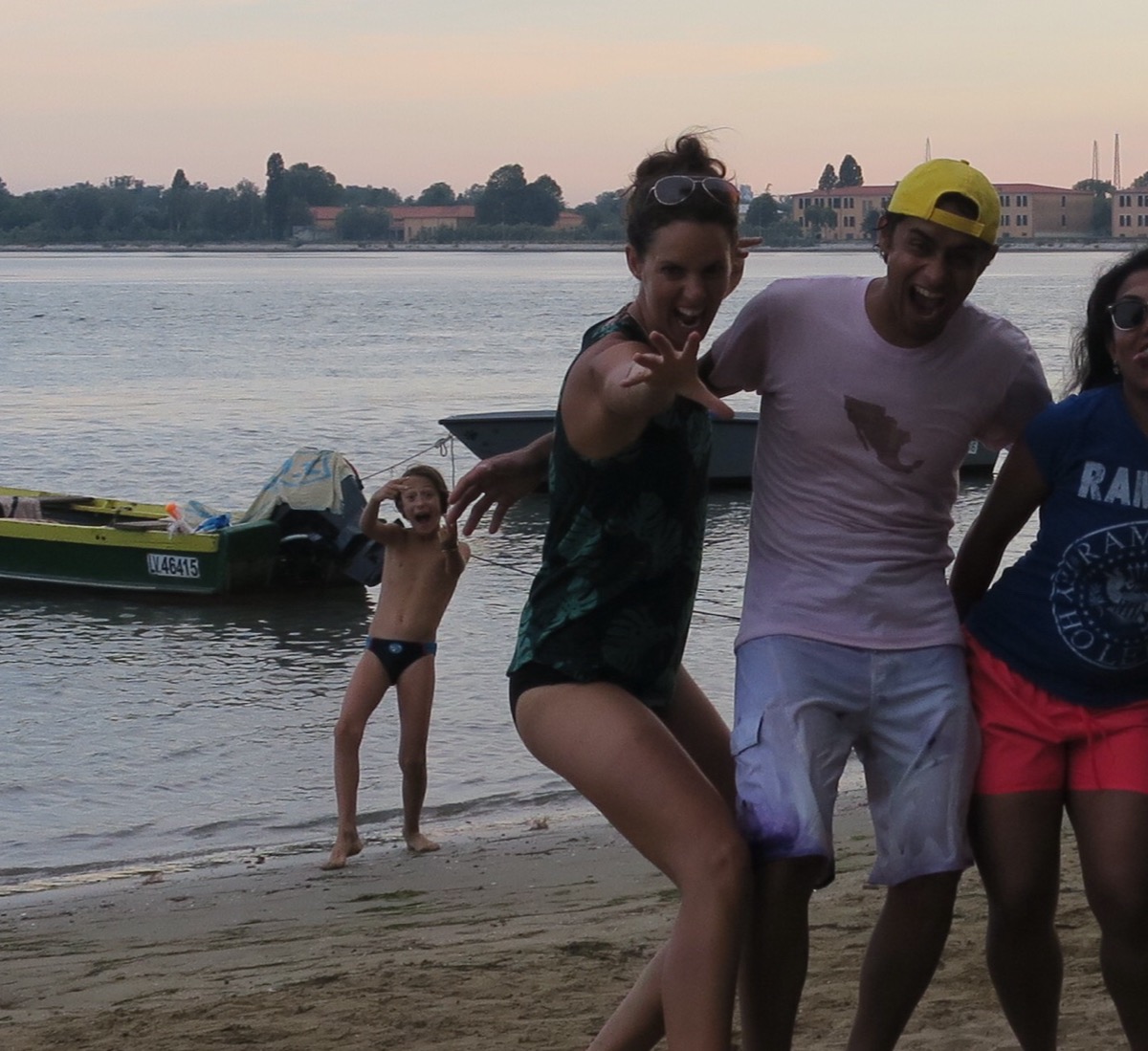 Tiny photo bomber
Total miles so far: 1,613