Start point: Venice, Italy
End point: Portogruaro, Italy
Miles: 39
Key words: cycling trio, exit strategy, pre cycling workout, sandwiches, siesta, storm
Today was exciting for many reasons. Not only were we leaving bike-unfriendly Venice (yes that chip is still firmly on my shoulder), but the cycling team had morphed into a road ready trio that I expected great things from. I looked forward to reliving some of the trip Jess and I did across the US in 2010, and I couldn't wait to see what Hector thought of his first taste of bicycle touring.
But before we could really hit the road we had to actually get out of Venice. This was no easy task. I had stashed my bike inland at a hotel, while Jess and Hector had managed to get their bikes onto Venice island by train and then by ferry to Sant'Erasmo where we were staying. I desperately hoped we would have cooperative ferrymen and train personnel this morning to help us with our exit strategy.
Phase I: bikes on the ferry from Sant'Erasmo to Venice Island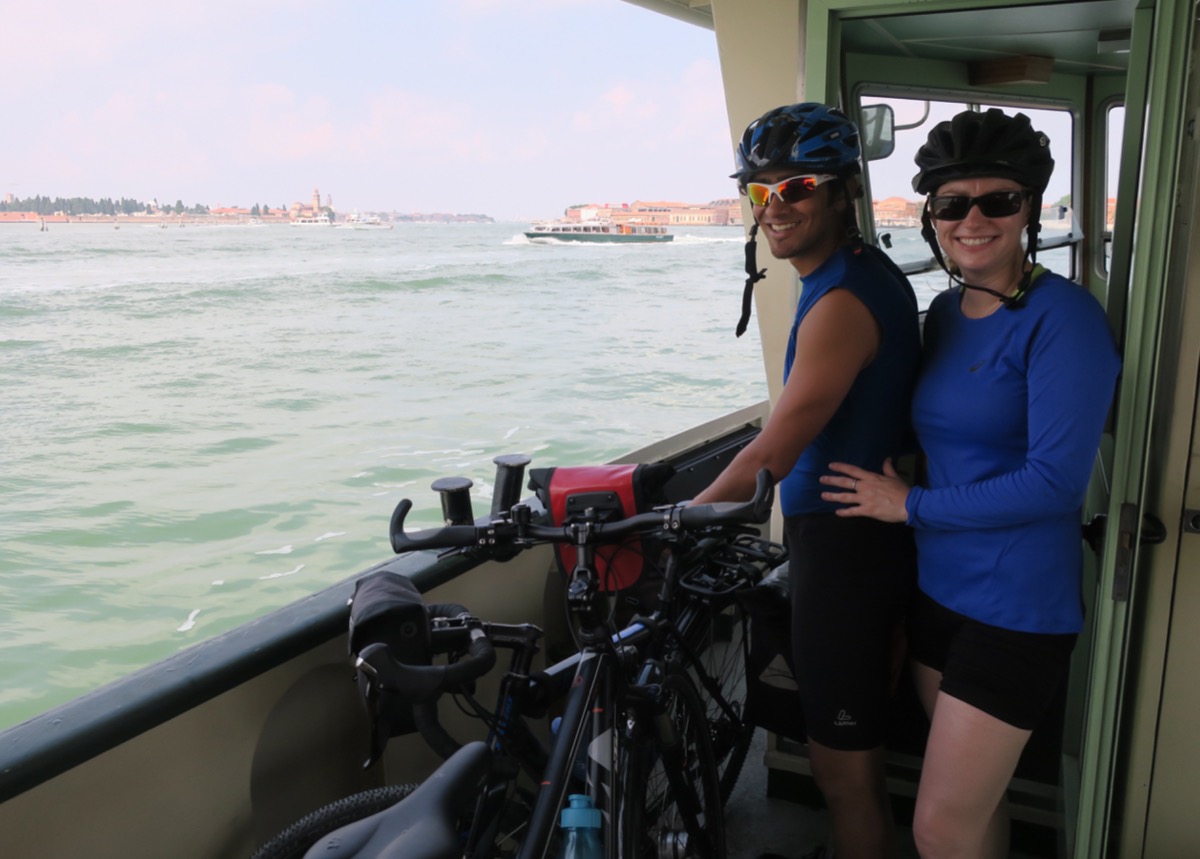 Bikes on board and these guys pumped for the day ahead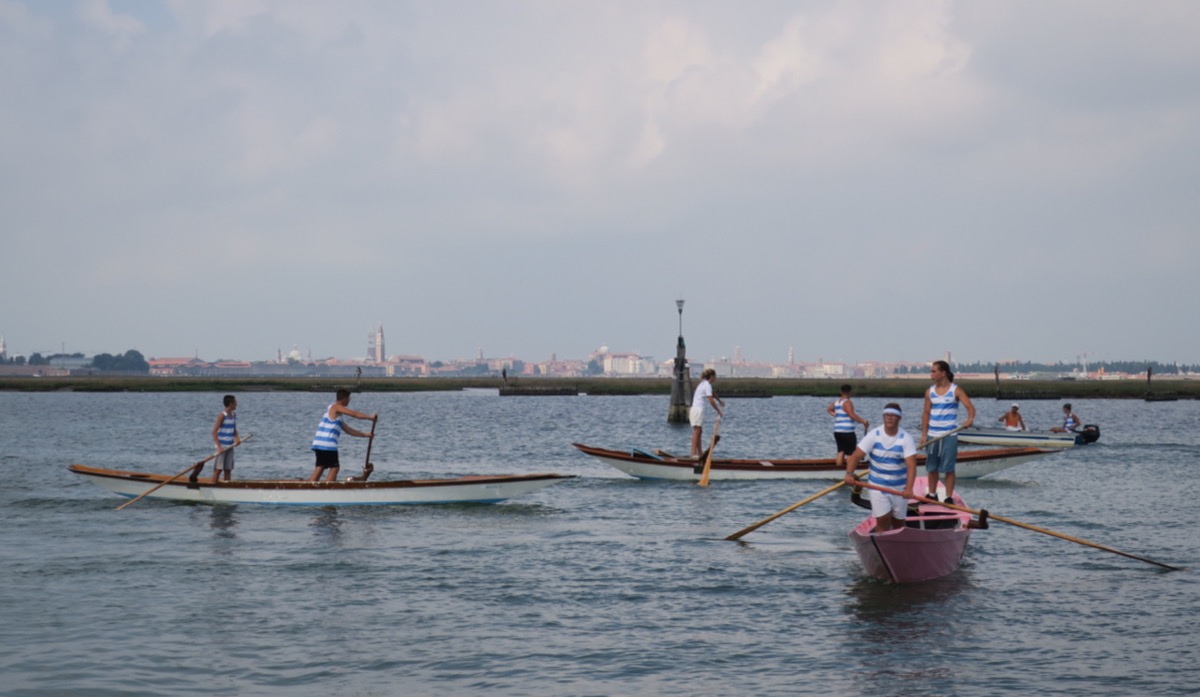 Taking it all in on our last ferry ride in Venice
Phase II: bikes from ferry stop to the train station
As it is illegal to ride one's bike in Venice the only alternative is to push them around and then carry them over the many staircase bridges. I am still curious who actually fines cyclists for daring to coast through these streets, and how much this malfeasance costs. In the meantime, not really wanting to find out, Hector and Jess were getting in a workout before our cycling even began.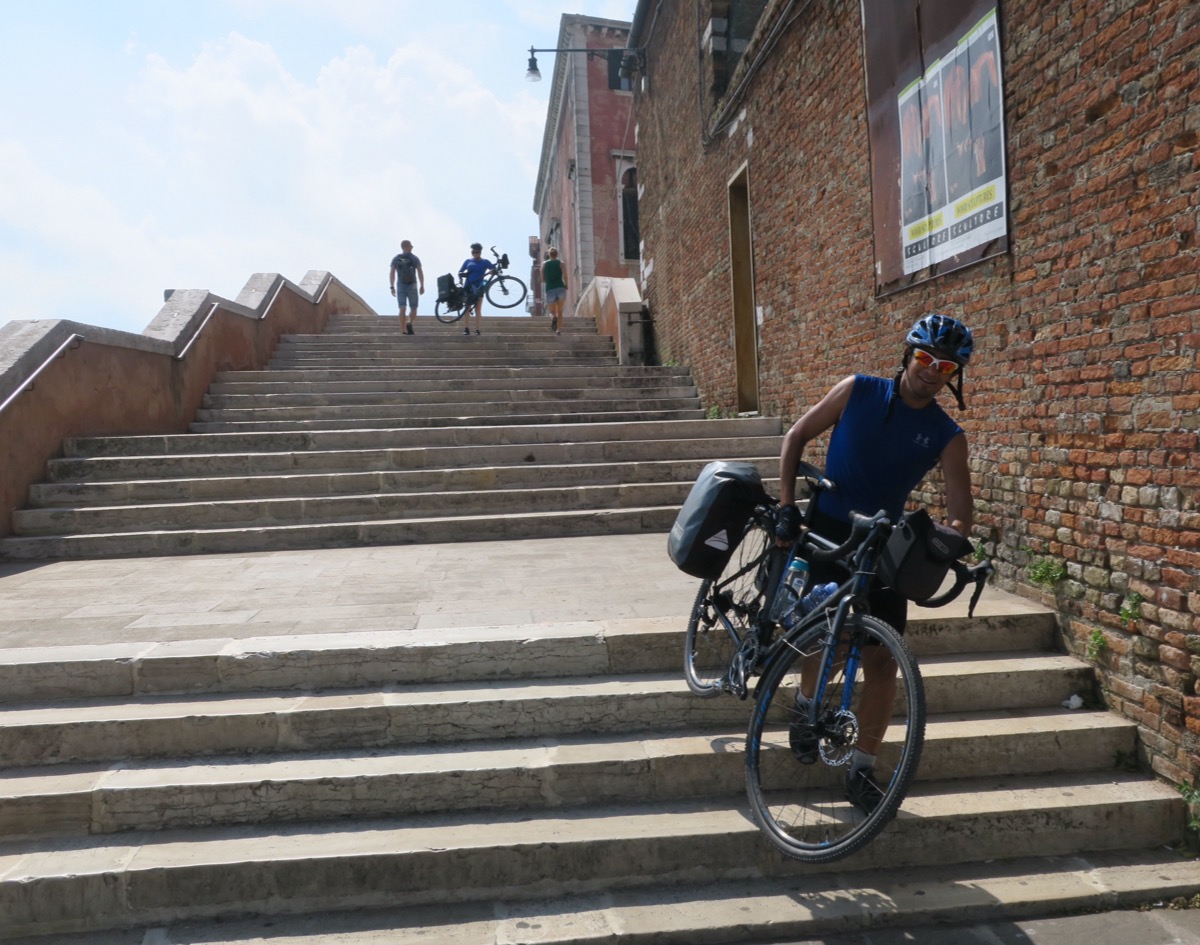 Pre cycling workout
As we neared the train station we walked by a stunning chalk art piece in our path, and I was taken aback by its perfection. Ok Venice, you win. You are beautiful and historic and tantalizing and unlike any other city in the world. See you again for Carnival one day.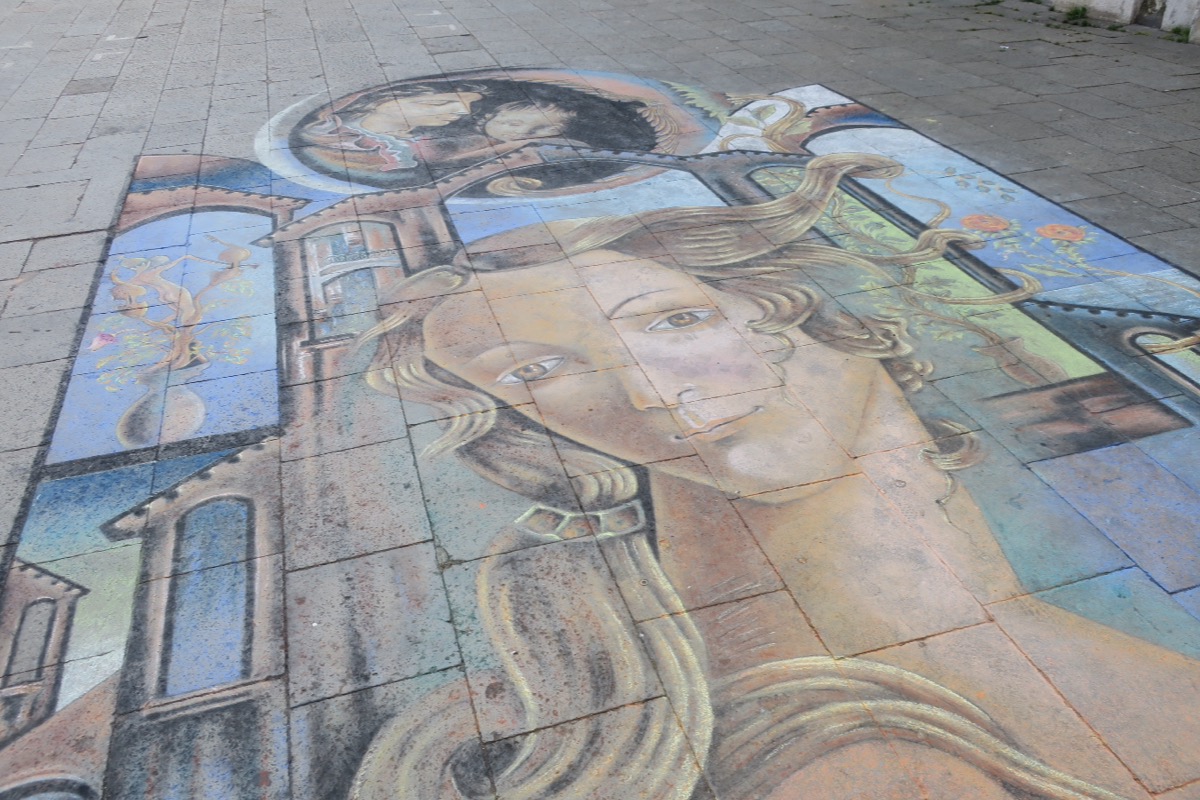 Chalk art
Phase III: bikes onto the train
We purchased tickets for a train that allegedly carried bicycles and were relieved to find that in the last car there were built-in bicycle stands. I breathed a sigh of relief once we were on board and the train pulled away from the station. Ten minutes later we would be back in the real Italy, where bikes reign supreme and cycling is a virtue.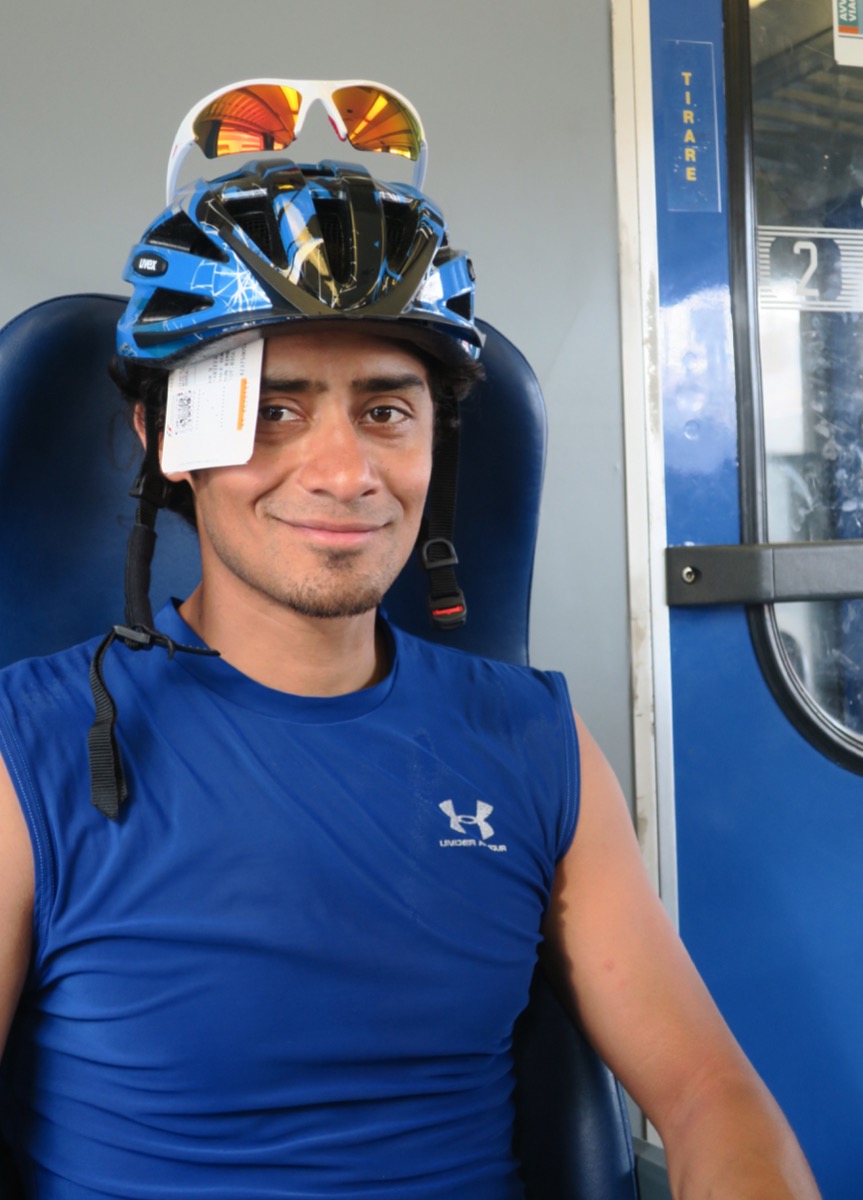 Bikes on the train and Hector ready for day one of cycling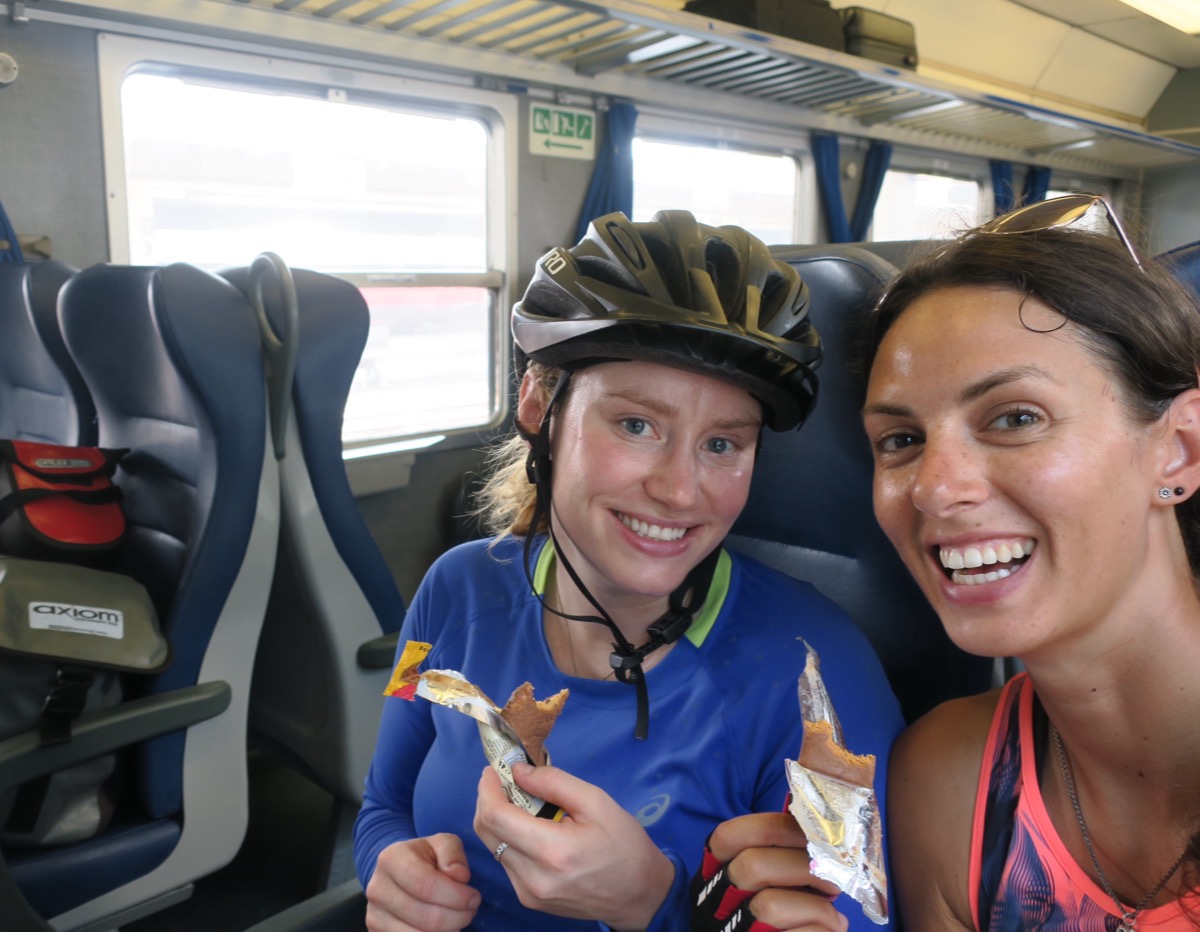 Power barring up!
My bike was stashed less than a block away from the train station so I scooped him up, threw on my panniers and we were off. I started in the lead to let Jess and Hector take it all in and observe the traffic flows. Road cycling is basically the same everywhere, but there are subtle differences in how motorists approach, pass, and communicate with cyclists. In Italy the method is cozy spacing with many tiny horn taps of acknowledgement. Somehow it just works.
It felt great to be on the bikes, and not long after taking off Jess said "I remember this view!", meaning my butt on a bike in front of her. It had been six years since our epic cycling trip from Portland, Oregon to Portland, Maine that had gotten me into cycling in the first place. Near the end of that trip we had declared that the next cycling trip would be in Italy. Look at us now!
We cycled through vibrant green countryside dense with vineyards. For lunch we stopped at a grocery store and bought everything we needed for sandwiches which we constructed in a riverside park and gobbled up hungrily. Then to round out the experience we took an after lunch siesta in the shade. It was just like old times.
Back on the road we continued through countryside beauty but the winds had picked up and the sky began to darken. We were fine cycling in warm rain if it should come to that, but we began to see lightning in the distance. Hopefully it will move away from us, I thought. Onward we continued until the bolts became closer and we all agreed we should seek shelter in the nearby town. We ducked under the overhang of a cafe and sipped on drinks while the torrential madness ensued. Rain was flung sideways and epically loud thunder rocked our little haven. Even had the locals were raising their eyebrows at the deafening claps of thunder.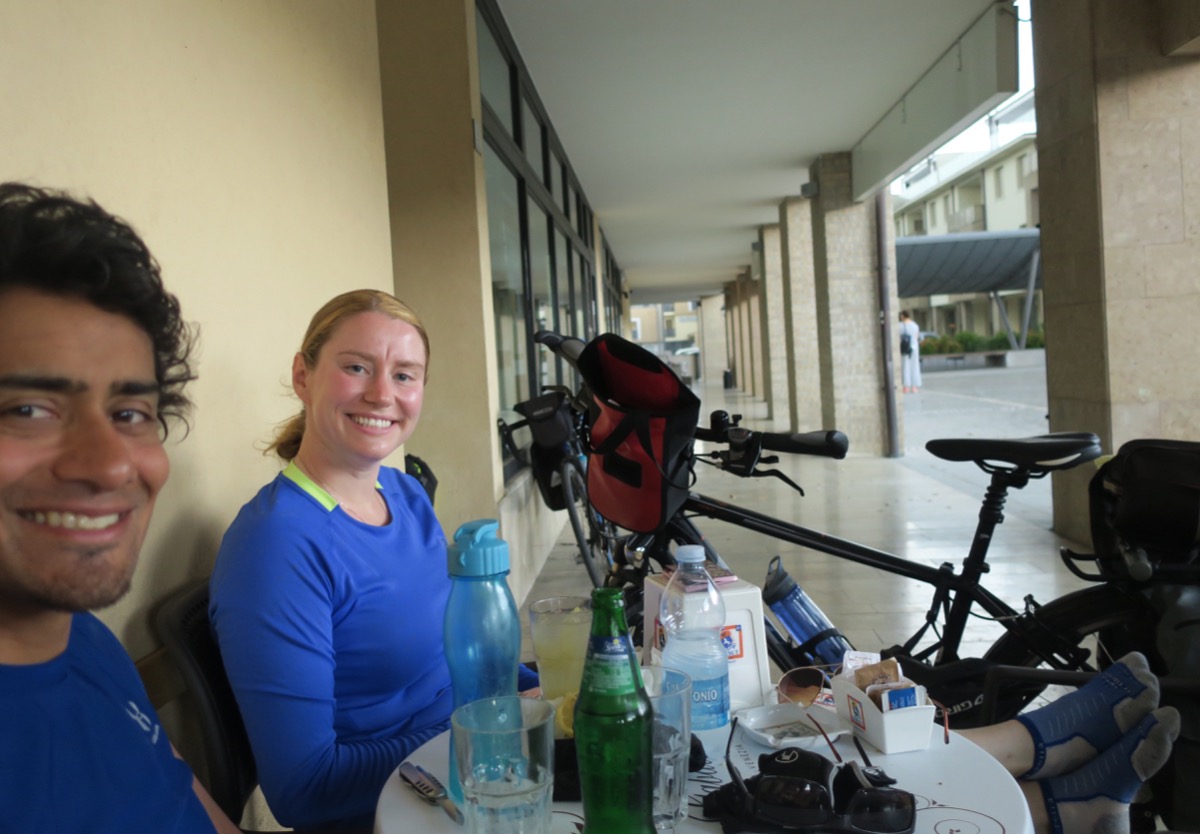 Our cafe haven
The storm eventually did pass and we carried on. The remnants of tree branches and plant debris along the roads gave the impression that that was no ordinary storm. We cycled along yet another vineyard and I saw a farmer walking along his rows and tenderly gathering vine branches that had been ripped off by the wind.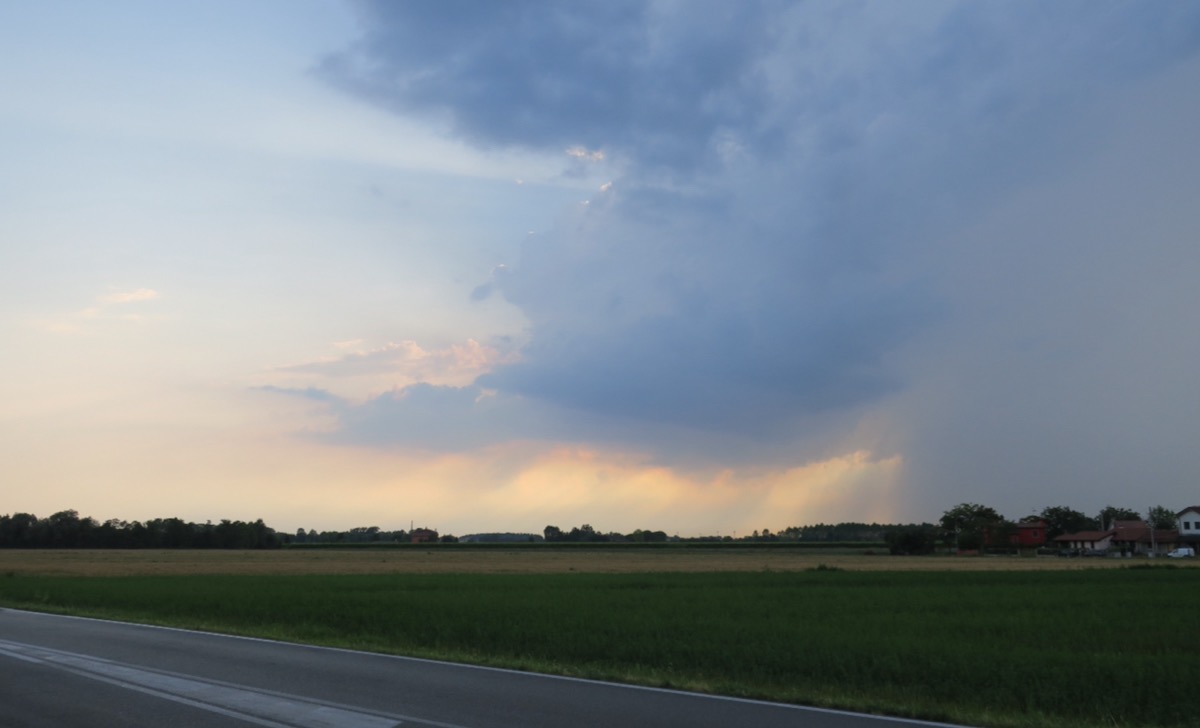 Beautiful skies after the storm
We arrived to our destination and were warmly greeted by our host Clara who had a cozy upstairs apartment waiting for us. We showered and headed out in search of dinner, celebrating our first day as a cycling trio over pizza and beer. Jess and Hector having come by way of Frankfurt, they mentioned how it had been cold and raining in Germany when they left. I couldn't help but chime in, "thanks for bringing the German weather guys!"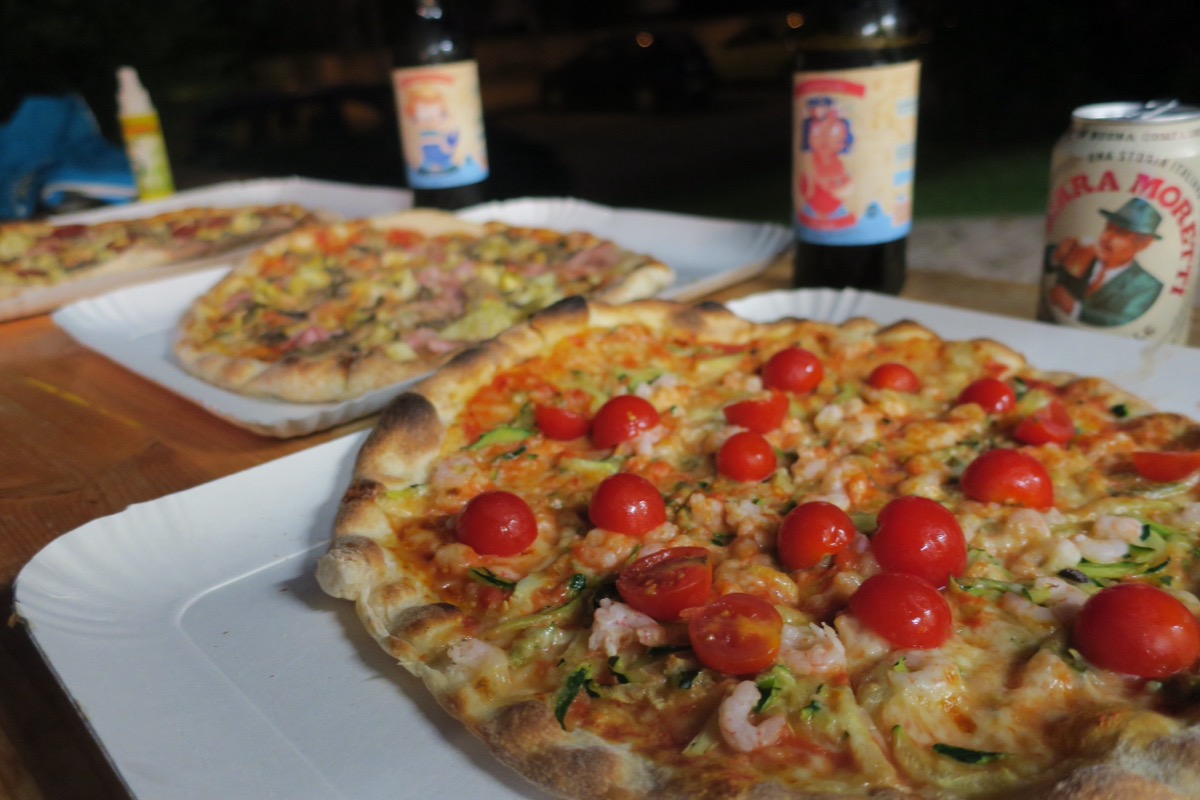 Celebratory pizza and beer
Total miles so far: 1,652