Day 51 From Oregon to Oregon
Kyle and Jake were kind enough to drop us off in Mt Morris the following morning so we could keep our miles accurate. No cheating on this trip for us! The boys decided to drive onto the next town and save us a seat for breakfast. The ironic thing about the next town; it was named Oregon.
Welcome to Oregon, IL! There were a lot of jokes cracked this day about cycling from Oregon to Oregon
As I've mentioned before, Jess and I love stopping at roadside stands to browse the local fare and purchase food for the day. We had been looking high and low for a pick-up bed full of sweet corn in Iowa. We didn't find the coveted roadside sweet corn, strangely enough, until Illinois.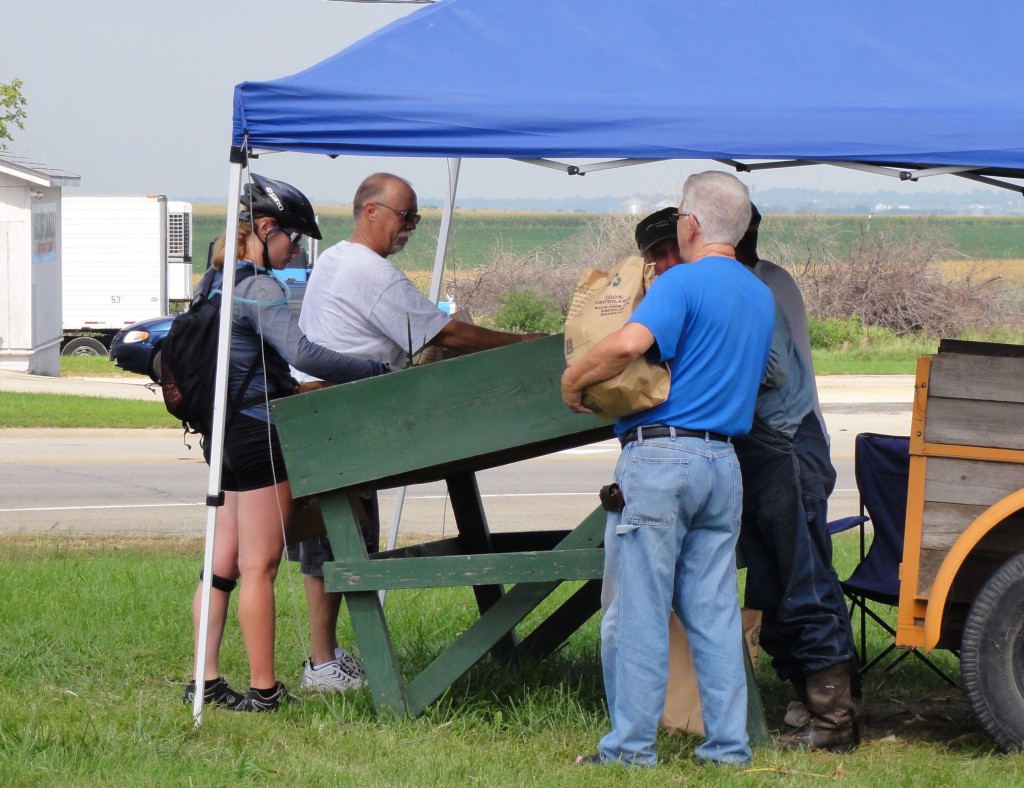 Jess picking out the sweetest ears
We pulled off and Jess began chatting with the farmers. Of course the question came up "So where are you traveling from?" "Oregon" Jess replied. To this notion the farmers nodded their heads in approval. "The state" she added. Their reaction was priceless "really!? And I thought I worked hard."
We cycled until Sycamore, IL and stopped off at the city park. I needed to make some phone calls and we both wanted to stretch our legs. Jess suddenly perked up "Those people are playing soccer! I hope there is a pick up game!" She took off her helmet (something Jess rarely does) and sped off across the park to join in on her favorite game.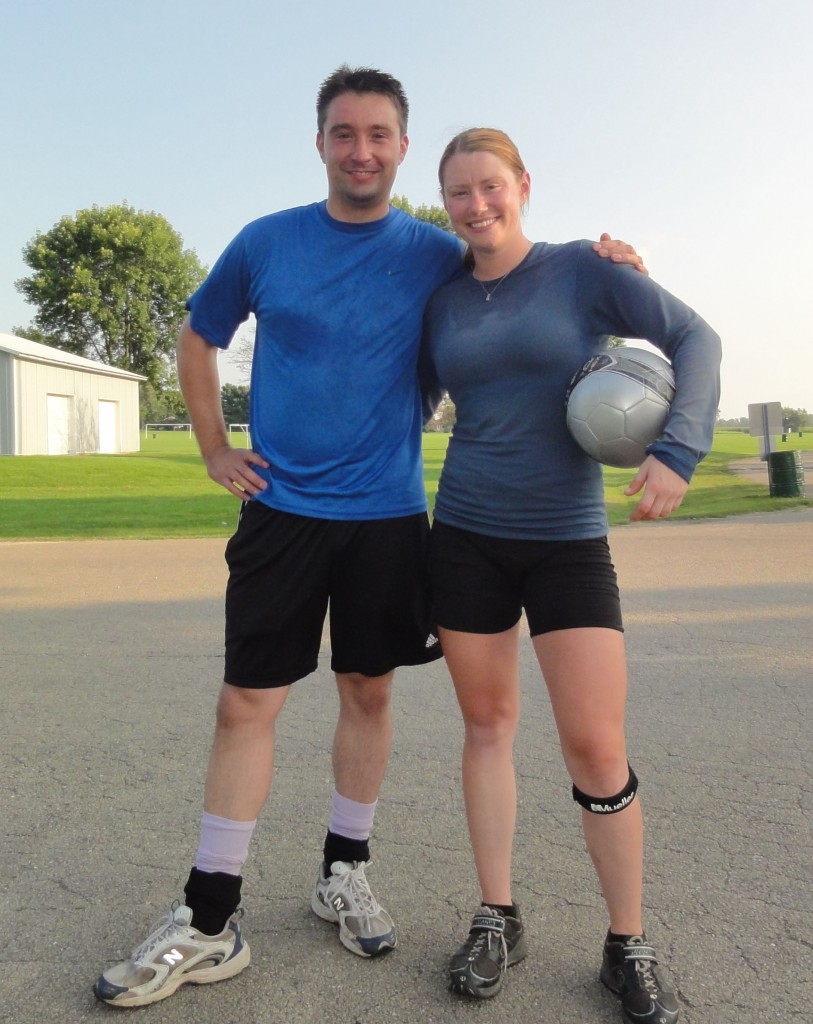 Jed and Jess post soccer shenanigans
We later found out Jed is the author of a book in progress named The Myths of Christianity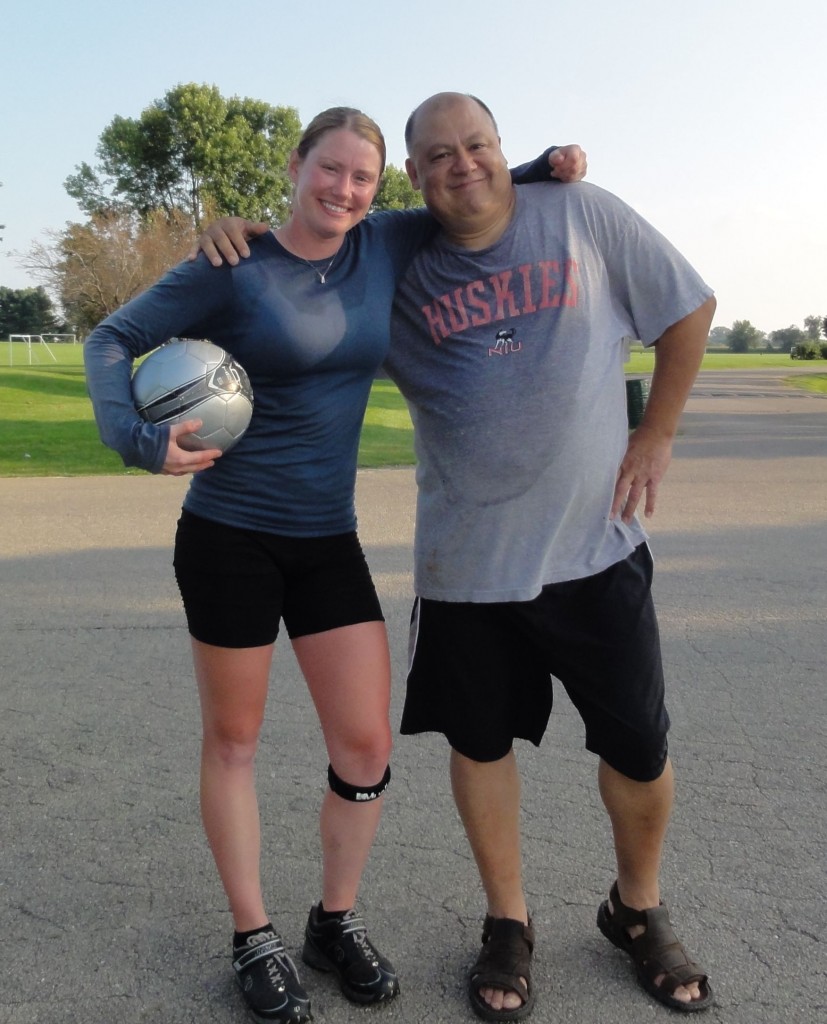 Jess and Jesus
Jesus was very inspired by our journey and wished he had done something similar in his youth
We weren't certain of our destination for the evening but we wanted to cycle close to Chicago without getting lost  in the urban sprawl that would undoubtedly mean 0% chance of finding a place to camp. We saw a tiny town on the map called "Lily Lake" and put our deductive reasoning skills to use. We figured where's there a lake, there's camping or at least the potential for camping. We were dismayed to find, however, that Lily Lake is not accurately named. There was no lake, no camping areas, not even a city park or inviting patch of secluded grass. We pedaled on.
The next town we reached was St. Charles, IL. It was dark by this time so we stopped at a Walgreens to inquire about camping areas and call the local authorities to ask about staying in their city park. Both proved to be dead ends. A man named Tony offered to look over his maps in search of local camping areas. Meanwhile a jovial man named Mike with a Boston accent and two kids in tow walked up "Hey these look like travelers! Where are you two from?" He inquired with gusto. When we told him we were cycling cross country from Oregon his energy level rose another notch "Let us put you guys up for the night! I've got bunk beds, hot showers, we can do a couple loads of laundry and watch a movie." We were astounded by his generosity and took him up on it. As it turned out Tony knew Mike and vouched for him.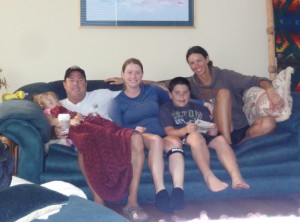 We ended up having a great evening getting to know the Leary family: Mike, Xander, and Jenna. Xander, age 10, is an avid baseball player like his dad. He is a great big brother who looks after and cares for his younger ever-so-spirited sister Jenna. We spent the evening making pasta, reading stories, and talking about the things we had seen on our journey. We drifted off to sleep under vibrant Red Sox comforters, thinking of the next day's adventure.