Today was an exciting day, we were headed to Chicago! Mike was kind enough to provide us with breakfast, and even bought us coffee; or in my case chai tea, one of my favorite things in the world which I had yet to indulge on during the trip.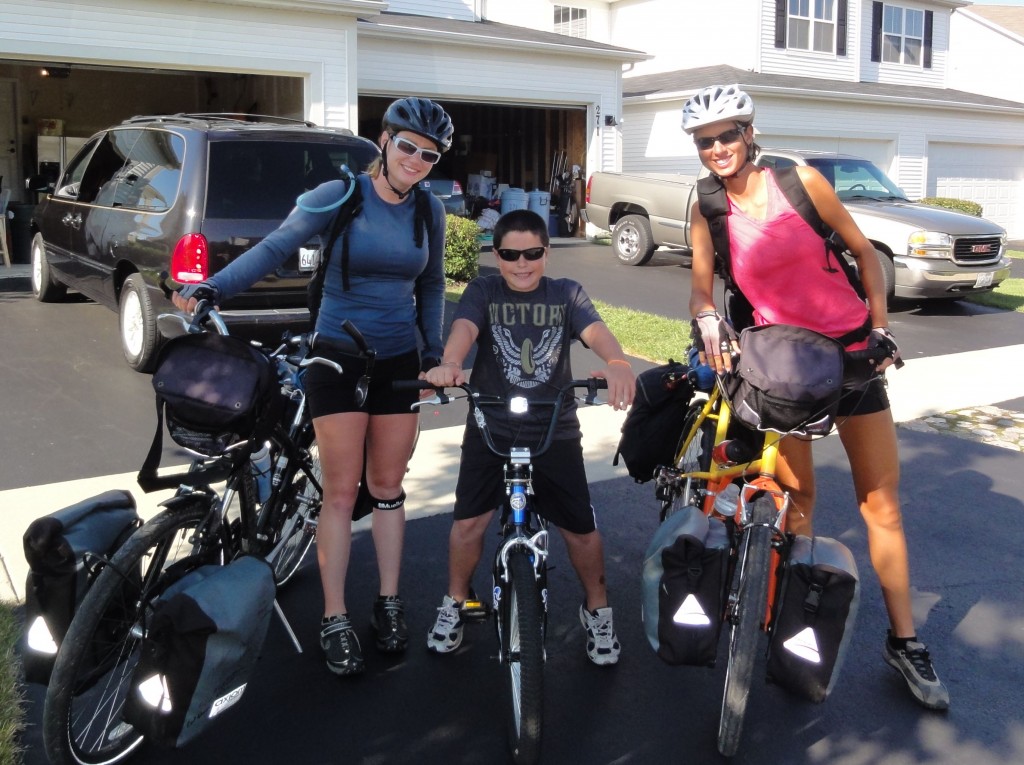 Jess Xander and Me
That morning Xander accompanied us to the end of his street. We parted ways with promises to stay in touch and for Xander to keep Jess updated on his sports career. We both sensed that great things are in store for this young man.
From the rolling perfectly manicured lawns of St. Charles we made our way closer to Chicago. The lawns and golf courses were transitioning into pavement and townhouses. The vast corn and soy bean fields of rural Iowa seemed like another world away.
Cycling with urgency towards Chicago we stopped dead in our tracks. An elderly woman was having difficulty walking. The dear woman was teetering along, taking steps back, then teetering forward again. We watched her closely. I noticed a dark smudge on her otherwise perfectly pressed skirt that indicated a recent fall. Then to our dismay she began walking across the hectic four lane highway. We held our breathe as she wobbled in front of oncoming traffic. We raced across the street to guide the woman onto the sidewalk. I wrapped her tiny wrist around my arm and noticed her elbow was bleeding. She said her vertigo had kicked in and she had fallen. She looked up at me during our walk to her house "Don't get old" she warned. I assured here I would do my best not to. We walked her home leaving only after she assured us her daughter was home and could bandage her elbow.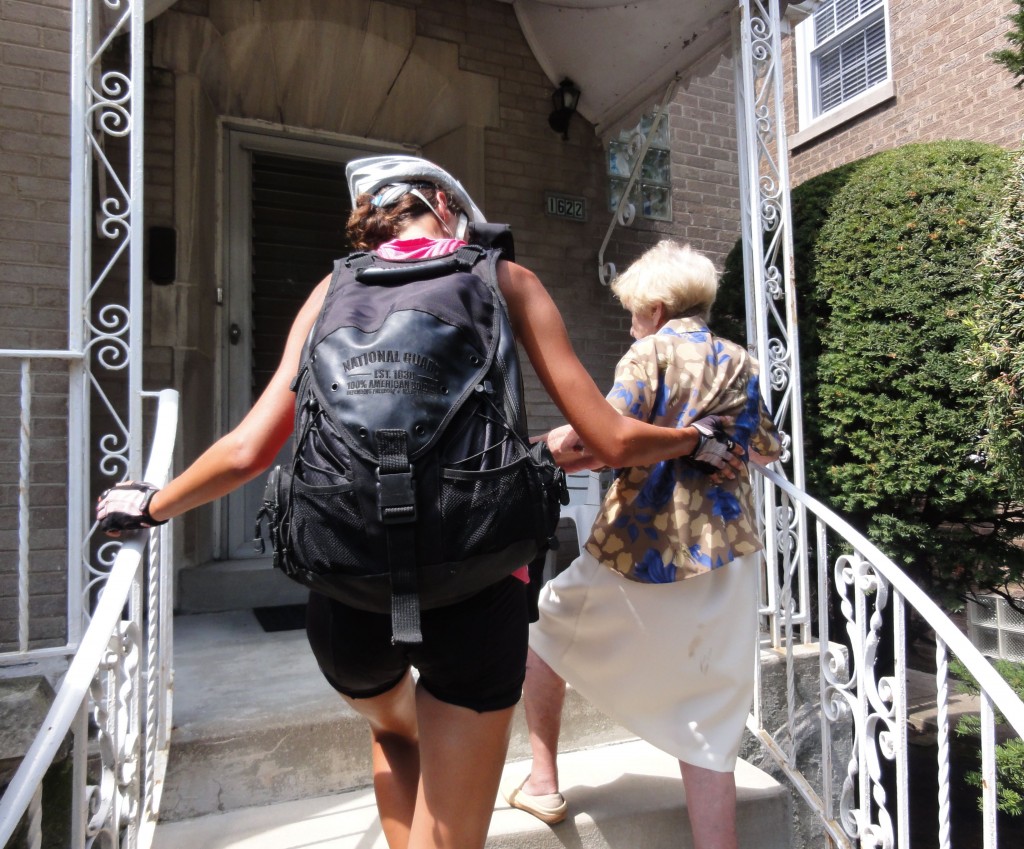 Lending a hand
We cycled onwards towards Chicago witnessing the change in the sights, smells, and traffic. We were finally in a big city! We dodged immense pot holes, delivery trucks, pedestrians and public buses. There was not a break that allowed for texting or listening to music. Our attention was focused entirely on the task at hand; weaving through traffic and avoiding the roughest patches of road.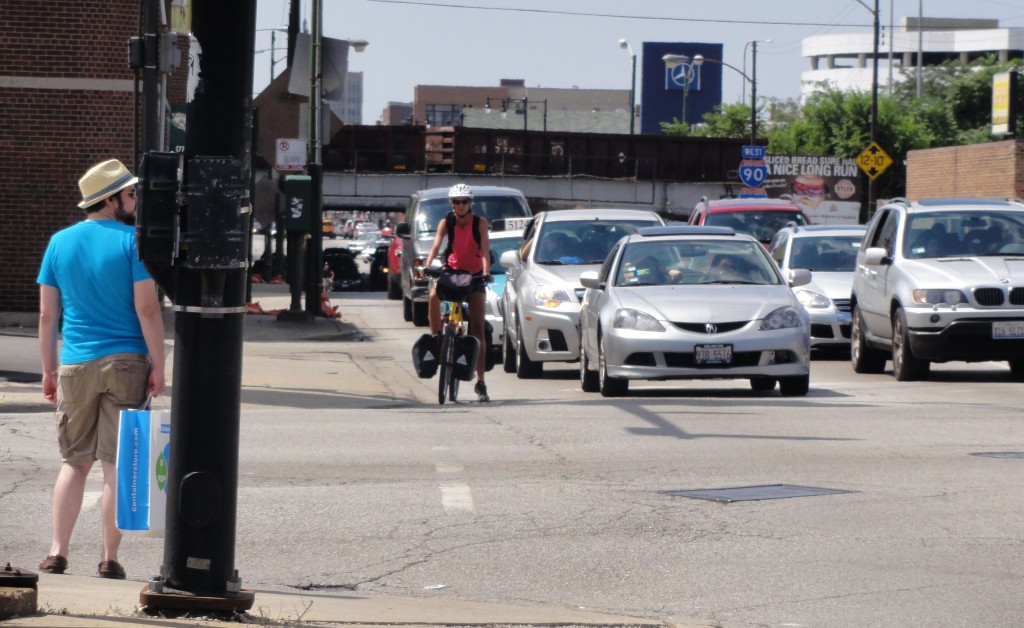 One with the masses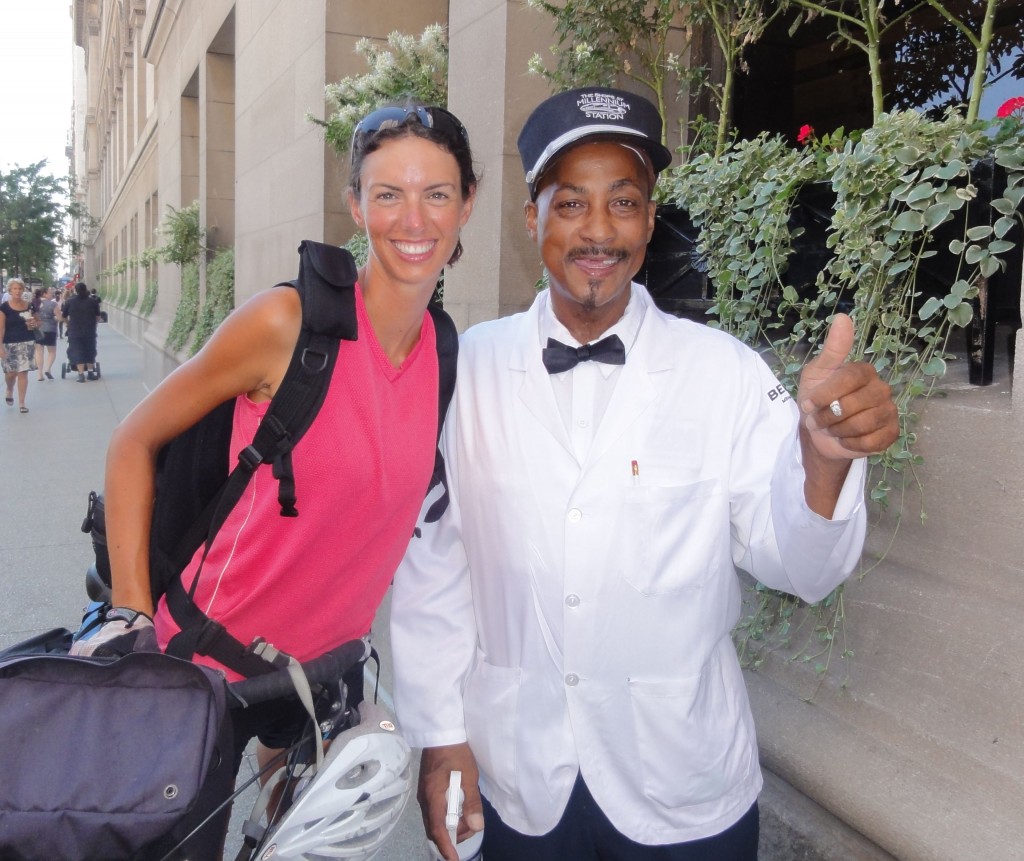 Myself and Kato, a friendly face who was inspired by our trip
We arrived at the Chicago Cultural Center and were greeted by a young woman smiling brightly "You must be Jess and Alexa!" We had contacted Lydia several days earlier via www.couchsurfing.org and she offered to give us a tour of her beautiful city. Our first task at hand, however, was ditching our cumbersome bags. The added weight and width made us less agile for snaking through the busy downtown traffic. We decided to store our bags at Union Station.
We must have been a sight, three women loaded with panniers, backpacks, a tent and a fishing pole. The automated train station lockers weren't cooperating so we enlisted the help of Kevin, an employee in charge of such matters. He looked at our pile of bags curiously and then led us to a back storage area. "They'll be safe here" he assured us. We thanked him and hurried on to soak up as much of the city as possible
Our next order of business Chicago style pizza!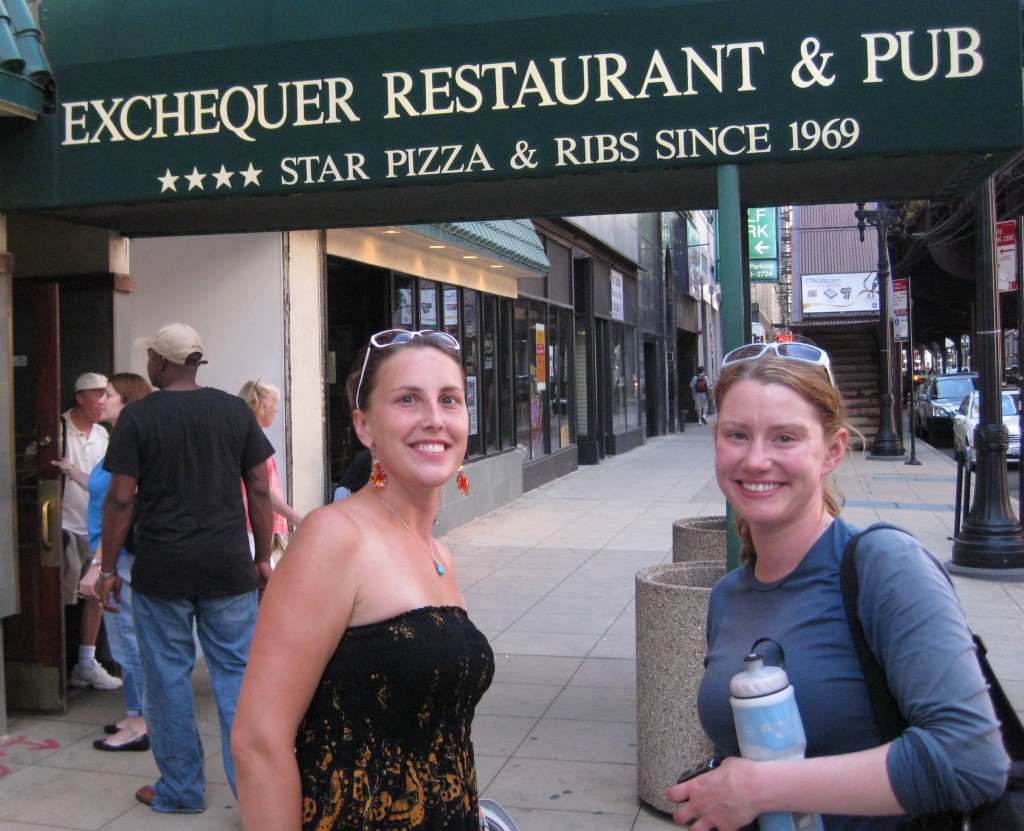 Lydia and Jess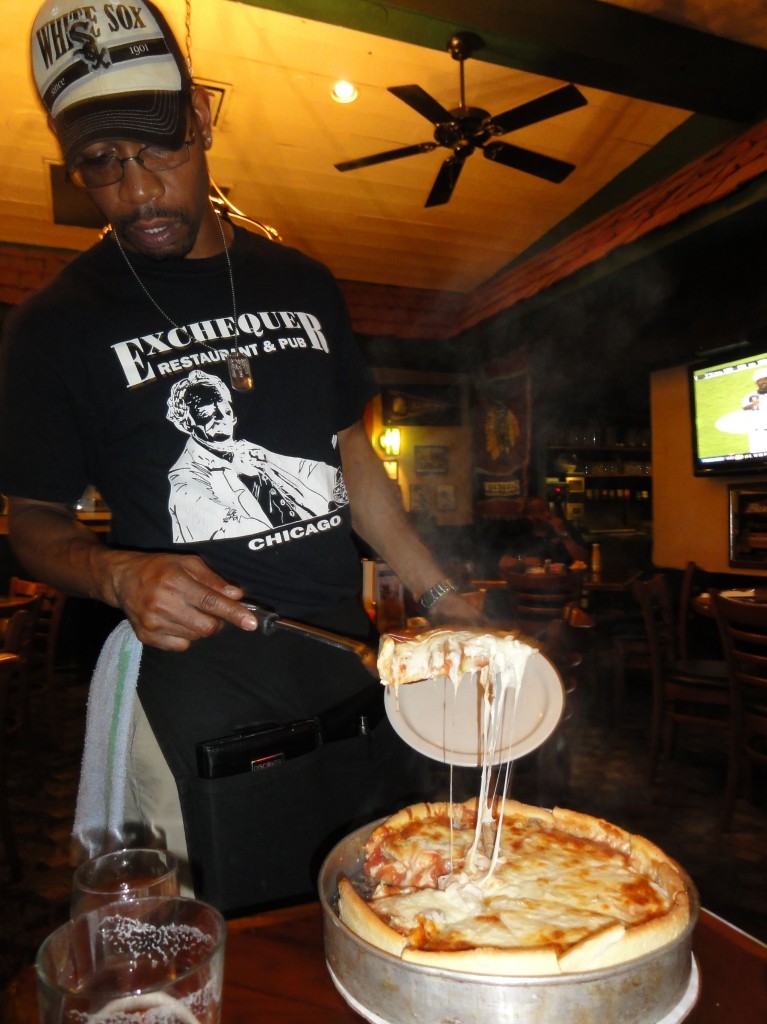 Cheeeeeeesy goodness
The three of us cycled around the city and through Chicago's Museum Campus. Seagulls crying out in the wind and sailboats dotting the horizon gave Lake Michigan a seaside quality. It was hard to believe it was a lake we were gazing upon.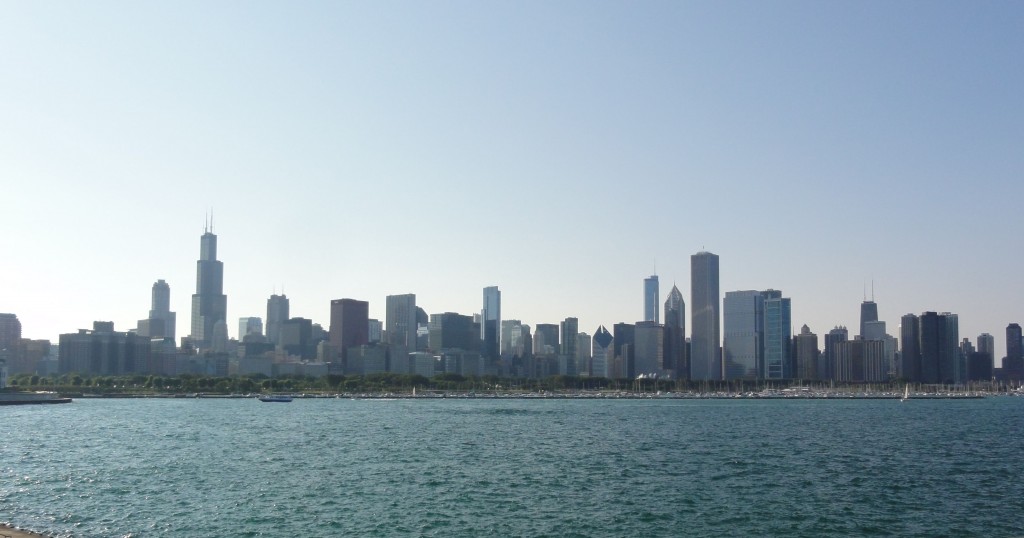 The beautiful Chicago cityscape from the planetarium
Lastly Lydia escorted us to Grant Park to see the Buckingham Fountain where we exchanged hugs, thank yous, and Lydia gave us directions to a few more iconic Chicago areas. We were so grateful having had a personal tour guide show us some highlights of the city. Thank you Lydia!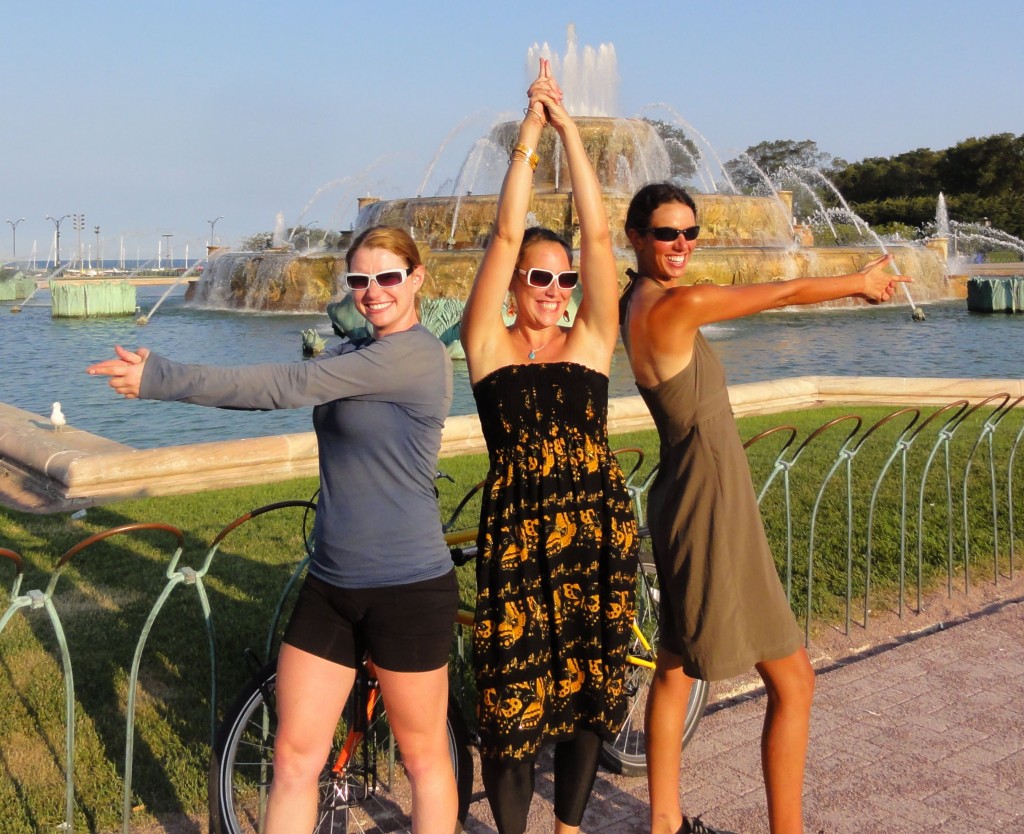 Chicago's Angels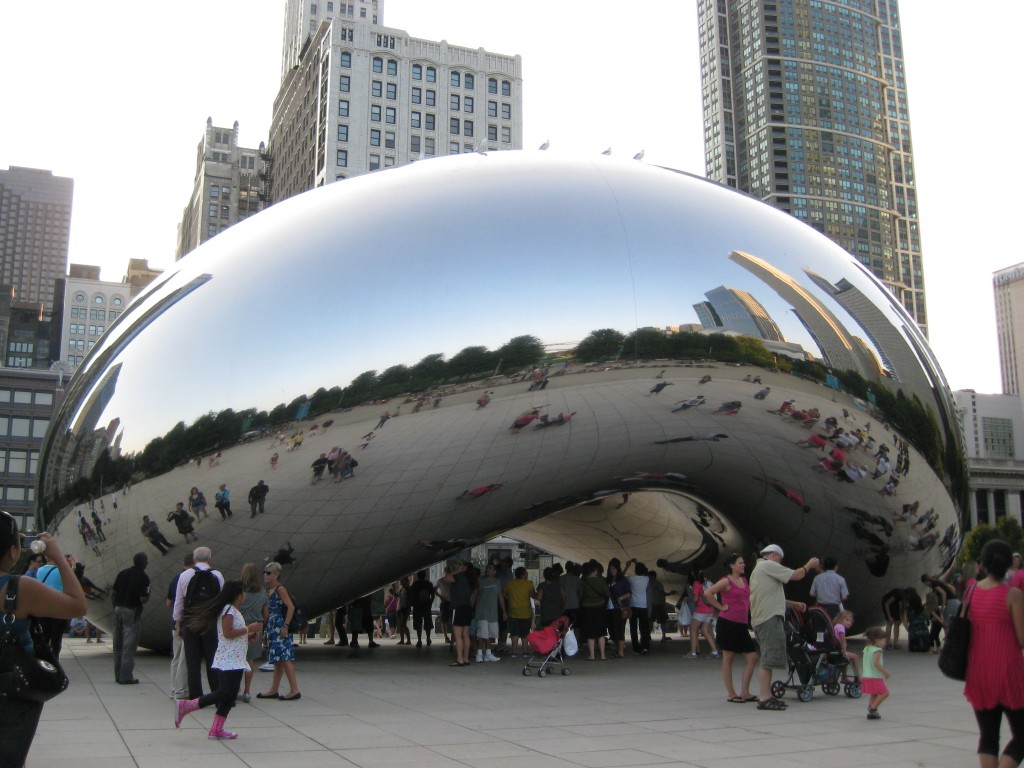 The iconic "Cloud Gate" (known by locals as "the Bean") inspired by liquid mercury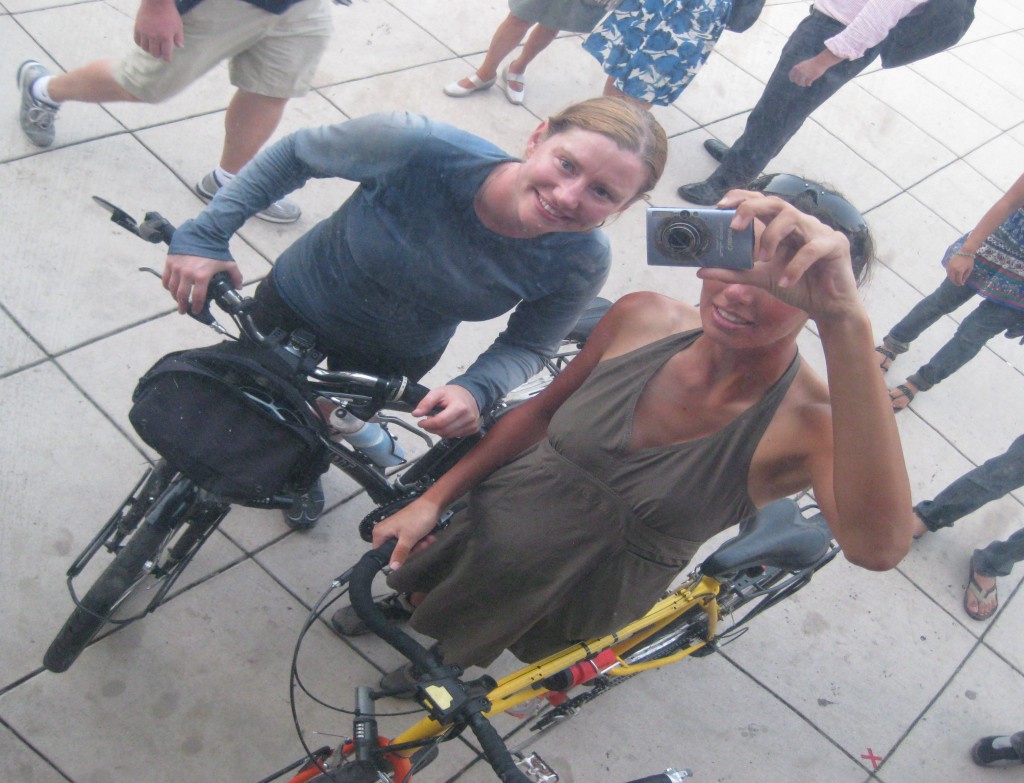 Reflections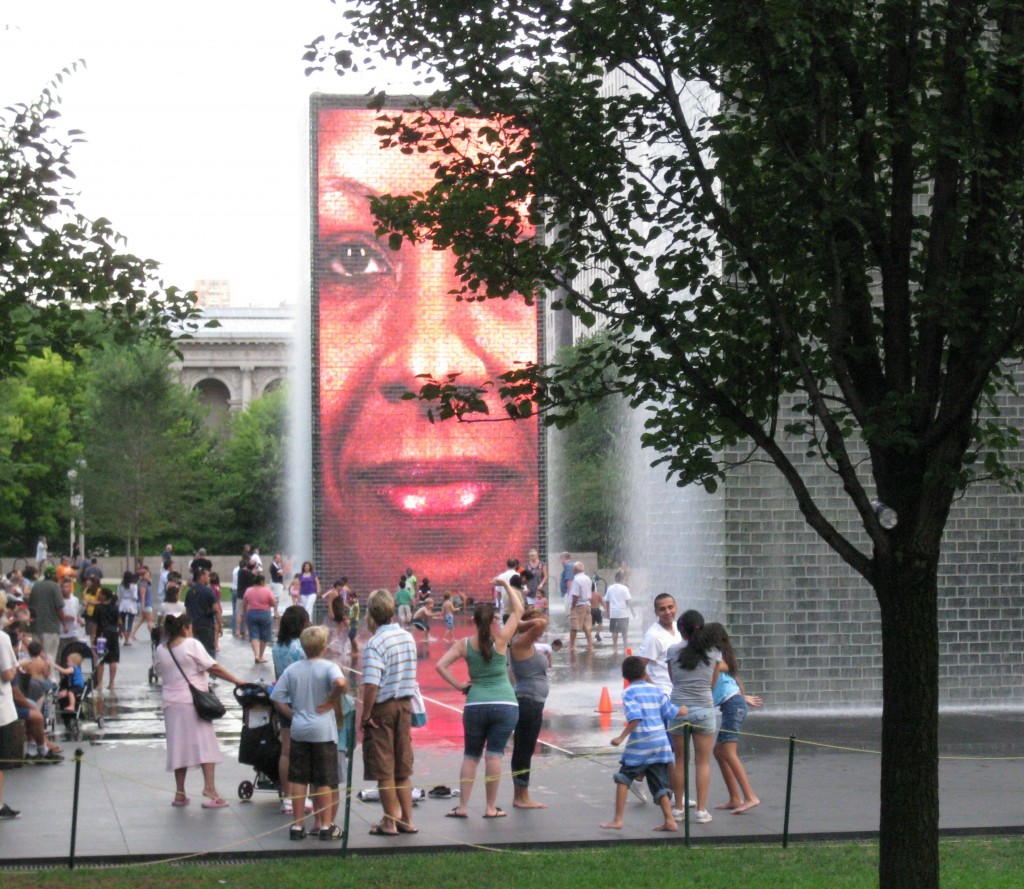 Crown Fountain, a Chicago favorite on a hot day
As afternoon approached evening we reluctantly ended our urban wandering and headed back to collect our bags and figure out our plan of exodus. By this time we had been warned enough times NOT to cycle through South side Chicago at night that we were willing to take heed and invest in bus or train tickets past this active gang area. Despite our resolution not to accept rides or cheat on any of our 3,500+ miles, we conceded in the name of safety.
Back at Union Station we were dismayed to find that the train headed to Indiana had a no bike policy. This was the ONLY line that had this rule. We could use AMTRAK but they required our bikes to be boxed up. After several hours of phone calls, deliberations and scheming we found ourselves at the Greyhound bus station with the one bus driver who was happy to transport our bikes without having them boxed. Steve and his bus (Big Red) were the perfect solution to our predicament.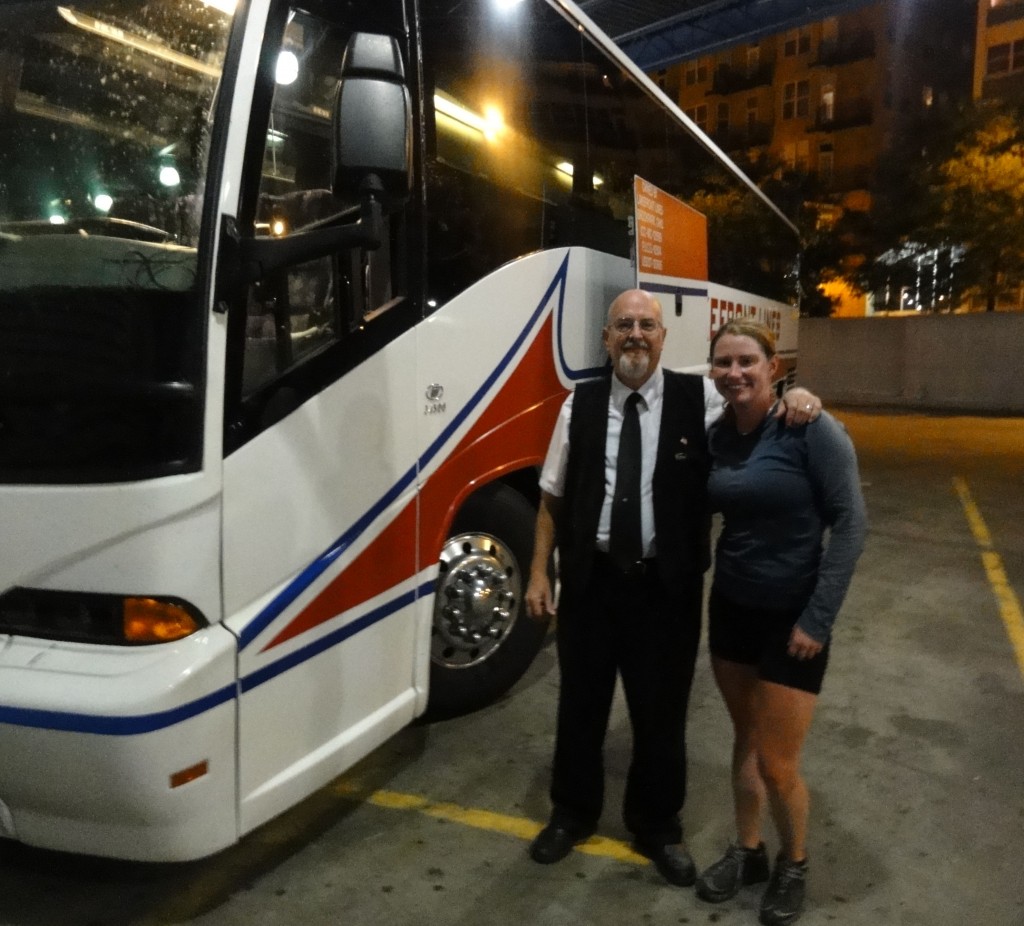 Big Red, Steve and Jess
We arrived in Indiana in the wee hours of the morning and set out towards Mishawaka, IN. My good friend (and coincidentally creator of www.ridetochoose.com) Angel had offered to host us and took us in even with our late night arrival.